Is there anything that puts fear into your heart like having to choose a book for bookclub? I think not. But then, maybe you are a bit braver than I am. Nothing puts fear into MY heart like that annual sign-up sheet.
Here are 29 titles I would recommend for book clubs – books that I think most people will enjoy reading, ones that will spark interesting discussions, and ones that you'll feel good about having forced other people to read.
Many of these are ones my own bookclub has read. There is non-fiction, chick-lit, young adult and middle grade titles, history books and parenting books. There are new titles and ones that are bit older.
Hopefully you'll find something on this list for your group.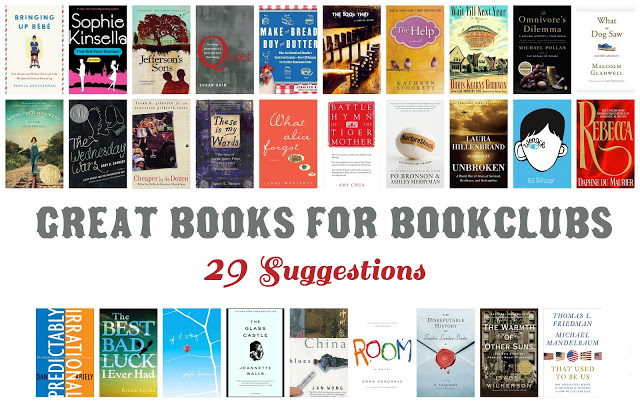 Bringing Up Bebe by Pamela Druckerman – Guaranteed to spark an interesting discussion about culture, parenting and any other number of topics. I'm dying for someone to pick this one for our group (full review here)
I've Got Your Number by Sophie Kinsella – If you're looking for funny and fluffy, it's hard to beat Sophie Kinsella. I laughed my head off reading this book about a woman who loses her cell phone and finds another one in a garbage can, accidentally taking on the role of secretary for the businessman who owns the phone (Be warned that there is some swearing) (full review here)
Jefferson's Sons by Kimberly Brubaker Bradley – This middle-grade historical fiction title is so well-done, I can hardly stand it. Told from the perspective of Sally Hemming's slave children, growing up on Thomas Jefferson's plantation, knowing their father is the white master. Brilliant and thought-provoking. (full review here)
Make the Bread, Buy the Butter by Jennifer Reese – A quick read with all sorts of funny stories about food, cooking, and raising animals sprinkled with lots of recipes. Bonus, it'll be easy to pick refreshments to go along with this book! (full review here)
The Book Thief by Marcus Zusak – A really elegantly written young adult book about an orphan girl in Germany during WWII and the family that takes her in. One of the best books I've read. (full review here)
The Help by Kathryn Stockett – A bestseller for a reason, our bookclub had a fantastic discussion about three women (two black, one white) in the deep South during the Civil Rights movement. And yes, we had chocolate pie for dessert. (full review here)
Wait 'til Next Year by Doris Kearns Goodwin – This was my pick last year. Goodwin is a noted historian but this is her memoir about growing up as a baseball lover in New York. Wonderful no matter how you feel about sports, it deals a lot with the major shifts in society during her childhood, from an idyllic suburb home to increasing divorce, transient families, and dwindling sense of community.
The Omnivore's Dilemma by Michael Pollan – This one is pretty hefty, but it's so interesting that no one in our group seemed to have too much trouble getting through it. And wow, did we have a fascinating discussion about the food sources in our country, the organic industry, and a multitude of other topics.
Moon Over Manifest by Clare Vanderpool – One of my favorite Newbery winners in recent years, this story is told by two different voices – a young girl during the Great Depression and a young boy just before WWI breaks out. (full review here)
The Wednesday Wars by Gary D. Schmidt – Only my favorite book ever. My mom picked this for her bookclub and many of the women in her group liked it so much they read the companion book, Okay for Now, before their group even met (full review here)
Cheaper by the Dozen by Frank B. Gilbreth Jr. and Ernestine Gilbreth Carey – This book about a family of twelve children, being raised in a home with an efficiency-expert father is sweet, hilarious, and just plain interesting. The sequel, Belles on Their Toes, is just as good. Nothing to do with the embarrassingly bad Steve Martin movie (full review here).
These Is My Words: The Diary of Sarah Agnes Prine by Nancy E. Turner – The first thirty pages are a bit slow, but after that this diary-style novel really gets going about Sarah, a teenager growing up in the West, trying to educate herself, and, of course, falling in love. This book is deeply romantic, but to call it only a romance would be to sell it far too short (full review here).
What Alice Forgot
by Liane Moriarty – My favorite chick-lit book of all-time, about a woman who wakes up after a fall at the gym to discover that, instead of being pregnant, twenty-nine, and deeply in love with her husband, is thirty-nine, the mother of three and on the verge of divorce. As she tries to get back her memories of the past ten years, she also struggles to figure out what has changed her life (and marriage) so drastically. And, more importantly, can that marriage be saved? (full review here)
Battle Hymn of the Tiger Mother by Amy Chau – This is my pick for my bookclub this year (I'm leading the discussion in December) and I am just really excited to see how everyone feels about this book about Chinese parenting – or at least one woman's take on it – and how it works in America (full review here).
Unbroken: A World War II Story of Survival, Resilience, and Redemption by Laura Hillenbrand – This book is non-fiction but it's so amazing, it's hard to believe someone didn't make it up. Olympic runner Louis Zamperini's plane is shot down in the Pacific during WWII and after surviving on a tiny inflatable raft for 47 days, he's taken prisoner by the Japanese. And compared to being a POW, the raft time looks like vacation. Probably the best WWII book I've read (full review here).
Wonder by R.J Palacio – A remarkably done middle-grade novel about a boy with severe facial abnormalities who begins attending public school for the first time in middle school. Moving, well-written, and full of things to talk about.
Rebecca by Daphne du Maurier – This book would be especially fun if you were choosing for October – kind of a gothic thriller/romance. The first chapter (about 30 pages) is a smidge slow, but after that, it is hard to put down! Follows a young woman who marries a very rich widow and feels like she can't escape the shadow cast by his larger-than-life first wife who died in a boating accident.
The Best Bad Luck I Ever Had by Kristin Levine – This middle-grade historical fiction title is set in Alabama during WWI. Dit is anxious for the new post master to arrive, since rumor is that he has a son Dit's age, but when the post master's family arrives, Dit can't decide whether he's more surprised that the family is black or that the promised friend is a girl (full review here).
If I Stay by Gayle Forman – This is YA fiction at its best. After a horrible car accident, the course of Mia's life is drastically changed and all the plans she's had for her future are called into question. It's not a very long book, but it is beautifully written. I cried both times I read it (full review here).
The Glass Castle by Jeanette Walls – One of those books that makes your own childhood look really really easy, this is a memoir about growing up in a completely dysfunctional family, where the family keeps moving in the middle of the night and the children eventually realize that the parents are never going to pull themselves together (full review here).
Red China Blues by Jan Wong – In college, I read this memoir about a Canadian girl (of Chinese descent) who goes over to China during the Cultural Revolution, on fire with Mao's vision. During the years she spends there, she comes to realize that Mao's ideas for China might not be all that she's hoped. This book is absolutely fascinating – I even sent my mom a copy for her birthday a couple of years ago (she loved it too).
Room by Emma Donoghue – Horrifying, but ultimately full of hope, this book about a little boy raised by his mother in a single room where she is kept by her kidnapper and their eventual escape, explores what happens when the whole world opens up before you (full review here).
The Warmth of Other Suns by Isabel Wilkerson -This was one of the best books we read last year in our book group. It's about 600 pages long, but it reads almost as quickly as a novel. It tracks the migration of black Americans from the South to the North and West during the 40-70s and their experiences assimilating into new cultures (and the lives they left behind in the South). Fascinating.
That Used To Be Us by Thomas Friedman and Mandelbaum – About China's increasing dominance in the financial and educational world, while America struggles to keep up. This was a fun book to read in an election year and so interesting I read huge passages of it outloud to Bart. You'll want to have a relatively calm group, though, because I could imagine discussion getting a little heated if you have people who are extremely polar on either side of the political aisle (I found the book itself to be very even-handed).
By the way, our bookclub has tossed around the idea of doing a theme for the year, whether it was books written by women, fiction only, children's lit, etc. I think that might be a fun idea, since it'd make it at least slightly easier to choose a book. But I think other people might find that too restrictive.
And please tell me what books have been big hits in YOUR bookclubs! I'm always looking for more ideas.