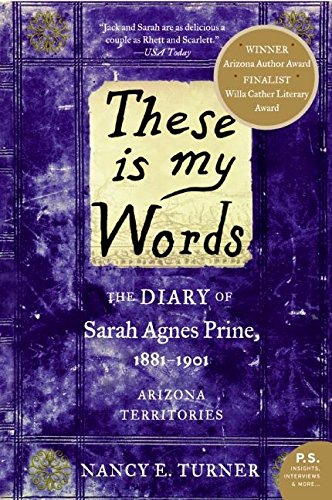 9.5 of 10: Go read this book. I haven't put together my list of the top books I've read this year, but there is absolutely no question in my mind that These is my Words will be on it. This is the book I'll recommend for a long time when people ask me for a title. 
I almost cannot contain myself long enough to write this post. I loved this book. There are likely not enough gushing, rhapsodic words in my vocabulary to talk about this book, but oh, I intend to make a valiant effort.
Before I'd even finished the book, I was flipping back to reread my favorite sections. And then the very same day I finished the book, I was at the library and I absolutely had to pick up their copy and reread my favorite bits. People, I had a copy of this book at home, and I still had to do this.
The very first month that I did Tell Me What to Read, Emily suggested These is my Words. The next two months, Diana Banana did the same. And then my mom recommended it.
The month my mom recommended it but didn't win the favor of the random integer generator, she commented saying, "I will have to send you a copy of MY book and then I can cut in line." 
And in delightful Mom fashion, she did just that. These Is My Words arrived, no joke, the next day (she must know someone).
The front cover says "Jack and Sarah are as delicious a couple as Rhett and Scarlett." Well. Count me in.
It took me a few weeks to get to it, as October was a fairly bad reading month reading for me (if it wasn't on audio CD, I probably didn't read it), but when I went to Utah this last weekend, I packed it, hoping to force myself to get started. I read my other four books on the flight out, and so on the flight home, I opened it up.
My mom had warned me that the first 30 pages were a bit slow and they were (although not overly so). I read them, then lay down to take a nap (hello, open middle row and two warm coats). When I woke up, I started reading and then I could not put this book down. I read until we landed, read through our layover, all the way through our next flight and while we waited for the airport security people to come jump our dead car battery in the Manchester Airport parking lot.
I read at school on Monday morning before my classes arrived and finished it during my lunch break, trying desperately not to let tears run down my face since my aide was sitting at her desk only a foot away from me.
these is my words by nancy e. turner
The book is written in diary form, which definitely made me not want to read it, but it actually worked well and I didn't really think twice about it after the first few pages. So if you're inclined to dismiss this book on that count, well, just put that thought out of your head.
The diary is the property of Sarah Prine, beginning when she is about 16 or 17 and follows her family's life in the Arizona Territories. Her father, who has the kind of wandering spirit I associate with Pa Ingalls of the Little House books, is determined to set out for a new life in the Arizona Territories, but pretty much every bad thing you can imagine happens and eventually they join up with a wagon train to take them back to a place they passed during their journeys (also in the Arizona Territories). The leader of the wagon train is Captain Elliot and Sarah by turns admires him and despises him. Of course she does.
They settle back down and begin their new lives there. I read this book with very little knowledge of the plot and I'd hate to not let you do the same – it's so fun to watch things unfold, some things that you expect, and others that catch you totally off guard (if by "you," I mean "me").
These Is My Words is good historical fiction, and I could talk at length about that, but what I really want to talk about (of course) is the fact that this book is a seriously good romance. The Rhett and Scarlett reference might make you think it'll just be the tearing-your-hair-out-in-angst variety of romance, and there is a bit of that, but things are significantly happier than they are for Rhett and Scarlett (although this book did leave me wanting to go back and read Gone with the Wind again).
Sarah is the most wonderful heroine you can possibly imagine. She is strong and smart and quick on her feet and desperate to get an education in whatever way available. The book starts out with some fairly  poor writing because Sarah is just not that educated and it's fun to watch her writing improve over the years as she reads more and gets snatches of education here and there.
There are two more books about Sarah, and I've picked up the next one from the library, but I'm almost not ready to open it – These Is My Words could have stood completely on its own.
I've mentioned before that I don't buy a lot of books and I think some people have taken that to mean that I don't like owning books. It's not that – it's just that I read a lot of mediocre books that I have no desire to clutter up my shelves with. But books I love? Oh, I am glad to have my own copy of, ones that I can lend out or reread in the middle of the night or flip through when I just need to read ten pages of something I love.
This is a book I am so so glad to have my own precious copy of.
If you liked this review of these is my words, you might also like these books: