It's no secret that I totally love a good romance book.
The term "romance novel" has a lot of baggage (anyone else imagine hot pink books or covers with shirtless men on them?), but I'm not looking for true romance novels – I just want a good book that includes a love story.
(Side note: one of the classes I took in graduate school was about genre reading, so the professor – a small, quiet man in his 60s with a big bushy mustache – brought in a huge box of Harlequin romances and had us each choose one to read. It was such an amusing surprise to realize he owned literally 50 of them for this class).
Anyway, over the past decade or so, I've amassed a list of favorite romantic reads (many of them in the young adult category). If you're looking for a list of the best romance books with a good love story, try one of these out and let me know what you think!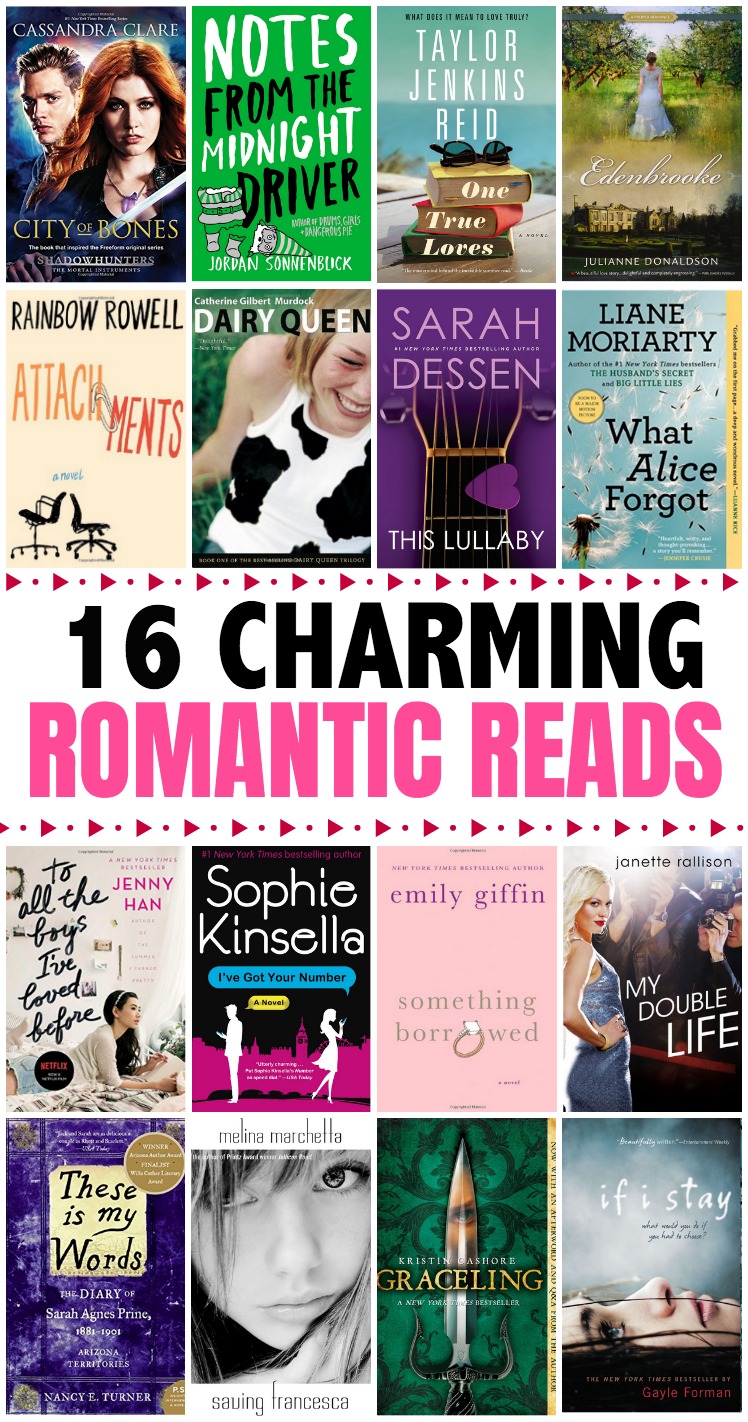 16 of the best romance books I've read
I've Got Your Number by Sophie Kinsella – I have got to reread this book because I can't remember the last time I've laughed so much during a book. That Sophie Kinsella, she usually hits all my funny bones (except for Wedding Night which was so ridiculously bad I wanted to cry instead of laugh). This one is about a woman who loses her engagement ring and will do almost anything, including take over someone else's phone, to get it back. (Full review here)
To All the Boys I've Loved Before by Jenny Han – This is probably the series I've talked about more than any other book in the history of my blog. I think this YA trilogy is just so sweet and charming and the movie coming out last year on Netflix just made me love it MORE. (Full review here).
What Alice Forgot by Liane Moriarty – I've read this once twice and I loved it possibly even more the second time. I mean, what's not to like about a story that follows a woman who hits her head and when she wakes up, instead of the first pregnancy and happy marriage she remembers, finds that ten years she doesn't remember have passed and her marriage is on the brink of collapse. (Full review here)
Graceling by Kristin Cashore – I didn't think I could really fall in love with a guy named Po. I was so wrong. And I'm usually not even super into fantasy, but this one was REALLY fun, where certain people, called Gracelings, have a specific special power. (Full review here)
My Double Life by Janette Rallison – I went on a Rallison binge when Ella was nursing about a hundred hours a day, and they are all just the perfect fun YA books. This one is about a girl who has been told her whole life that she looks just like a famous pop star and then gets the opportunity to work as that celebrity's double. And, of course, discover that fame isn't all its cracked up to be.
City of Bones by Cassandra Clare – Bart and I watched the movie a few years after it came out and it was surprisingly good, but just nowhere near as good as the book which had me laughing aloud while I drove back and forth to school in 2009. (Full review here)
Something Borrowed by Emily Giffin – I don't recommend her books often because they are at the edge of what I'm comfortable suggesting to other people, but. . . .I totally love this one. (I haven't seen the movie. Was it terrible? It kind of looked terrible).
Notes from the Midnight Driver by Jordan Sonnenblick – I love all of his books, but this one hasn't been as widely popular as some of his others. I love a romance from a teen boy's perspective. You know, just to change things up a bit.
Dairy Queen by Catherine Gilbert Murdock – I read the whole trilogy a couple of years ago and then re-listened to it all in December. I love D.J. for being an out-of-the-ordinary main character (she works on her family's cow farm and also ends up going out for her football team. Which might get in the way of her possible romance with the quarterback of the rival football team).
This Lullaby by Sarah Dessen – Long-time readers know I love Sarah Dessen. The year I discovered her, I read all her books. This one, I've read twice.
Edenbrooke by Julianne Donaldson – I'll be the first to admit that regency romances aren't my usual genre (like . . . at all), but when Ralphie tells you to read a book, you do what she says. And then you send her texts saying, "You were so right. I owe you my first born child for this recommendation." (Full review here).
One True Loves by Taylor Jenkins Reid – Imagine if the love of your life died in a plane crash and then, when you'd finally moved on, it turned out he wasn't dead at all. I stayed up WAYYYYY too late reading this one. (Full review here).
If I Stay by Gayle Forman – This is my most often recommended YA book. It's just. . . . so good. Prepare to do some sobbing, if you have any sort of heart at all. (Full review here)
Saving Francesca by Melina Marchetta – I read books by Melina Marchetta and think, "90% of the other people writing YA should just give up immediately." (She also wrote the insanely good Jellicoe Road).
Attachments by Rainbow Rowell – I've read this book multiple times and I just love it every time, about a computer guy who falls in love with a woman he's never met when their office system flags her emails and they show up for him to review. (Full review here).
These is My Words by Nancy E. Turner – Gotta finish off with this ridiculously fantastic book. I hate westerns and I hate diary-style books. But I still loved this book more than I ought to admit. (Full review here).
And if you'd like a printable copy of this list that you can take to your library or screenshot on your phone for easy access, just pop in your email address below and it'll come right to your inbox!
And of course if you have a favorite romance book with a wonderful love story, you KNOW I want you to tell about it. I have about 10 open spots on my library holds that obviously need to be filled immediately.
if you liked this post of the best romance books, you might also like these posts: