Recently, on InstaStories, I shared part of a study shared in NurtureShock that my mom and I had been discussing.
This study talked about families working with therapists to create better sibling relationships and part of the recommendations were picture books that showed sibling relationships and, after squabbles, apologizing and making up.
Within a few weeks, the parents returned to the therapists and reported that the behavior in their homes had gotten WORSE.
The books spent most of the time focused on the fighting, bickering, name-calling, and other bad behaviors and the making up only came at the end, so the children were picking up the unkind behavior FAR more than they were the brief reparations at the end of the story.
I got so many questions after these stories if I had a list of books that showcased siblings getting along and since I didn't, it seemed like time to put one together.
I don't want my children picking up bad behavior from books, and I try to look for books that showcase positive sibling relationships. Of course, they don't have to be PERFECT, but I want the vast majority of the interactions to be loving and kind, rather than 38 pages of a picture book showing fighting and meanness and then 2 pages of love at the very end.
So if you're looking for picture books about siblings getting along, I hope you'll enjoy these titles!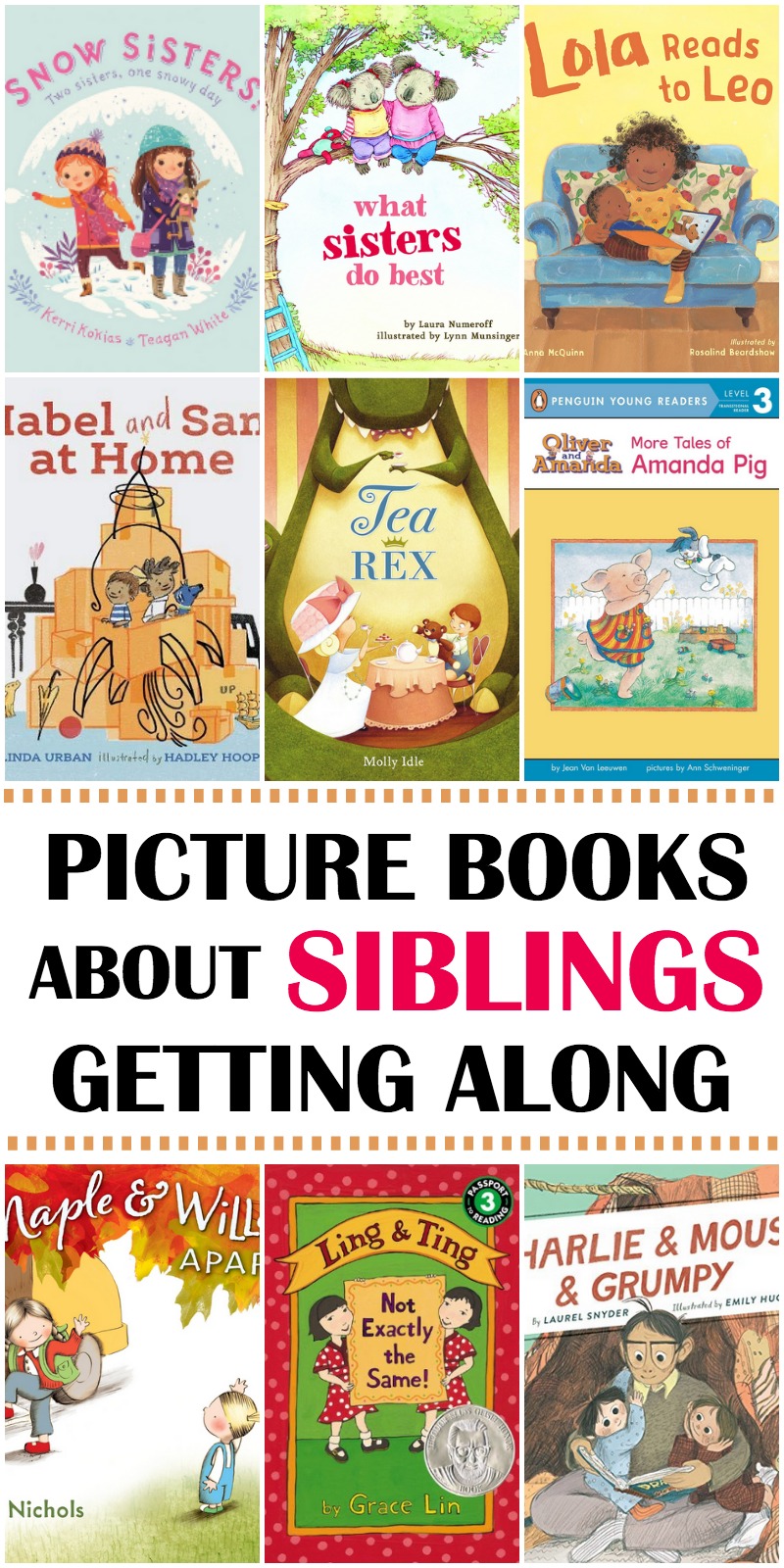 10 Picture Books about Siblings Getting Along
Charlie & Mouse & Grumpy by Laura Snyder, illustrated by Emily Hughes
I love this series of early chapter books about two young brothers who are so sweet together as they have little childhood adventures together. (In fact, when I was reading a review of these books on Amazon, the professional review said "Charlie and Mouse appear to get along exceptionally well for two young siblings, which doesn't feel particularly realistic." To which, I thought, "I'll TAKE it." I don't need to showcase bickering and contention for my children).
Ling & Ting Not Exactly the Same by Grace Lin
Ling & Ting are identical twins, but just because they look the same on the outside doesn't mean they are the same on the inside. I really appreciate how it shows them as individuals in positive ways (one sibling isn't the mean or dumb one) and how much they enjoy their differences as well as their similarities.
Snow Sisters! by Kerri Kokias, illustrated by Teagan White
When a big snowstorm arrives, two sisters know what to do. One heads outside, ready to adventure in the cold, while the other stays inside baking. And later, they switch spots, as the first is ready for some coziness while the second is ready to explore. And, of course, at the end, they're ready to spend time together. Like Ling & Ting, it's a great reminder that sibling differences don't have to cause conflict.
Lola Reads to Leo by Anna McQuinn, illustrated by Rosalind Beardshaw
We've loved the Lola books since Ella was a teeny baby, and I love this episode where Lola becomes a big sister and shares her love of reading with her new sibling. I love that it makes the experience of a baby joining the family positive and exciting.
What Sisters Do Best by Laura Numeroff, illustrated by Lynn Munsinger
We all want our children to love each other and consider each other great friends and I love that this sweet book showcases all the ways that sisters can help each other and why having a sister is so wonderful. There's also a version for brothers – What Brothers Do Best.
Mabel and Sam at Home by Linda Urban, illustrated by Hadley Hooper
Sam and Mabel move into a new house and it feels like a wonderful adventure to these siblings as they play in the boxes and get settled into their new space with imagination spilling into every new discovery. It's so sweet and a wonderful reminder that wherever you move, your siblings will be there with you.
More Tales of Amanda Pig by Van Leeuwen, illustrated by Ann Schweninger
I grew up with the Oliver and Amanda Pig books and I just love them so much. Each one has 4-5 little stories and this pig family is just delightful and loving. In this one, Amanda and Oliver are parents to their stuffed animals, give a bubble bath to their toys, and celebrate their dad's birthday.
Tea Rex by Molly Idle
In this book, a brother and sister invite dinosaurs over for tea and it turns out that it's quite a ride having a parlor full of dinos. This isn't a "hit you over the head with sibling love" kind of book, just a fun sweet book that happens to showcase siblings that get along and have fun together.
Maple & Willow Apart by Lori Nichols
I love the Maple & Willow books – they're such sweet sisters even when they have disagreements. In this one, Maple heads off to school, leaving Willow at home, missing her big sister. As both of them have new adventures, they find a simple and lovely way to stay connected.
Snippy and Snappy by Wanda Gag
This book was originally published in 1931 and it's a charming story with black and white illustrations about two little mice that live in a hay field with their parents. One day, they venture into a house where they are determined to find some cheese. I love seeing these siblings explore together and take care of each other.
And if you'd like a printable copy of this list that you can take to your library or screenshot on your phone for easy access, just pop in your email address below and it'll come right to your inbox!
Are there other books you love that showcase positive sibling relationships? I'd love to hear!
If you liked this list of books about siblings with good relationships, you might also like these book lists: