I think almost all of us want our children to grow up kind and filled with empathy for others.
And picture books are a wonderful way to open that conversation, whether it's talking about bullying, people who are different from us in any number of ways, or just laying a foundation for general kindness.
I hope these books will prove helpful as we all try to raise good humans.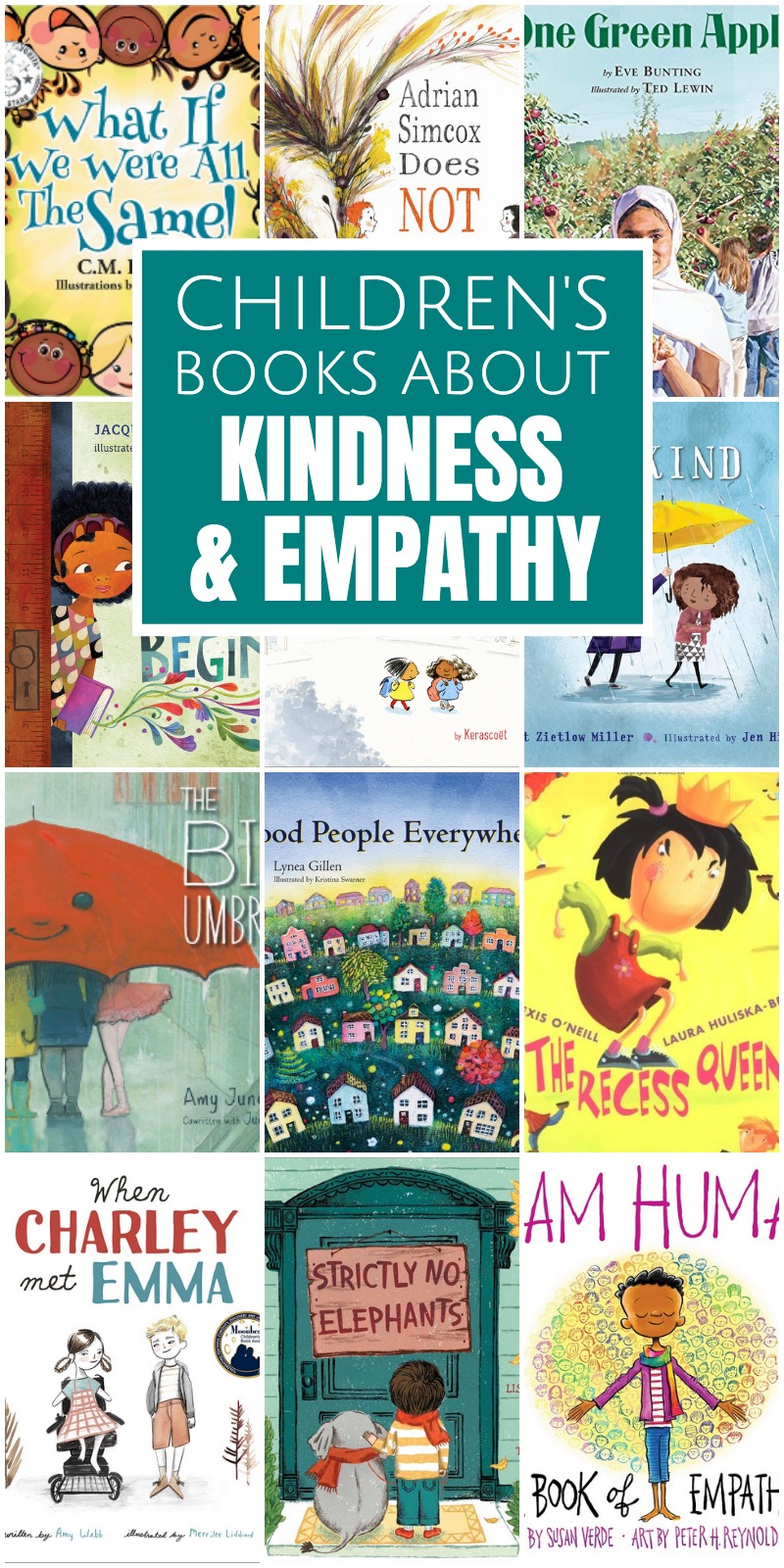 20+ Children's Books About Kindness and Empathy
The Rabbit Listened by Cori Doerrfeld. I love this sweet story where when a little child is sad and after everyone else tries to offer solutions, the rabbit just quietly listens. 
What If We Were All The Same! by C.M. Harris, illustrated by Eric Everett. A world where we were all the same would be so boring!
When Charley Met Emma by Amy Webb, illustrated by Merrilee Liddiard. I love this beautiful book about a little boy who meets a girl in a wheelchair with limb differences and realizes that we're all different.
Adrian Simcox Does Not Have a Horse by Marcy Campbell, illustrated by Corinna Luyken. Adrian Simcox  won't stop talking about his amazing horse, but Chloe is convinced he's lying. How does someone with holes in his shoes afford a horse? But when she complains to her mom about it, she's surprised by her mom's response. 
I Walk with Vanessa: A Story About a Simple Act of Kindness by Kerascoët. This beautiful wordless book conveys how any of us can stand up to bullying with just simple actions.
Be Kind by Pat Zietlow Miller, illustrated by Jen Hill. We hear all the time to "Be Kind" but what does that really mean?
I Am Human: A Book of Empathy by Susan Verde. Each of us has flaws and that's okay. We can be kind to ourselves and others as we work through the difficulties of the human experience.
Strictly No Elephants by Lisa Mantchev, illustrated by Taeeun Yoo. A little boy is so excited to take his elephant to a pet playdate until he arrives to discover a sign on the door "STRICTLY NO ELEPHANTS." 
The Big Umbrella by Amy June Bates, illustrated by Juniper Bates. Is there room for everyone under the umbrella? There is under THIS giant umbrella. 
One Green Apple by Eve Bunting, illustrated by Ted Lewin. It's hard to be the new kid at school when you don't speak the language and everything is unfamiliar. But on a field trip to an apple orchard, Farah realizes that some things are the same no matter where you are in the world.
Good People Everywhere by Lynea Gillen, illustrated by Kristina Swarner. This lovely, quiet book is the perfect way to soothe a child's soul and remember all the good people there are in the world.
The Day You Begin by Jacqueline Woodson, illustrated by Rafael López. It can be so easy to feel alone. But if you reach out to someone else, you might find someone willing to accept you for exactly who you are.
The Recess Queen by Alexis O'neill, illustrated by Laura Huliska-Beith. Mean Jean is a serious bully at school and no one knows how to stand up to her. Until a new child arrives at school and finds a surprising solution to the playground terror.
A New Friend For Marmalade by Alison Reynolds, illustrated by Heath Mckenzie. It's hard when a new child enters an old friendship, but this book shows how making room for someone new can be better for EVERYONE.
We're Different, We're the Same by Bobbi Kates, illustrated by Joe Mathieu. This book is an oldie but a goodie, highlighting the ways that we're all the same and all the beautiful differences we each bring to the world.
Welcome by Oliver Barroux. When three polar bears start to lose their ice home, will anyone be willing to let them find a new home?
Say Something by Peter H. Reynolds. Each of us has a voice, no matter how small, that we can use to make the world a little bit kinder and a little more fair, if we're only willing to speak up.
People by Peter Spier. My in-laws gave us this book years ago and my girls love looking through the detailed spreads of people all over the world, all throughout history.
The Breaking News by Sarah Lynne Reul. When something bad happens in her community, a little girl is advised to look for the helpers. But can she BE a helper too?
Most People by Michael Leannah, illustrated by Jennifer E. Morris. There are awful people in the world, but how much better to focus on the majority of people who are trying to make the world a better place in their own way?
This Is How We Do It: One Day in the Lives of Seven Kids from around the World by Matt Lamothe. All of us live different lives and this book is such a beautiful peek into what the lives of children look like in seven different places around the globe.
We're All Wonders by R. J. Palacio. Inspired by the best-selling novel, this picture book is a beautiful reminder of how wonderful and special each of us are, no matter what we look like, what we can do, and who we are.
Do you have other favorite books about kindness, empathy and embracing differences? I'd love it if you left them in the comments!
And if you'd like a printable copy of this list that you can take to your library or screenshot on your phone for easy access, just pop in your email address below and it'll come right to your inbox!
If you liked this list of books about kindness, you might also like these posts: