One of my goals this year is to read 60 graphic novels – it's been so fun to stretch into a new reading format over the past few years and I've loved reading a wide range of graphic novels.
As I've read more, I've realized that I PARTICULARLY love nonfiction graphic novels – it's such a cool experience to read a true story with all the images to accompany the text.
Here are some of my favorites: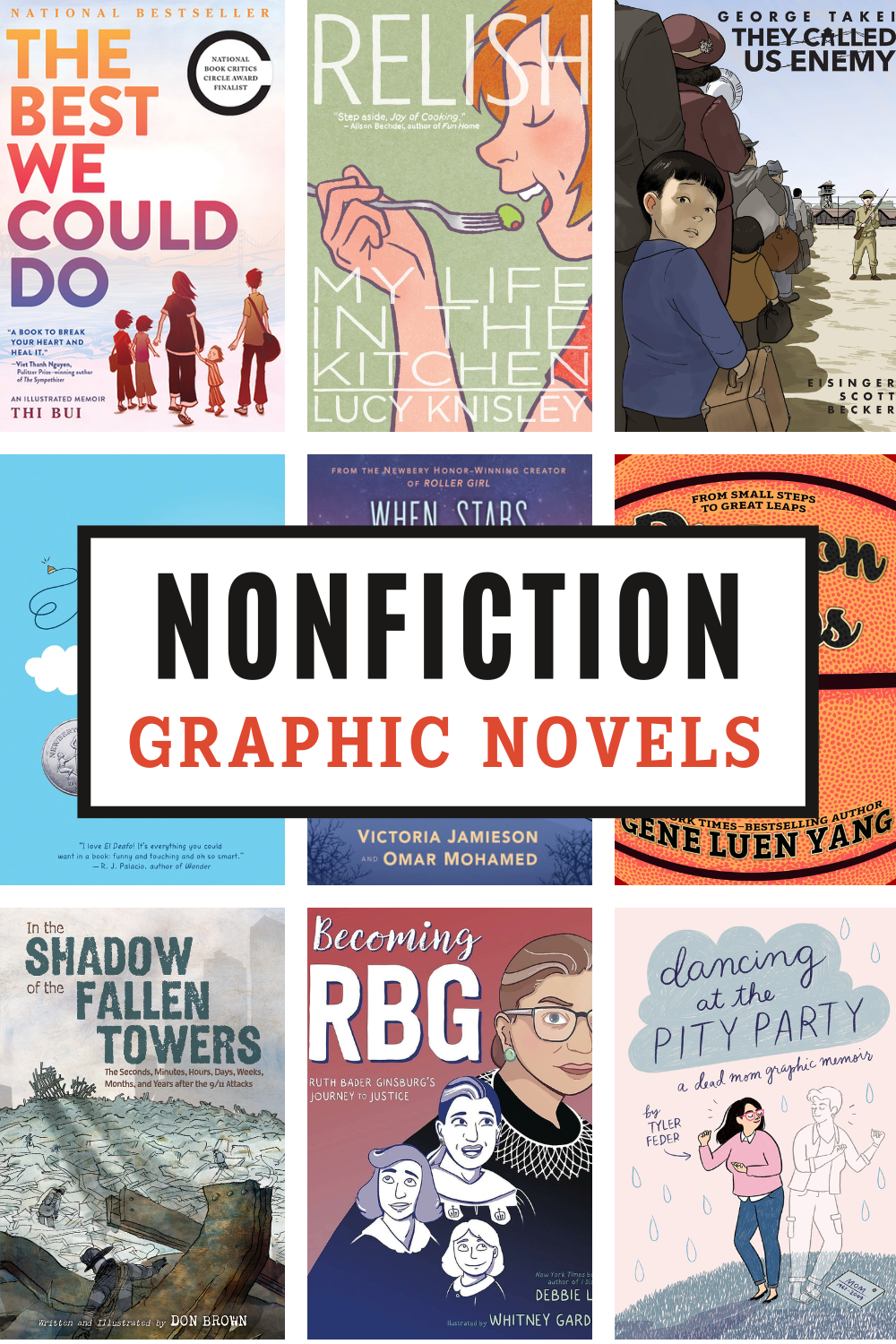 fantastic nonfiction graphic novels
Dragon Hoops by Gene Luen Yang
This book changed my mind about graphic novels (I'd always been a fan for my kids, but never thought of myself as a graphic novel reader). I don't even care about basketball and I was incredibly invested in this true story of a high school team that's trying to win the state championship title that has eluded them for decades. Packed with history, incredible stories, and a season-long chase for glory, I couldn't put this down or stop talking about it. Even if you've been dubious about graphic novels, I strongly urge you to give it a try. (Full review here)

El Deafo by Cece Bell
This Newbery Honor title is based on the author's experience moving to a new school. And it's an extra tricky transition for Cece who is deaf. But when she realizes that her super-powerful hearing aid lets her hear everything her teacher says – not just in the classroom – Cece starts to feel like a superhero!

Dancing at the Pity Party by Tyler Feder
You don't expect to laugh this much in a graphic memoir about losing your mother to cancer. And yet, this book manages to be both utterly delightful and absolutely heartbreaking. This was one of the first books I read in 2021 and it set the bar high for books for the rest of the year. Whether you've lost a loved one and need to feel less alone in your grief or just want a book that will draw you in, this one is an absolute winner. I wouldn't be surprised if this one ends up on a future Everyday Reading Book Club list.
The Best We Could Do by Thi Bui
This memoir in graphic novel form is stunning. Thi Bui's parents fled Vietnam after the South fell in the 1970s and came to America. But it wasn't easy – not for her parents and not for their children. The book begins as the author gives birth to her own child and looks back at what her parents sacrificed for her and her siblings and what it cost them. I flew through this book that spans decades – how her parents' lives changed from their vastly different childhood, their early marriage, their struggles as parents, and their experiences growing old in a foreign country. (As always, when I mention it's a graphic novel, someone asks if that means it's good for children. This one is definitely NOT for children).

Becoming RBG by Debbie Levy
This non-fiction graphic novel was a total spur-of-the-moment read. I'd gotten a copy from the publisher and picked it up one morning during breakfast. Prior to this, I knew very little about RBG and this graphic novel was the perfect introduction to understand why she's so famous and why her work was so groundbreaking.

Relish by Lucy Knisley
This was one of the first graphic novels I ever read and this memoir is perfect for any food lover. She shares her love of food and cooking and what life lessons they have taught her. At the end of each chapter is a beautifully illustrated recipe from Lucy's personal treasured collection. It's a great introductory graphic novel!
When Stars Are Scattered by Victoria Jamieson
This true story of a young boy living in a refugee camp in Kenya, caring for his non-verbal younger brother and trying to attend school to life is an absolutely stunning story. Most of the time, a graphic novel is going to be best in book form, but the audio of this one is also incredible. This is an Everyday Reading Book Club pick for 2023. 

They Called Us Enemy by George Takei
When George Take was four years old he and his family were sent, along with every other person of Japanese descent, to a camp by order of President Franklin D. Roosevelt. This graphic novel is his firsthand account of growing up behind barbed wire under legalized racism. He explores the ideas of patriotism, democracy and how one person can make a difference. (If you want another excellent book on this topic, I highly recommend the Seen and Unseen!).
In the Shadow of the Fallen Towers: The Seconds, Minutes, Hours, Days, Weeks, Months, and Years After the 9/11 Attacks by Don Brown
This is a SHORT graphic novel – I read it at the library while I was there with my kids and it was due but I hadn't read it yet (it's 128 pages and because it's a graphic novel, you can read the whole thing pretty quickly). It's also so so well done about the aftermath of the 9/11 attacks. Don Brown is also the author of the graphic novel The Unwanted, which is on my list of non-fiction graphic novels to read.
And if you'd like a printable copy of this nonfiction graphic novel list that you can take to your library or screenshot on your phone for easy access, just pop in your email address below and it'll come right to your inbox!
if you liked this list of nonfiction graphic novels, you might also like these other posts: