I've loved historical fiction books my whole life – I read mountains of them when I was a child and now as an adult I still love them.
It's such an engaging way to learn about a different time period and there are so many incredible historical fiction writers out there.
I've also discovered that historical fiction titles are a HUGE hit with my Instagram audience – for the last several years, the historical fiction titles have been some of the most beloved for Everyday Reading Book Club!
Here are some of my very favorite historical fiction books for adults (some of these are young adult titles that I've enjoyed as an adult!):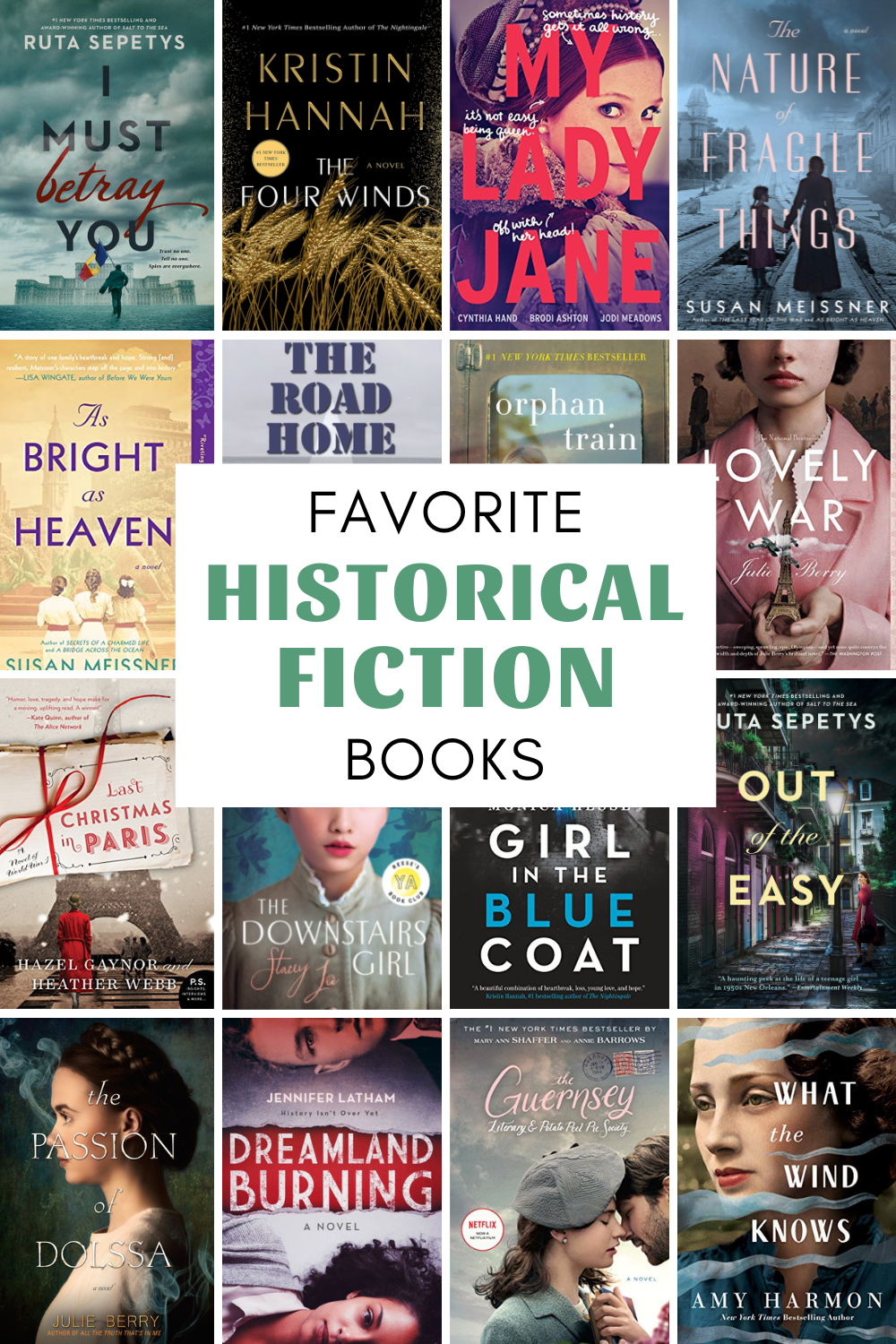 20+ Favorite Historical Fiction Books
Last Christmas in Paris by Hazel Gaynor
This historical fiction Christmas book is set in WWI and is written entirely in letters (a format I don't normally go for). Evie's brother and his best friend are headed off to the front, but like most people, they assume the war will be over by Christmas and they have grand plans to spend it together in Paris. Of course, it doesn't go that way. If you can, I HIGHLY recommend listening to this one – the narration is so good! (Full review here)
Orphan Train by Christina Baker Kline
I love it when I get completely sucked into a book and just want to spend all my time reading it. I was a wary of this one at the beginning with dual story lines, but I quickly was immersed in the book and read it in just a couple of days. It's reminding me that I need to go find some other orphan train books (Full review here).

Lovely War by Julie Berry
I mean, if you haven't read this book already, I'm probably falling down on my job here, but truly. THIS is the time to pick up a copy. The story takes place during World War I and follows four main characters. Even more fun? The story is framed by several Greek gods who are in a tiff of their own during World War II. I know it sounds weird, but trust me, it works. It's in the top 10 books I've ever read. And while I read a paper copy, I've heard the audio version is STUNNING. (Full review here)

Guernsey Literary and Potato Peel Pie Society by Mary Ann Shaffer
This epistolary novel (all written in letters) is a delightful WWII novel about a group of book lovers thrown together by the war and their letters to each other that often end up being about their favorite books – my mom gave me a copy years ago when it first came out and I've read it multiple times. The audiobook version has a full cast that really brings it to life because the characters are SUCH big parts of the story! (Full review here)

Ten Cents a Dance by Christine Fletcher
Ignore the truly terrible cover that looks like I'm recommending a shady romance novel, but this historical fiction book is TERRIFIC. It takes place just before WWII in Chicago where Ruby is a fifteen year old working at a packing house. Since her dad's death, things have been hard for Ruby and her mother and Ruby lives for the weekends when she can go out dancing with her friends. And then she meets Paulie, a handsome boy from her neighborhood with quite a reputation for trouble who tells her she's a good enough dancer to get a job as a taxi dancer. The idea of making $50 a week instead of $12 a week and not having to deal with brining pigs feet? Well, how can she resist? Naturally, she's suddenly in much deeper than she ever meant to be.

The Road Home by Ellen Emerson White
Ellen Emerson White may not be the most well-known author, but her writing is funny, sharp, and smart, and I think more people need to discover her! The Road Home takes place during the Vietnam War. The main character is a nurse in Vietnam and before the beginning of the book there is a big incident that really destroyed her life. It takes a long time for her to come to terms with it, and it slowly plays out as you read until you finally figure out what happened. Highly recommend this book for any historical fiction fan. Sometimes I see it in YA and sometimes adult fiction, but no matter your age, it is terrific.
Out of the Easy by Ruta Sepetys
This YA historical fiction title is set in 1950s New Orleans and I LOVED it when I read it years ago. Josie is the seventeen-year-old daughter of a French Quarter prostitute. Her dream is to escape New Orleans and enroll at prestigious Smith College. But when she becomes entangled in a murder investigation, will her dreams slip through her fingers?
Code Name Verity by Elizabeth Wein
It's sometimes easy to feel a little bit of World War II book fatigue, but this one is so different from any kind of WWII book I've read that I hope you'll give it a chance. Code Name Verity is about two girls, both working for the British Airforce during the war, one as a pilot and one as a spy. And the book opens with the spy being captured by the Nazis and revealing the secrets of her mission and the pilot's death in a plane crash. This book has so many twists and turns that I don't like to give more than that away – I highly recommend this one on audio because the two narrators? Fabulous. (Full review here)

The Nightingale by Kristin Hannah
I cannot tell you how long I waited in the hold lines for this book when it came out. And let me tell you, when I finally finished it, it was well worth all the hold lines. If you haven't read it yet, you need to. In WWII France, two sisters face frightening situations that tests their relationship, strength, and sense of right and wrong. It is a true tale of bravery. I listened to The Nightingale audiobook and it is fantastically done. (Full review here)
My Lady Jane by Cynthia Hand, Brodi Ashton and Jodi Meadows
This is one of my most recommended reads. After I listened to the audio and couldn't stop laughing while I was trying to run in my neighborhood. Don't even bother with the book – just get the audio version and you can thank me later. It's a re-telling of the story of Lady Jane Gray (who was queen of England for less than two weeks) and they take every sort of liberty you can imagine with this story, history be darned. I promise you will laugh your face off. (Full review here)

Girl in the Blue Coat by Monica Hesse
Another WWII book, this one a YA one. It takes place in Amsterdam and it was phenomenal. It was just such an exhilarating read from the first page to the last. Quick, intense, and well-written, I need more books like this in my life (Full review here).

Dreamland Burning by Jennifer Latham
This was a favorite of mine a few years ago. When a skeleton is dug up on 17-year-old Rowan Chase's family property, she's immediately determined to figure out who it belongs to and how it ended up buried in her Oklahoma yard. The story switches between Rowan's life in the present and Will Tillman, who is also 17, but lives in 1921. A perfect historical fiction murder mystery that I couldn't put down. (Full review here)

Orphan Monster Spy by Matt Killeen
You know how some books, you can look at the cover even months or years later and the feel of the book comes rushing back to you? That is this book for me. The atmosphere of the German city, the Nazi boarding school, and the woods was SO strong for me it was like falling into those places headfirst while I read. There is also a sequel to this that is definitely on my TBR list! (Full review here)

As Bright as Heaven by Susan Meissner
I LOVED this book set in Philadelphia in 1918. Philadelphia was a city full of promise and opportunity, even amidst the Great War. Pauline and her husband are excited for a better life for their three daughters, but months after arriving, the Spanish Flu pandemic claimed thousands of lives in their newly adopted city. They soon find themselves in a world that looks nothing like the one they knew. (Full review here)
What the Wind Knows by Amy Harmon
This was a 2022 Everyday Reading Book Club book and it's definitely one of the most popular books I've ever done in book club – I got a FLOOD of messages from people who were absolutely obsessed with this time travel book about a woman from America raised by her Irish grandfather who, after his death, returns to Ireland to spread his ashes and finds herself back nearly a hundred years earlier, meeting her grandfather who is a little boy. This one is full of history and romance and read by two terrific narrators, who really bring it to life. The first couple of chapters are a bit slow, so be willing to be a little patient – it's worth it! (Full review here)

The Downstairs Girl by Stacey Lee
And this one is the April pick for The 2023 Everyday Reading Book Club! Jo is fired from her job as a hat maker at the very beginning of the book and she knows that finding another job in 1890s Atlanta, especially because she is Chinese, is going to be extraordinarily difficult. And it's not just herself she needs to care for. She also feels responsible for Old Gin, the elderly man who has raised her and is now getting more and more ill. The two of them live secreted in a former Underground Railroad hiding spot under the house of one of the newspaper publishers. So Jo decides she'll start writing an anonymous advice column. What could possibly go wrong? I LOVE this book. (Full review here)
The Passion of Dolssa by Julie Berry
This book was bananas but in the best sort of way. I've never read anything quite like it. The year is 1241 in Provence, France and the town is still recovering from The Crusades. When a tavern matchmaker finds Dolssa, a young woman with healing gifts, near death by the river, she is hidden and nursed back to health. All the while, Dolssa is being hunted by an obsessed friar who is determined to burn her for being a heretic.
The Four Winds by Kristin Hannah
I already know that The Four Winds is divisive. I LOVED it and couldn't stop listening – blowing through the 15 hour of audio in just days – but I know other people found it too depressing. I was sucked in to this story of the Dust Bowl during the Great Depression and a woman who will do whatever it takes to protect her children. After growing up in a family that consider her too weak (thanks to a childhood illness) and too homely to ever marry and then a husband who can't find the happiness he seeks with his family, she knows that the only person she can really rely on is herself. If you love historical fiction and strong characters, this one is a winner. (Full review here)
These is My Words by Nancy Turner
I read this book YEARS ago after my mom raved about it and sent me a copy. She wasn't wrong – this historical romance is written in diary form (a format I generally don't care for but works wonderfully here) and follows Sarah Prine and her family in the Arizona Territories where pretty much every bad thing you can imagine happens until they join up with a wagon train. The leader of the wagon train is Captain Elliot and Sarah by turns admires him and despises him. Of course she does. I LOVED this book. (Full review here)

The Nature of Fragile Things by Susan Meissner
I LOVED As Bright as Heaven and Susan Meissner is always one of the most highly recommended historical fiction writers when I am needing recommendations. I really enjoyed this one about three women during the San Francisco earthquake of 1906. (Full review here)

I Must Betray You by Ruta Sepetys
Ruta Sepetys is a little hit or miss for me, but her newest historical fiction title was a definite win in my book. It's set in Romania in 1989 and while most European communist regimes are falling apart, Romania is still deep in the throes of Nicolae Ceaușescu's dictatorship, with most of the world completely unaware. Cristian is 17 years old and dreams of a different life for himself, but when he's blackmailed into becoming an informer, it looks like all his dreams might go up in smoke unless he's willing to risk absolutely everything. I HIGHLY recommend this one on audio!
Winter Garden by Kristin Hannah
I was so into this book when I read it for the 2022 Everyday Reading Book Club. It's the perfect wintery historical fiction title for when the weather is cold! Two estranged sisters are brought together again when their beloved father is dying. Their Russian mother has never been warm, but their father makes her promise to tell their daughters a story she began years earlier about a love story that spanned sixty years. 

And if you'd like a printable copy of this historical fiction book list that you can take to your library or screenshot on your phone for easy access, just pop in your email address below and it'll come right to your inbox!
if you liked this post about the best historical fiction books, you might also like these other posts: