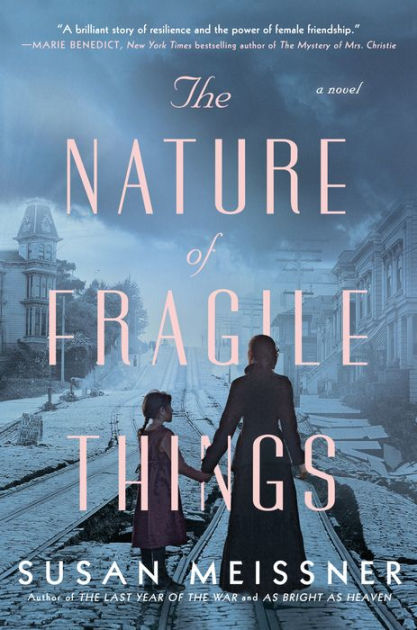 When I ask about favorite historical fiction writers, Susan Meissner is one of the MOST mentioned names.
I read her phenomenal book, As Bright As Heaven, a couple of years ago and although it took me a bit to get into the story, by the end, I couldn't read fast enough and I understood why people love her so much.
So when I saw that she had a new book, The Nature of Fragile Things, coming out this year, I added it, unread, to the 2021 Everyday Reading Book Club lineup.
I just finished listening to it a few days ago and I really enjoyed it!
The Nature of Fragile Things by Susan Meissner
The book centers around the massive San Francisco earthquake of 1906, but the story begins a few years before that fateful morning when Sophie Whalen answers a newspaper ad for a mail-order bride.
She's an Irish immigrant living in New York City and the conditions in her tenement are so awful that she figures trading it in for a warm house and enough food is a safe enough gamble.
When she arrives in San Francisco, she marries widower Martin Hocking that same day – he's extremely handsome, but also very withdrawn and doesn't seem particularly interested in her.
That's fine by Sophie, who wasn't looking for a sweeping romance.
What she IS looking for is someone to love and care for, and she quickly finds that in Martin's five-year-old daughter, Kat. Kat is almost completely silent – it's weeks before Sophie hears her utter a word at all – and she's clearly bereft over the loss of her mother. But Sophie, who can't have children of her own, does her best to care for this little girl, especially because Martin travels for work much of the time, and the two of them grow quite close as the months pass.
All in all, Sophie feels like it's worked out pretty well. She has a child to care for, a safe place to live, and her life is far better than it was in either Ireland or New York. And yet. . .  there is definitely something a bit odd about her husband.
And on the eve of the earthquake, a knock at the door from a woman Sophie has never met unleashes all the secrets that Martin has been hiding.
I knew from reading As Bright as Heaven that there would likely be a twist at the end, so I was watching for that, but even suspecting it, I loved seeing it actually play out.
It was also fascinating to listen to The Four Winds and The Nature of Fragile Things back to back, since they had a lot in common – both took place in the early 20th century, starring women with hard beginnings trying to make the most of their lives and protect their children amid unusual marriages, and both have natural disasters that play a central role in the stories.
If I had to pick only one of them to read, I preferred The Four Winds because it felt a little more fleshed out, but if you prefer something with a happier ending, The Nature of Fragile Things is probably for you.
Have you read The Nature of Fragile Things? I'd love to hear what you thought! And if you've read other Susan Meissner books, let me know which ones are your favorites!
If you liked The Nature of Fragile Things, you might enjoy these historical fictions books too: