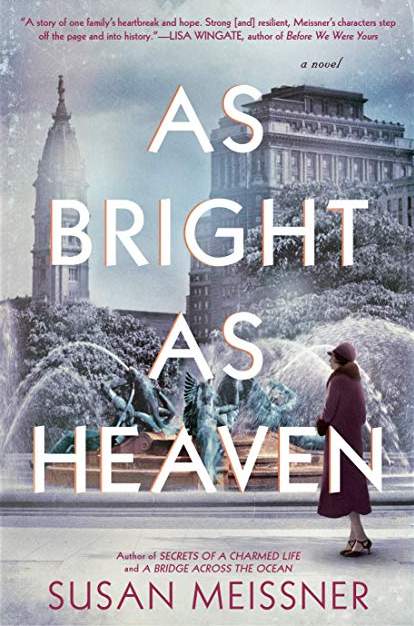 As Bright as Heaven by Susan Meissner was one of my three picks for the 2018 Summer round of Tell Me What to Read.
It was possibly the book of the three I was most excited about, but somehow I just could not get into it.
I checked it out back in April from my Arizona library and didn't even crack it open before it was due back.
I checked it out again, read a page or two, and then it went back again, unfinished.
When we moved here, I requested it from the library and after two more renewals, I finally got got past that first page.
The hardcover for As Bright as Heaven is fairly big, so I didn't want to take that with us to Italy, so instead I requested a Kindle version and my hold came up two hours before we left for the airport. Hallelujah! The reading gods were finally smiling down on me.
This time, it sucked me right in and I couldn't read it fast enough.
As Bright as Heaven Summary
As Bright as Heaven takes place in Philadelphia during WWI.
The Bright family – Pauline and Thomas and their three young girls – move to Philadelphia, leaving behind their life in the country so Thomas can take a job with his uncle running his mortuary. His uncle has no children but has always liked Thomas, so he wants Thomas to take over the business when he's ready to retire.
And it's not just the country that the Brights are leaving behind.
They've also recently buried their baby boy who was born with a heart defect and only lived for a few months.
Pauline, especially, hopes to leave behind her grief and face the realities of death in a new way as part of her husband's new job.
But, of course, things don't go as planned.
Within a few months of arriving in Philadelphia, the Spanish Flu arrives in America and sweeps through Philadelphia, leaving more than 12,000 people dead.
But the Spanish Flu brings more than tragedy to the Bright family – it also brings them a new baby boy.
On a trip to feed and care for sick families in one of the poor neighborhoods of Philadelphia, they discover a baby boy who has been orphaned by the Flu and they take him in. It's not their own baby brought back, but it's something not too far off, and he brings a huge measure of happiness to this family that thought they might never know it again.
I knew these basics of the story before I started reading, but I quickly realized I shouldn't have any expectations about where the storyline was going – there were so many twists and turns in the plots and I loved watching it all unfold.
One of the reasons I think I had a hard time at the beginning of As Bright as Heaven is that it's told by multiple narrators. It switches between Pauline (the mother) and each of the three daughters and at first that made it hard for me to stay grounded in the story.
But after a few chapters, I thought this worked fantastically well. I loved seeing these events – the death of their baby son/brother, the move to a new city, the realities of living in a mortuary, and the toll of the war and the Spanish Flu – from their different view points.
And I loved every one of the characters, watching them grow and change and respond to the tragedies in their lives.
I do think the ending wrapped up a little too neatly. I don't necessarily like a lot of threads left open, but this one seemed a bit too tidy even for me.
I haven't read anything else by Susan Meissner, but now I'm dying to pick up Secrets of a Charmed Life which is set in WWII and has amazing reviews.
Have you read any of her books? I'd love to know which ones to start with!
If you liked As Bright as Heaven, these are a few other historical fiction books you might like too!