Guys, the book deals just keep getting better and better! I cannot believe the endless stream of cheap or even free books that keep coming down the pipeline!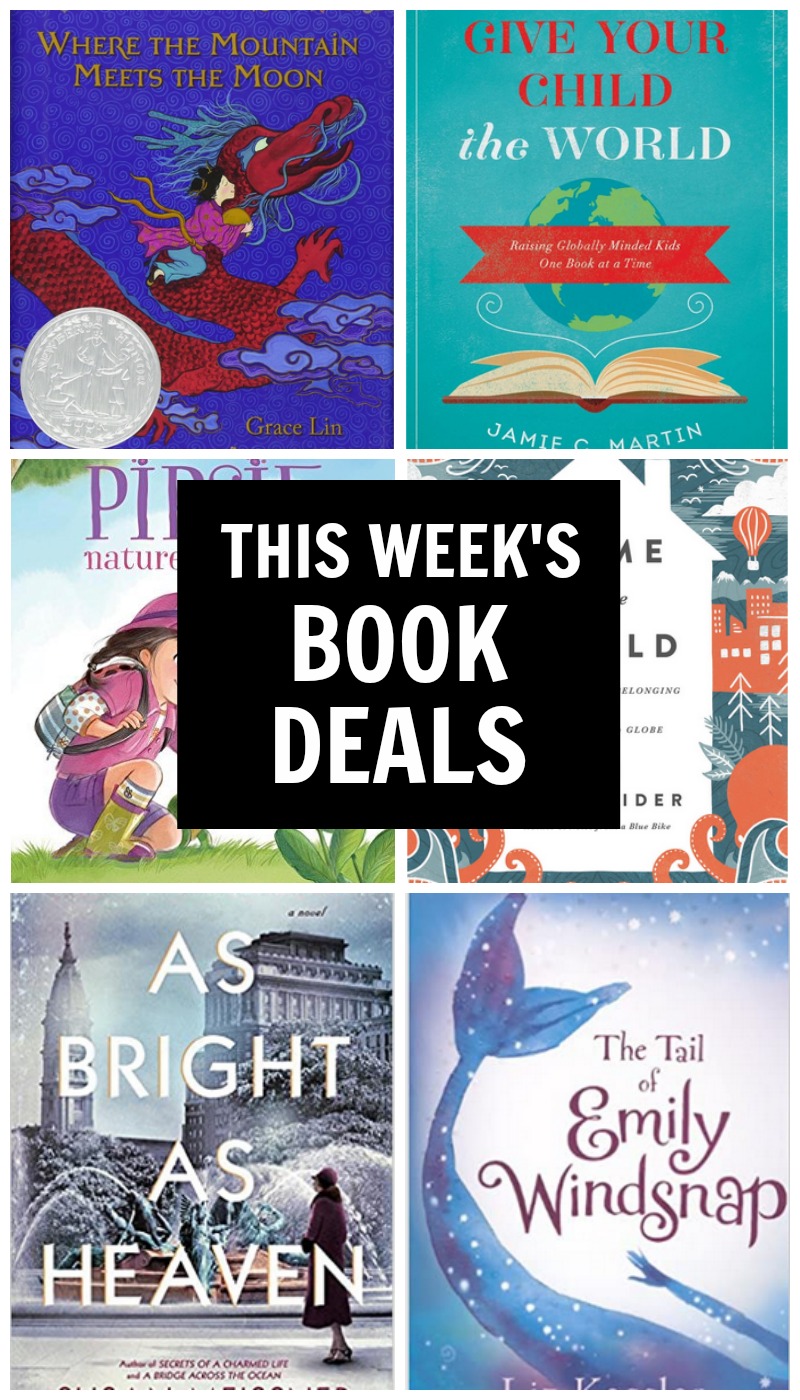 6 Book Deals You Don't Want to Miss This Weekend
The Tail of Emily Windsnap by Liz Kessler – ebook for FREE
My girls are SUPER into this series. Ella has read them all multiple times and my younger girls love listening to the audio version of this girl who discovers that she is half mermaid.
Where the Mountain Meets the Moon by Grace Lin – ebook for $1.99
I'm currently reading this Newbery Honor book set in China to my girls and we're all really into it (we'll probably finish it in the next few days!)
Leroy Ninker Saddles Up by Kate DiCamillo, illustrated by Chris Van Dusen – ebook for FREE
If you love Mercy Watson (and who doesn't?), this series that includes some of the same Deckawoo Drive characters is a must read! And for free? You'd be silly not to grab it.
Pipsie, Nature Detective: The Disappearing Caterpillar by Rick DeDonato – ebook for FREE
Any time there is a book for young readers that has a STEM bent AND is free? Of course I'm going to download it.
At Home in the World: Reflections on Belonging While Wandering the Globe by Tsh Oxenreider – eBook for $1.99
You can't leave the house so you might as well read about someone else traveling the globe. And this book is SO good – I wrote a full review of it here, plus included it in the Summer Reading Guide a few years ago.
Give Your Child the World: Raising Globally Minded Kids One Book at a Time by Jamie C. Martin – eBook for $1.99
This is such a great resource, especially when you're homeschooling for the next little bit, to help find books for all ages (picture books through read alouds) that introduce your child to people and cultures from all over the globe.
As Bright as Heaven by Susan Meissner – eBook for $3.99
I LOVED this book (full review here!) and am so happy to see it on such a big sale, but fair warning that it includes the Spanish Flu pandemic so if that's triggering for you right now, maybe just hold on to it until life returns to normal again.