One of my favorite sources for audiobooks (both for adults and kids!) is LibroFm.
I have a whole post about how it works and why I like it here, if you're curious, but the short answer is that LibroFm is basically an alternative to Audible that supports independent bookstores (you can choose which bookstore you want your membership to benefit).
Right now, LibroFm has a Kids Summer Sale going on with dozens of audiobooks on sale for 99 cents! I snapped up several of these sale audiobooks for my kids and I was delighted what a good selection they had (without it being completely overwhelming).
A couple of great things about LibroFm:
The files are not locked (unlike Audible), so you can do whatever you want with them including make your own Yoto cards! (Directions on how to do that here).
You don't have to be a member to access sales. Audible usually locks their sales so you have to be a Premium member to have access to their sales, but LibroFm sales are open to anyone.
You own the audiobooks forever. No membership required – once you buy the audiobook, it's yours forever.
Here are some of my favorite books from the LibroFm Sale (and you can see all the sale titles here). These are perfect for listening to in the car during road trips or errands, or listening to before bedtime or during quiet time.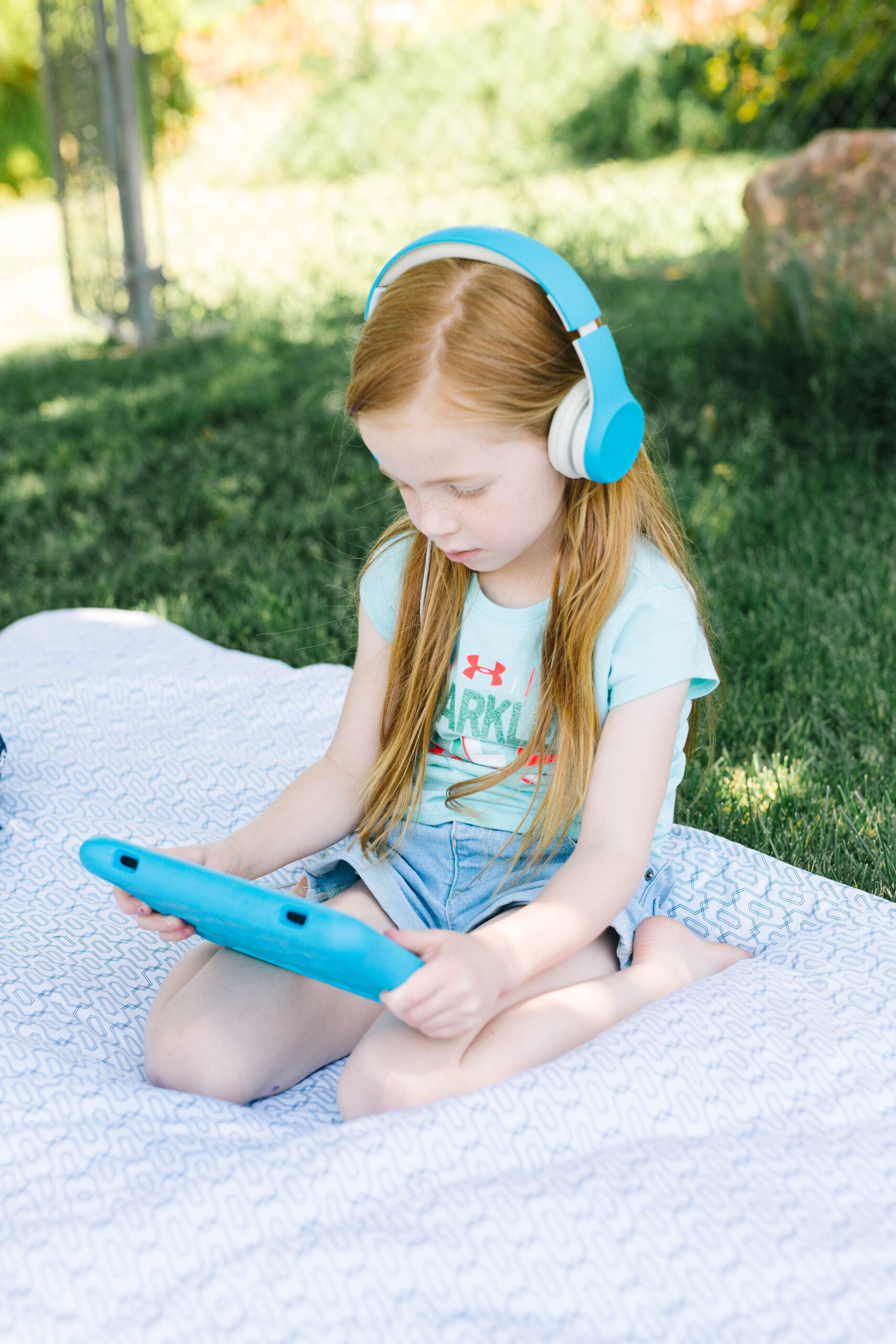 The 99 Cent LibroFm Sale
Race to the Bottom of the Earth: Surviving Antarctica by Rebecca E. F. Barone
5 hours 15 minutes
This middle grade nonfiction novel follows two voyages to the South Pole during 1910 and 2018. This one is full of adventure, competition, exploration, and survival.
íVamos! Let's Go to the Market by Raul The Third
21 minutes
Lobo and his dog love to make deliveries, but Lobo often gets sidetracked by stopping at anything in his path he feels is interesting. Lobo has some great adventures and I love that this book has some Spanish intermingled in. ¡Vamos! Let's Cross the Bridge is also on sale!
Interrupting Chicken by David Ezra Stein
5 minutes
Little Red Chicken wants Papa to read her a bedtime story, but interrupts him almost as soon as he begins each tale. Interrupting Chicken and the Elephant of Surprise (another installment of Interrupting Chicken) is also on sale for $0.99.
Itty Bitty Kitty Corn by Shannon Hale
7 minutes
A cute little kitten longs to be a unicorn but her friends laugh at her attempts to dress the part. Until a unicorn comes along with a secret. And if you have an Itty-Bitty Kitty-Corn lover, Pretty Perfect Kitty-Corn is also on sale for $0.99! 

Honeybee: The Busy Life of Apis Mellifera by Candace Fleming
28 minutes
This picture book describes the life cycle of Apis Mellifera, also known as, the honeybee. There is so much detail and description that goes into this book. I bet you won't realize how little you knew about this little honeybee!

Love in the Library by Maggie Tokuda-Hall
14 minutes
This heartfelt story about the love that grows between a librarian and a book lover in a Japanese American internment camp library is based on the story of the author's grandparents. 
Bear's New Friend by Karma Wilson
7 minutes
If you have a little one, you have probably heard of Bear. In this installment Bear and his woodland friend believe they are not alone in the woods. But who could it be? A new friend?
A Different Pond by Bao Phi
14 minutes
This was a 2018 Caldecott Honor book, but even though this is audio, the story itself is so sweet! Bao Phi really turns something as simple as fishing, into beautiful and eye-opening poetry about family and culture – I loved this book!

Gustavo, The Shy Ghost by Flavia Z. Drago
7 minutes
Gustavo is great at being a ghost – he glows in the dark and floats through walls and makes objects levitate. But the thing he loves most is making beautiful violin music and he wants to share that with the monsters around him. But when he's invisible, that's a tricky prospect. Is he destined to be lonely forever?

Too Many Carrots by Katy Hudson
8 minutes
Rabbit has SO many carrots. So many he can't even fit into his own house anymore. And when a friend invites him to come to HIS house, there is no way he can leave behind all those carrots.

The Paper Bag Princess by Robert Munsch
7 minutes
Prince Ronald is practically perfect – exactly the kind of prince Princess Elizabeth ought to marry. And she's not going to be deterred by a dragon who kidnaps the prince and destroys her castle. But when she finds the kidnapped prince, he shows his true colors when he sees the paper bag she's wearing, thanks to her entire wardrobe being destroyed by fiery dragon breath.

Fry Bread: A Native American Family Story by Kevin Noble Maillard
34 minutes
This gorgeous book about a Native American food staple has been a favorite at our house – my girls asked for it daily for six months straight!

The Terrible Two by Mac Barnett & Jory John
3 hours 22 minutes
Ella and I listened to it together several years ago (she went on and listened to the rest of them alone) and it's hilarious about two boys trying to out-prank each other. Now, all three of my girls can recite pretty much the entire book from memory because they've listened to it so many times. 

Princess Academy by Shannon Hale
7 hours 26 minutes
Don't let the title fool you – this book isn't just for girls. This book is great for all ages, boys and girls alike – with as much adventure and intrigue as you could hope for. By the way, it says abridged, but I went and looked at the unabridged version on Audible and it's the same length and same readers, so I think that's an error. I'm 99% confident it's unabridged. (Full review here)
Planting Stories: The Life of Librarian and Storyteller Pura Belpré by Anika Aldamuy Denise
15 minutes
The first Puerto Rican librarian in New York never knew she would champion bilingual literacy and change the world. Her name was Pura Belpré, and this is such an inspiring biography about her.
Evelyn Del Rey Is Moving Away by Meg Medina
7 minutes
This picture book perfectly captures the emotions when a beloved friend has to move away. (There's a Spanish edition of it also included in the sale!). 

Libby Loves Science by Kimberly Derting & Shelli R. Johannes
20 minutes
Great for readers who loved Ada Twist, Scientist, Libby and her friends use creativity and ingenuity to show everyone that science is for everyone.
A Ben Of All Trades: The Most Inventive Boyhood of Benjamin Franklin by Michael J. Rosen & Matt Tavares
44 minutes
You might know Benjamin Franklin as the guy with the kite and the key, or the face of the $100 bill, but this historical novel follows Ben during his childhood. What he does as a child might very well inspire the future he ends up having.
Belly of the Beast by Jonathan Auxier
38 minutes
My girls have loved the books in this series about Auggie who is in charge of the one-of-a-kind Fabled Stables. This is book #3 in the series, and book #2, Trouble with Tattle-Tails, is also on sale for $0.99!
Aaron Slater, Illustrator by Andrea Beaty
15 minutes
We are huge fan of Andrea Beaty, and her Questioners picture book series is phenomenal. They all inspire, talk about persevering through mistakes, and this one in particular shows how creativity can tell our story. 

Rissy No Kissies by Katey Howes
13 minutes
Rissy is uncomfortable with kisses and is ready to show her friends and family how she is comfortable showing and receiving love. This is a fantastic book about consent and body autonomy.
Kaia and the Bees by Maribeth Boelts
8 minutes
Kaia's father keeps bees on the roof of their urban apartment building but Kaia is TERRIFIED of bees.

Classified: The Secret Career of Mary Golda Ross, Cherokee Aerospace Engineer by Traci Sorell
20 minutes
In this inspiring nonfiction story, Mary Golda Ross, the first Native American woman aerospace engineer, works on top secret spacecraft and airplanes, while using the values you learned from her Cherokee culture.
Let me know if you grab any of them!
If you liked this post about the LibroFm sale, you might like these posts too: