If you have a child just starting to get into audiobooks, I love an audiobook collection of short stories.
It's a big ask for a child who is new to audiobooks to follow a 3 or 4 hour story, but a short story around 5-20 minutes is usually just right.
I particularly love short story collections when it comes to audiobooks for kindergarteners or preschoolers (or even younger – my children have all started showing interest in audiobooks around 2.5 or 3!) because you get to keep listening to the stories of the same characters and you don't have to keep switching to a new audiobook every five minutes.
Here are more than a dozen of my favorite audiobook story collections that are just right for those beginning listeners.
(P.S. If you're looking to start introducing your child to audiobooks, check out this post with my best tips for getting started!).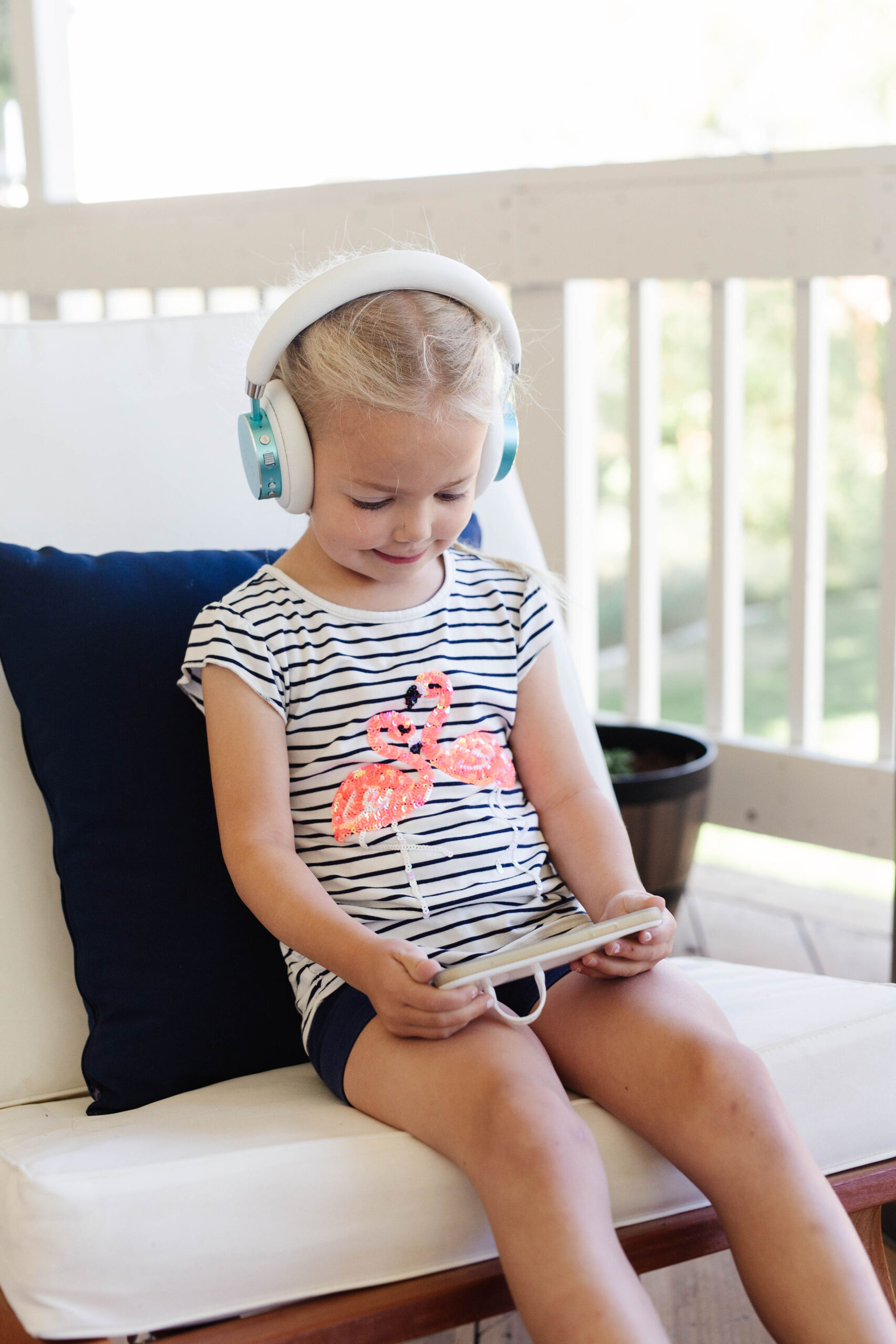 15+ Best Audiobooks for Kindergarteners and Preschoolers
The Frog and Toad Audio Collection by Arnold Lobel
1.5 hours  // 4 stories
Read by the author, these are just SO delightful. They have fun music and I just feel happy whenever I hear these in the car or playing in our house. I love every single one of these sweet stories and my girls have listened to the whole collection a million times.

James Herriot's Treasury for Children: Warm and Joyful Tales by James Herriot, read by Jim Dale
1.5 hours // 8 stories
I grew up on James Herriot – my mom is a huge fan – and she introduced my girls to his sweet stories about being a farm vet. She gave us this collection that's meant especially for children and it's just wonderful. And, just when you thought his stories couldn't get any better, they're read by Jim Dale of Harry Potter audiobook fame. The Audible version costs less than $7 right now.
Cowgirl Kate and Cocoa by Erica Silverman, read by Elizabeth Morton
10 minutes // 1 story
I bought this one a few years ago because it was whopping $1.71 from Audible (it still is!) and we've listened to this one in the car countless times about Cowgirl Kate and her opinionated horse Cocoa. It's only ten minutes long so it's perfect for a quick school drop off or brief errand.
Nate the Great Collected Stories by Marjorie Weinman Sharmat, read by John Lavelle
1 hour 45 minutes // 4 stories
I remember Nate the Great from when I was little and now my girls love these early mystery stories too. The first collection has three stories and the second collection has four.
The Fancy Nancy Audio Collection by Jane O'Connor
4 hours // 31 stories
With 31 Fancy Nancy stories included, this is a LOT of bang for your audiobook collection buck. Plus you don't have to worry about correctly pronouncing some of those big words!
Mouse Tales written and read by Arnold Lobel
30 minutes // 2 stories
I love Arnold Lobel as an author and it turns out I love him as a reader too – he reads the audio versions of most of his books! Mouse Tales has always tickled my funny bone and it delights me to hear the author read these silly stories aloud. Such a great audiobook for young listeners!
Mercy Watson Collection by Kate DiCamillo, read by Ron McLarty
40 minutes // 2 stories
There's something just so delightful about a couple who treats their pig like a child. My girls are obsessed with these books and I like that they are a little longer (more like 20 minutes for each story) and each CD set or Audible set has 2 stories on them. On Audible, these ones are each about $6 currently.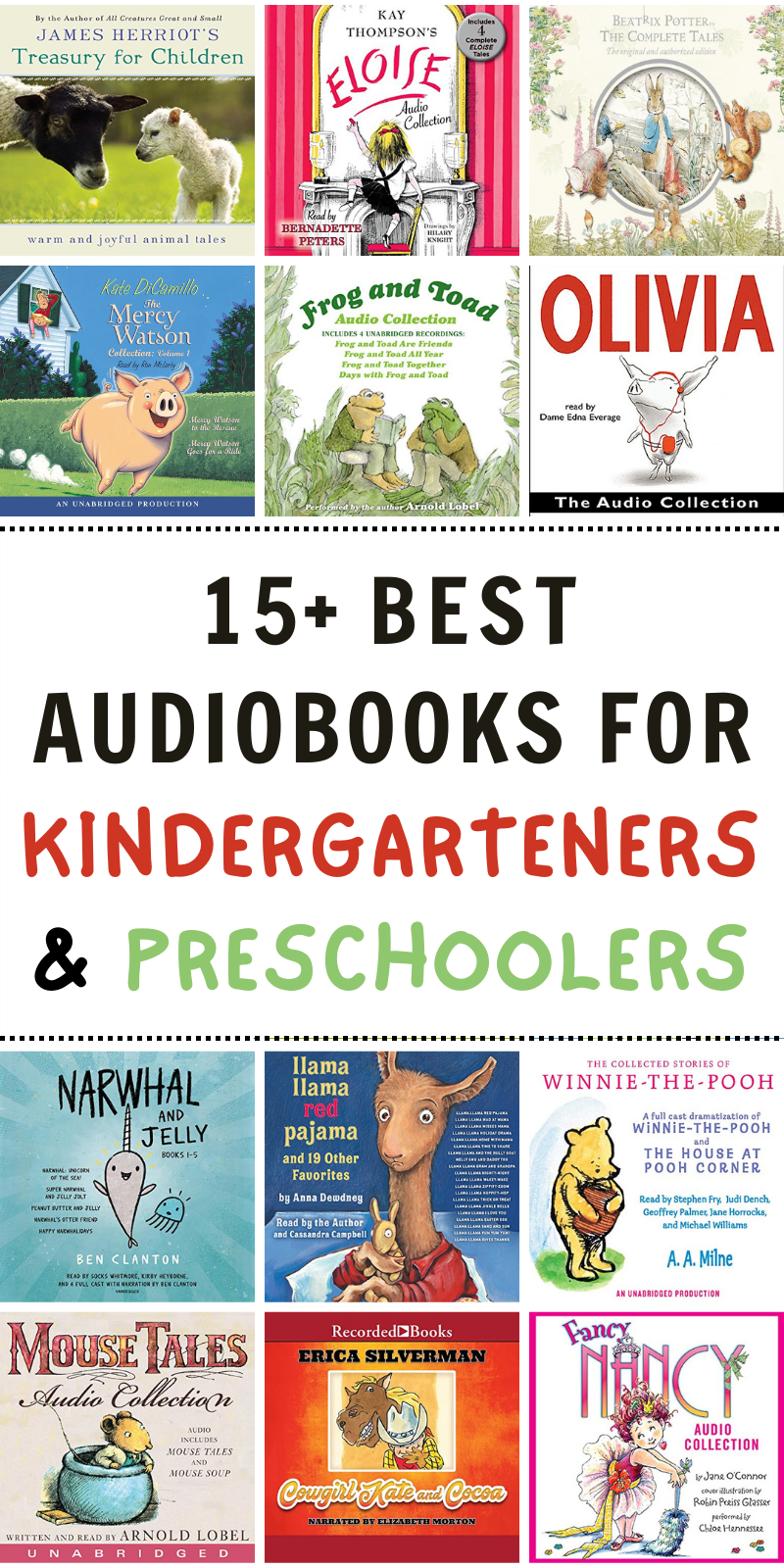 Winnie the Pooh by A.A. Milne
2 hours // 10 stories
The two hour collection of classic Winnie the Pooh stories is done as a full dramatization with original music and famous actors like Judi Dench and Stephen Fry doing the various character voices. Seriously, it's incredible.
Ling and Ting: Not Exactly the Same by Grace Lin, read by Angela Lin
10 minutes // 1 story
These stories about identical twin girls are so funny and sweet. They get along and they love being twins, but they are NOT exactly the same. Perfect audiobook for kindergarteners or preschoolers.
The Complete Tales of Beatrix Potter by Beatrix Potter
6 hours // 23 stories
This spectacular collection of Beatrix Potter's stories – 23 in all – is so fun for introducing your child to these classic animal stories with a full cast audio. (If you don't mind missing a few of the books, you can grab this collection of 18 Beatrix Potter stories for 99 cents!)

Llama Llama Red Pajama and 19 Other Favorites by Anna Dewdney
45 minutes // 20 stories
This collection of 20 Llama Llama books are almost all read by the author and make perfect quiet time or bed time listening.

The Eloise Audio Collection by Kay Thompson
2 hours // 4 stories
Just when you think Eloise can't be any more epic, they bring in Bernadette Peters to narrate this collection of stories.
The Princess in Black: Books 1-3 by Shannon Hale and Dean Hale 
1 hour // 3 stories
My girls absolutely LOVE The Princess in Black series and listening to them is just as fun as reading them. This is books 1 – 3 and books 4 – 6 are here. You may know Julia Whelan because she's narrated lots of super popular books, including Educated and The Great Alone.
Olivia Collection by Ian Falconer
38 minutes // 5 stories
I've always loved Olivia, but when I heard the audio version read by Dame Edna Everage? It was a whole new level of fabulous. This includes five Olivia books.


Amelia Bedelia Audio Collection by Peggy Parish
1 hour // 5 stories
I've never met a child who doesn't just love Amelia Bedelia and her crazy antics as she misunderstands virtually every direction ever given her. With, of course, hilarious results.
Narwhal and Jelly Collection by Ben Clanton
1 hour // 5 stories
This full cast audio version of the first five books in this beloved series is INCREDIBLY well done and the girls and I have all listened to it on repeat for the past several months. It's just SO good and not an exclusive audiobook for kindergarteners – a crowd pleaser for all who listen in!
And if you'd like a printable copy of this list that you can take to your library or screenshot on your phone for easy access, just pop in your email address below and it'll come right to your inbox!


if you liked this post about audiobooks for kindergarteners, you might also like these posts: