If you have a unicorn-obsessed little reader, this list of unicorn books is for you! Each one of these is funny, clever, or sweet, and they're all magical enough to deserve a spot on your bookshelf (or at least in your library bag)

Doesn't it seem like unicorns are having a moment?
I don't know if they've been this popular since Lisa Frank was splashing them on every pencil and notebook in the US. (Maybe she still is?).
Either way, my girls are definitely very into unicorns.
And there are so many new unicorn books out that are all begging for a magical story time. Bonus points if you put on your unicorn horns before reading.

 11 Magical Unicorn Books
Unicorn Thinks He's Pretty Great by Bob Shea
I am a big Bob Shea fan (I think he just has such a hilariously offbeat sense of humor) and this unicorn book is no exception. Goat is not happy. Unicorn has shown up with his fancy self and he's making Goat feel BAAAAAAAd about himself. Is it possible for these two to be friends? (Spoiler: Obviously).
Uni the Unicorn by Amy Krouse Rosenthal and Brigette Barrager
First, I just have to say how much I'm still mourning the passing of Amy Krouse Rosenthal. SEcondly, this book is just magically delightful, taking place in a land where unicorns are everywhere but no one believes in little girls. Uni, though, is convinced that little girls are real, even if all her friends laugh at her. (The sequel, Uni the Unicorn and the Dream Come True, is also excellent).
You Don't Want a Unicorn by Ame Dyckman, illustrated by Liz Climo
It SOUNDS great to have a unicorn for a pet. But do you know how much trouble a unicorn actually is? When a small child finds a wishing well and carelessly wishes for a unicorn of his own, he discovers just how NOT magical having a unicorn in the house can be.
Do You Believe in Unicorns? by Bethanie Deeney Murguia
I picked this book up in the middle of packing up our Arizona house, and it just delighted me to no end. The animal in this book is most certainly a horse wearing a hat. Because it would be ridiculous if it were a unicorn wearing a hat to disguise its horn. In each photo, the art perspective changes so you never quite know. You'll just have to decide for yourself!
Thelma the Unicorn by Aaron Blabey
Thelma's dearest wish is to be a unicorn. It'd be so magical and glamorous. And then, unexpectedly, her wish is granted and she become a beloved unicorn superstar. Turns out being a superstar (and a unicorn) is maybe not as thrilling as she hoped.
Not Quite Narwhal by Jessie Sima
Kelp grew up in the ocean with a family of narwhals. So he's always assumed that's what he is, even if he's not exactly like the rest of his family. Then, when he's swept ashore by a strong current, he discovers that he's a UNICORN. Does that mean he has to leave behind his narwhal family, though?
A Unicorn Named Sparkle by Amy Young
Lucy is thrilled when she finds an ad in the newspaper for a unicorn – and for only 25 cents too! She spends the time waiting for her unicorn delivery imagining everything they'll do together. But when Sparkle shows up, he's not. . . exactly what she expected.
I Am a Unicorn! by Michaela Schuett
Frog bounces onto the first page of this book in a terrific unicorn costume, complete with a tail, a horn and the ability to fly (with the help of a swing). But Goat is not impressed and keeps insisting that Frog is NOT a unicorn. Frog is losing hope until POOF! Something truly magical takes place.
Goldilicious by Victoria Kann
It's great being Pinkalicious, but what's even better? Being accompanied on your pinkalicious adventurous by your (imaginary) unicorn pal, Goldilicious. I've heard lots of parents say this is their favorite of all the Pinkalicious books and I can't say I blame them – it's such a fun one!
My Mom Is Magical by Sabrina Moyle
This little board books is basically everything you'd expect from a board book about unicorns. Bright, vibrant illustrations, plenty of stars and hearts, and everything that makes moms (and unicorns) extra wonderful. It's a good little Mother's Day gift too, assuming the mother in your life enjoys board books. Or if you just want to be certain your child knows how darn lucky they are to have you for a mom.
That's Not My Unicorn by Fiona Watt and Rachel Wells
I discovered this series when we lived in London and our library had about ten thousand versions. They're just cute little board books that my babies have all LOVED with textures to touch and pat on every page.
Narwhal: Unicorn of the Sea by Ben Clanton
Since this one basically has Unicorn only in the title, I'm not sure I can count it, but it's my list and I love this silly little graphic novel, so I'm including it anyway. Narwhal and Jelly are a dynamic duo (think Frog and Toad), where they explore the ocean together in three amusing and clever stories.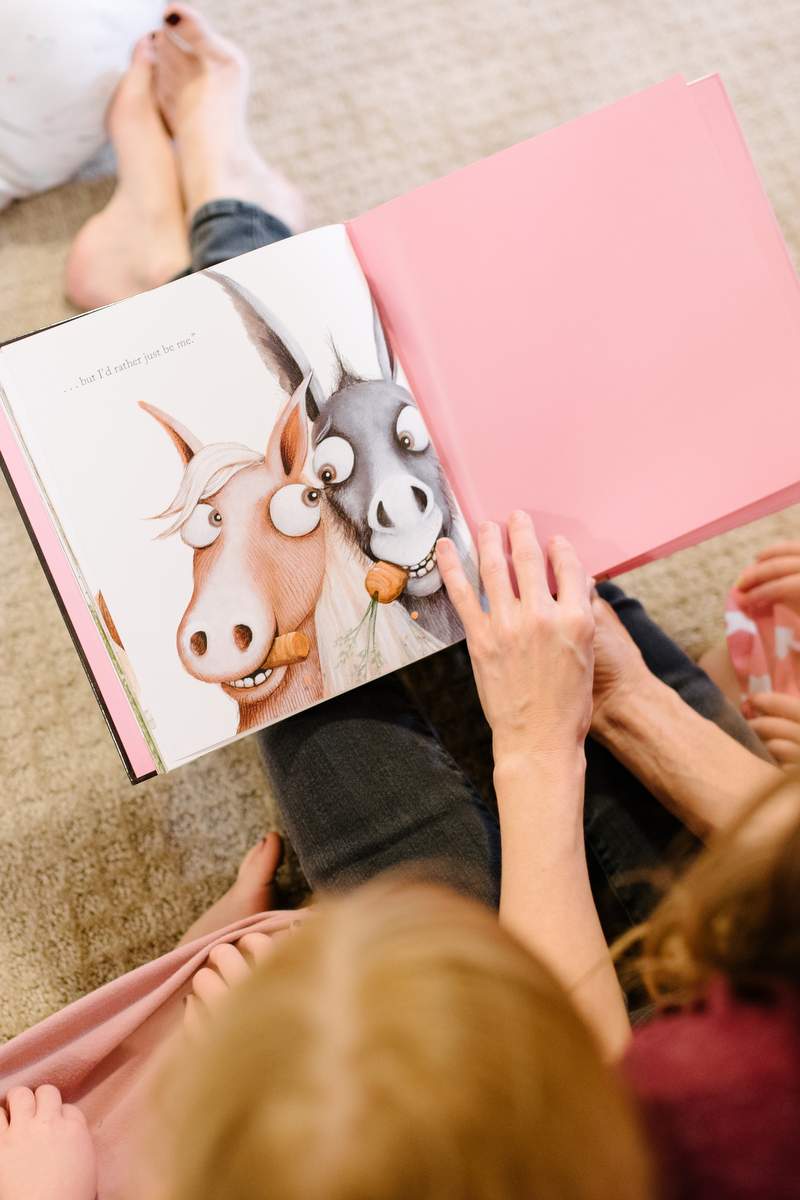 And if you'd like a printable copy of this list that you can take to your library or screenshot on your phone for easy access, just pop in your email address below and it'll come right to your inbox!
Any other amazing unicorn books I've missed? Leave them in the comments!
If you liked this list of unicorn books, you might also enjoy these posts:
Reader Interactions