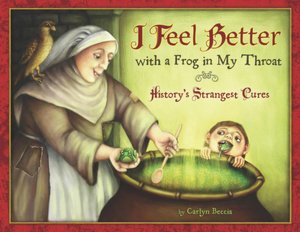 This is the kind of book that wouldn't have stayed on my shelves in an elementary school library. The combination of non-fiction and the ick factor makes I Feel Better with a Frog in My Throat a winner.
The book discusses eight different ailments (coughs, colds, wounds, etc). Each one is presented with three possible cures. You're supposed to guess which one will work and then turn the page to find out which one is right.
Each of the possibilities gets a page description of why or why not it would have worked (and why people in the past thought it would work).
The pictures are a perfect compliment – big, full-color pictures with snaggle-toothed crones, unhappy victims of crazy cures, and lots of very expressive bugs and rodents.
I read this one to Ralphie's girls a few weeks ago and they loved trying to guess the right cures. This book would be a great part of a unit on history or medicine or illness or correlation v. causation.
As for me, I'm mainly just happy that when I get a sore throat, no one tries to make me wear a necklace of worms.


Copy checked out from my local library