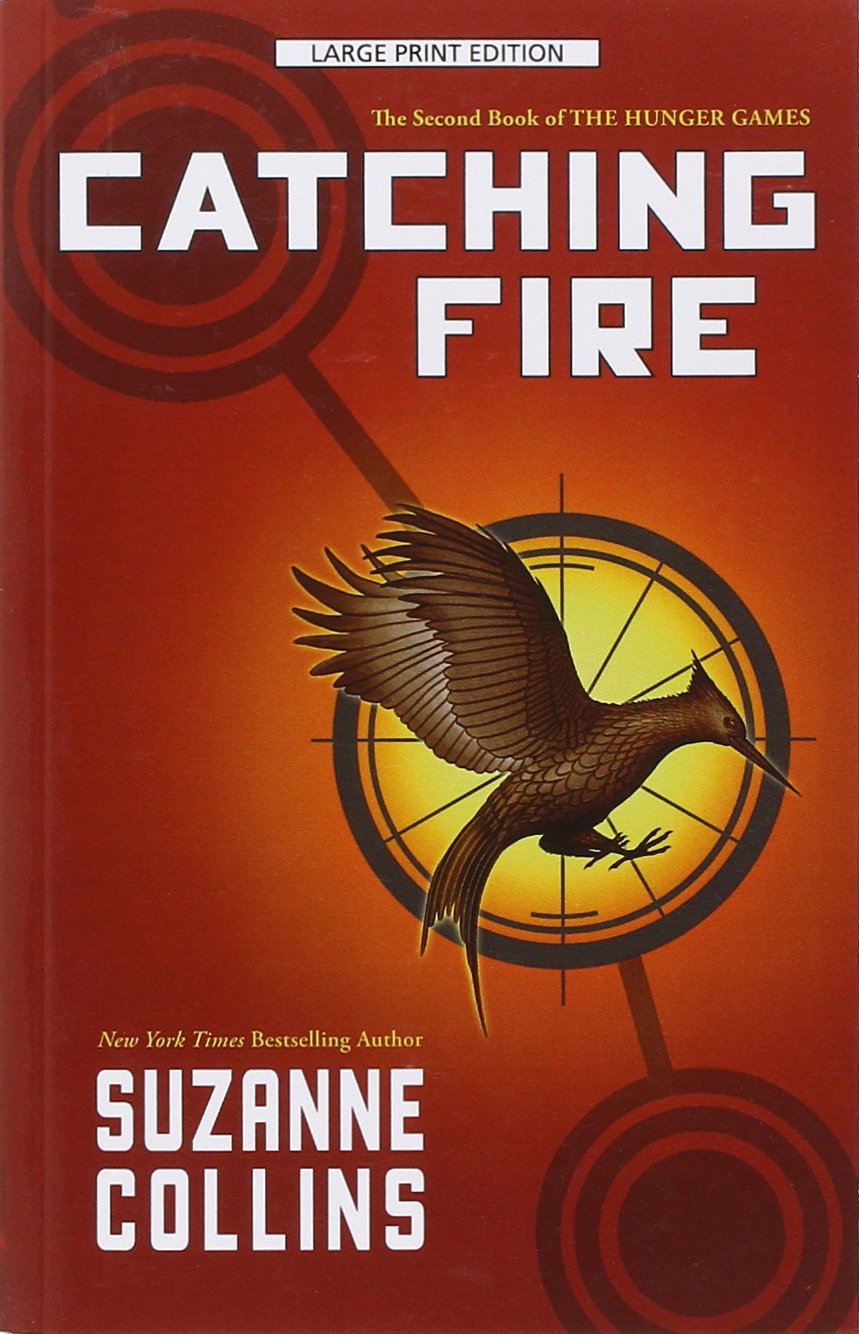 TOTALLY SPOILER-FREE (unless you haven't read The Hunger Games, in which case, yeah, there are loads of spoilers here).
10 of 10: You couldn't ask for a better follow-up to The Hunger Games. There is no middle-of-the-trilogy slump here. I'd say the Catching Fire book was even better than the first book, incredible as that is.
For me, the sign of a really really good book is when I periodically have to leap off the couch, throw the book aside, and scream to the empty house, "OH MY WORD! This book is so so so good!" I must have done that twenty-five times yesterday, which I'm sure delighted Bart as he was trying to study.
I didn't mean to read this all in one day. I figured it'd take me at least two. And when noon rolled around and I'd only just cracked it and then I had to leave for a few hours, I thought there was no way I'd finish it. And yet, I did. The pages just flew by.
In The Hunger Games, I had a good feel for how the book would go, seeing as the back cover explained how the Hunger Games came about, how Katniss got picked to go, and then how she is in the Games to play to the death. Sure, you don't know all the details about Prim or Peeta and those are certainly surprises, but I think I can safely say that most people have a good feel for the general story arc going in. Right?
catching fire by suzanne collins
In this Catching Fire book, I had absolutely no idea what was going to happen. Basically all that the various blurbs I've read say is that the Capitol is pretty angry at Katniss (and, by extension, Peeta) for getting the upper hand at the end of the Games and now they want revenge. And that unrest in the districts is building. But I had no clue what the main arc was going to be – would there be a war, some massive showdown with the Capitol, swift deaths, a run into the unknown (a la The Giver), or something else entirely? I just didn't know. And that's a pretty fun way to read a book.
A lot of the hype about book 2 has been the love triangle. I remember people saying a lot about the crazy love triangle in book 1, but, c'mon people. Peeta got 99% of the screen-time and Katniss didn't say all that much about Gale. I demand more from my love triangles.
This one gave me the love triangle I hoped for. It really annoys me when a series presents a main love interest, makes him/her seem amazing and perfect and then, in the next book suddenly makes them in to a world class jerk so that of course they aren't the one the person picks. I wondered if that would be the case in this book, if Peeta or Gale would suddenly and inexplicably turn in to a complete scumbag, and I'd have to be really annoyed.
But no, that's not what happens. Gale is as solid and great and understanding as Book 1 would lead you to believe, and Peeta is just a sweet and perfect as he was in The Hunger Games (Haymitch tells Katniss at one point, "You could live a hundred lifetimes and not deserve him"). Every time Katniss is around Gale, I would think "Oh, pick HIM!" but then she'd be with with Peeta and I'd think, "Wait, no, HIM." The bad thing about a good love triangle is that she can't pick BOTH. Ack. And unlike Twilight, where I basically never thought Bella would pick Jacob for one second, both of these guys were totally possible choices.
Catching Fire gave me that same horrifying feeling towards the end that Hunger Games did, as I suddenly realized I was only twenty pages from the end and there was no chance that there was going to be a big resolution to all the questions the book had laid out. I'd heard from basically every review I read that it was a giant cliffhanger, and I kept hoping that the cliffhanger would be a legitimate one (like at the end of Harry Potter 6 when you just have no idea if Snape is a good guy or a bad guy), rather than a "Harry Potter stood at the edge of a cliff, with Voldemort's wand pointed at him. He knew he was going to die. TO BE CONTINUED IN BOOK 2."
Because, really? That is not a real cliffhanger, since would you have really believed Harry Potter was going to get murdered straight off in the second book? No. Fortunately, Suzanne Collins makes it a real cliffhanger, like the end of The Hunger Games, where there are dozens of questions to be answered and a lot of things still to be resolved and a lot hanging in the balance.
I also heard that if you hadn't read The Hunger Games yet, you should wait until all three books were out to read it, but I totally disagree with that. I didn't close Catching Fire thinking, "AHHHHHH, I have to wait at least a year for the next one." Instead I was so thrilled that there is more to this story, that these characters aren't done yet, that this series is not over and closed. If you somehow have missed The Hunger Games thus far, don't wait to get a copy. There is no reason to wait until the last book comes out. Jump on this bandwagon NOW, people.
Overall, I have to say this book was better. Everything about it was just a little stronger, I thought – the characters were richer, the plot twists are more surprising, and it's more funny than The Hunger Games. I laughed a lot, when I wasn't freaking out over the latest plot development.
When I read The Hunger Games in San Francisco last summer, I spent a lot of time walking around the city telling Bart almost page by page what was going on in the book. This time, with the end of school in sight and free-reading time available in just few weeks for him, he won't let me tell him anything about this book because he's planning to read it himself. And it is killing me.
If you liked this review of the catching fire book, you might also like these books: