Ella always reads a lot but once COVID hit, she was literally reading ALL THE TIME. She'd finish her online school work in less than an hour and then she was snuggled up on her bunk bed reading book after book. I'm a little jealous!
Here are a few of her recent favorites.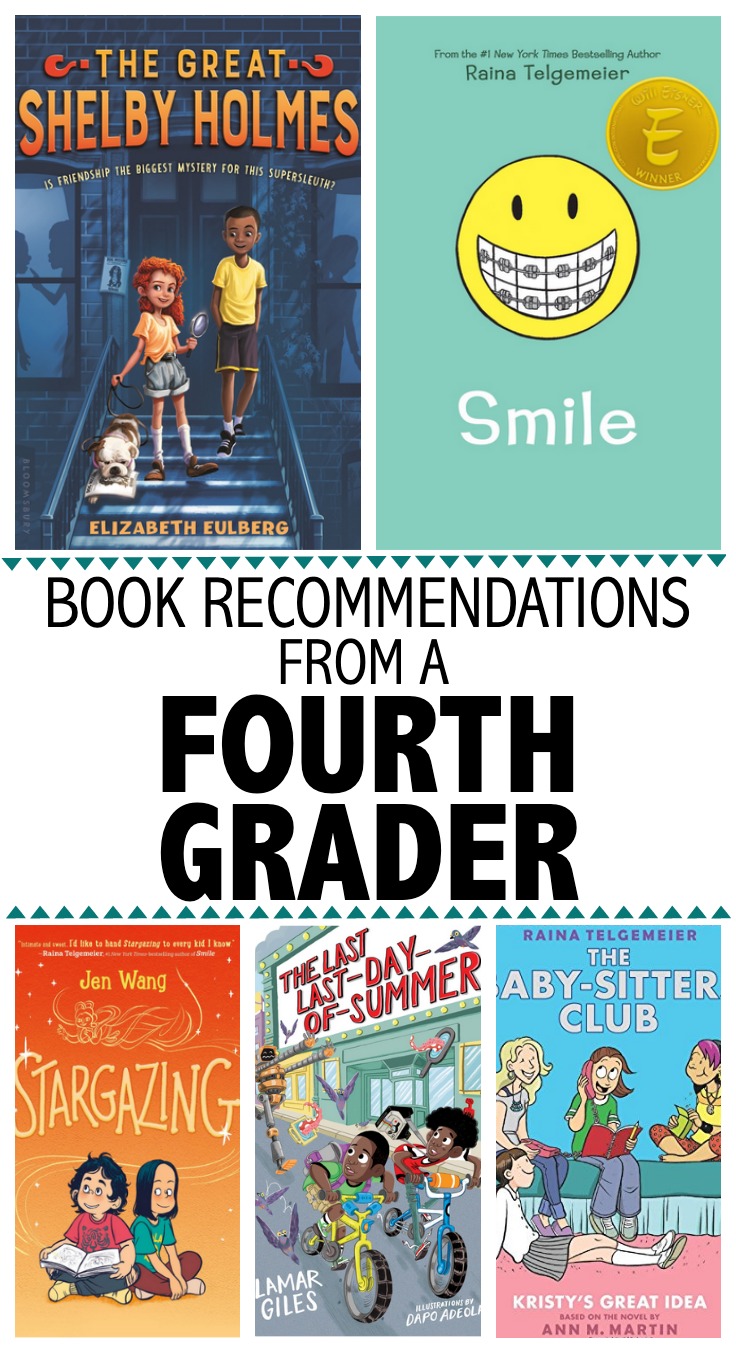 book recommendations from a fourth grader
The Great Shelby Holmes by Elizabeth Eulberg
272 pages
The first book in this series came in Ella's Bookroo chapter book box and after she blazed through it, she checked out the next three books in the series from the library.  Shelby Holmes is nine years old (but in sixth grade, thanks to her smarts) and she loves to solve the toughest crime. And when John Watson – the narrator – moves in to her Harlem neighborhood? The dognappers don't stand a chance.
What Ella has to say: These were really fun mysteries. I liked that the main character had just moved to New York and so was shown around the city by Shelby Homes who knew everyone. It was a strange experience for John to watch her talk to everyone and discover that she wasn't on good terms with the police. I loved trying to solve the mystery along with John and Shelby. I was so glad my library had the next three books.
The Last Last-Day-of-Summer by Lamar Giles, illustrated by Dapo Adeola
304 pages
Back in January, Ella and I went to our library's "Best Books" night where the librarians shared their favorite books from 2019. This was one of their recommendations, and Ella immediately came home and devoured this unique book about two boys who love solving mysteries but are stumped when a mysterious man arrives that can freeze time. Pssst . . . this one is included on FreeTime Unlimited.
What Ella has to say: This was a book I saw at the library book night and it sounded really exciting, so when I realized we owned it, I immediately sat down and read the whole book. It was a really interesting book that always had at least two different angles that you could look at it from and it was fun to compare and contrast the personalities of the two cousins.
Smile by Raina Telgemeier
224 pages
Ella is REALLY into graphic novels – it's her first stop at the library always. This popular book is based on the author's own experiences where she loses her front tooth and has a whole series of procedures to try to fix it.
What Ella has to say: This was one of my favorite graphic novels because it was really interesting as she went back and forth between school and the dentist office. It made me want to be really careful with my teeth!
Stargazing by Jen Wang
224 pages
This was another recommendation from the library event and when Ella realized it was a graphic novel, she had me requesting it from the library on my phone before we'd even left. It follows two Chinese-American girls who, despite having similar backgrounds, are extremely different but quickly become best friends. Until tragedy strikes.
What Ella has to say: This was another really good graphic novel where Moon moves into Christine's neighborhood and they do different things, but slowly become friends and decide to participate in the talent show. Moon convinces Christine to try things that she would never have done otherwise.
The Babysitter Club Graphic Novels by Ann M. Martin, illustrated by Raina Telgemeier
192 pages
I sometimes feel like the only girl who grew up in the 90s that didn't read 10,000 Babysitter Club books, but after 1 or 2, I didn't really have all that much interest (Sweet Valley Kids was more my style 😂). And then Ella discovered there were graphic novel version and  . . . surprise. She was all in.
What Ella has to say: These were books that everyone in my class were reading so I decided to try them and I LOVE the graphic novel version. There are really good illustrations and each book focuses on a different member of the club's experiences.
And if you'd like a printable copy of this list that you can take to your library or screenshot on your phone for easy access, just pop in your email address below and it'll come right to your inbox!