This post is in collaboration with Room & Board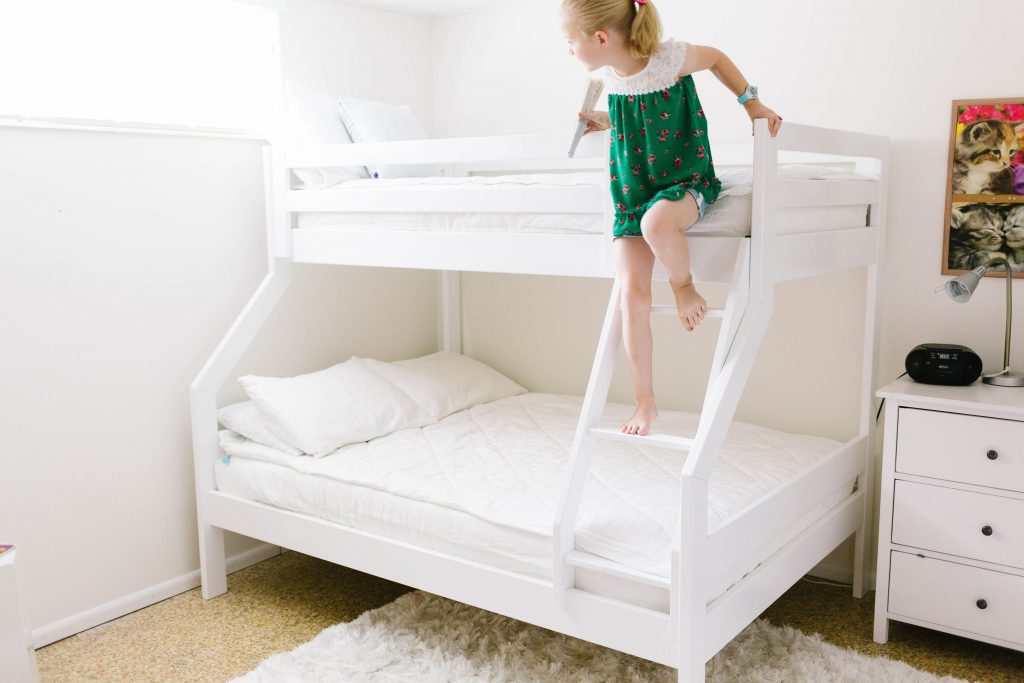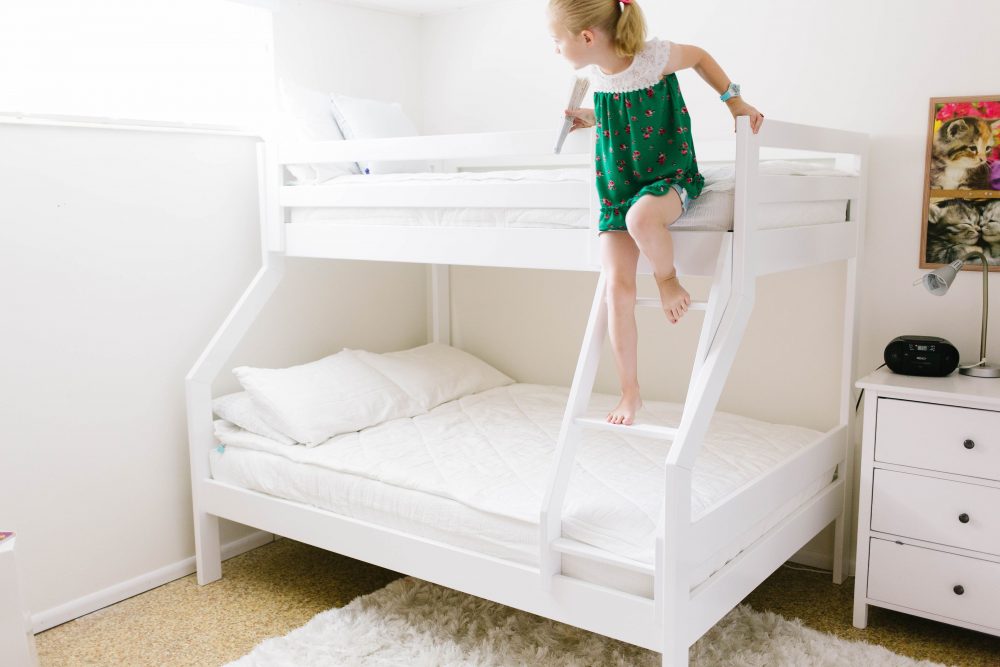 When we first walked through this house, there were MANY things about it we loved.
But this bedroom?
It was not my favorite.
It felt super cold and dingy, and then we made things worse by doing exactly zero to this room to make it look finished (you can see the before photos here).
We knew a queen bed for two girls wasn't a good long-term solution (it was a nightmare!) and it quickly became clear that we needed bunk beds to make it useable.
I looked at literally hundreds of bunk beds and finally settled on this white bunk bed from Room and Board.
I loved how sturdy it was and also that having a twin over full bunk bed meant that Star can come sleep in here too when her room is needed as a guest room.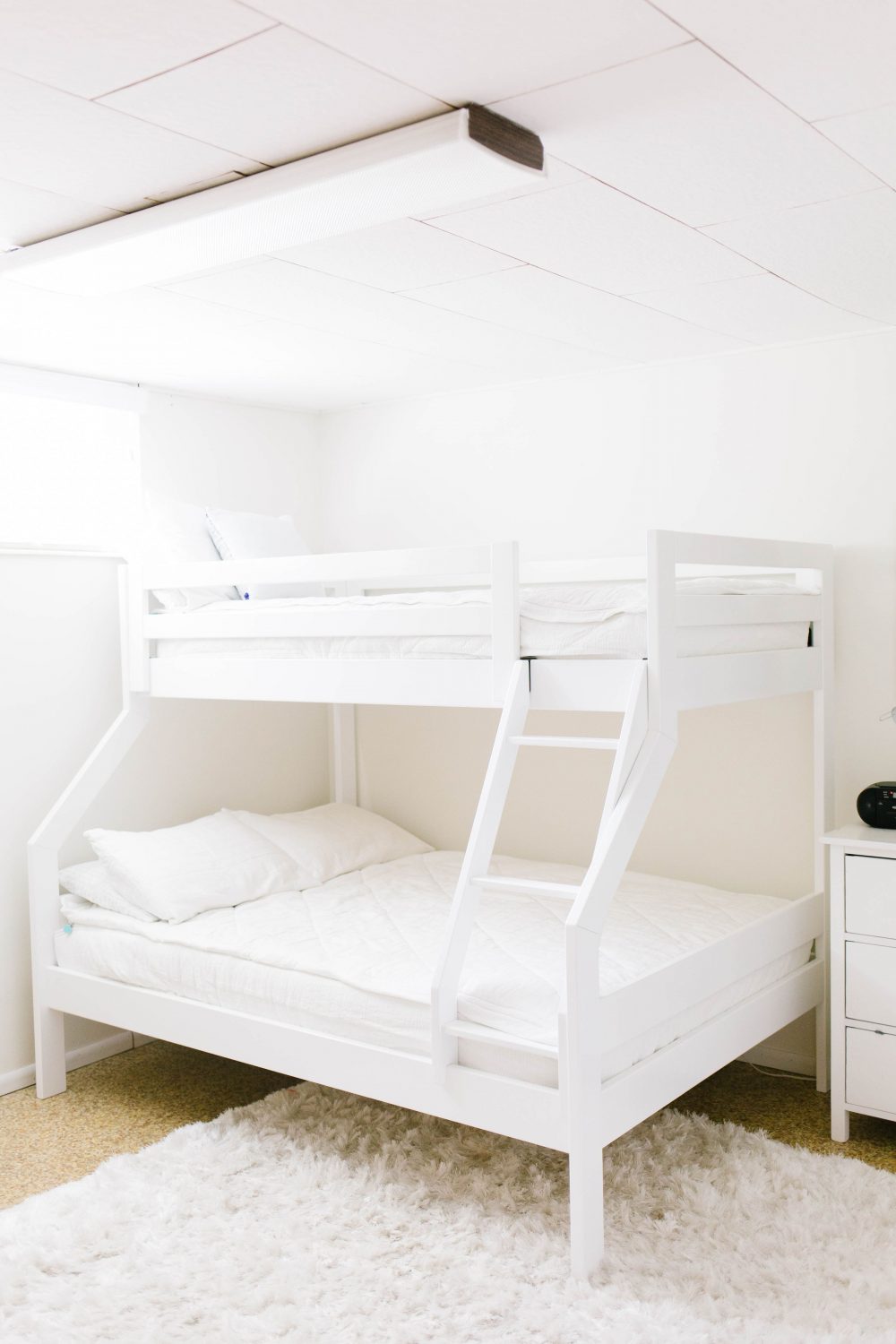 Between the time we ordered it and it arrived, I repainted the room white (goodbye, ugly cream color!) and ripped out the rubber baseboards.
We'll eventually carpet this room, but in the meantime, this fluffy rug from our Arizona basement playroom goes a long way to making the room feel cozy and bright.
And then when the bunk bed arrived? Then the magic really started happening.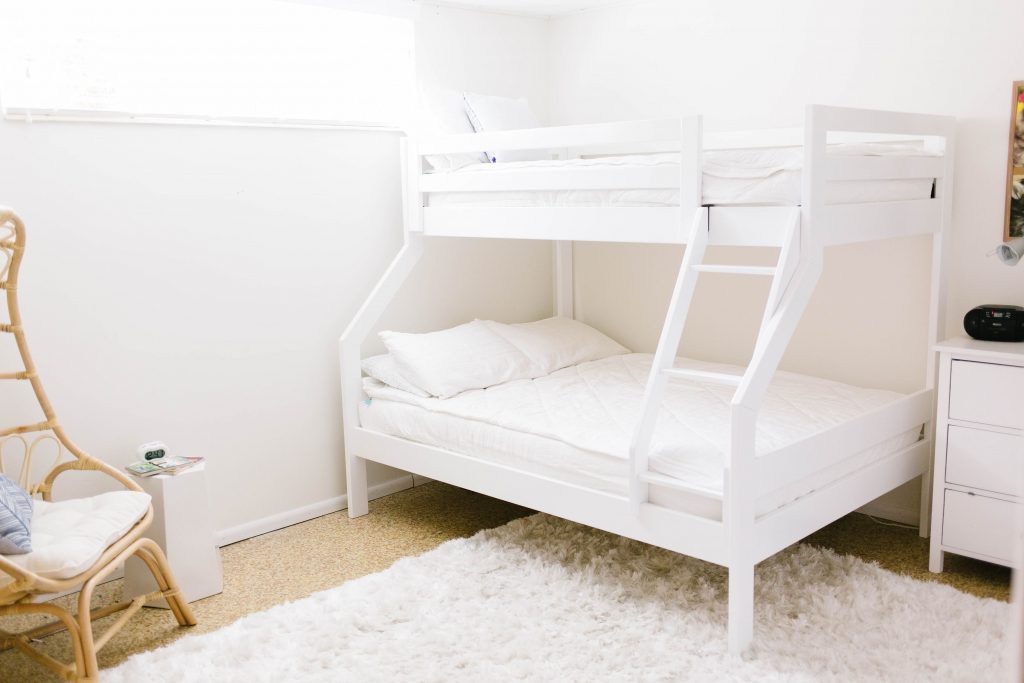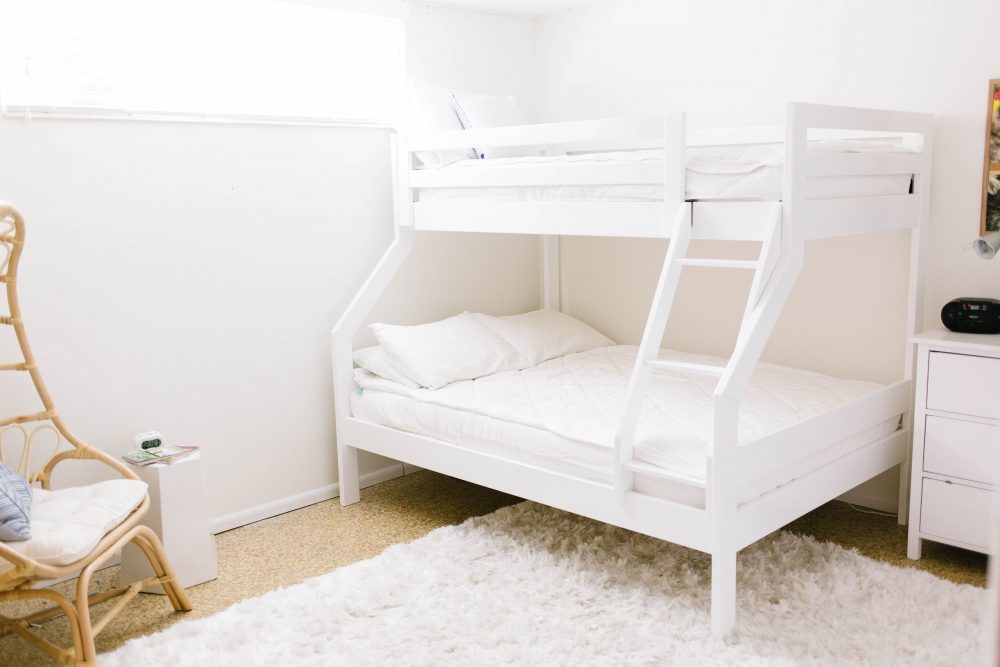 It was everything I'd hoped for in a bunk bed – super sturdy, easy to wipe down, and classic looking. I couldn't be happier.
And delivery men that assembled the whole thing?
Bliss.
Once it arrived, Bart added real baseboards (which made an enormous difference), and then it was the fun part of adding the final details.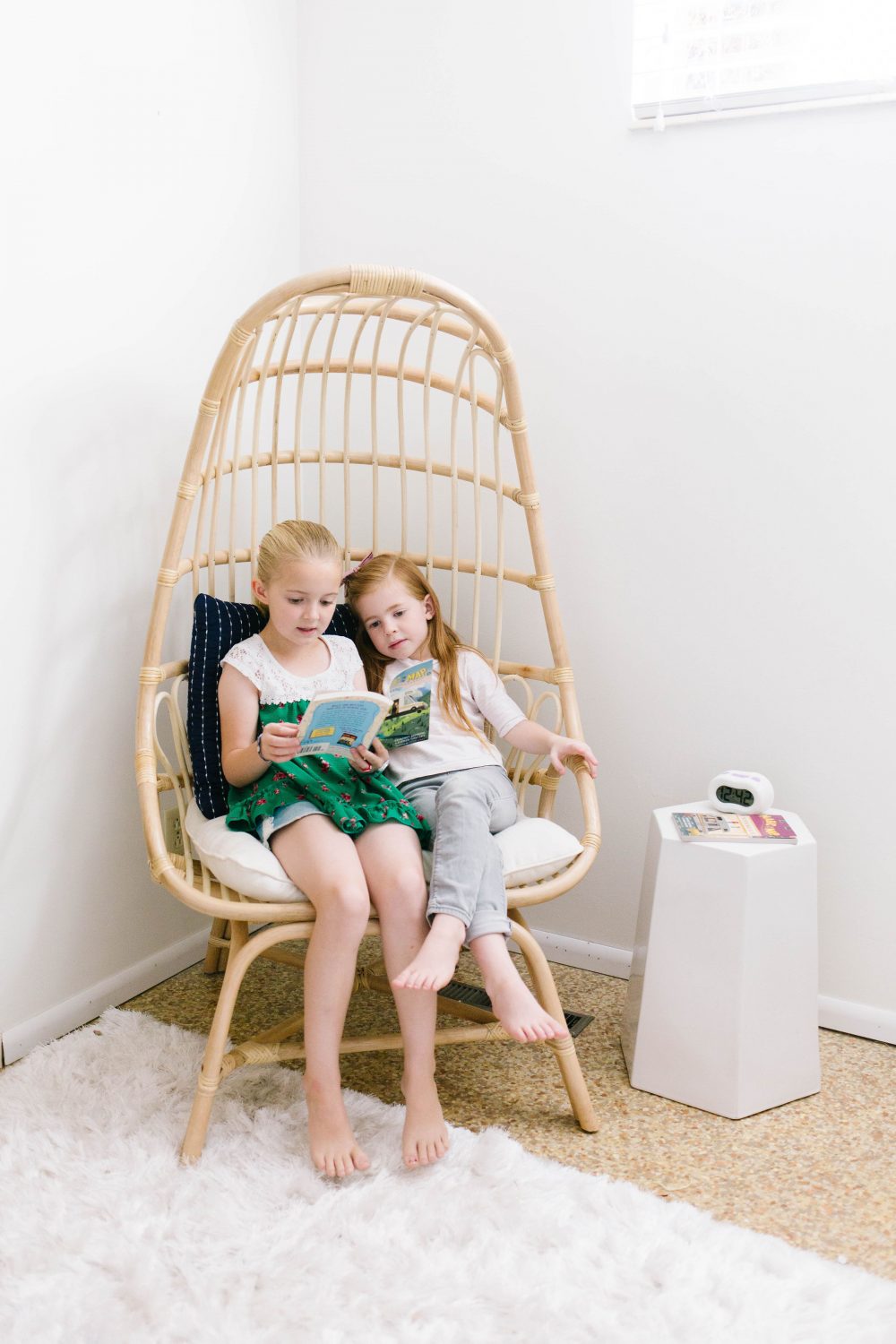 We'd originally planned to put this gorgeous dresser from Room & Board in their room (you can see it in the Modsy mock-ups) but between the time we ordered and when it arrived, we decided we'd rather put it in OUR bedroom because our current dresser was way too tiny for the space and just looked ridiculous.
(This is why one of my best decorating tricks is to pick a basic color scheme for the whole house because it's easy to mix and match furniture and decor).
Happily, our tiny old dresser worked perfectly in their room and we got the brand-new insanely beautiful dresser. Once our room is painted and finished up, I'll show you pictures of how good it looks!
I pulled out a ton of frames from our basement storage closet, mixed and matched art prints and photos and then Bart hung them.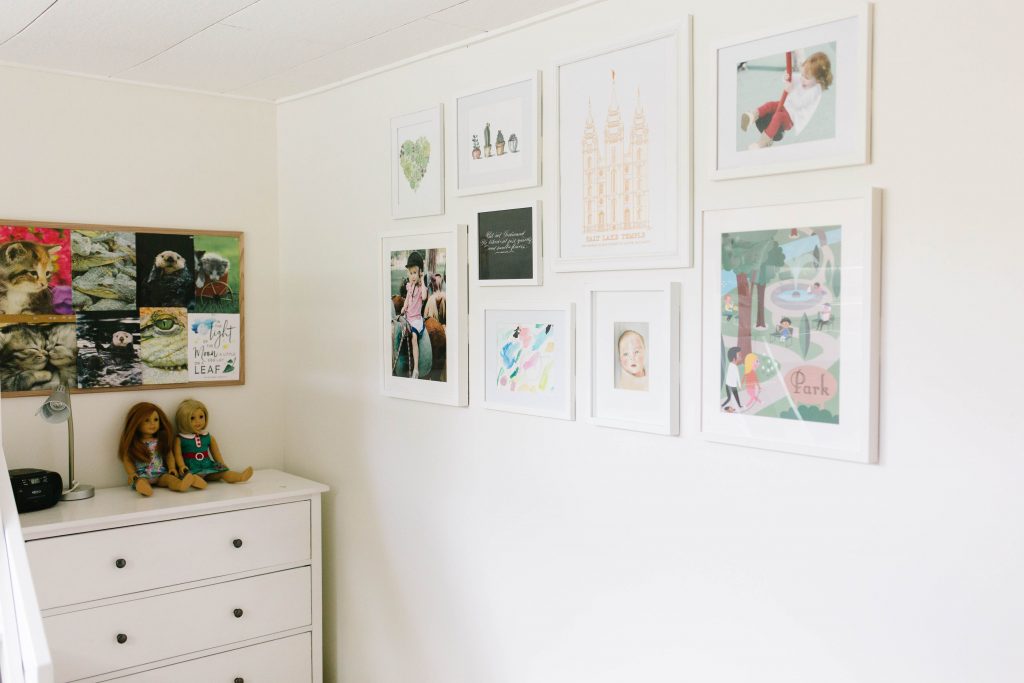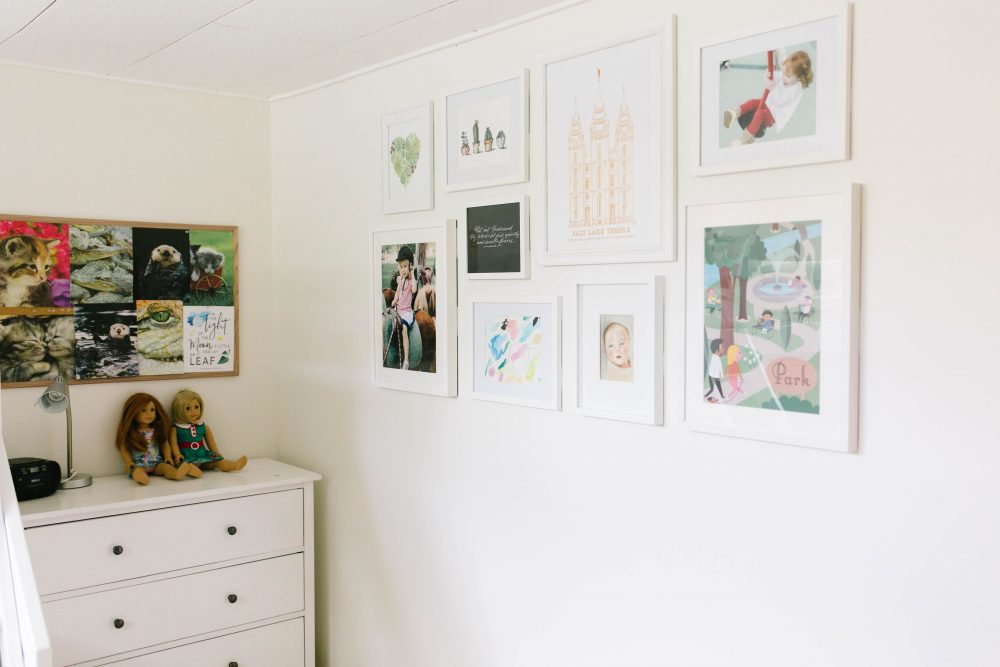 We put up a full-length mirror and hung up the bulletin board that has been languishing in my office since we moved.
It's so nice to have this room functional AND good-looking. In fact, it might now be one of my favorite rooms in the whole house.
I love going in at night to tuck the girls in and finding them snuggled in their bunk bed, chatting quietly or listening to an audiobook.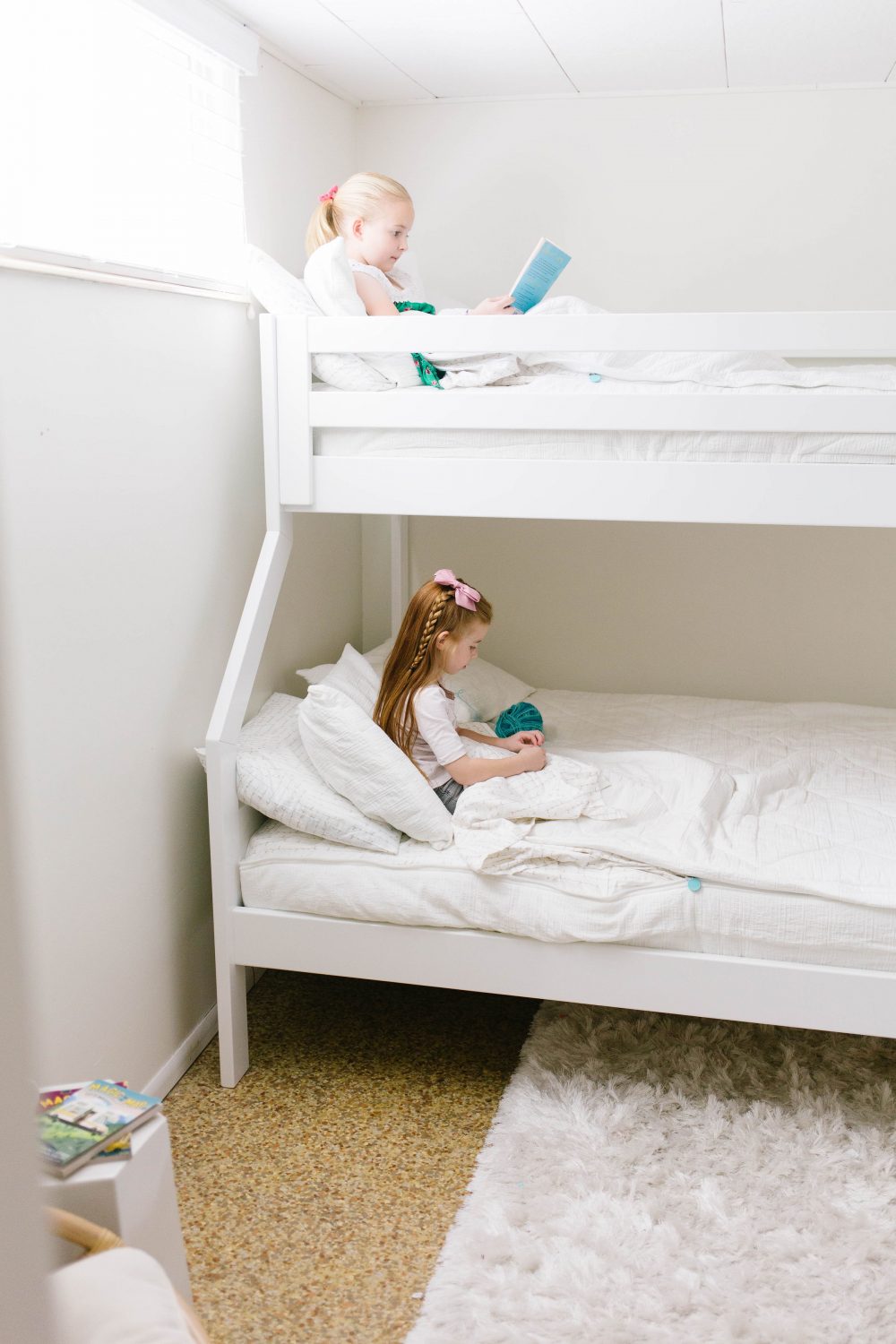 Room Sources:
Bunk Bed
Bedding
Chair
Side Table
Dresser (old)
Bulletin board
Rug
Mirror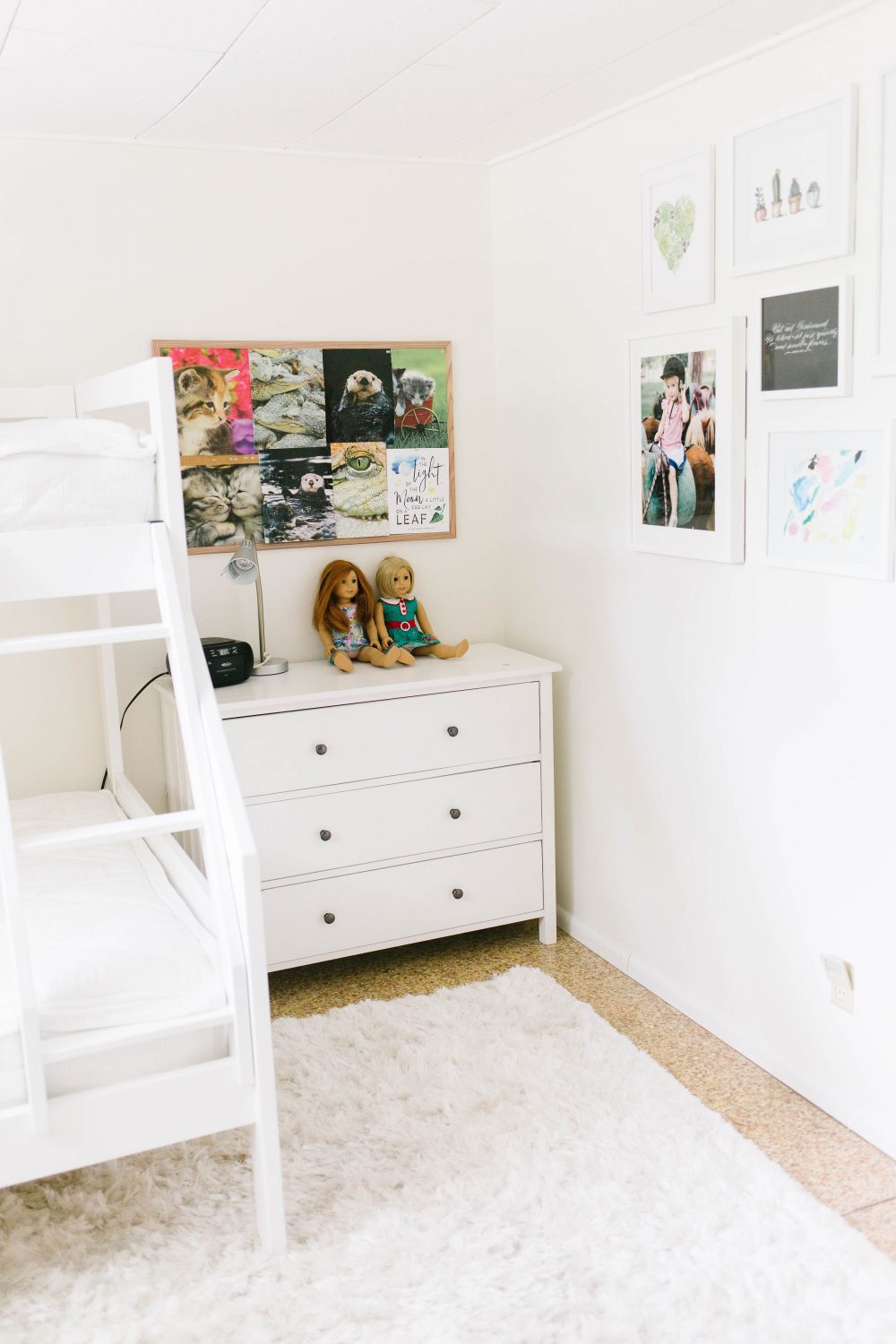 Photos by Heather Mildenstein