This post is sponsored by Modsy. Get 15% off any design package for new customers with the Modsy Promo code EVERYDAY15.

I love decorating my house.
The minute we walked through our current house, I was thinking about how our furniture would fit, what each room would look like and what projects I wanted to do.
Some rooms are very straight-forward – we arranged our living room furniture within a few hours of getting the keys to the house and haven't moved it again. Same with our bedroom.
Other rooms are trickier.
In our last house, it was the basement playroom. It was a MASSIVE space and I could not, for the life of me, figure out how to use it in a way that both looked good and functioned well.
When I heard a Modsy review on a podcast, I immediately purchased a Modsy design package (using a Modsy promo code, naturally), and I was SO happy with how our basement turned out.
When we ended up selling that house about nine months later, I felt like the basement was one of the showpieces of the house that really made it attractive to prospective buyers, instead of the eyesore it had been for much of the time we lived there.
In this current house, the room that stumped me was the shared girls' room.
When we initially moved in, we put one of our queen beds in there, but that was a nightmare from the get-go because having two small girls share a bed was a total disaster. They kept each other awake, stole the covers, and pestered each other so neither of them could fall asleep.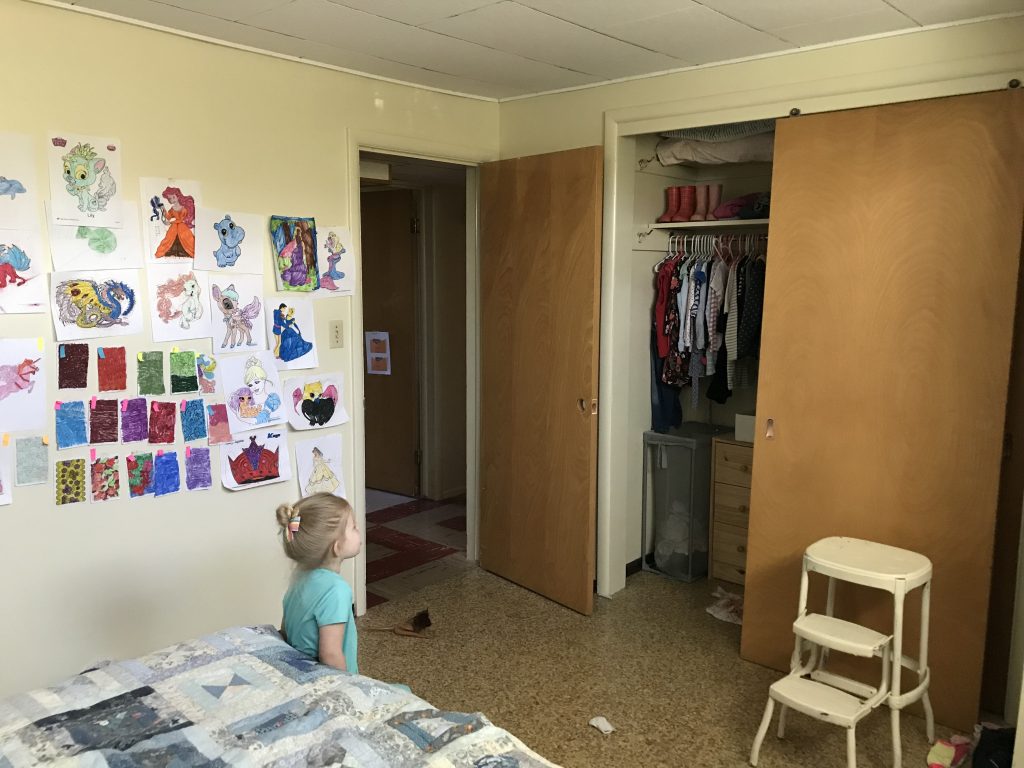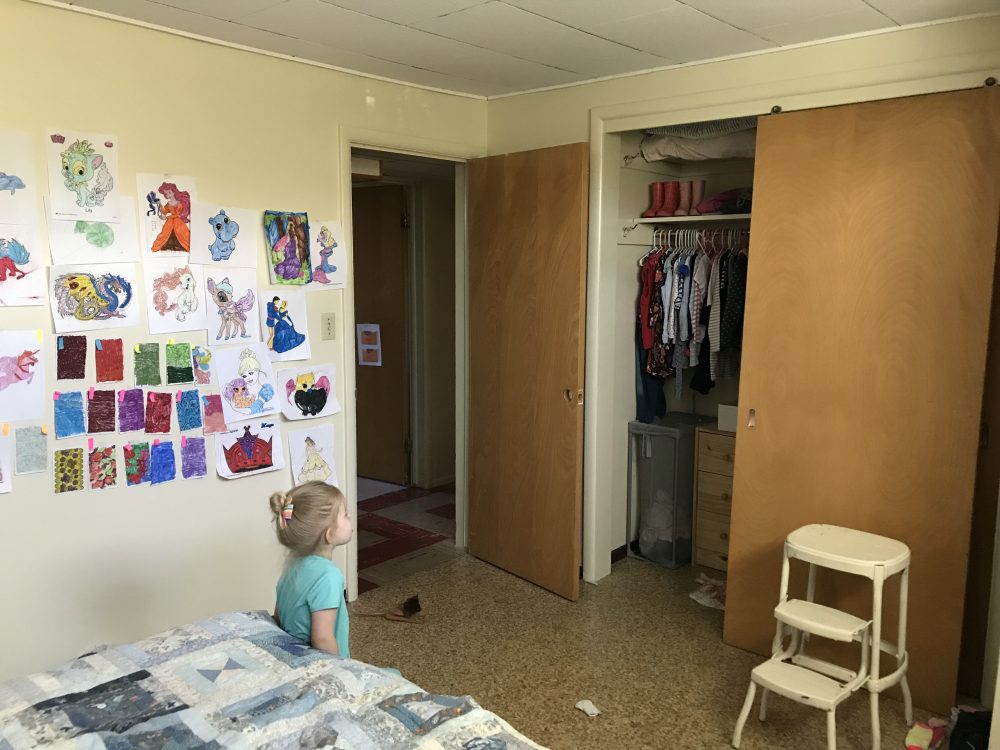 We quickly decided a bunk bed would be our best option, but I felt flummoxed by how to make the room work.
Enter Modsy.
After the amazing job they'd done on our tricky basement, I knew they'd be able to work their Modsy design magic on this room.
Modsy Design
It's super simple.
You take Modsy's style quiz (which is fun and quick) and share any links or Pinterest boards you have with images you like.
Then you take some photos of your room (just with your phone and you don't even need to clean up – you can tell from my photos that I DEFINITELY did not), give them the measurements of the room and submit it.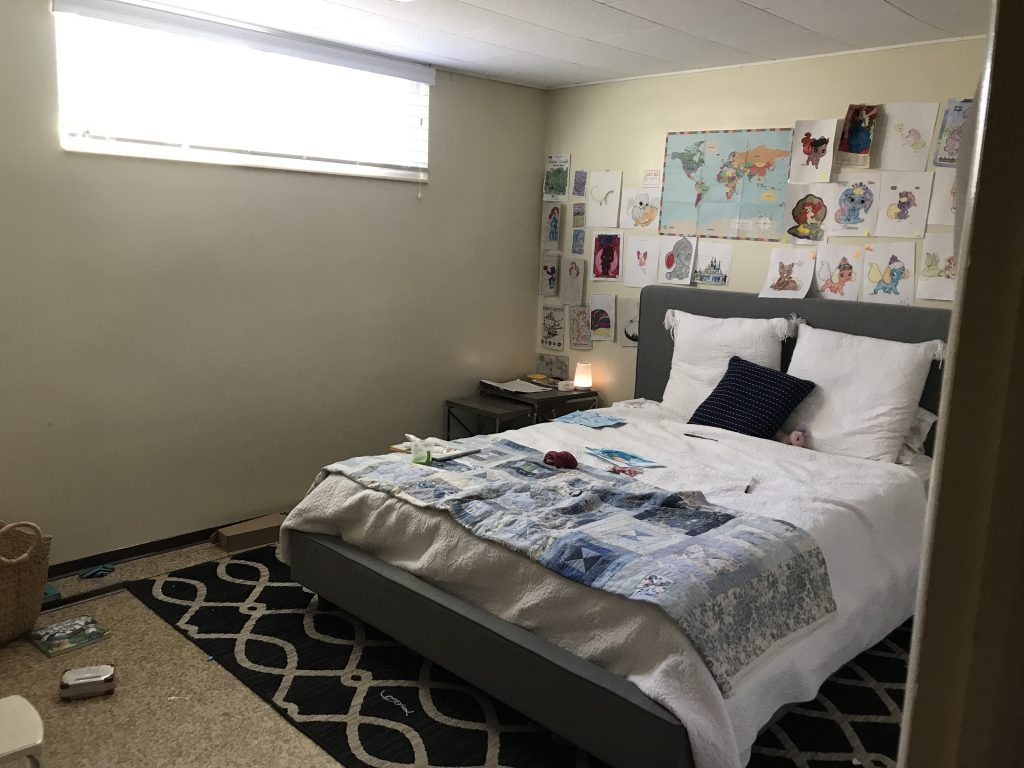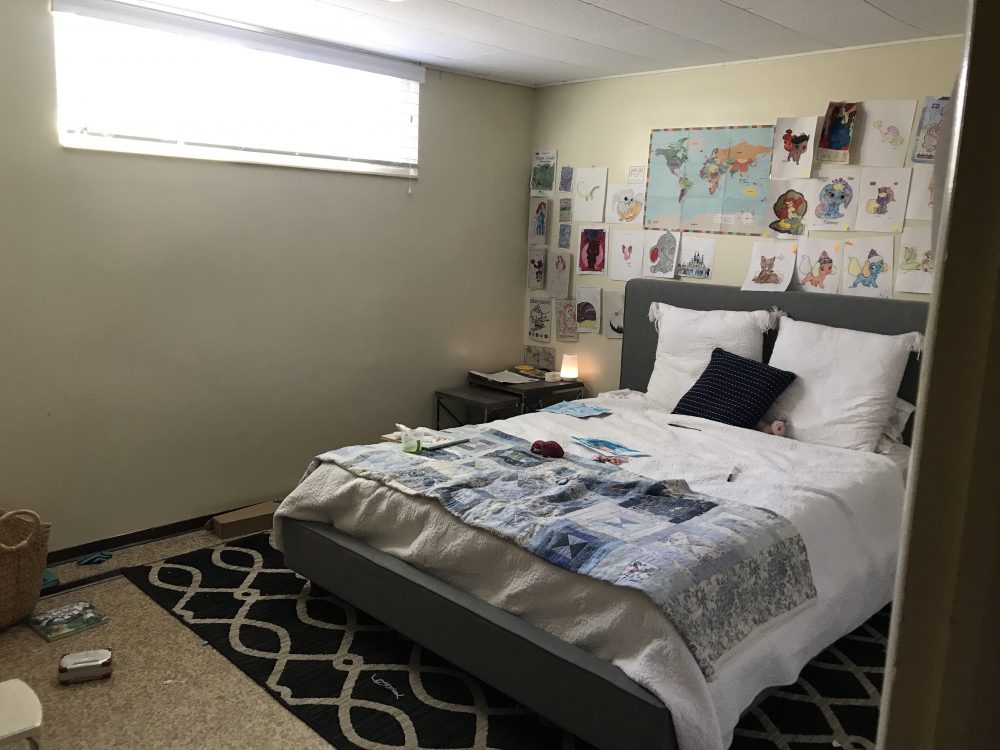 A few days later, they send you a 3D design of your room and you scrape your jaw off the ground at how amazing it is (that second part is optional, probably, but not for me).
They give you multiple ideas for how to decorate your room, filled with shoppable pieces of art and furniture so you can see exactly how it'll look and fit in your actual room.
Is that chair too tiny? Is the art look stupidly small on the wall? Can that bedside table fit between the wall and the bed?
And then with the Modsy's 3D Style Editor and Live Swap feature you can change the layout and the furniture in your 3D room (this is basically my childhood dreams come true – I used to draw rooms in Paintbrush – does that program even exist anymore – for hours). Or you have a Modsy Designer avaialbe to help you make decisions and end up with a room you love.
Once you're happy, you just add any pieces you want to buy to your cart and you're ready for them to show up at your door and for your room to look 10,000 times better.
Ready to see the Modsy designs they came back with for my girls' bedroom?
Here's the first one: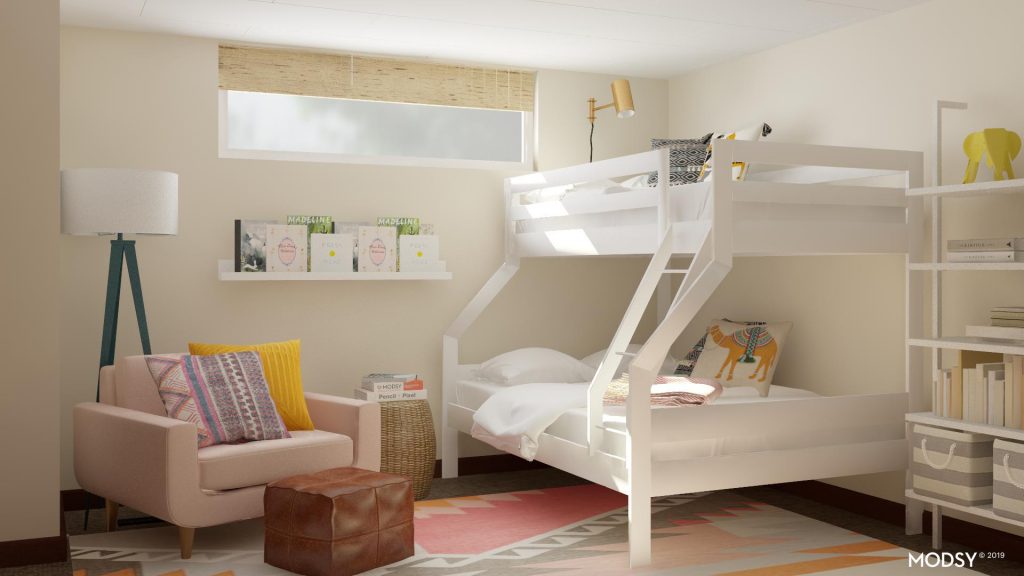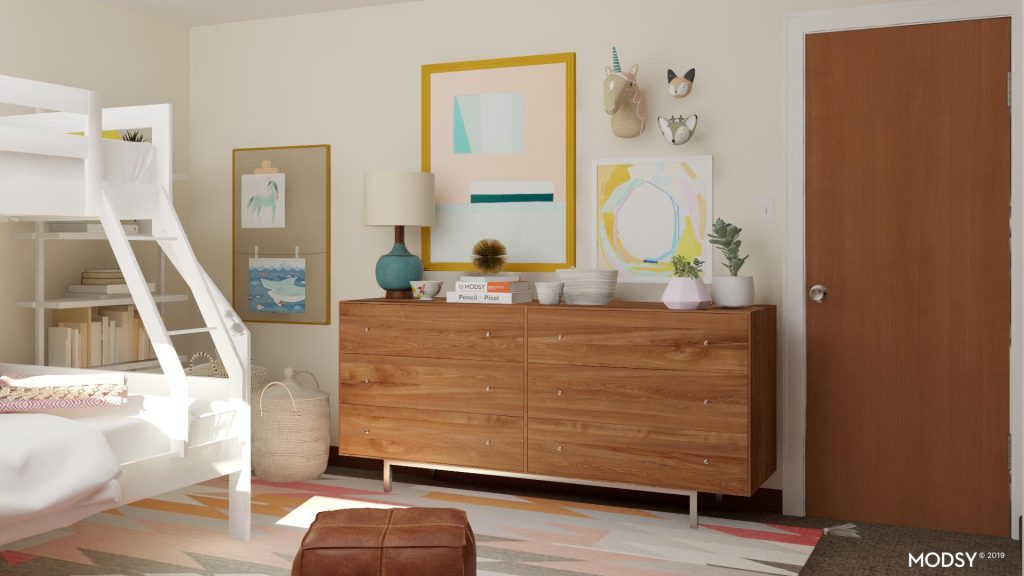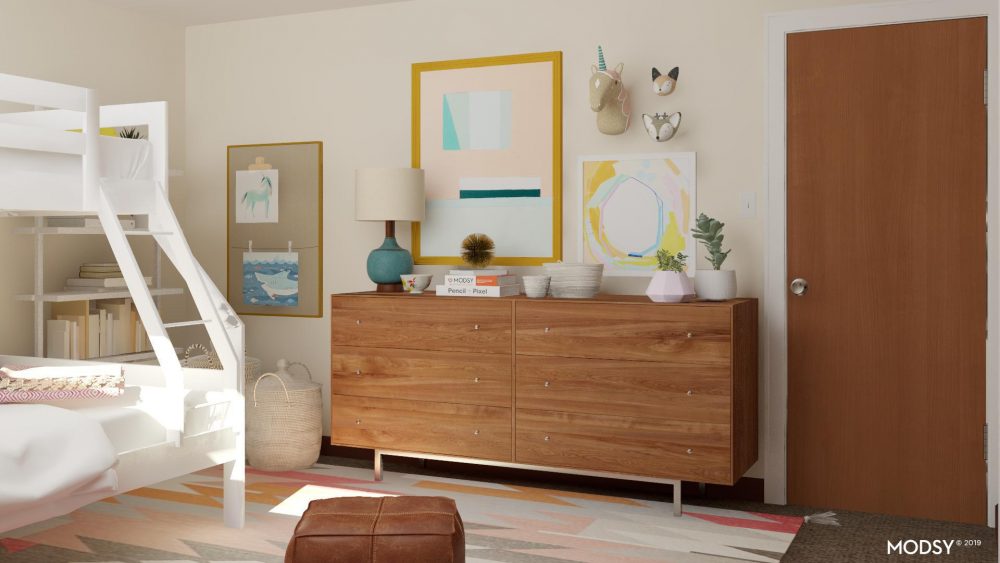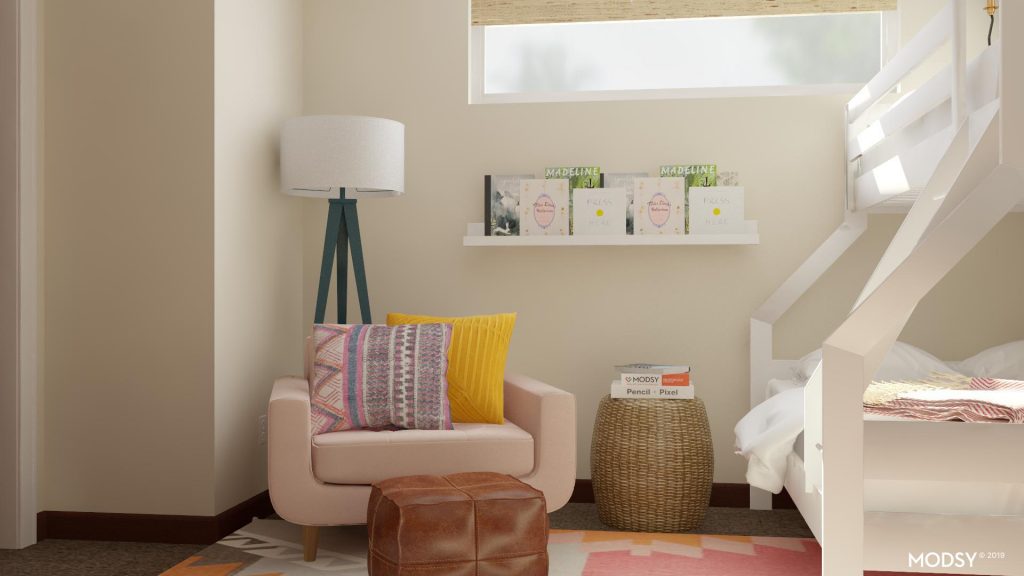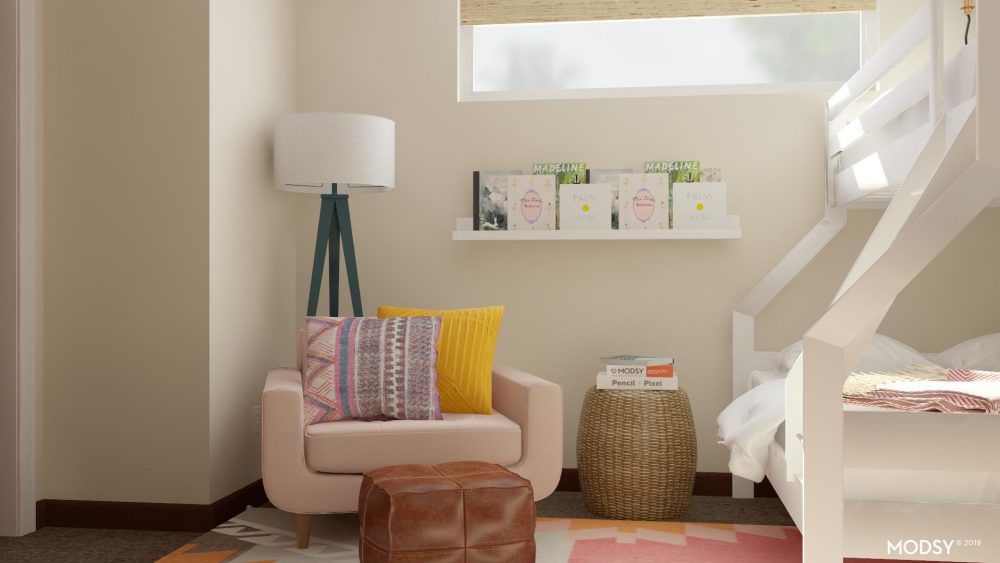 You guys! I'm obsessed.
And here's the second Modsy design: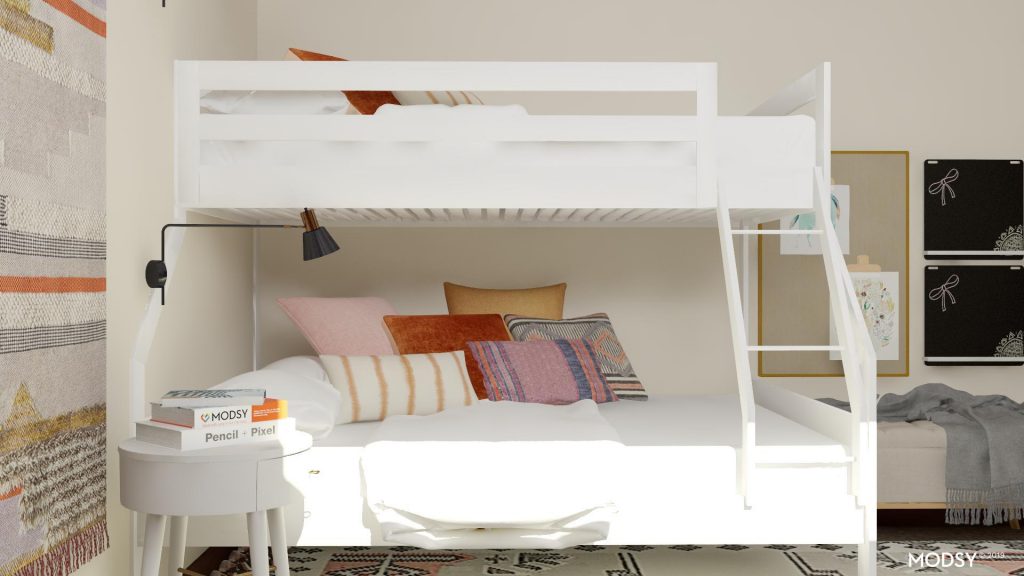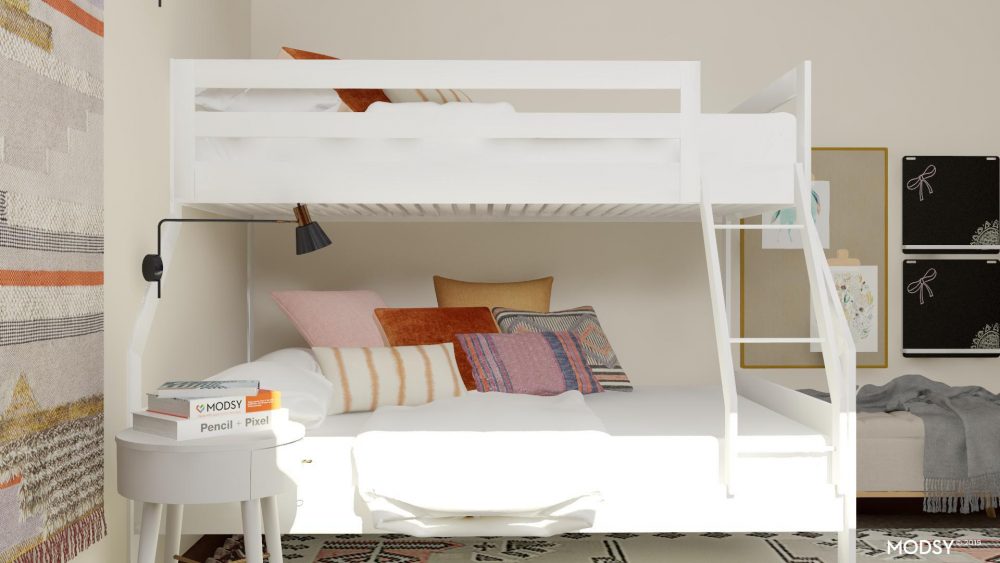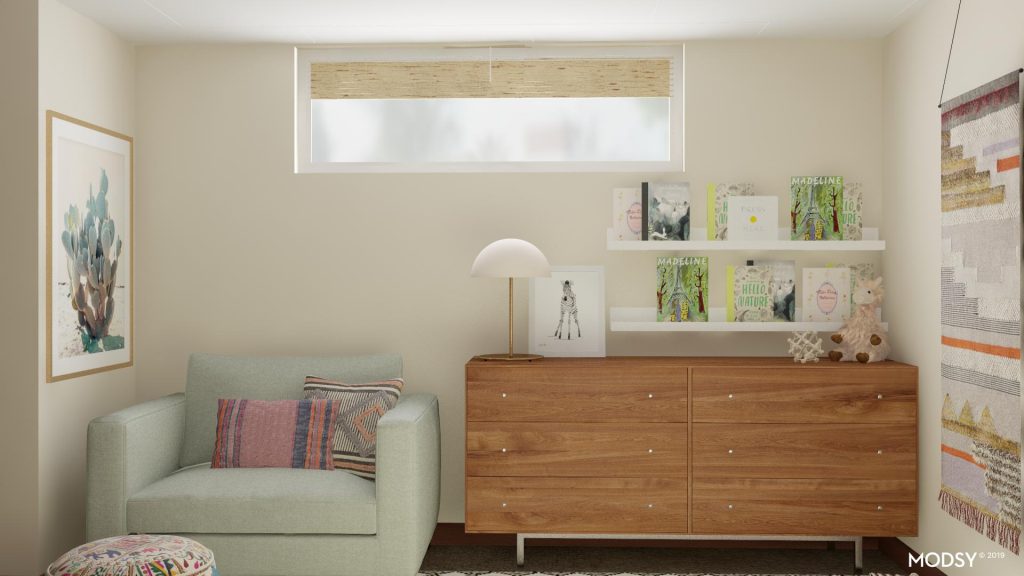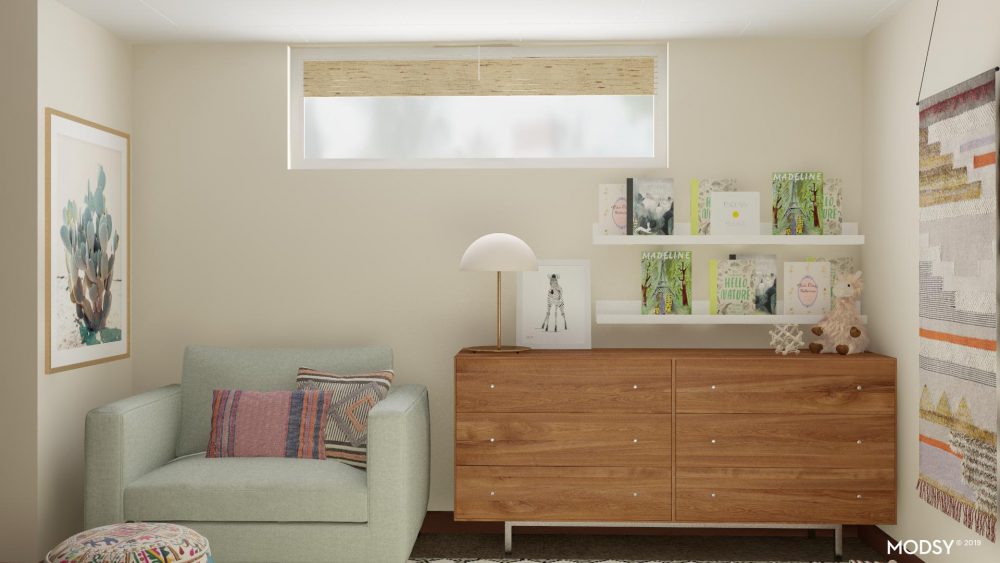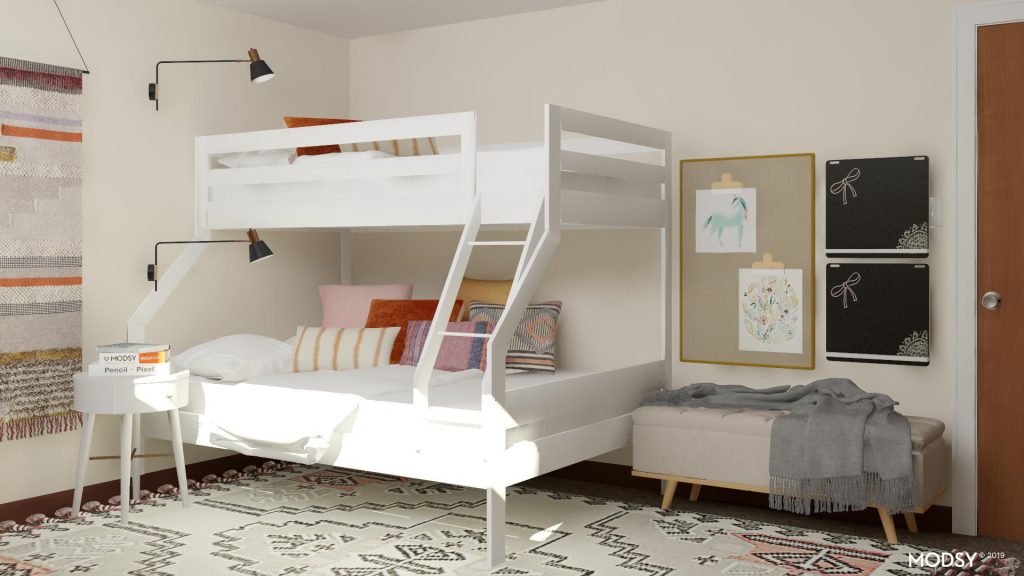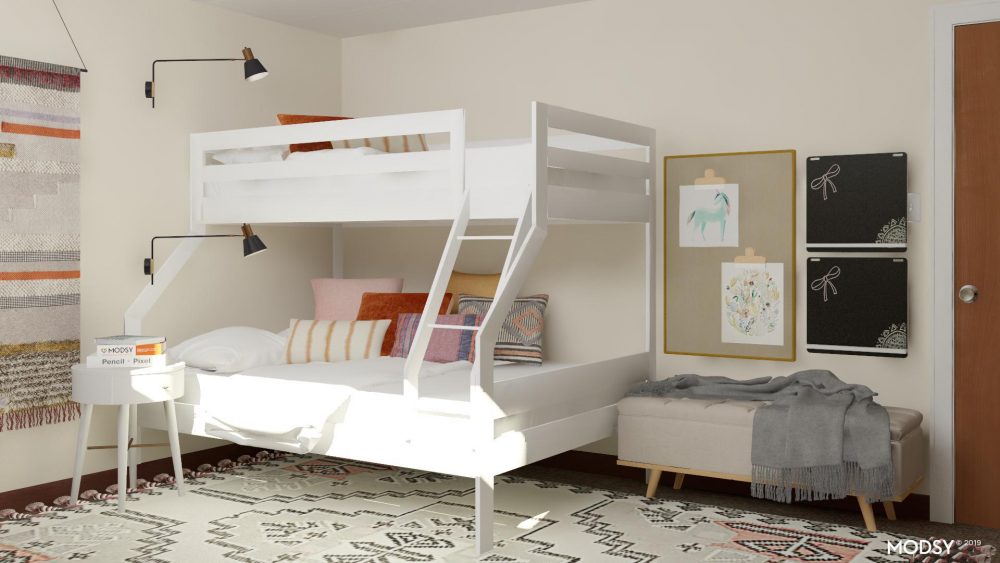 Which one do you like better?
I can't wait to make my girls' room look like this in real life (and can you believe how life-like these 3D renderings are?).
Furniture Sources:
Bunk Bed
Dresser
Bookshelf
Chair
Floor Lamp
Leather Pouf
Wicker Side Table
Wall-mounted lamp
Rug
Modsy Promo Code
And if you'd like to try it yourself, use the Modsy promo code EVERYDAY15 to get 15% off any design package for any new customers.
If you try it out, I'd love to hear what you think!
If you liked this Modsy review, you might also find these posts helpful: