Today was supposed to be the day our Arizona house closed, but happily, it actually closed a week ago today. If you've ever sold a house, you know what a huge feeling of relief it is to have it completely taken care of.
As a goodbye to that house, I thought it'd be fun to share my favorite things we did to that house in the three years we lived there.
When we bought that house, it was in excellent condition, but the decorating choices were not at ALL what I was looking for, from green carpet throughout the house to massive off-centered stone built-ins.
Not to mention paint colors so offensive that even the moving guys told me they were the worst paint colors they'd ever seen in their entire careers (it's a toss up whether the orange paint in the master bedroom or the practically glow-in-the-dark mint green in the nursery was worse. The sky blue room with cream and burgundy stripes was also noteworthy for its ugliness).
It was a total delight to update the house, making it look more modern, open, and bright.
Here are the 12 updates I loved most about our Arizona house:
DIY Open Shelving
When we moved in, the built-in stone entertainment center in the family room was hands-down the worst thing in the house. It was massive, going from floor to ceiling, running 13 feet along the entire wall and sticking out 26 inches into the room. It took up a ton of space and was so overwhelming. It was also completely off-centered, so it was really homely and after a year, it was clear there was never going to be a way to make that room look decent without ripping the whole thing out (you can see the photos of the monstrosity here).
Taking it out opened up the room so much (when my mom came to visit, she said "It feels like this room has doubled in size") and made the whole space feel brighter.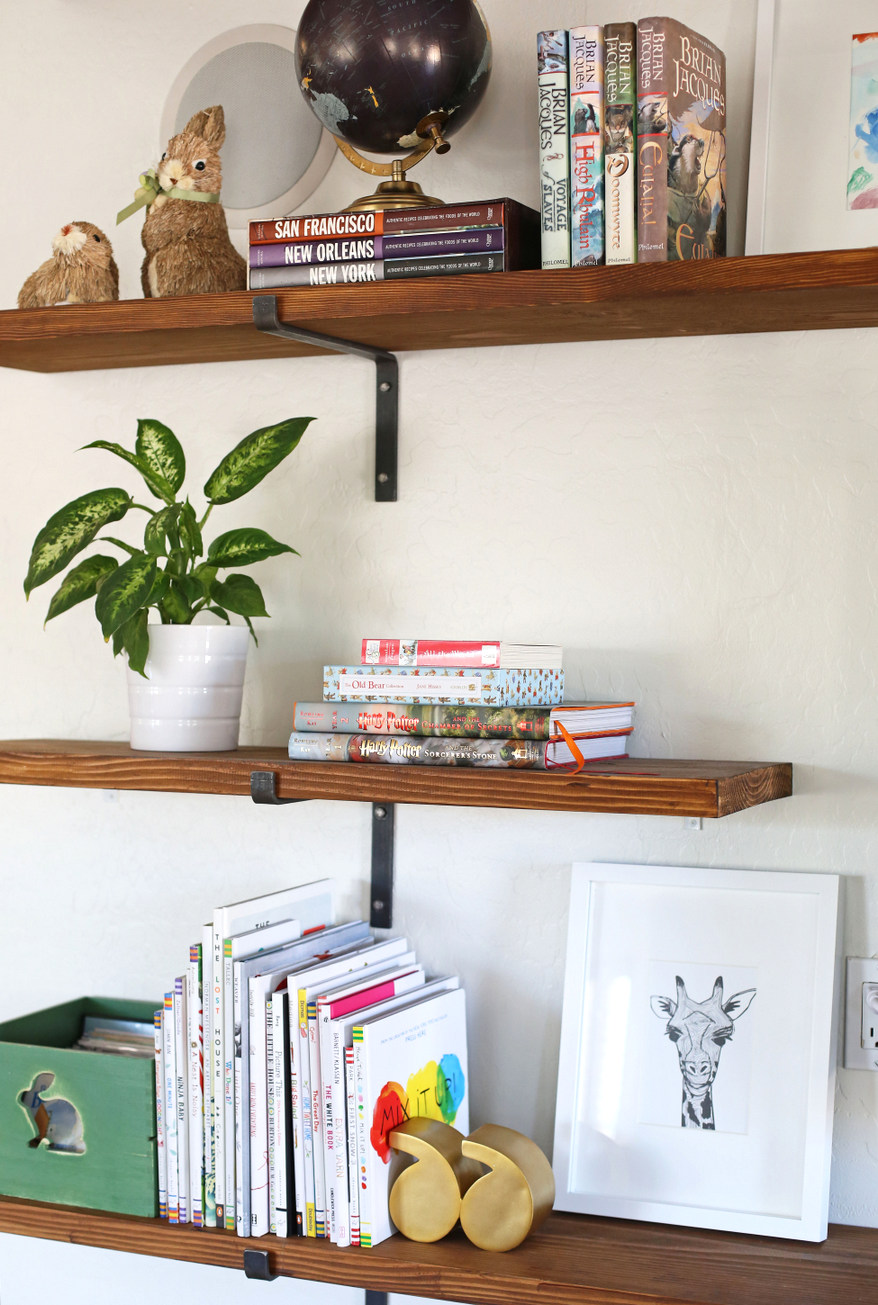 We'd looked at having custom cabinetry installed, but the price tag was really high and after tearing the old one down, I wasn't anxious to lose that space again. Instead we bought boards at the local hardware store, had a carpenter level and sand them (the cost for the labor and the boards was less than $200), and we stained them ourselves. We bought brackets on Etsy, and mounted them in a single evening and it looked GREAT.
Every person who came over commented on the open shelving, and I loved them every single day, especially because it was such an inexpensive project with such big results.
(See all the details and sources for the open shelving here)
Laundry Room Wallpaper
About six weeks before Tally was born, Bart asked what projects were on my punch list before we had a baby and the laundry room was top (which surprised him). I settled on wallpaper from Spoonflower and I LOVED how it looked. It made me happy every single day for the past 18 months and I'd do it again in a heartbeat.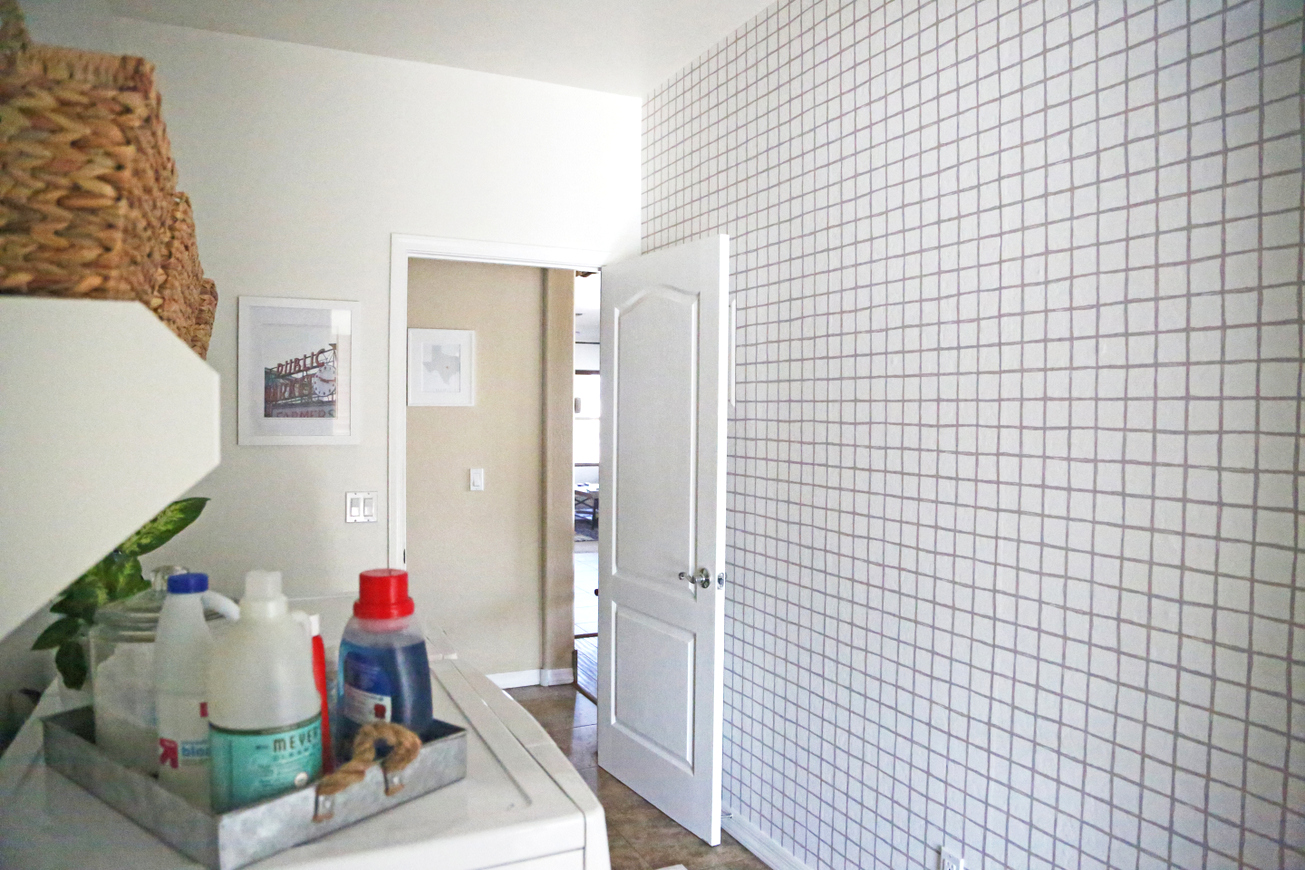 Also, for the record, having done both peel and stick wallpaper (in Ella's room here) and the water-activated wallpaper, I'd choose the water-activated every time. It didn't feel like much more work, it was quite a bit less expensive, and I felt like it just looked so much crisper and permanent.
(See all the laundry room details here)
Gold Frames
Compared to ripping out an entire entertainment center or painting and wallpapering a laundry room, this is a pretty tiny one, but there is absolutely not one thing in our house I've gotten more questions about than these gold frames. They're from Target (so, super pricey and hard to find, obviously). I used the ones that hold an 8×10 photo and I loved how finished they made the room look.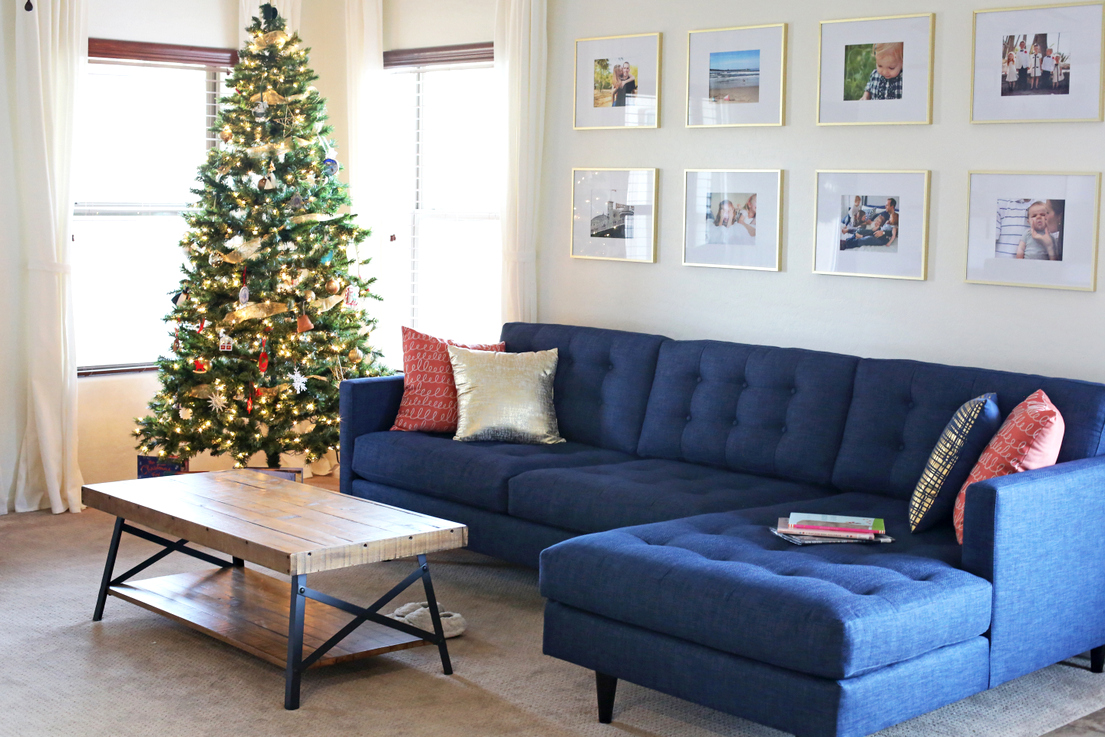 The key to any grid gallery wall is making sure your frames are super even and don't move around. This is the kind of thing I am terrible at because I'm very impatient, so I always leave it to Bart who measures a million times and uses the right kind of nails and bolts and they never move, no matter how many times the girls slam the back door or jump on the couch.
Painted Interior Door
Our house had basically zero cool features, so I was always on the lookout for ways to make our house look a little more custom and painting this back door navy blue cost about $20, took only a couple of hours, and just made the whole room look more intentional (plus, you couldn't see fingerprints on it like you could when it was white).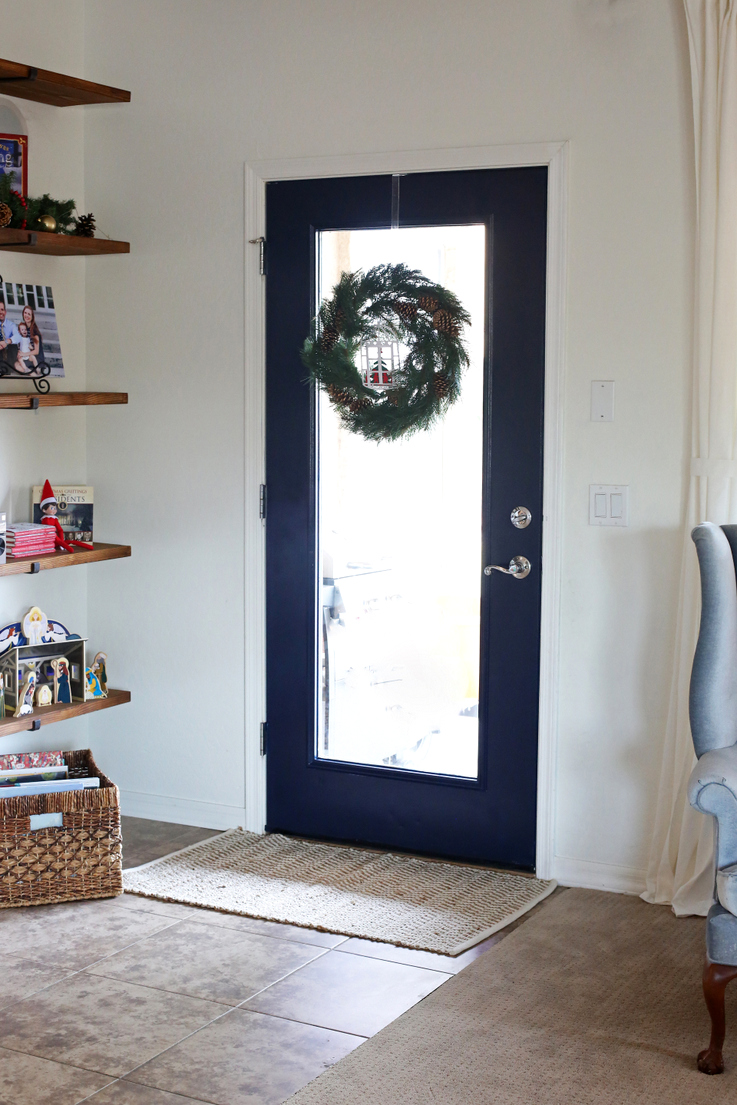 (See all the details and materials for painting an interior door here)
Master Bathroom Barn Door
Our master bathroom had a doorway but no door, which was a big pain when Bart was traveling every week and leaving at the crack of dawn and the bathroom light was shining right on my face while I tried to get my beauty rest.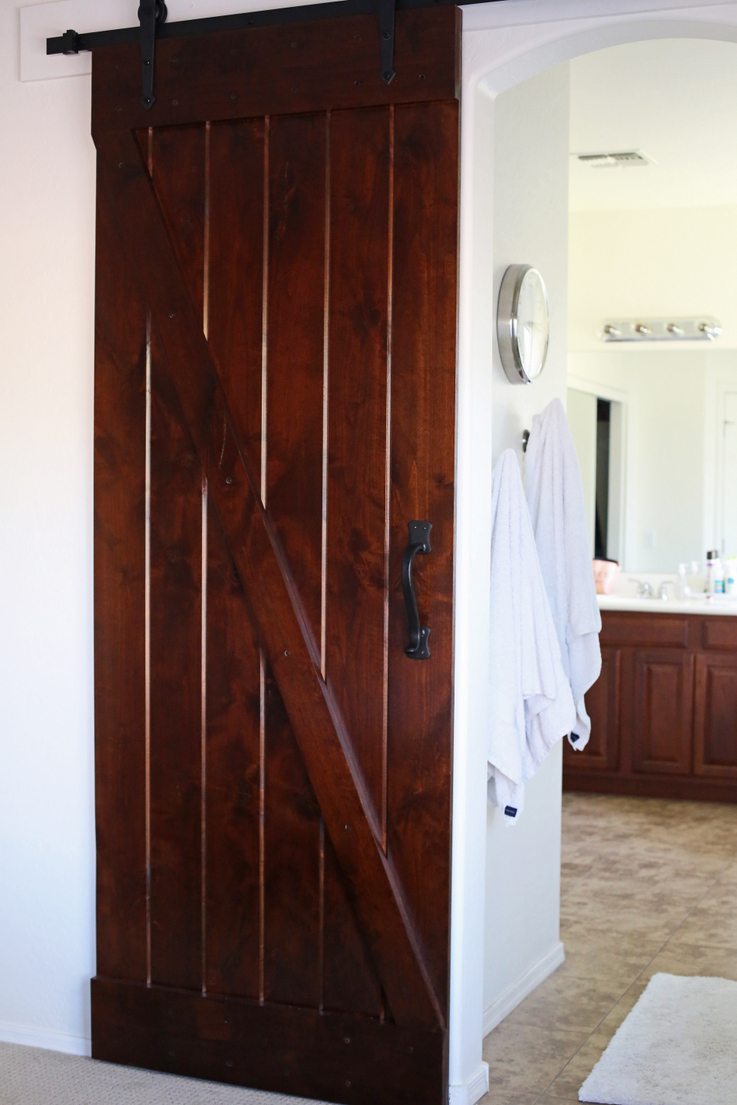 This barn door was such a nice addition both from a practical standpoint and also from looking DARN good. I never got tired of how much it added to our room. Worth all the hassle of hanging it (which, to be fair, was pretty minimal).
(See the sources and details for hanging a barn door here)
Book Ledges
After the gold picture frames, these white book ledges were probably the most asked about things in our house. Like the frames, they are from a super fancy place . . . IKEA in this case. They are a great way to fill a blank wall and I loved being able to see all my books, add a few knick-knacks and rearrange whenever the urge struck.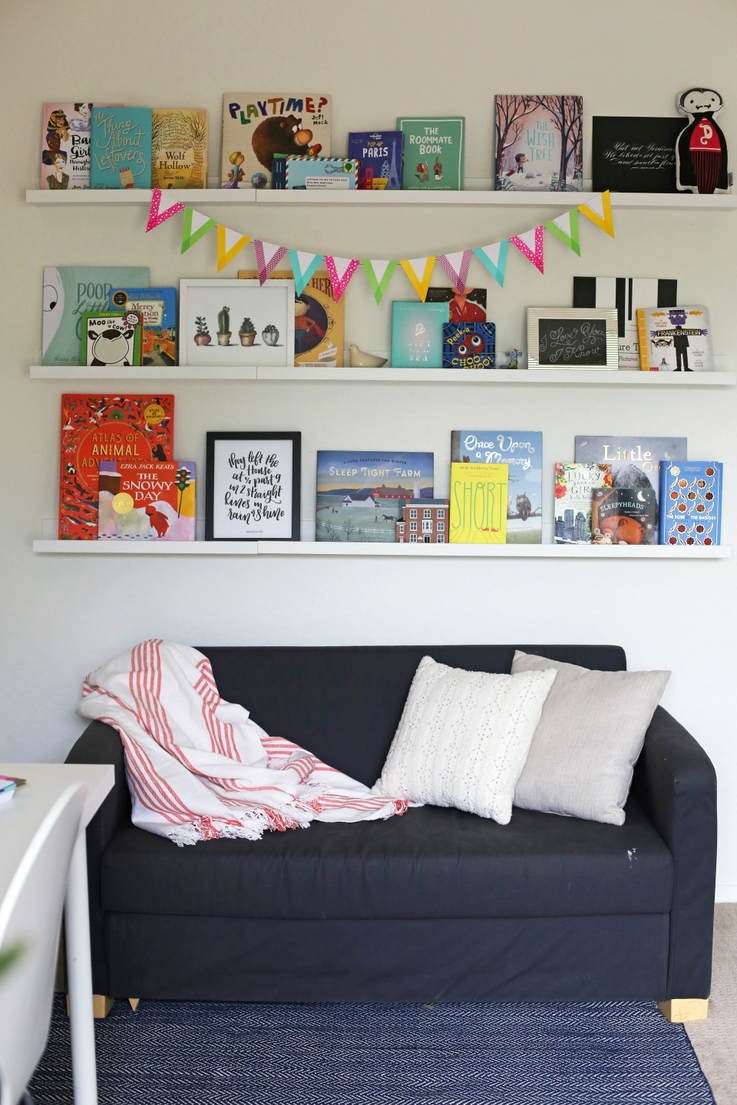 I used one long and one short for each row and obviously I made Bart hang them so they were straight.
Light granite
I don't know if I can actually count this one, because we did it JUST before we moved (I think we were there for all of nine days with it in), but it looked so amazing, I wish we'd done it the moment we moved in and been able to enjoy it the whole time.
The previous owners had replaced the laminate countertop on the island with granite but left the laminate on the surrounding countertop, so they didn't match, and they were both very brown and dated looking.
Switching to a lighter color that pulled in both the cabinets and the flooring, plus had an under-mount sink and a square edge countertop changed the whole feel of the kitchen.
We'd never quite been ready to spend the $3000 to do it, but once we did it, it felt like a small price to pay for so much impact.
Naval Paint
I am basically obsessed with this paint color from Sherwin-Williams. We first used it on the main wall in our master bedroom and I loved it so much that I used it in the nursery here and then in two bathrooms.
I never ever got tired of this color and I 100% plan to use it again when we buy a new house.
Breakfast nook chandelier
All the light fixtures in our house were builder grade and we never replaced any of them except this one. But this one made a big impact.
I'll admit that after a year, I hardly even noticed it anymore, but I loved that it made the space feel more intentional, was much lighter feeling than the black one that had previously been there and that it add a little extra fancy to our main living area.
(See all the details plus the before and after here)
Double Oven
This is actually one that the previous owners did, but I loved it too much not to include here. They had the standard space for a free-standing stove/oven combo, but they opted to go with a double oven in that space. I'd never actually seen one of these, but you basically have a full-size oven on bottom (but no drawer like many ovens do underneath) and then a half-size oven on the top.
I LOVED this. The top oven pre-heated super quickly because it was so small and there was almost never anything that didn't fit in it (a turkey was one of the few things I couldn't fit). I probably used the upper oven 90% of the time and it was so nice to have a double oven even though there wasn't the space for two full-size ovens.
Porch Swing
This was one of our very first house projects and I'm so glad that we got to enjoy it for so long. Everyone in the family loved it, it made the front porch way more useable, and it looked much more permanent than most patio furniture.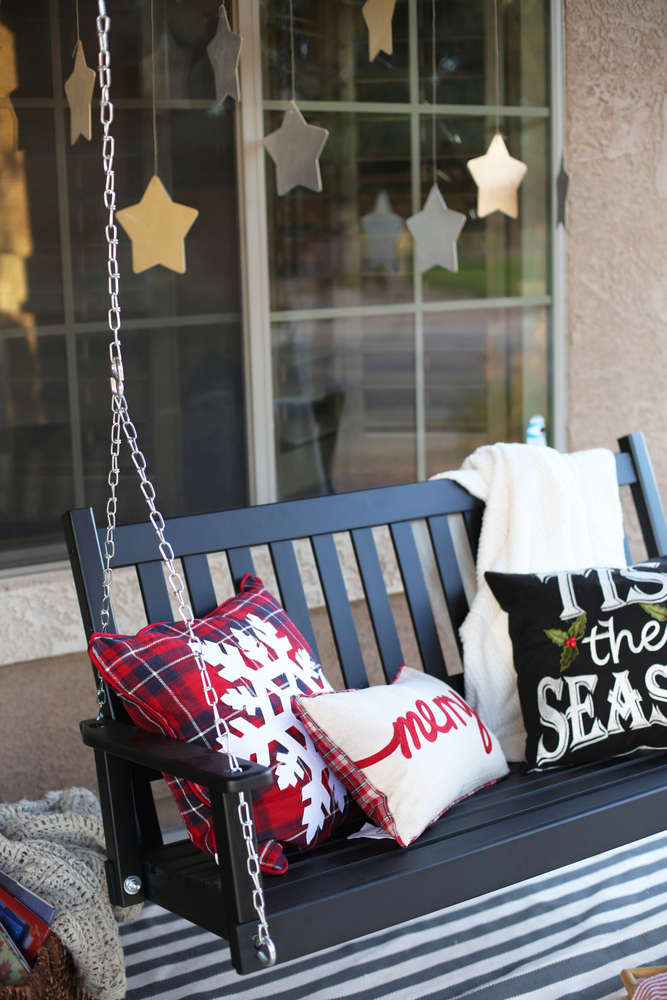 I'm hopeful that our next house will have a spot for a porch swing because I just loved it so so much.
(Details about the porch swing here)
Counter-depth fridge
This was my mom's bright idea because our kitchen was pretty narrow, but now I'm totally sold on a counter-depth fridge. It just looks so nice to have it not jut out into the kitchen and because it's not quite as deep, you don't lose as much stuff in the back of the fridge.
If we were buying a new fridge (which we aren't, because we brought ours with us), I'd 100% do it again, even if I didn't need the extra kitchen space. I also loved that this one had an interior water dispenser so it didn't use up so much door space or look ugly on the outside. This is the one we bought.
If you have questions about any of these, let me know and I'm happy to help! And I'd love to hear what YOUR favorite updates to your house have been!