When we bought our house, there were four major factors for us. First, the price was good. Second, this house was big enough that we'd never have to move. Third, we loved the neighborhood. And fourth, it was definitely not a fixer-upper. We could move right in and not have to worry about any major projects.
That being said, this house definitely had/has many many changes that we wanted to make. Because we didn't buy new, we didn't get to pick any of the finishes and we were stuck with lots of very questionable decisions by the previous owners (mixing laminate and granite counters in the kitchen? WHY? Also, explain to me the thought behind all your hideous paint choices).
But, while we might not have moved into our dream home – let me tell you, no one was going to be pinning any photos of this house when we arrived last summer – it's been surprisingly fun to slowly work on projects because the contrast between the ugliness before and the new things we've done is so delightful.
And because it didn't happen all at once, like moving into a house with gorgeous wood tile floors or white kitchen cabinets and granite counters and pendant lighting and amazing landscaping (all things on our probably never-to-be-fulfilled wish list), we get to enjoy every step, no matter how small.
I shared photos of our master bedroom a month ago, but if there is one thing I've learned over the past few years, it's that home decorating is never really finished.
Our bedroom certainly looked finished enough to share, but there's still one empty corner that houses all our internet cables and cords that are decoratively strewn around the floor – we haven't quite figured out what we're going to do with those. And the wall above them is completely blank. A mirror? Shelves? A console table? We haven't decided yet.
We'd like a rug to go under the bed (I have my eye on this one), but haven't pulled the trigger on that yet.
And we haven't even really glanced at the master bathroom, which could use some love. A plant by the bathtub, and something hanging on the wall above it would be a great start.
I'd like to replace the lighting too, and either swap out the mirrors for something nicer than the builder glass slapped on the wall or put mirror edging on the existing ones. And I'm obsessed with this wallpaper, which I think would look amazing on two of the walls.
But this month we did make progress on one big project for our bedroom which has made a huge difference.
When we walked through the house, one of Bart's initial complaints was that there was no door on the master bathroom. And because the shower is RIGHT inside the master bathroom, it's kind of like showering in the middle of the bedroom.
Then our Decorist designer suggested a barn door to add some interest to that wall as well as some privacy, we were both totally on board.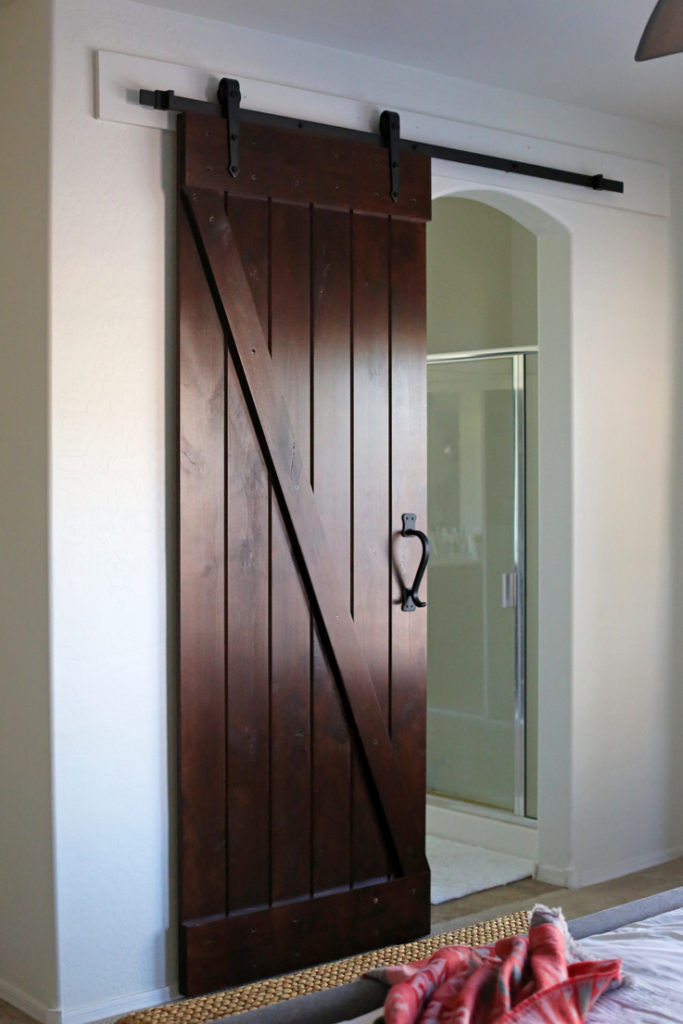 I'm pretty sure we looked at every barn door on the Internet in the last couple of months, but we both liked the ones from BarnDoorz.com the best, so we were delighted when they agreed to send us a door and share how it looked in our home.
One reason we liked BarnDoorz.com is that you can customize your door endlessly. We'd looked at some ready made ones at other sites, but the doorway to our bathroom is much higher than standard door frames, and we didn't want it to not come up the entire way. It's also a relatively narrow doorway, so we didn't want something super wide either.
They also have a good selection of styles and finishes, but not so many it's overwhelming (I have major decision paralysis if I'm forced to choose between 10,000 possibilities). Bart and I were able to sit down and pick out the style, the color, the hardware, and extra things like a locking mechanism in about 10 minutes.
We ended up choosing the Z Barn Door in the Canyon Brown, and it arrived a week or so later, just before we went out of town, and I was so delighted when we had a free evening once we returned and could put the whole thing up.
Although, even just sitting against the wall for a few days, we couldn't stop talking about how gorgeous it was. It's such beautiful wood and the stain was rich and deep, plus the hardware is really high-quality.
And the color perfectly matches the cabinetry in our bathroom, so it fits right in.
It's made such a big difference in our room looking a little less cookie-cutter suburban house, plus I love it that when Bart gets up early to catch a flight, there isn't a bathroom spotlight shining on my face while I'm trying to sleep (obviously my beauty rest is a major priority).
Five minutes after we had it up, Bart was looking at the similar opening between our kitchen and front room and saying, "Do you think we should put a door on this one too?"
Also, all right now they're running a big sale and you can use the code FALL16 for 30% off your whole order, plus every order ships for free (they didn't ask me to say this – I just noticed it while I was looking at their site and linking to the door we picked, so I have no idea how long this sale lasts).
And if you're like us, you'll be looking for every possible place to hang a barn door.
How many is too many? I'll let you know if we ever hit that number.
if you liked this post about our barn door installation, you might also like these other posts: