This post is sponsored by Mouse + Magpie, a child inspired, adult curated collection of delightfully designed products and furnishings created specifically for little people with big imaginations
There's basically nothing I love more than a cozy spot to curl up with a book (except maybe a cozy spot to curl up with a book AND a snack).
In my dream house, we'd have plenty of gorgeous window seats for snuggling up in, but since our house is decidedly lacking in window seats, we created our own little reading nook instead.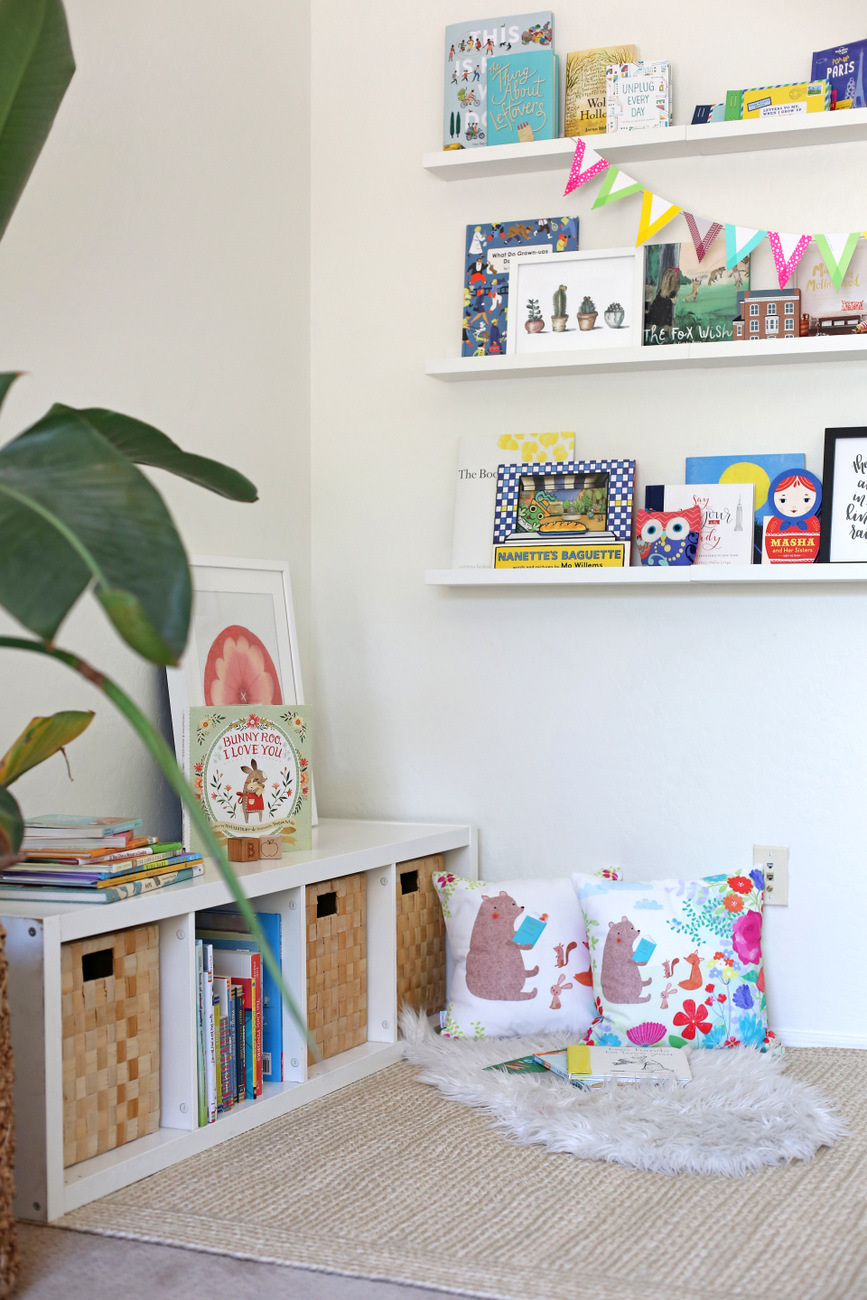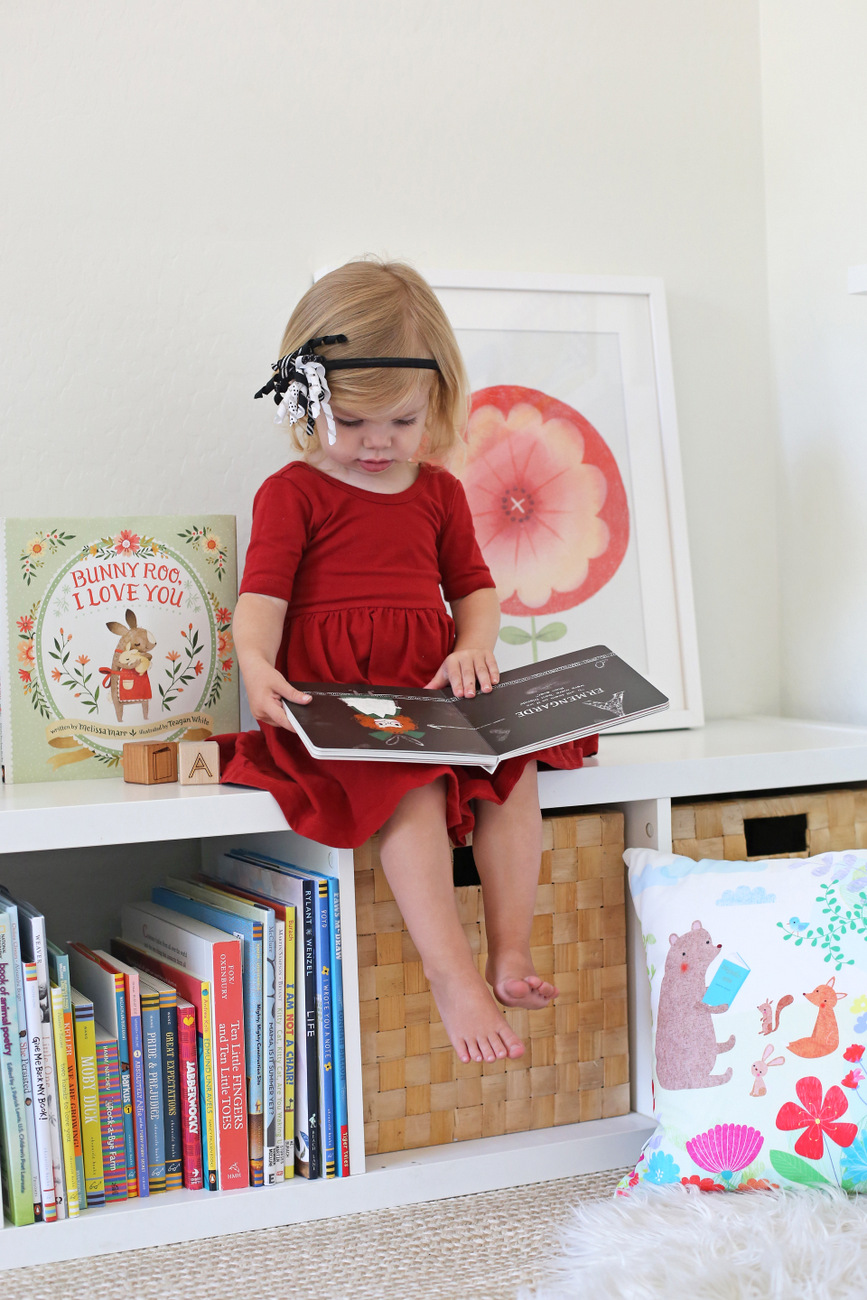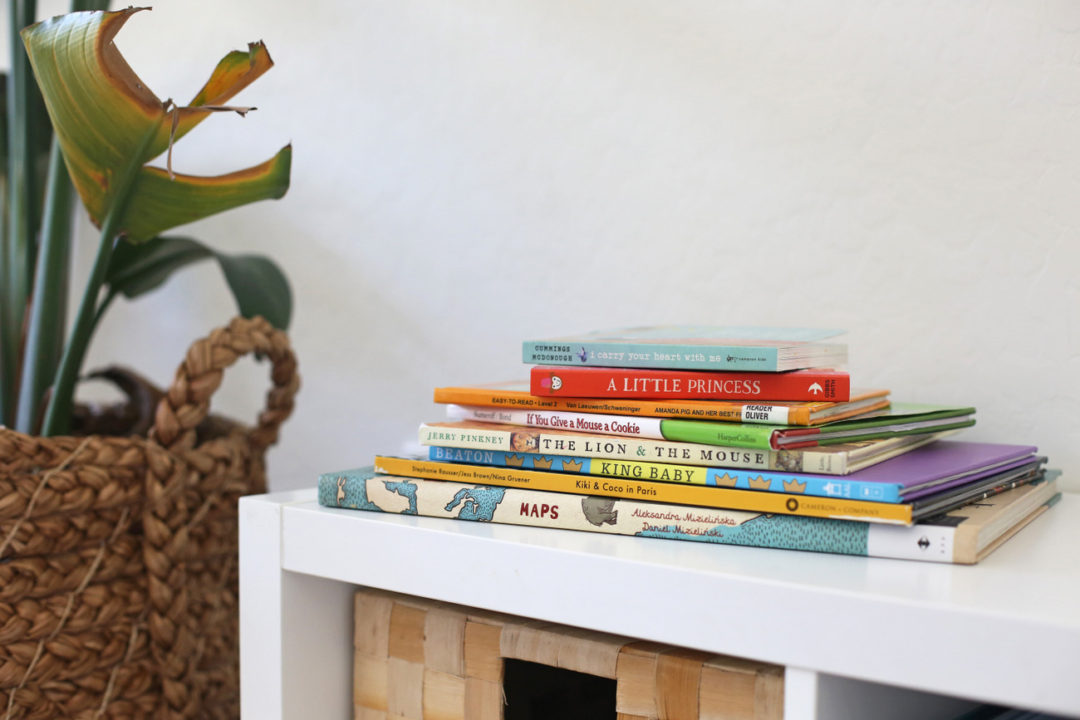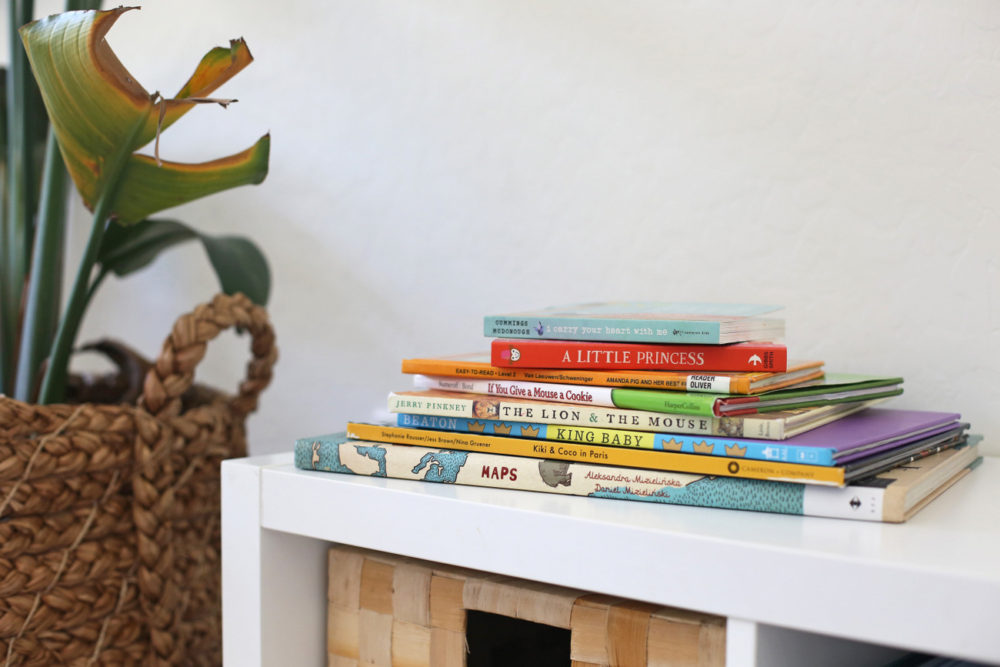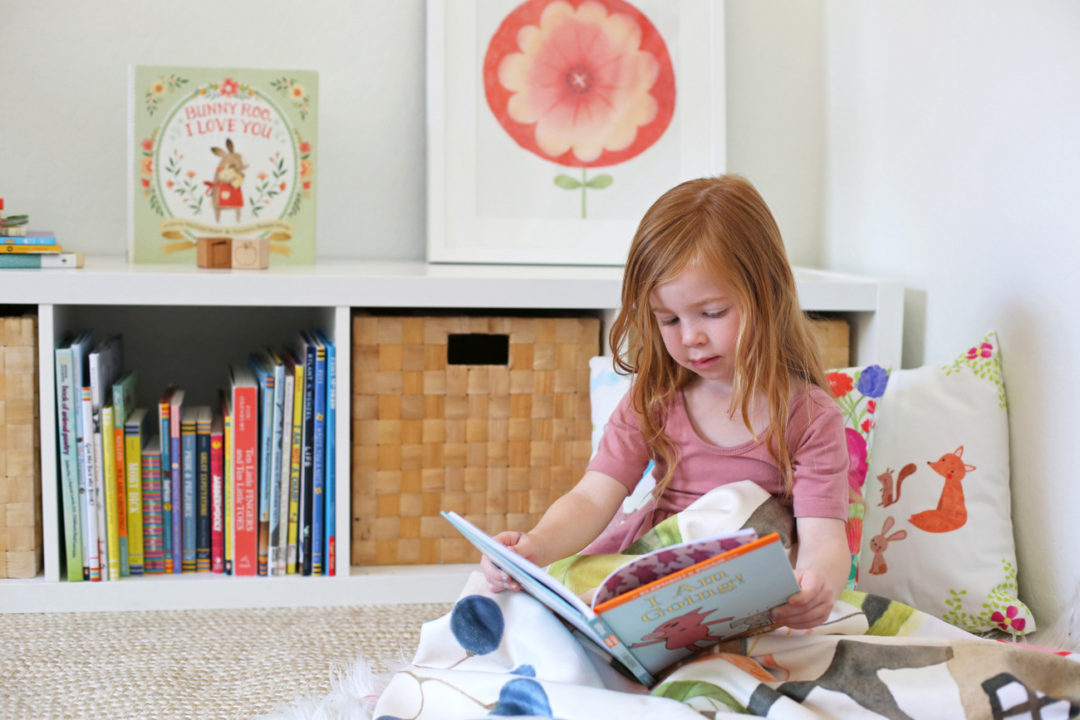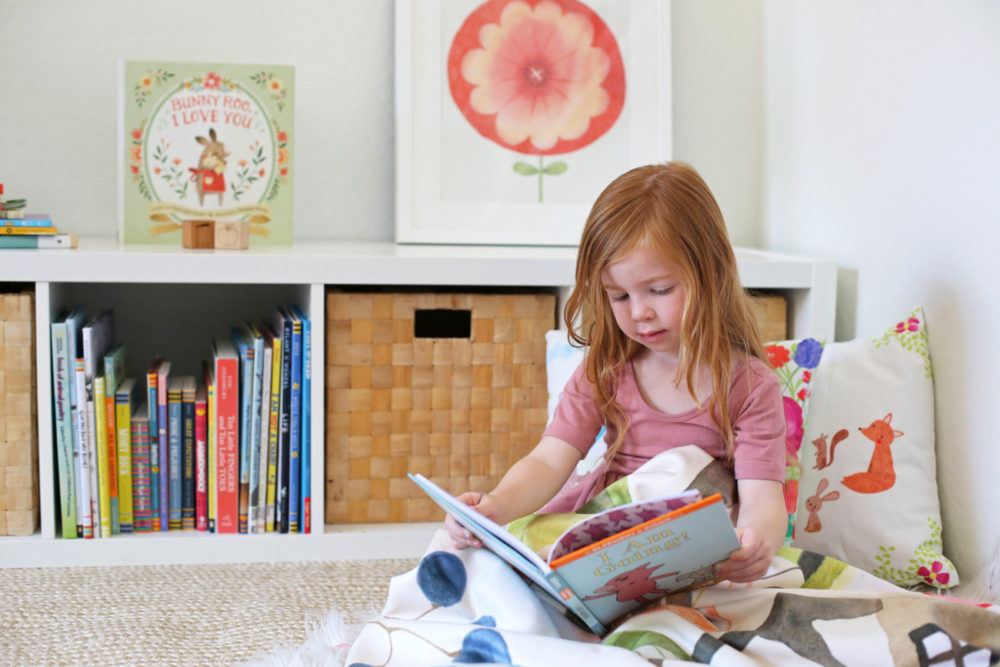 We're in the process of redoing Ani's bedroom and so once it's repainted and re-carpeted, we'll move this reading nook down there, but my girls were so excited about it that we set it up in my office.
As I've done more decorating, I've discovered how much I love creating spaces that are both really child-friendly and that fit my taste and the rest of the house.
This was a particularly fun corner to put together and I loved thinking through the logistics of it.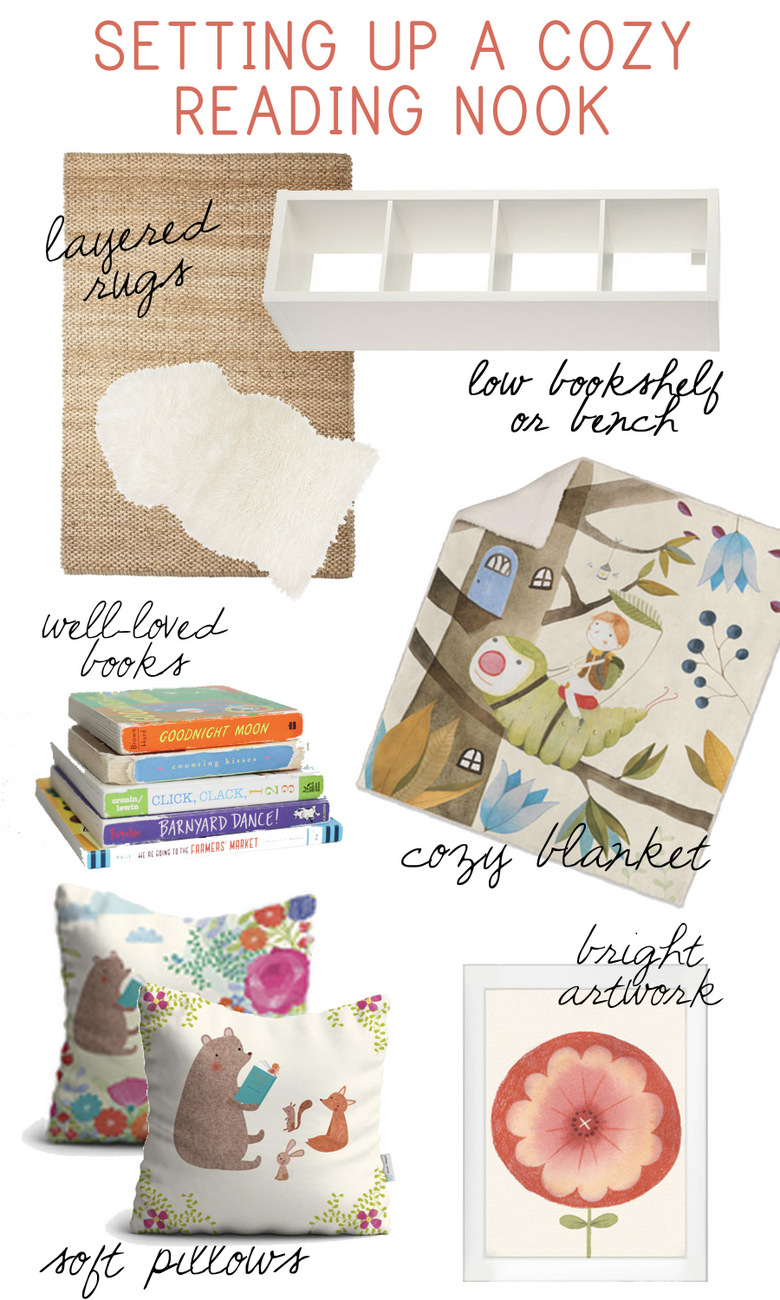 We've owned this IKEA bookshelf for several years and it was the perfect piece for this corner since it gives both storage and seating and creates some definition. I like having spaces to put the books in and also some baskets for library books or other toys for the littler girls to play with.
I'd also purchased this rug on major sale a few months earlier and I love it for anchoring the space and giving some definition to the corner (not to mention protecting the carpet).
Of course the really fun part of putting together any space is all the finishing touches, and Mouse + Magpie had the perfect pieces to make it really sing.
I knew I wanted a couple of things to make it cozy, and these pillows warmed the reading nook corner right up, added some fun colors, and are super comfy and well-made.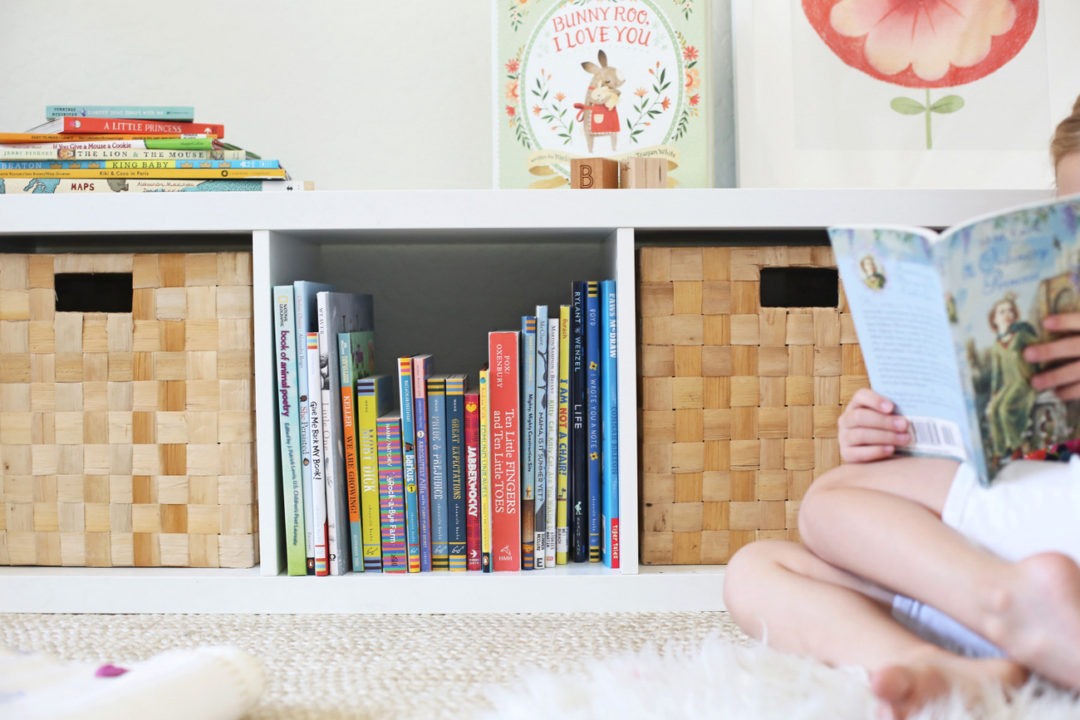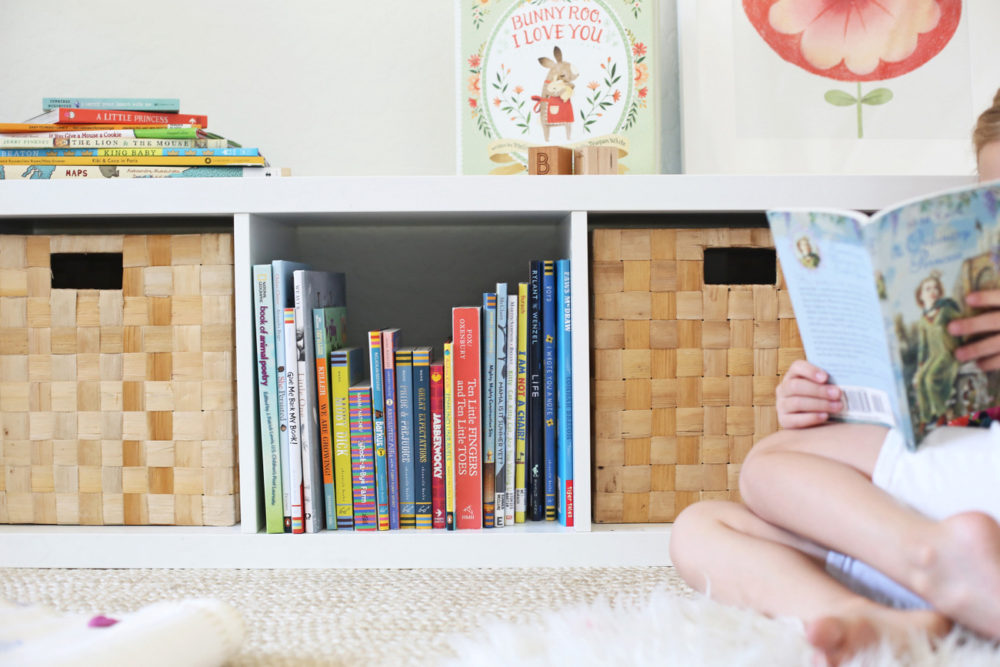 And the blanket is perfect for snuggling up in.  You'd be surprised how often you need a blanket in Arizona summers when the air conditioning goes nuts and it's freezing inside.
Ani's had a special blanket since last year, and once this one arrived, she has completely switched her loyalty to this sherpa blanket. I can't blame her, because it's so soft and cozy.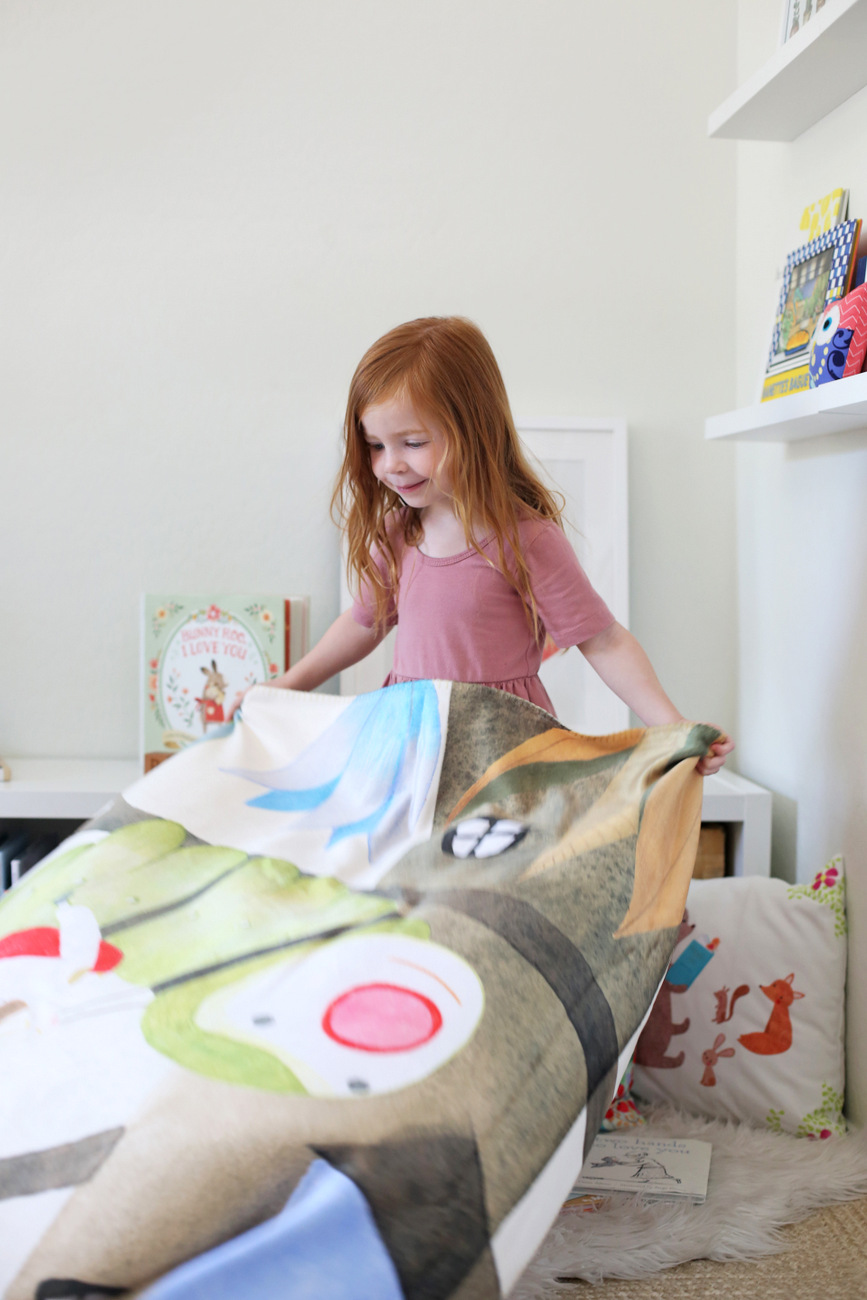 And then this framed art print was the cherry on top. I love that it's not too busy because book covers are inherently pretty busy, so I wanted something simple, and I loved that it adds a little pop of color.
Plus, when something comes already framed and ready to hang, that's my kind of art (in fact, I ended up swapping out the print in Ella's old room for this one once we moved Star up to her room because it worked so well in there, and it's made the whole room look so much better. It's kind of like magic art).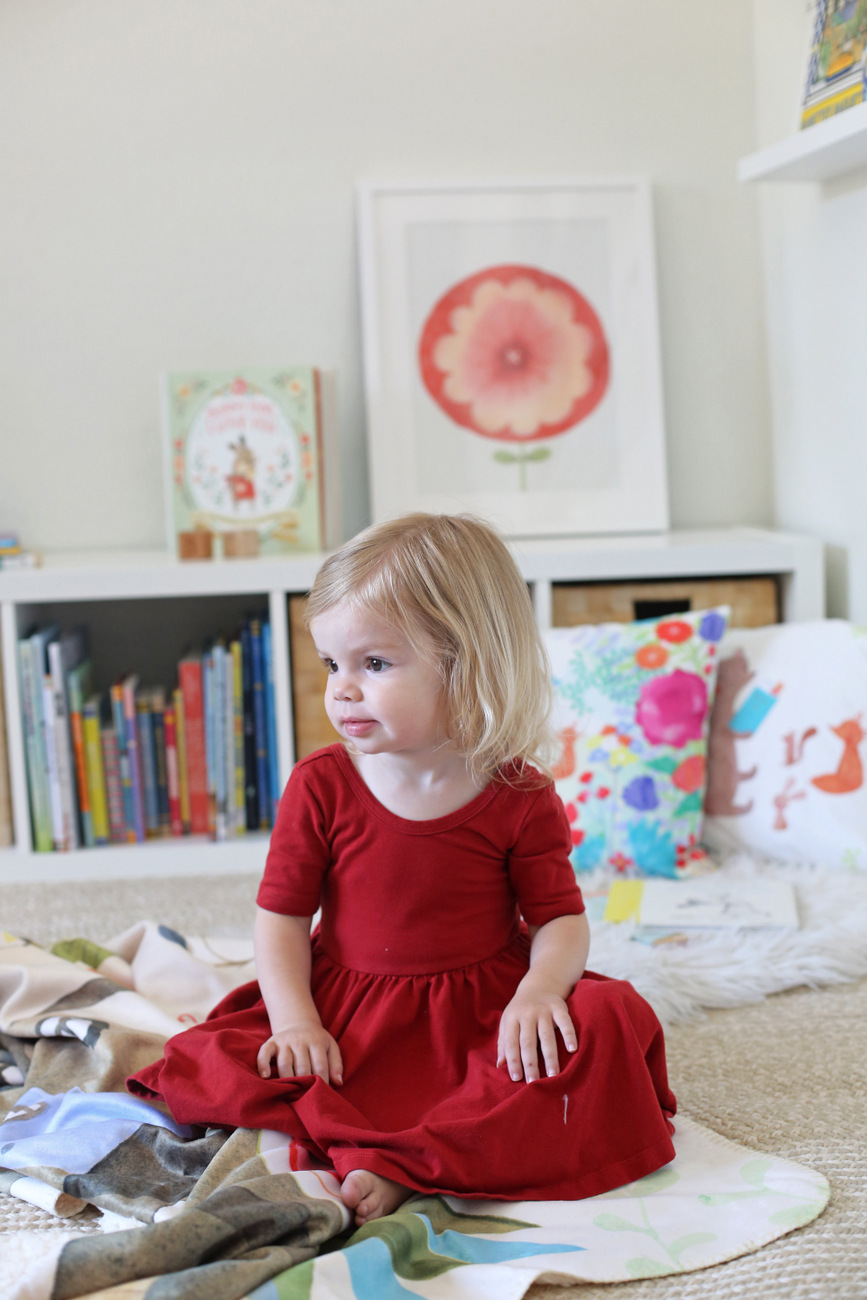 Mouse + Magpie partners with artists from all over the world to design exclusive art for their one-of-a-kind products and it was so fun to see the wide range of styles and themes in their collections.
I picked items from various collections for this space, but you can also pick a complete collection from a single artist that has all the key elements for decorating a bedroom or nursery, including a piece of art, lamp, clock, throw pillow, and blanket.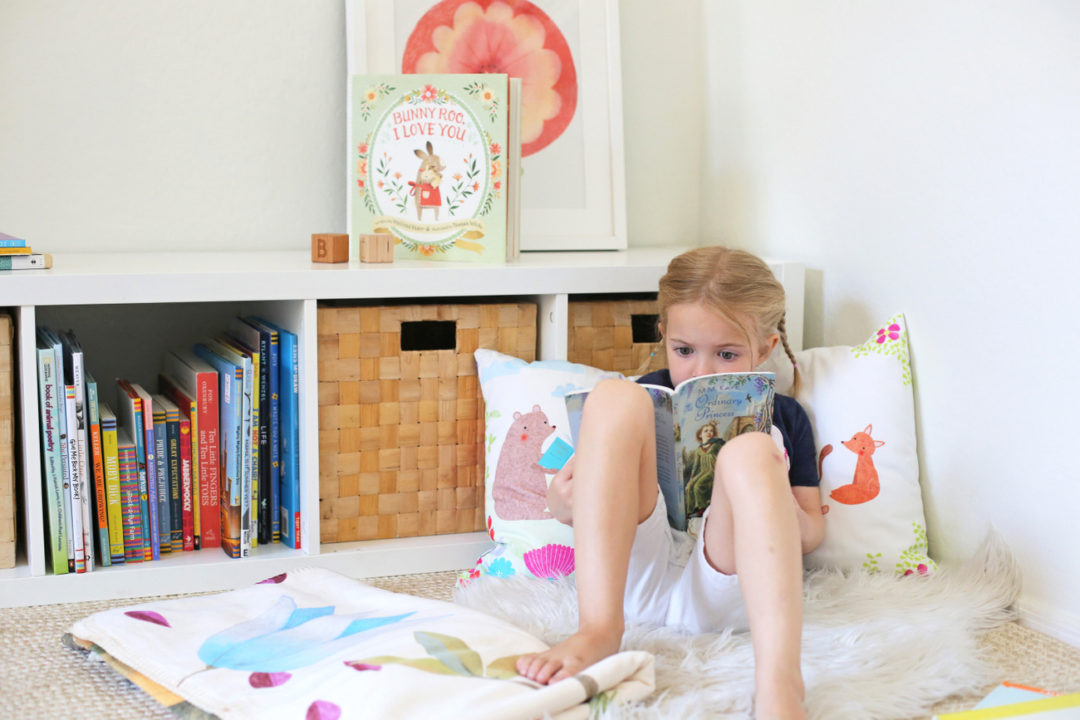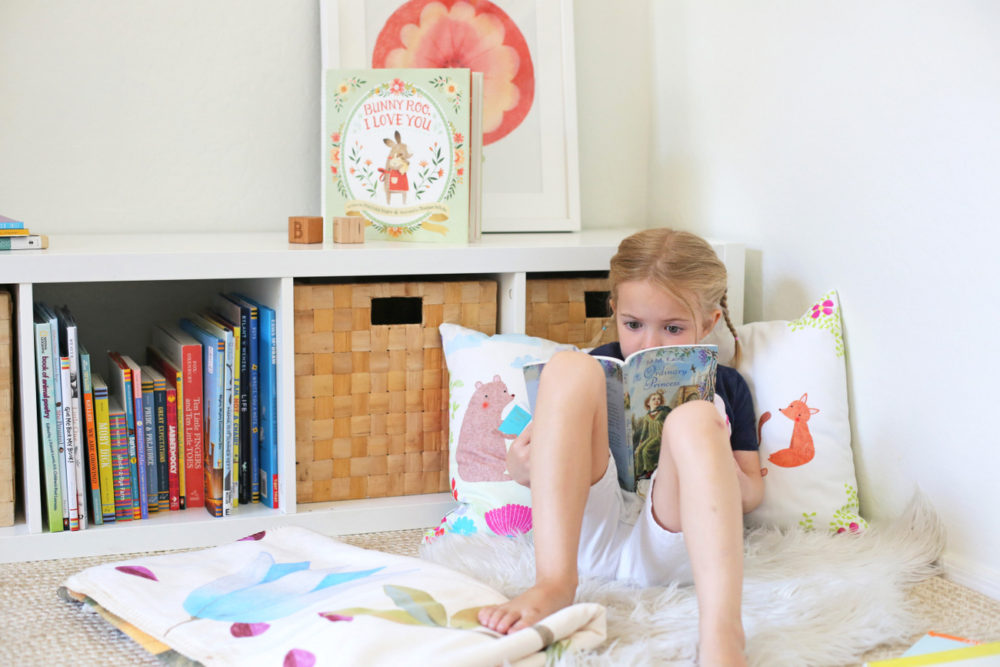 Plus, you can save 25% on your Mouse + Magpie order when you use the code WHIMSY (good through August 4th).
It's been so surprising to me how much the girls love this little reading nook – something just their size that's intended expressly for them seems to make reading just that much more fun and accessible, and I love peeking in and seeing them curled up together with a stack of books (and it's a good thing the sherpa blanket is such a good size, because they ALL want to be under it).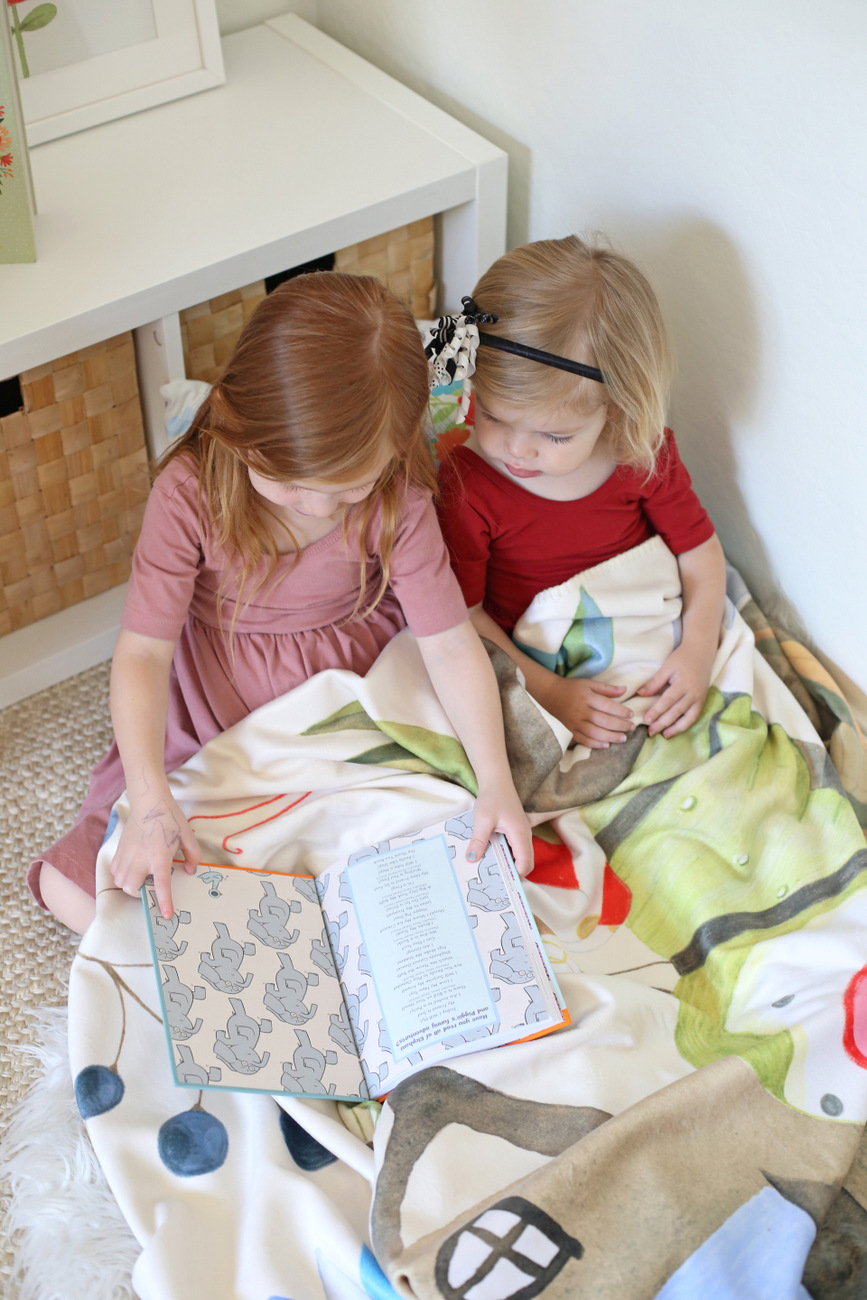 It's also been a good reminder to me how a few little pretty touches really finish things off and make a space feel complete.
Mostly, I just love that they have a little space all their own to let their imaginations run wild, not only as they read, but also because this reading nook makes surprisingly good sailboat. Or airplane. Or car.