Gift giving is NOT my love language.
I find gift giving really stressful, and for years, Bart and I basically just opted out of buying each other things at all for any major holidays.
But now that we have children, I'm pretty sure they would not find it a magical childhood moment for me to say, "Sorry kids. I think gift giving is stressful, so I'm just bailing on that part. Have a cupcake."
Of course, one of the reasons gift giving is stressful to me is because I usually leave it until the last possible moment and then it feels ULTRA stressful and I feel dumb for being like "here's your late gift" and so forth.
So this year, I was determined not to make the same mistake this year and a week before her birthday, Bart and I sat down, figured out everything we were going to give her (a small list) and the next morning, I forced myself to just order them, reminding myself the whole time that it would never be a more convenient time to do it.
And then I didn't have to stress about it the rest of the week.
This planning ahead thing has more merit than I've previously given it.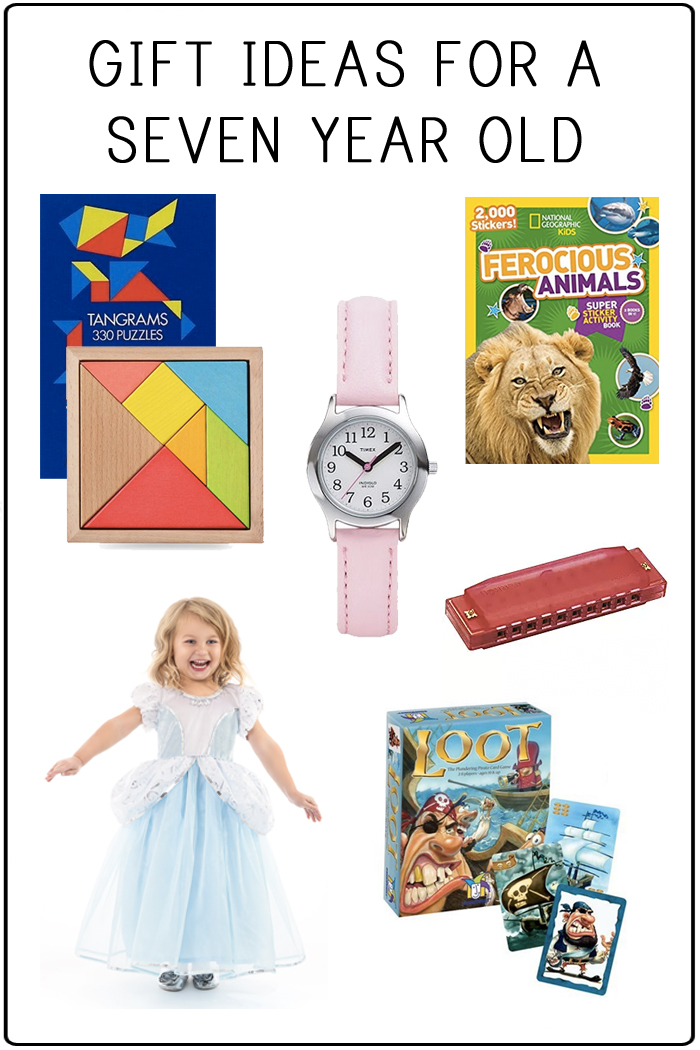 gifts for a seven year old
Tangram set. Ella is a massive puzzle fiend, and I've thought for the last year or two that she'd really enjoy a tangram set. And then, of course, I never bought one. This year, I found a wooden set with good reviews for $7 and then I ordered this book of tangram puzzles to go along with it.
A watch. I bought Ella a watch for Easter a couple of years ago and she LOVED that thing, but it was a $2 plastic watch and after a few months, it completely fell apart. This year, she mentioned it was something she'd like and I was on the hunt for something that wasn't covered in characters, was simple and feminine, and decent quality without being wildly expensive. I think this one hit that sweet spot.
A harmonica. I included these in my $5 gift guide last year and said I was going to get them as stocking stuffers, but when I went to actually order them a few weeks later, the price had jumped to $6 each and I was less interested in spending almost $20 on three of them. But now I was willing to buy one for Ella's birthday. (When I told Bart about this gift, which I added at the last minute, he was like, "Are you really ready to hear a harmonica non-stop around the house?").
Loot. As you know, Ella loves games more than almost anything else, so Bart and I looked through a ton of suggestions and ended up picking Loot since it's a quick card game and those are like gold in our house. The reviews are killer and I'm crossing my fingers it's a hit.
There were, of course, a couple of gifts from the grandparents (my parents bought her this dress-up costume and Bart's parents sent her this sticker activity book) and we did some of our other birthday traditions and it was a fantastic birthday with our best oldest girl.
If you liked this list of gifts for a seven year old, you might also like these posts: