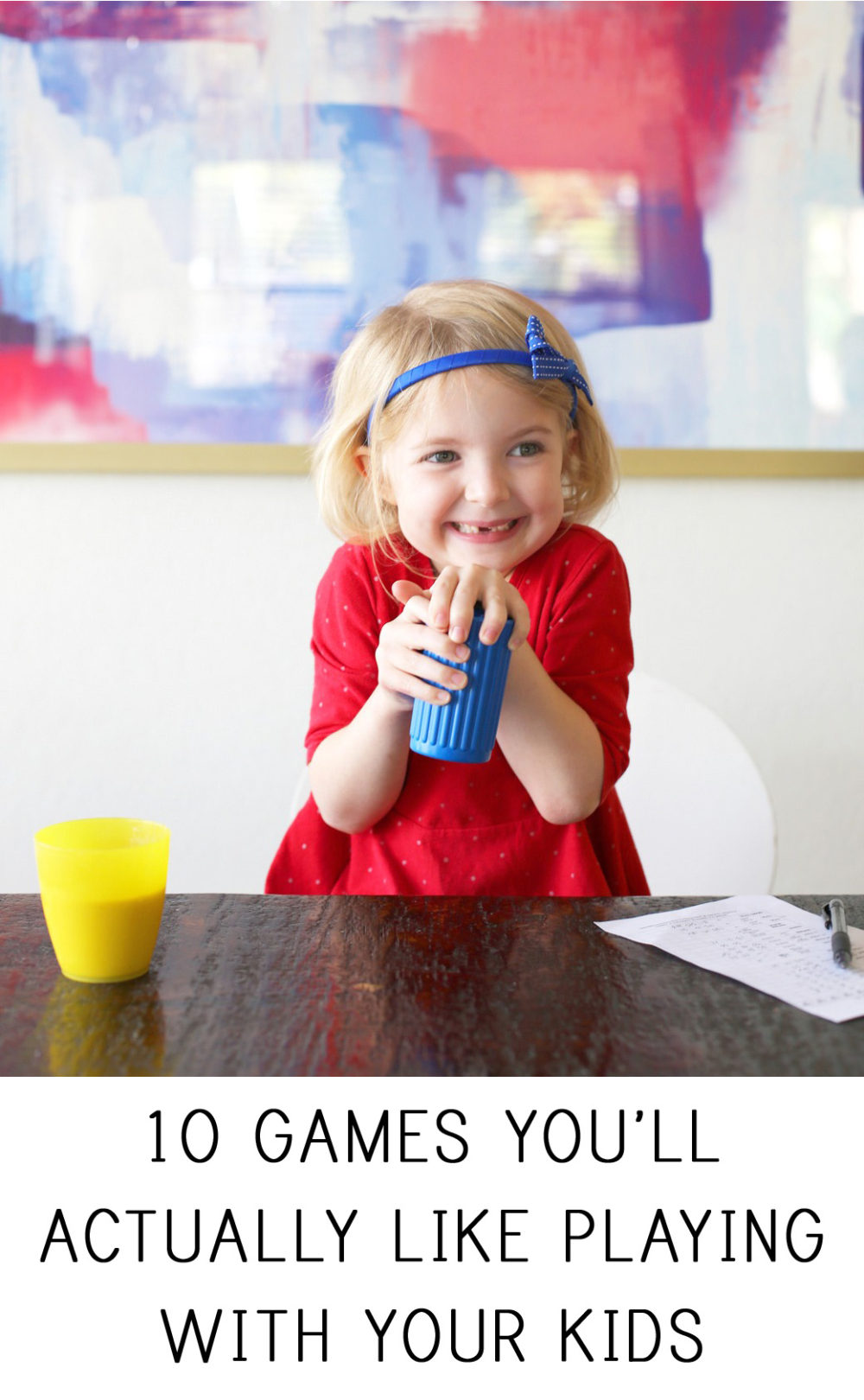 When Ella was about two, we bought a memory game at a garage sale for a dollar.
I cannot even begin to estimate how many times we played that game (I also think I probably permanently injured something with all the time I spent stuffed into the tiny little IKEA chair while we played), but it had to be hundreds.
I actually quite like playing Memory, so I didn't mind all that much.
So when we saw practically brand-new versions of Candyland and Chutes & Ladders a month before Christmas at a garage sale (we were obviously really into garage sales in Texas), we snatched them up for gifts for Ella.
What a mistake.
I can deal with Candyland (even if they did change "Queen Frostine" to "Princess Frostine" which is much less satisfying to say), but Chutes and Ladders?
That game makes me want to gouge my eyes out.
It takes FOREVER to play and invariably, just when it's finallllllllly almost over, someone goes down the longest chute and you're staring down the barrel of another 20 minutes of play time.
Of course, my girls love playing games, and I actually really love games myself, so we've started to build up a decent little collection of games that we all enjoy.
These are ones that are simple enough that my 3 and 5-year-old can both play: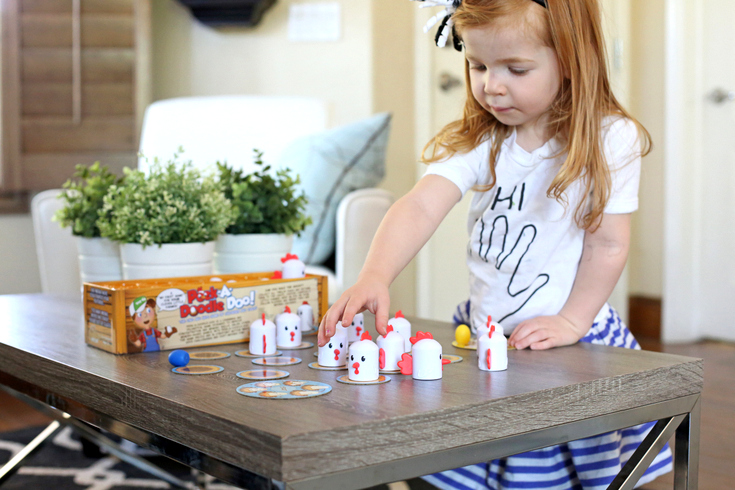 My Favorite games to play with children
Sleeping Queens. This was a gift for Ella for Christmas this year (I mentioned it in this post) and it has been a HUGE hit. The girls and I play it almost every day, and I like that it's fast enough that we can play in 10 minutes or so. There are twelve queen cards, and you use the other cards to pick up the queen cards, steal other people's queen cards, or put their queens back to sleep. Definitely the family favorite right now.
Spot It. We bought this years ago and played it with adults many many times. Now my girls are old enough to play it too. Each card has a bunch of different pictures on it, and you each hold a card in your hand with the rest of the cards in a stack in the middle, and you try to find what picture is on both your card and the top card of the stack – if you're the first person to call out the matching picture, you get the card. Whoever has the most cards at the end wins. There are several variations in the instructions, so you can change it up if you get sick of one variation.
Peek A Doodle Doo! Bart's dad and step-mom sent us this one for Christmas, and it's so clever and fun. You have 15 nests and 12 of the nests have a chicken on top with an egg under them. You pick up a chicken and move it to an empty nest and place the egg in the chicken coop. If you pick up a chicken that doesn't have an egg under it, which gets trickier as more eggs are moved to the chicken coop, you lose a point. Once all the eggs are the coop, you reverse it and start putting the eggs under the chickens, trying not to pick up a chicken that already has an egg under it. It's a fun little memory game to play with children and goes very quickly. Plus, the pieces are just darn cute.
Enchanted Forest. When I was little and we lived in Wisconsin, our library had games to play with children that you could check out, and we borrowed this one out a lot. I hadn't seen it in almost 25 years, but Merrick sent it to us for Christmas and it's super fun. You move around the forest looking under trees to see what fairy tale story is hidden under it, and then go to the castle and try to match the correct card to the right tree. We played it as a family on a Sunday afternoon a few weeks ago, and Bart and I kept saying, "This is really a great game!"
Bingo. We have both a standard bingo game (complete with little tile dispenser) and a gorgeous animal bingo game we've had for years, and my girls love them both. And I like a quick game of bingo.
Trouble. When we lived with my parents a few summers ago, Ella basically wanted to play this around the clock, and fortunately, with my parents around, she almost could. Also, what is it about that little dice in the popper that is so addicting?
Chicken Foot. At Thanksgiving, Bart's grandma pulled out our domino set and taught a bunch of the cousins to play this game. I've always had a soft spot in my heart for Chicken Foot, so I'm usually willing to play a couple of times. Just make sure you're at a big enough table.
Richard Scarry's Busytown. This was another one we gave the girls for Christmas, and it's really fun. The board is about 6 feet long, and I love that it's not competitive – you work as a team to all win or lose. And it's simple enough for anyone to play, and it's fast (this is another one we can crank through in 15 minutes before quiet time).
Uno. We took this with us to London because it took up basically no space, and we played it in many hotel rooms and on train and airplane tables as we traveled through Europe. It's one of my favorite games to play with children because it's a good way to strengthen number and color skills, and if you lose a card, it doesn't matter.
Yahtzee. Oh man, we have played TEN MILLION games of this over lunch this year. I really love it, plus it's great for math skills. We have printed off so many extra score cards because we go through them super fast.
Any games your young children can play that don't make you want to fake a terrible illness? And more of our favorite suggestions here!
If you liked this post about games to play with children, you might also like these posts: