Ah, I just love putting together this list of really nifty things every year that cost $5 or less.
These are perfect for stocking stuffers, teacher or neighbor gifts, or just fun little presents for friends and family. I've tried to include something here for every taste and age, and I hope you find a few things you love!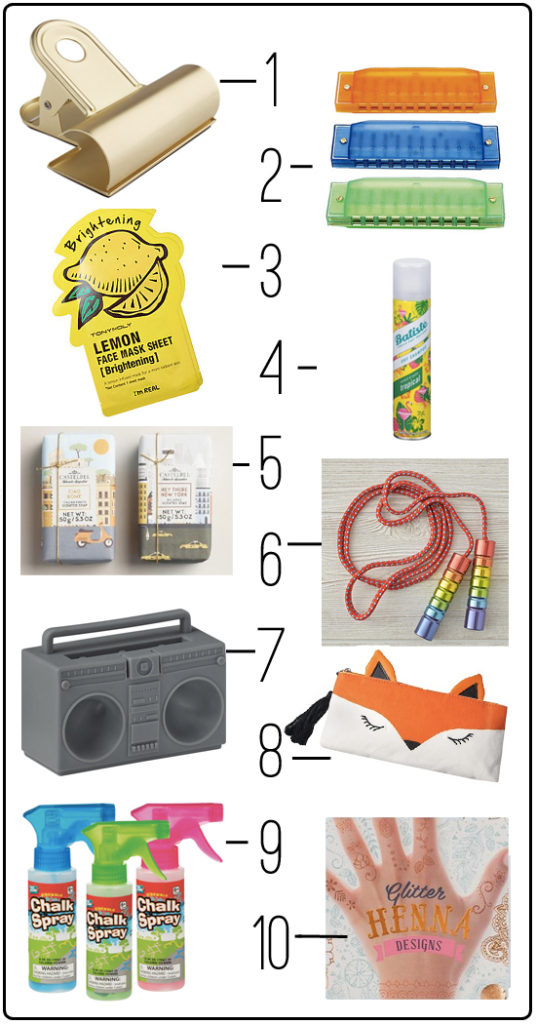 1. Gold Photo Clip ($4.95) – This oversized photo clip is so fun and modern looking. Add a cute print or photo and voila, you're done.


2. Translucent Harmonicas ($1.99) – My girls found Bart's harmonica a few weeks ago and they LOVED it. I'm buying them each one of these for their stockings, each in a different color.

3. Fruit Face Mask ($3) – These masks come in a ton of different colors and scents, and they're just such a nice little splurge.

4. Mini Dry Shampoo ($5) – Travel-sized dry shampoo that will keep you look fresh no matter how far you go. And the bottle is darn cute.
5. World Cities Soap ($2.99) – These pretty soaps not only come in a variety of scents, but also in the loveliest wrappings representing different cities. I'm particularly partial to London, of course.

6. Rainbow Jump Rope ($3.96) – My girls learned to jump rope this summer with their cousins, and they LOVED it. I adore this old school jump rope with the bright rainbow handles.
7. Boom Box Amplifier ($0.99) – This is just a fun, inexpensive gift. Pop your phone in and amp up your sound.

8. Fox Pencil Case ($2.48) – How darling is this little pencil case? It's great for crayons or scissors for kids or a few makeup items for grown-ups.
9. Sidewalk Chalk Spray ($1.56) – This is a BIG step up from your standard sidewalk chalk. You might never look back.


10. Glitter Henna Designs ($4.06) – I am obsessed with these fun glitter designs. Way more fun than your standard temporary tattoos.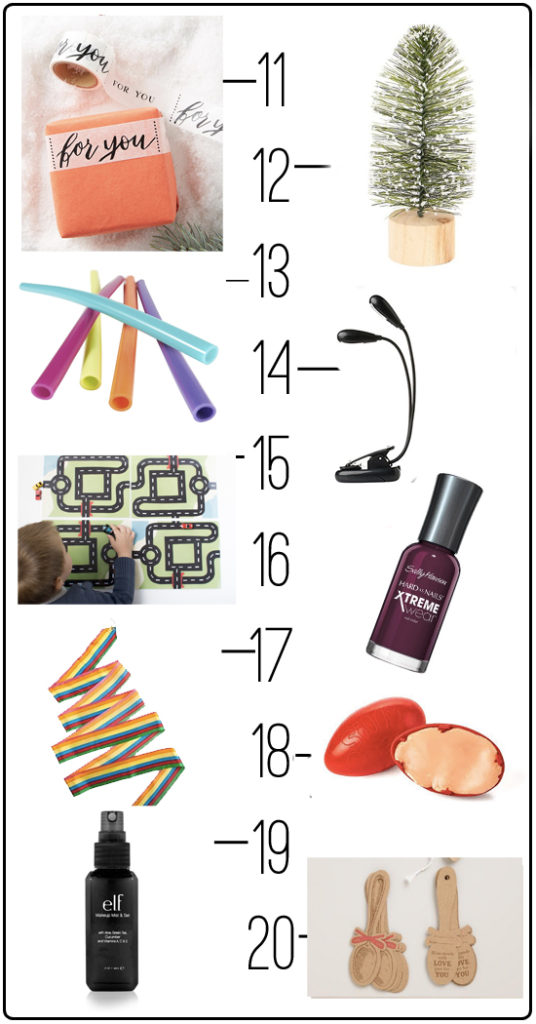 11. For You Washi Tape ($5) – This is a fun, modern way to top off a simple wrapping job. I love this stuff!

12. Natural Christmas Tree ($3) – I love a tiny little Christmas touch, and this one is perfect for any corner, whether it's the kitchen counter or your bedside table or in your bathroom. I might need five.


13. Reusable Straws ($3.99) – Anyone else think that a drink is tons more fun with a straw? These are brightly colored and dishwasher safe. Done.

14. Clip-On Reading Light ($3.99) – If your partner is always keeping you up at night with their reading, this might be one of those gifts that is actually a gift for you. I won't tell.
15. Fold-Up Train Mats ($2.50) – This play mat folds up to go in your purse and turn any surface into a play place. Brilliant. Throw in a couple of cars or trains and you're good to go.
16. Nail Polish ($2.46) – This has been my favorite nail polish this season; the color is perfectly festive and goes with basically everything.

17. Gymnastics Ribbon ($2.97) – Are you living with some future Olympians? You need one of these.
18. Silly Putty ($3.81) – What is it about silly putty that's so ridiculously addictive? I can't tell if this is more fun for kids or adults.
19. Makeup Setting Spray ($2.89) – It's the worst when you take the time to put on your makeup and then it all rubs or melts off. This does an amazing job of keeping it in place.


20. Spoon Gift Tags ($3.99) – For someone who loves baking, this is the perfect gift so they can package up their goodies with these darling little tags.
If you need more ideas, here are the lists from 2015, 2014, 2013, 2012, and 2011 (because the only thing better than twenty $5 gifts is 100+ gifts under $5).
AND I've been collecting fun gift ideas for under $20 over on Pinterest and I'm loving every one of them, so if you're looking for something a little more than $5, check those out too.