Every year since 2012, I've done a Christmas picture book list.
Then, a few years ago, several people started asking if I would do a list of longer Christmas chapter books to read-aloud with their kids during December.
Such a thought had never actually crossed my mind (because I am totally brilliant, obviously), but immediately I was all about this really good idea.
Here are seven Christmas read alouds that would be great choices.
As soon as we finish Harry Potter and the Chamber of Secrets, we'll be diving into one of these Christmas read alouds.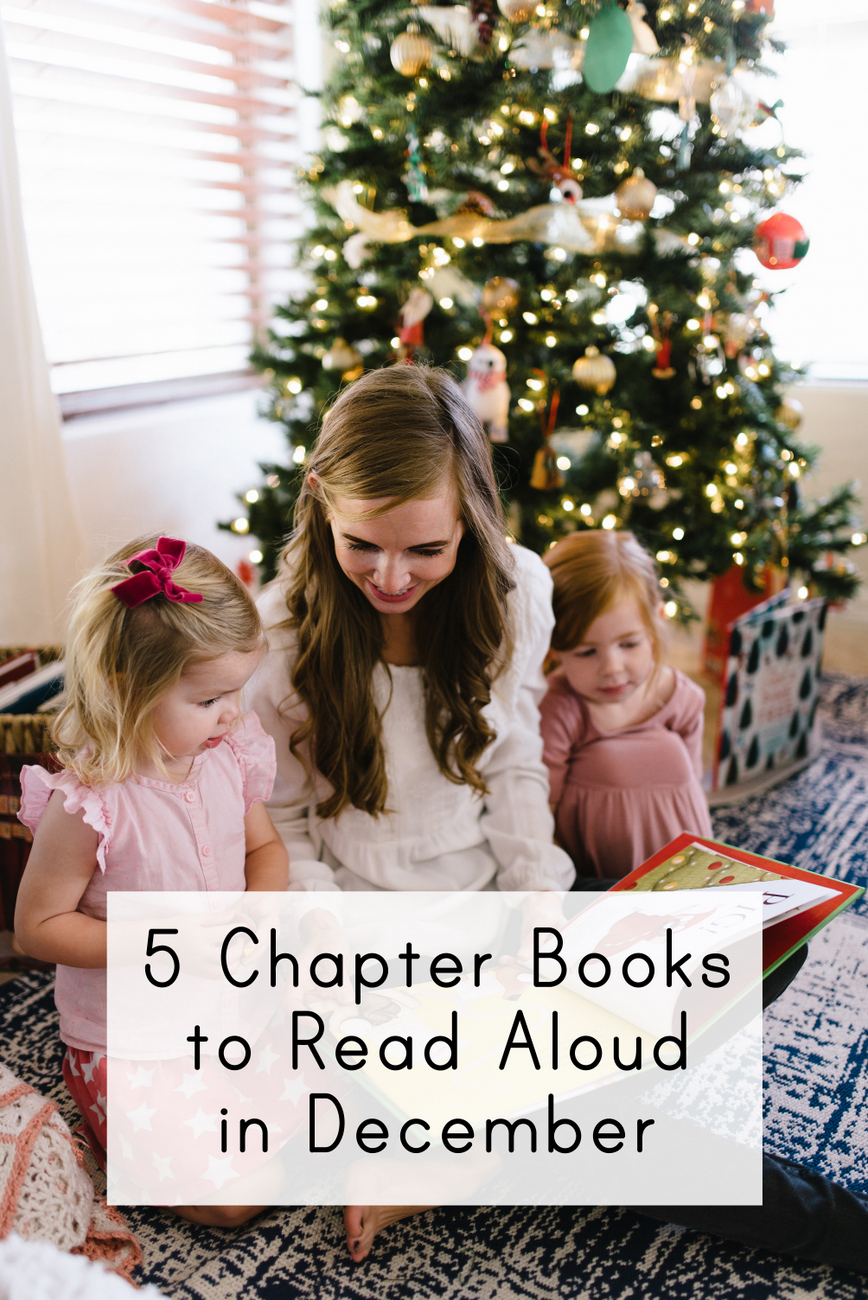 7 wonderful Christmas read alouds
A Return to Christmas by Chris Heimerdinger
This is the Christmas read aloud I remember best from my childhood. It's out of print now, I think,  but you can get a second-hand copy for less than a dollar. This story follows two eleven-year-old boys, one of whom hates Christmas, thanks to a tragedy that occurred when he was very young, and the other who lives by his wits as a con artist. We met the author the year we were reading it and told him we were reading a chapter a day (the book has 25 chapters), and he told us, "You'll never be able to hold out." And he was RIGHT. It was one of those books we couldn't put down. I think my mom bought a copy for everyone in our extended family the next year.
The Best Christmas Pageant Ever by Barbara Robinson
I mean, what would a Christmas chapter book list be without this book? I cannot WAIT to read this one with my girls – I know they'll get a huge kick out of the Herdman siblings, dubbed "the worst kids in the history of the world" who show up at church because of the free snacks and somehow take over the whole Christmas pageant. This one is a nice short read, so if you're looking for something that you can get through in a couple of days or a week, this is a good pick.
Nancy & Plum by Betty MacDonald
I know Betty MacDonald because I'm a massive fan of Mrs. Piggle Wiggle, and when I saw this Christmas novel with illustrations done by Mary GrandPré (who did the illustrations for the original Harry Potter books), I was completely in. Also, two orphan sisters in a terrible orphanage? Count me in. It's been republished from the 1950s and at 240 pages, it's a good choice for the whole month. We read this one last year and it's so sweet and charming.
The Family Under the Bridge by Natalie Savage Carlson
This is a classic set in Paris (and I'm never going to say no to Paris), following Armand, an old man who lives on the streets and loves his solitary life. Until he meets a poor mother and her three children and feels drawn to helping them, including sharing his home under the bridge with them. Also, the illustrations are by Garth Williams, who did the illustrations for Charlotte's Web and Laura Ingalls Wilder's Little House series, so you know it's going to have the coziest, most classic feel.
Kringle by Tony Abbott
I always am in for a good backstory, and this one, about an orphan who grows up to become Santa, is a total showstopper, with him coming-of-age in 500 A.D. If you want goblins, elves, reindeer, and all your good fantasy elements, this story is for you. In this tale, goblins kidnap human children and use them as slaves in underground mines. And Kris Kringle takes on as his personal mission to free his fellow child slaves from the evil goblins, continuing on today as each Christmas Eve, he works to keep down the goblin uprisings. We're on hold for this one at the library and I can't wait!
The Girl Who Saved Christmas by Matt Haig
We're listening to this holiday read aloud right now in the car and my girls are SO into it. It follows Amelia Wishart who was the first child ever to receive a Christmas present, thanks to her Christmas spirit. But that Christmas spirit is draining away since she's stuck in the workhouse while her mother is ill and without it, magic levels at the North Pole are becoming dangerously low. This one is a follow-up to A Boy Named Christmas (which I haven't read yet), but you don't need to have read it to enjoy The Girl Who Saved Christmas.
How Winston Delivered Christmas by Alex T. Smith
This book just came out this fall and it's getting SO MUCH buzz. I just got my hands on a copy and I'm in love and can't wait to use it with my girls this December. It has a chapter for every day in December before Christmas that follows a little mouse who finds a lost letter and is determined to get it to Santa. There are also activities and crafts that go along with each day, if you want to do them.
And if you'd like a printable copy of this list that you can take to your library or screenshot on your phone for easy access, just pop in your email address below and it'll come right to your inbox!
If you liked this post about Christmas read alouds, you might like these posts too: