I think as children (and basically as humans in general), it's easy to be focused one what we want or what we don't have instead of making gratitude for the things we DO have part of our regular life.
These picture books on gratitude do a lovely job of helping open up a conversation about gratitude, which is especially wonderful during November and going into the holiday season where it's easy to get a case of the "gimmes."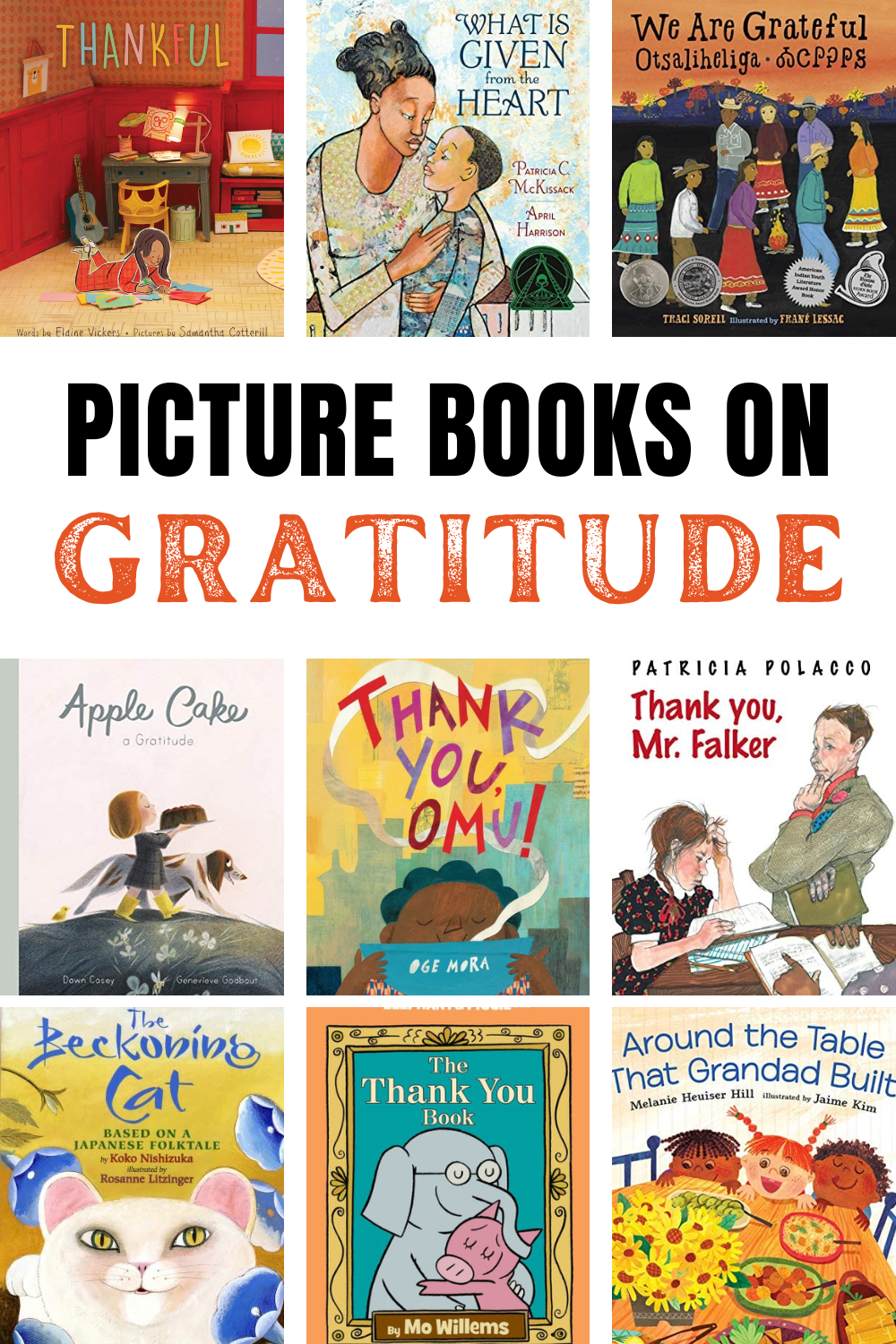 best books on gratitude
Thank you, Mr. Falker by Patricia Polacco
This is a classic children's book, one that I remember reading as a girl. When the author, Patricia was a little girl, she was known as Trisha. When she started school she could draw beautifully, but reading was especially difficult for her. The letters and words on the page would seem all jumbled. Her teacher, Mr. Falker recognized Trisha's dyslexia and helped her to overcome her reading disability.
Thankful by Elaine Vickers, illustrated by Samantha Cotterill 
Every year when the first snow falls, a little girl makes a paper chain with something that she is grateful for written on each link of paper. A wonderful book to help remind us how much there is to be thankful for in life- both the mundane and the amazing.
What Is Given from the Heart by Patricia C. McKissack, illustrated by April Harrison
After a rough few months for James Otis and his family, he was sitting in church on the Sunday before Valentine's Day when the reverend announced another family had  had lost everything in a fire. The church was collecting anything that could help out this family. James thinks about what he can contribute to this family, even though he himself doesn't have very much. As long as it comes from the heart, it's enough.
Thank You, Omu! by Oge Mora
Omu can't wait for her delicious dinner. But when the smell brings in neighbors from all over that want to share her dinner, Omu ends up with none for herself.

Little Bird by Germano Zullo, illustrated by Albertine 
A man drives his truck to a cliff's edge to deliver a flock of birds to freedom. All the birds fly out, except for one small bird. The man tries to show the bird how to fly off and join his flock. Soon the bird flies off, and the man drives away, but to his surprise and delight, the bird and his friends return.
Around The Table That Grandad Built by Melanie Heuiser Hill, illustrated by Jaime Kim 
Written in verse that adds on each other this book tells a story about a family who gathers to share a meal with friends and neighbors around the table that grandad built. Each person contributes something to create a warm and memorable meal.
Last Stop on Market Street by Matt de la Peña, illustrated by Christian Robinson
This won the Newbery in 2016 (it's very unusual for a picture book to win) and this story about a little boy and his grandmother riding the bus is full of great discussion topics and has a very sweet ending.

A Sick Day for Amos McGee by Philip C. Stead, illustrated by Erin Stead
Amos McGee takes good care of the animals at the zoo, but when he has a sick day, the animals come to his house and care for him instead.

Apple Cake: A Gratitude by Dawn Casey, illustrated by Genevieve Godbout
This sweet story is written in rhyming verse about a child saying thank you for each gift from nature that contributes to the creation of a delicious apple cake. It has beautiful illustrations and a very sweet sentiment that encourages gratitude and it includes a recipe for apple cake at the end of the book!
Thankful by Eileen Spinelli, illustrated by Archie Preston 
Children learn about gratitude by exploring the people of their town and learning what each one is thankful for. It lends itself as a great discussion starter and helps illustrate just how much we have to be grateful for.
Otis Gives Thanks by Loren Long
Otis the tractor shares what he is grateful for around his farm, but recognizes that he most grateful for love. With classic, loveable characters this is a great addition to the Otis series.
Willa adores her ragdoll, Rosie more than anything in the world. They share picnics and long summer days together, but then when the seasons change, one winter day on a bumpy sleigh ride, Rosie falls into the snow and disappears. Willa is devastated at the loss of Rosie, but then Rosie mysteriously reappears at Grandma's door. How can Will thank the friend who returned her doll?
We Are Grateful: Otsaliheliga by Traci Sorell, illustrated by Frane Lessac
This gorgeous book, which garnered an impressive list of awards when it came out last year, focuses on the word "otsaliheliga" which is a Cherokee word that means gratitude and how the Cherokee Nation celebrates a year, starting in the fall when a new year begins.

Bear Says Thanks by Karma Wilson, illustrated by Jane Chapman
Bear decides to throw a feast as the perfect way to say thanks to all his friends. But when he looks in his cupboards, they are completely empty. His friends show up one by one, each with a delicious offering of food. A cute story about how much sweeter life is when shared with friends. Check out Bear Stays up For Christmas next!
When Grandma Gives You a Lemon Tree by Jamie L.B. Deenihan, illustrated by Lorraine Rocha
When your grandmother gives you a lemon tree for your birthday instead of the electronics you were REALLY hoping for, it's easy to be disappointed. But . . .just maybe, Grandma knew what she was doing when she gave you that lemon tree. (I just discovered there is a companion book called When Grandpa Gives You a Toolbox!).

The Thank You Book by Mo Willems
From everyone's favorite Gerald and Piggie, they want to say thank you! Piggie wants to thank everyone, but Gerald is worried Piggie will forget someone important!
Thank You, Mr. Panda by Steve Antony 
Mr. Panda is the perfect way of teaching the importance of saying "thank you" for every gift, even (and especially) when it isn't quite what you wanted. Mr. Panda gives presents to all his animal friends, but unfortunately none of them are quite right. Octopus gets six socks and Mouse receives a sweater that is way too big. Lemur knows that it's the thought that really counts.
Gracias by Pat Mora, illustrated by John Parra 
A great bilingual book where a young boy tells about what he is grateful for in his everyday life. Gracias!
The Beckoning Cat by Koko Nishizuka, illustrated byRosanne Litzinger
Based on a Japanese folktale, this story is about a poor boy named Yohei. Yohei shares his dinner with a cat that appears on his doorstep. Later when Yohei faces a problem, the cat remembers and brings help.
Under the Lemon Moon by Edith Hope Fine, illustrated byRene King Moreno
Rosalinda, a young girl in rural Mexico awakens one night to find a man has taken lemons from her beloved tree. Soon after, the tree begins to wither. Rosalinda's grandmother tells her about La Anciana, the old one, and she appears to tell Rosalinda to not be angry with the thief. The story ends as Rosalinda gives away her lemons, from her now healthy tree.
And if you'd like a printable copy of this gratitude picture book list that you can take to your library or screenshot on your phone for easy access, just pop in your email address below and it'll come right to your inbox
if you liked this post about the best books on gratitude, you might also like these other posts: