One of my FAVORITE things in my reading world is books with good banter.
I never get tired of witty banter between main characters and it's one of the few things that can make me actually put down my book for a few moments because I just have to soak up my delight.
Basically, my bookish love language is snappy dialogue. I'm here for all of it.
Here are some of my favorite books with good banter!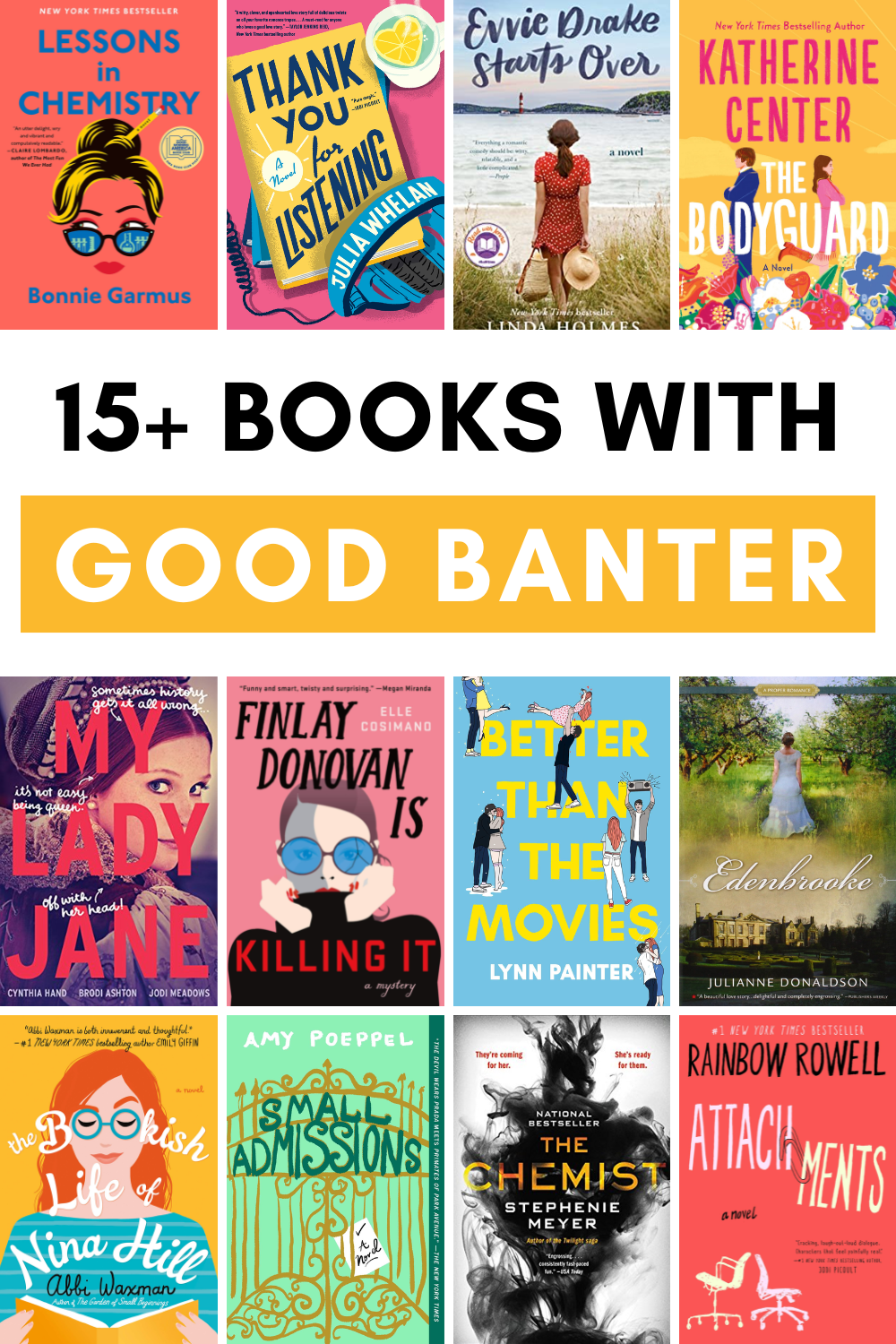 15+ Books With Good Banter
The Flatshare by Beth O'Leary
I was drawn in by the premise of this book – two people who live in the same apartment, but have never met – but then I was drawn in by the characters, the story and the unexpected humor. Tiffy is coming off a bad breakup and needs a new place in a hurry and Leon only uses his apartment for sleeping during the day since he works a graveyard shift. As the two start leaving notes for each other (at first slightly snippy), they slowly come to like each other but. . . they've still never met.
Finlay Donovan Is Killing It by Elle Cosimano
I heard about this book for a solid year before I finally picked it up and then I blew through this hilarious book in two days. Finlay Donovan is having a rough go of it – her husband left her for another woman, she's struggling to financially support her two young children, and the book she's supposed to be turning into her editor is basically non-existent. Then someone overhears a conversation she's having and mistakes her for a hitwoman and offers her an enormous sum to take care of a troublesome husband. The money would go a looooong way. . . .but she's not going to kill someone. Right? The sequel is equally delightful and I'm looking forward to the third one next year!
Attachments by Rainbow Rowell
I am SUCH a fan of this book about a computer security guy who starts reading the emails between two women who work at the newspaper after their emails get flagged by the filtering software and then falls in love with one of them despite the fact that she has no idea he even exists. (Full Review here)

Lessons in Chemistry by Bonnie Garmus
This book was so unique and just DELIGHTED me – I was completely absorbed the whole way through. Elizabeth Zott is a brilliant scientist, but it's the early 1960s and she's a woman, so it's going to be hard for her to be taken seriously in her field. After several detours, she finds herself a single mother and the unexpected star of America's most popular cooking show called Supper at Six. She is going to do this cooking thing her own way. She's not only going to teach people how to cook using scientific principles, but she's also teaching them to follow their dreams. The audio version is excellent! (Warning: There is a fairly graphic assault scene early on in the book.)
The Chemist by Stephenie Meyer
Say what you will about Stephenie Meyer, but she can write some SNAPPY dialogue. This book follows a female interrogation officer for one of the U.S. government agencies. She's known as The Chemist because she uses chemical cocktails to get information out of her subjects, but now she's less worried about her job and more worried about her life because the agency is now trying to kill her. This was just a FUN book with lots of laugh-out-loud moments. (Full review here)

The Bodyguard by Katherine Center
Hannah looks like a mild-mannered kindergarten teacher, but she is actually a private bodyguard who could probably kill you with your wristwatch. Her firm gets hired by Jack Stapleton, who is a massive movie star, and dealing with a stalker problem. He needs some protection while he goes home to visit his mom undergoing cancer treatments and Hannah gets put on the job. The lines get a little blurred when Jack wants her to pretend to be his girlfriend to keep his parents from worrying about him. What could possibly go wrong in this situation!? Katherine Center writes the most snappy, laugh out loud dialogue. This book is just so fun!
My Lady Jane by Cynthia Hand
This book made me laugh out loud, not just from the first page, but from the actual DEDICATION which is "For everyone who knows there was enough room for Leonardo DiCaprio on that door. And for England. We're really sorry for what we're about to do to your history." If you possibly, possibly can, listen to the audiobook version. (Full review here)
I've Got Your Number by Sophie Kinsella
I have got to reread this book because I can't remember the last time I've laughed so much during a book. That Sophie Kinsella, she usually hits all my funny bones (except for Wedding Night which was so ridiculously bad I wanted to cry instead of laugh). This one is about a woman who loses her engagement ring and will do almost anything, including take over someone else's phone, to get it back. (Full review here)
Thank You For Listening by Julia Whelan
I LOVE Julia Whelan's audiobook narration and her new book that she wrote (and narrated!) has been all over the charts this summer. This book is especially fun because it's all about the world of audiobook narrating. The main character, Sewanee, used to be an actress, but now she has moved into audiobook narrating. She got her start in romance novels which she's decided to leave that behind her, but she gets roped into doing one last romance project. This final project ends up being with the most popular male audiobook narrator of the romance genre, Brock McKnight. Heads up for one brief open door scene, but you will definitely want to listen to this one on audio!
Better Than the Movies by Lynn Painter
I haven't enjoyed a teen romance this much since To All The Boys I've Loved Before. I was utterly charmed by this story of high school senior Liz who loves romantic comedies and has a long-time rivalry with her neighbor and classmate Wes. But then Michael, the boy she loved since she was a little girl, moves back to town and it looks like Wes is her best chance to make her own movie ending come true. There was so much funny dialogue and I laughed out loud multiple times AND maybe cried a few tears.

Small Admissions by Amy Poeppel
When Kate gets a job in admissions at a ritzy private school, she enters a world she never could have expected and the book jumps between Kate's perspective and that of her sister's, her boss, her two closest friends who are both keeping secrets of their own, and all the letters, essays, and emails involved in the consideration of some of the students and parents who are dying to get into Hudson Day School. (Full review here)
The Bookish Life of Nina Hill by Abbi Waxman
If books are your love language, this book about Nina, who works in a bookstore and lives a solitary life, is for you! Her whole world is turned upside down when the father she never knew dies and she suddenly discovers a large family she didn't know existed. Is there life beyond her bookshelves or is it better to stay home and read?

Edenbrooke by Julianne Donaldson
I'll be the first to admit that regency romances aren't my usual genre (like . . . at all), but when Ralphie tells you to read a book, you do what she says. And then you send her texts saying, "You were so right. I owe you my first born child for this recommendation." (Full review here).
The Actor and the Housewife by Shannon Hale
This book was not at all what I was expecting, but I loved every page of it. I had absolutely no idea where it was going to go and that is a fun way to read a book. Becky, average stay-at-home mother of three and hugely pregnant with number four, sells a screenplay. She finds herself in LA, meeting about a contract. While in the meeting, who should march in, but Felix Callahan, one of the biggest movie star heartthrobs alive, and a personal favorite of Becky's. (Full review here)
The Cheat Sheet by Sarah Adams
Bree is in love with her best friend, who just happens to the very attractive NFL legend, Nathan Donelson. He clearly only sees her as a friend, but after a drunken night and an interview with a TMZ reporter they might turn out to be the perfect couple afterall.
Evvie Drake Starts Over by Linda Holmes
This was such a fun, delightful romantic comedy (with a little bit of heaviness) that I blew through in two days. Evvie Drake has just lost her husband (he dies in the first chapter) and Dean Tenney is a World Series winning pitcher for the Yankees who suddenly can't pitch anymore and he has no idea why. When he escapes the endless news about his fall from grace in New York, he ends up renting the apartment in Evvie's too-big-for-her house and the two strike up friendship, based on the agreement that he won't ask about her late husband and she won't ask him about baseball. You can imagine how long THOSE rules last. As far as swearing and sex, this one is about on par with Sophie Kinsella's books.
Call Me Maybe by Cara Bastone
Told in alternating points of view, Vera has spent the last three hours on hold with customer service trying to get her website ready to launch her new business. Kal is the guy who finally picks up and thinks he can help her. As they spend hours together on the phone. . . it's possible that her website won't be the only thing that launches.

The Accidental Beauty Queen by Teri Wilson
Charlotte is a school librarian and happy to spend her life buried in a book. Her twin sister, though, has spent her life chasing beauty pageant crowns and now is competing for Miss American Treasure. Except, the night before the pageant begins, Ginny has a horrible allergic reaction and begs Charlotte to take her place until Ginny is well enough to step back in. But even though they look alike, Charlotte and Ginny are wildly different – is there any way they can pull off a con at this level? (Full review here)

And if you'd like a printable copy of this good banter book list that you can take to your library or screenshot on your phone for easy access, just pop in your email address below and it'll come right to your inbox!
if you liked this post about books with banter, you might also like these other posts: