With the world going bananas outside (did we have an earthquake on TOP of COVID-19 last week? Why yes we did), you can imagine that one of the most frequent requests I've been getting is for lighthearted or funny books.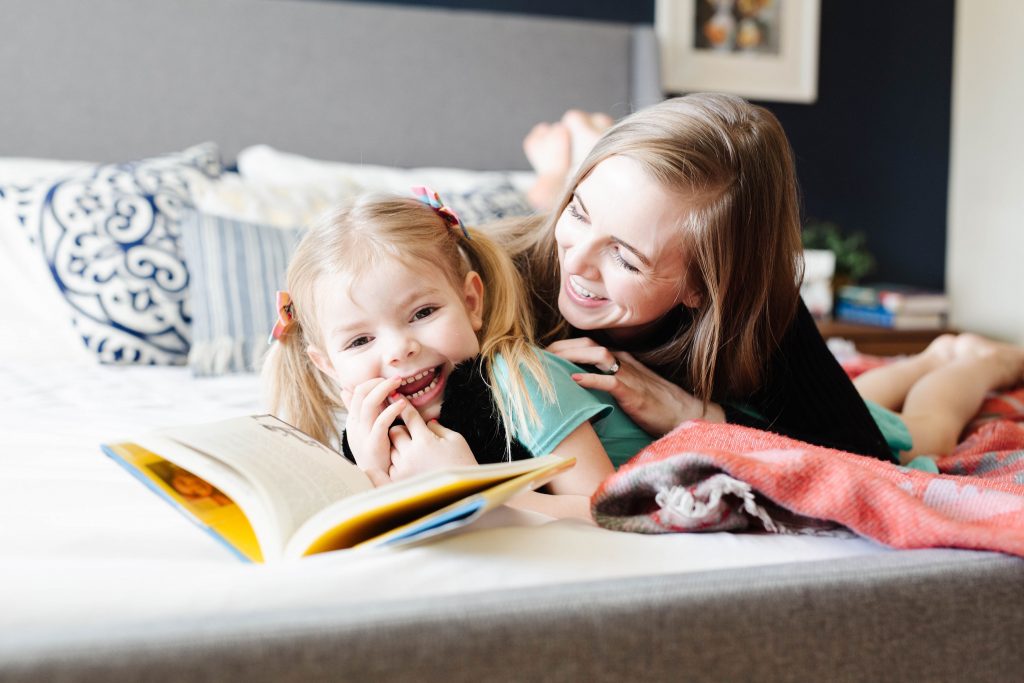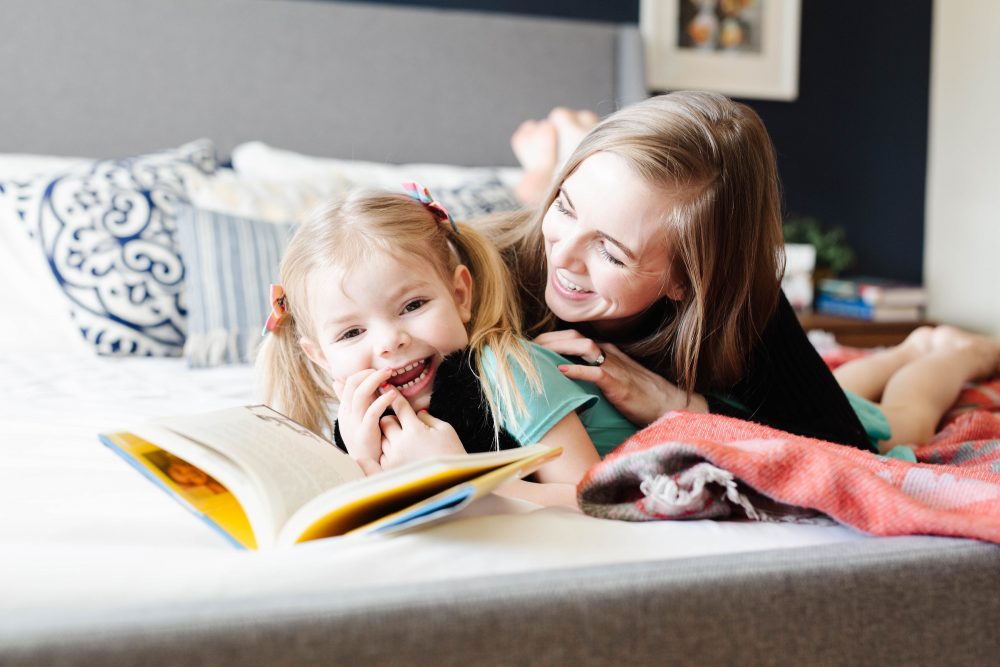 I know EXACTLY why those requests are coming in – reading about something heavy and tragic isn't really that great when the real world is so heavy right now. Is this the time to read The Great Alone? Probably not.
I've personally found it hard to read as much as normal because I'm finding it so difficult to focus, so these are the kinds of books I'm seeking out right now too.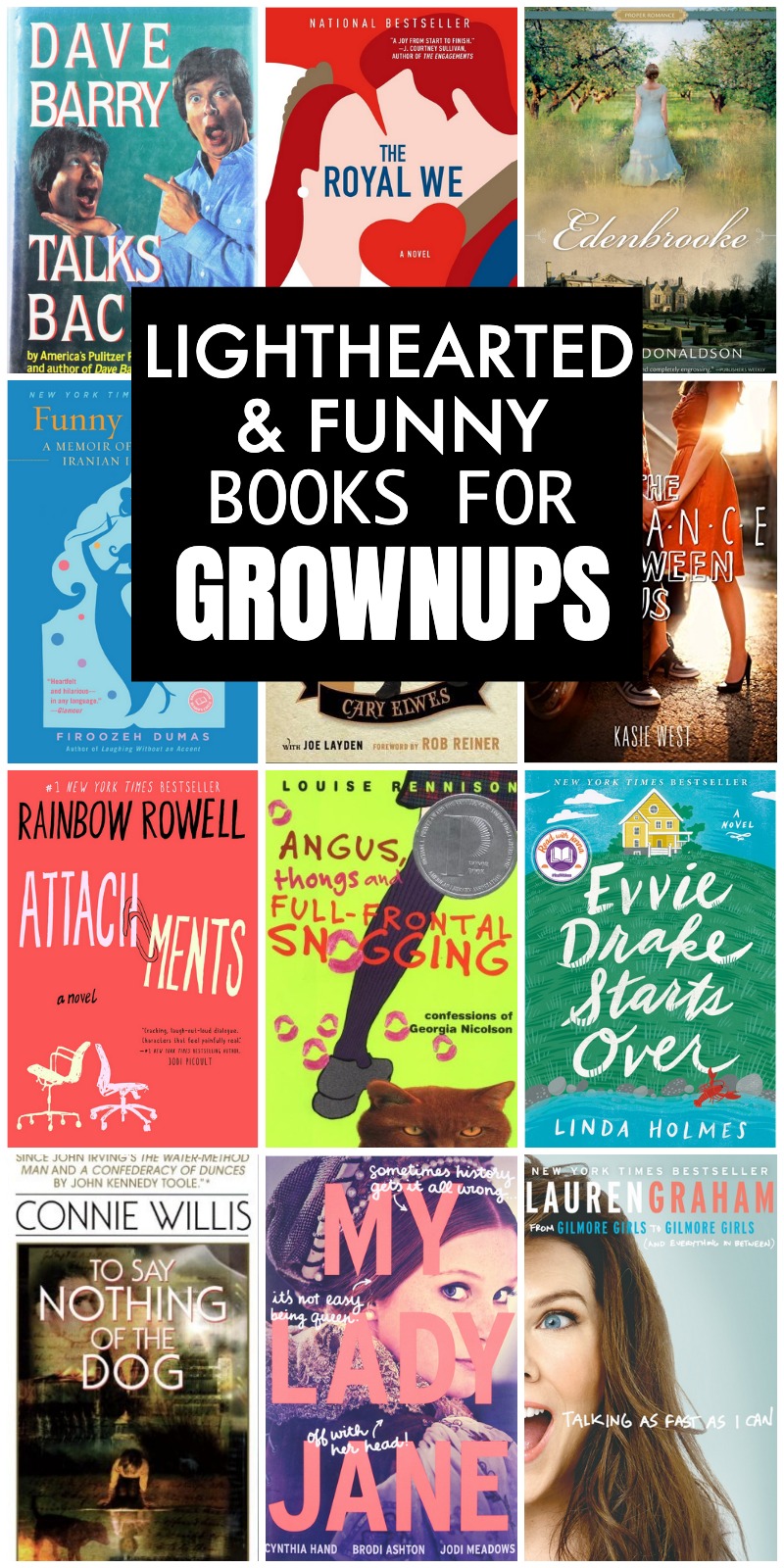 17 Lighthearted and Funny Books for Grownups
My Lady Jane by Cynthia Hand, Brodi Ashton, and Jodi Meadows
If I had to pick a single book for this list, this would absolutely be the top. This book made me laugh out loud, not just from the first page, but from the actual DEDICATION which is "For everyone who knows there was enough room for Leonardo DiCaprio on that door. And for England. We're really sorry for what we're about to do to your history." If you possibly, possibly can, listen to the audiobook version. (Full review here)
The Royal We by Heather Cocks and Jessica Morgan
I don't really follow British royalty at all, and I still loved the heck out of this book that's based a tiny bit on Kate and William, but also totally it's own story. (Full review here)
As You Wish: Inconceivable Tales from the Making of The Princess Bride by Cary Elwes
This is such a hilarious tale of the making of the The Princess Bride movie. I highly highly recommend the audiobook because it's read by most of the original cast members. (Full review here)
I've Got Your Number by Sophie Kinsella
I've read this book probably four times and it never makes me stop laughing my face off. Sophie Kinsella comes up with the most ridiculous scenarios and then makes them so funny. This is probably my very favorite of her books and my other favorite is Can You Keep a Secret? (Full review here)
Talking as Fast as I Can: From Gilmore Girls to Gilmore Girls (and Everything in Between) by Lauren Graham
I loved Gilmore Girls back in the day and this was just so delightful to listen to (you for sure want to listen since she reads it herself).
The Distance Between Us by Kasie West
I recommend Kasie West all the time because she has such sweet, funny teen romances that are safe to hand to your teenagers. I've read most of her books and they're all a delight.
Evvie Drake Starts Over by Linda Holmes
This was such a fun, delightful romantic comedy (with a little bit of heaviness) that I blew through in two days. It was on my 2019 Summer Reading Guide and I still loved it.
To Say Nothing of the Dog by Connie Willis
I'll be the first to admit, the premise of this time travel book is a little out there, but it's FANTASTIC. Push through the first chapter or two and you won't regret it. (Full review here)
Dad is Fat by Jim Gaffigan
I love Jim Gaffigan – he makes me laugh so much – and he reads his audiobooks which means you should DEFINITELY listen if you can. His wife just had a book come out too, and it's on my list to listen to right now.
Angus, Thongs, and Full Frontal Snogging by Louise Rennison
Yes, it's the worst title ever, but I have listened to this whole series multiple time and it's the funniest, lighthearted set of British teen books (Full review here)
To All the Boys I've Loved Before by Jenny Han
I mean, if you haven't read these books yet, I don't know what to say to you except this is the perfect time. (Full review here)
Cheaper by the Dozen by Frank B. Gilbreth Jr. and Ernestine Gilbreth Carey
This is one of my all-time favorite books. It's non-fiction written by two of the children about their experiences growing up in a family of twelve kids with a dad who is larger than life. SO funny, so sweet. (Full review here)
Funny in Farsi: A Memoir of Growing Up Iranian in America Funny in Farsi by Firoozeh Dumas
I heard about this book for YEARS before I finally picked it up and then I kicked myself for waiting. It's HYSTERICAL and the sequel is just as good.
Attachments by Rainbow Rowell
This was ALMOST this month's book for the Everyday Reading Book Club, and I still just love love love this delightful love story. (Full review here)
Edenbrooke by Julianne Donaldson
I read almost no regency romance (I first wrote "I write almost no regency romance." Actually I write NO regency romance) but I made an exception for this one after Ralphie raved about it and it made me laugh on the phone. Definitely worth reading. (Full review here)
Dave Barry Talks Back by Dave Barry
I grew up listening to my parents reading aloud his columns and I am the biggest fan – he's SO funny and if you're struggling to sit through a full book right now, his collection of humor columns are perfect right now.
My Double Life by Janette Rallison
Janette Rallison is the other one I always recommend along with Kasie West for hilarious, sweet romantic comedies. I've read most of her books and pretty much every one of them is my favorite.
And if you'd like a printable copy of this list that you can take to your library or screenshot on your phone for easy access, just pop in your email address below and it'll come right to your inbox!
Other favorite funny books? I'd love it if you shared them in the comments – I'll be reading them ALL!
If you liked this list of funny books, you might also like these posts: