We're slowly settling into a quarantine routine around here.
I'm actually AHEAD of my reading goal (I use Goodreads to track), thanks to mainly sticking to some light-hearted titles right now.
I've been listening to a ton of audiobooks while I work on jigsaw puzzles and getting into bed early with my Kindle, so after a few days of my reading really suffering, it's once again becoming my favorite escape from the craziness in the world.
Anyway. . . .here are a few great book deals this weekend!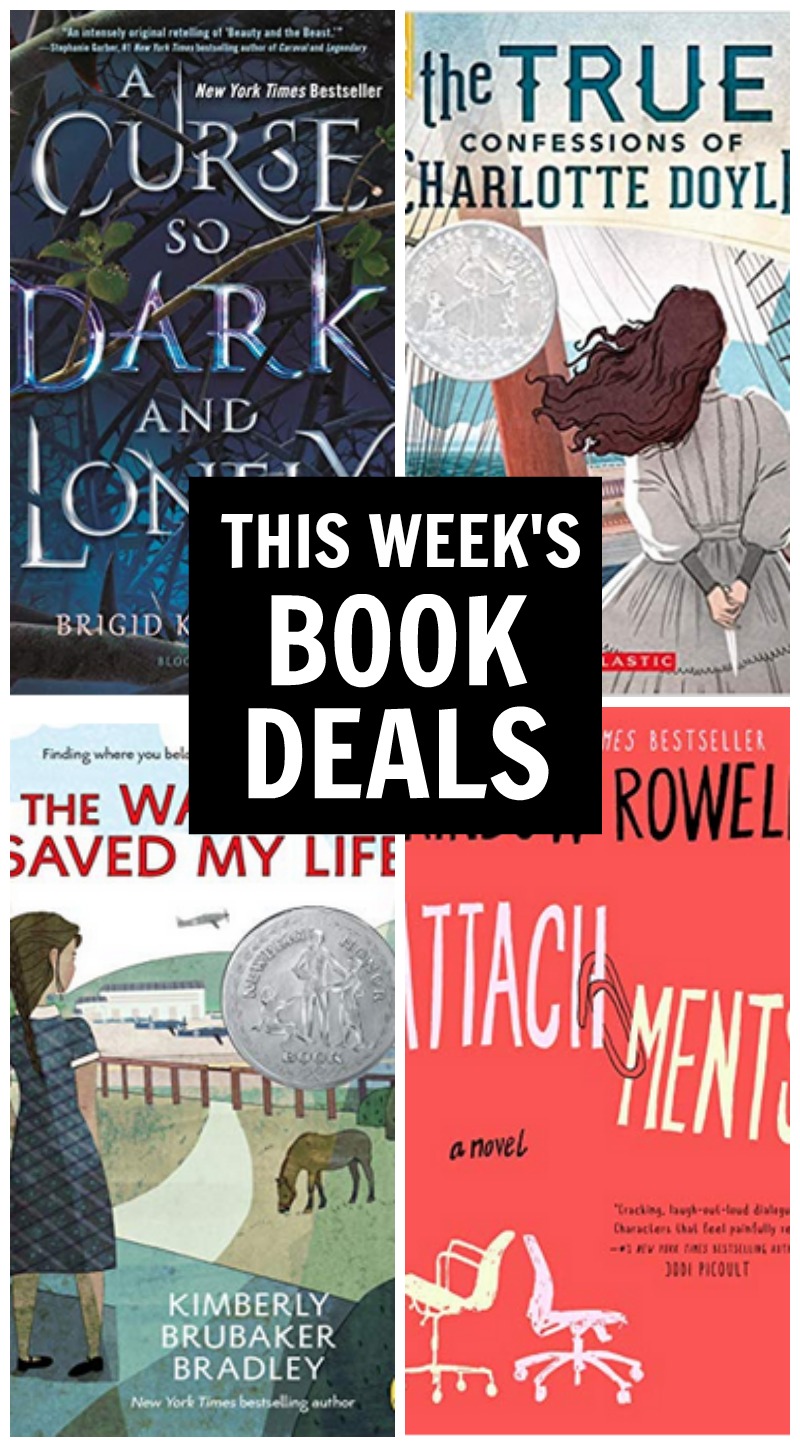 Book Deals You Don't Want to Miss This Weekend
A Curse So Dark and Lonely by Brigid Kemmerer – paperback for $6.99
This Beauty and the Beast retelling is on my list of books to read in 2020 and this sale price reminded me that now is probably the time to pick it up!
The War that Saved My Life by Kimberly Brubaker Bradley – eBook for $2.99
There are some books I read and enjoy and then can't remember a thing about them a few months later. This is not one of those books, I read it five years ago and it's still crisp and clear in my mind. I LOVED this book – full review here!
The True Confessions of Charlotte Doyle by Avi – Paperback for $5.70 or eBook for $3.99
I just finished reading this aloud to my girls and we were all SUPER into it. I'd read it when I was 11 or 12, but couldn't remember almost any details about it, so it was delightful to go back and experience the whole story of a girl who finds herself the only passenger on a ship sailing to America and gets caught up in a plot of mutiny and murder.
The paperback version of this book is also included in the 3 for 2 sale going on at Amazon right now, and it's a great time to grab a few picture books or middle grade novels for Easter Baskets. It includes the illustrated Harry Potter books, Elephant and Piggie titles, Wonder, Rosie Revere, Engineer and lots more!
Attachments by Rainbow Rowell – eBook for $5.99
This is the April title for the Everyday Reading Book Club and I can't wait to revisit this book. It's funny and sweet but not too fluffy. (Full review here)