I've had a Kindle reader for the last decade and I've never written a post about them.
(I've legit had a post in draft about my Kindle since 2013 – maybe it's time to finish it?).
Just to make sure we're all on the same page, this post is about Kindle READERS, not Kindle tablets like the Kindle Fire or Kindle Fire Kids Edition. This post is specifically about e-readers.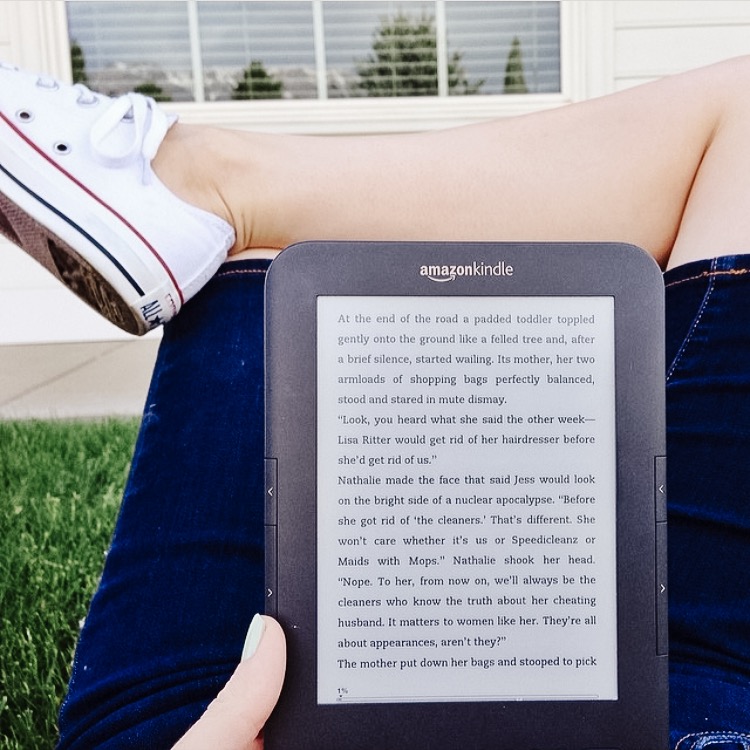 Here are 5 reasons I absolutely love my Kindle Reader:
It's designed for READING. You can absolutely use the Kindle app on another device including a tablet or your phone. But a Kindle is designed to be easy on the eyes (rather than the harsh light of a phone or tablet), you can read it in bright outdoor light and it's super light, so your arm doesn't get tired.
There are no distractions. With no movies, apps, notifications, or social media, once you pick up your Kindle, you're not being bombarded with other distractions like you would if you're using a tablet or phone. I LOVE this.
The battery lasts FOREVER. I usually charge mine every 3-4 weeks (and keep in mind that my current Kindle is nearly 5 years old). And even when the battery warning goes on, I've never had it actually die on me, even when I waited another day or more to charge it.
It makes it a breeze to read e-books. I don't enjoy reading on my phone if I can help it, so having an e-reader means I can comfortably read any book from my library's extensive digital collection or from the Kindle store.
It's so space efficient. I love paper books as much as the next person, but there are plenty of books I want to read, but don't necessarily want to own. And if I'm traveling? I want lots of reading options but I do NOT want to carry 40 pounds of physical books around with me. Kindle to the rescue. I always keep my Kindle in my purse so I have it ready at a moment's notice with dozens of book options no matter where I am.
Basically, for a digital reading experience, I personally think the Kindle reader is unbeatable.
Which Kindle reader is right for you?
If you're in the market for a Kindle reader, you have four current options.
The Kindle Reader: This is basically the no-fluff original, but it's still hot on features. It has a touch screen, a front-light so you can read in the dark, and you can connect it to Bluetooth headphones or speakers and it'll switch seamlessly between playing the Audible version and you reading the Kindle version, which is nifty. It also comes with three months of Kindle Unlimited free. Basically, you cannot go wrong with this one and I think it's a killer deal.
The Kids Kindle: If I were buying a Kindle this week, THIS is the one I'd probably get. It's the EXACT same hardware as the Kindle Reader but for an extra $10, you get no ads, plus a case (and a year of Amazon Kids+ and a two year no-questions asked warranty).
The Kindle Paperwhite: This isn't a huge step up, price-wise from the basic Kindle Reader, but you get a few nice bonuses. It's waterproof, which is great if you're a poolside or bathtub reader, plus you get twice (or four times) as much storage, (although I've never had any space issues at all) and – the biggest selling point for most people – a better display (although, again, I've never been one bit bothered by my display on the basic). It also has a flush-front screen, if that matters at all to you. It also has the three free months of Kindle Unlimited.
The Kindle Oasis: This is definitely the crème de la crème of Kindle Readers and I might have raised an eyebrow at the price if I hadn't tried one out in person a few months ago. It's got a weighted side to make it easier to read one-handed and it's just spectacular and so comfortable to read with.
Everyone has different needs from an e-reader, but for me personally, I don't feel like I need a lot of bells and whistles. Since I'm not a bathtub reader, I'd probably go with the original Kindle, if I were getting a new one.
To ad or not to ad
Each of the Kindle readers comes with the option to have ads or no ads (they call them "special offers."). Those ads show on your lock screen when your Kindle isn't in use (they're never popping up while you're reading) and save you $20 on the purchase price.
I always like to save a buck where I can, so I went with the special offers version and I've never regretted it for a moment. I barely notice the ads when I pick up my Kindle and I've never bought a book they recommended (I'm not the ideal customer for the special offers, obviously). Basically, it just kept $20 in my pocket.
What about a case for your Kindle?
I'm on my third Kindle and this is my first time getting a case and I've really liked it. But I haven't felt like you NEED one – they don't feel very fragile to me and I like that it keeps it thinner and lighter.
Of course, my first Kindle broke because my 18 month old stepped on the screen, so take my opinion for what it's worth, but I'm inclined to think a case wouldn't have made any difference (I was lying on the floor reading and she walked over and stepped directly on it, cracking the screen which ruined the display irreparably).
Any other questions about Kindle Readers? I'm happy to try to answer!
if you liked this post about kindle reader, you might also like these other posts: