I love cookies.
And I REALLY love chocolate chip cookies.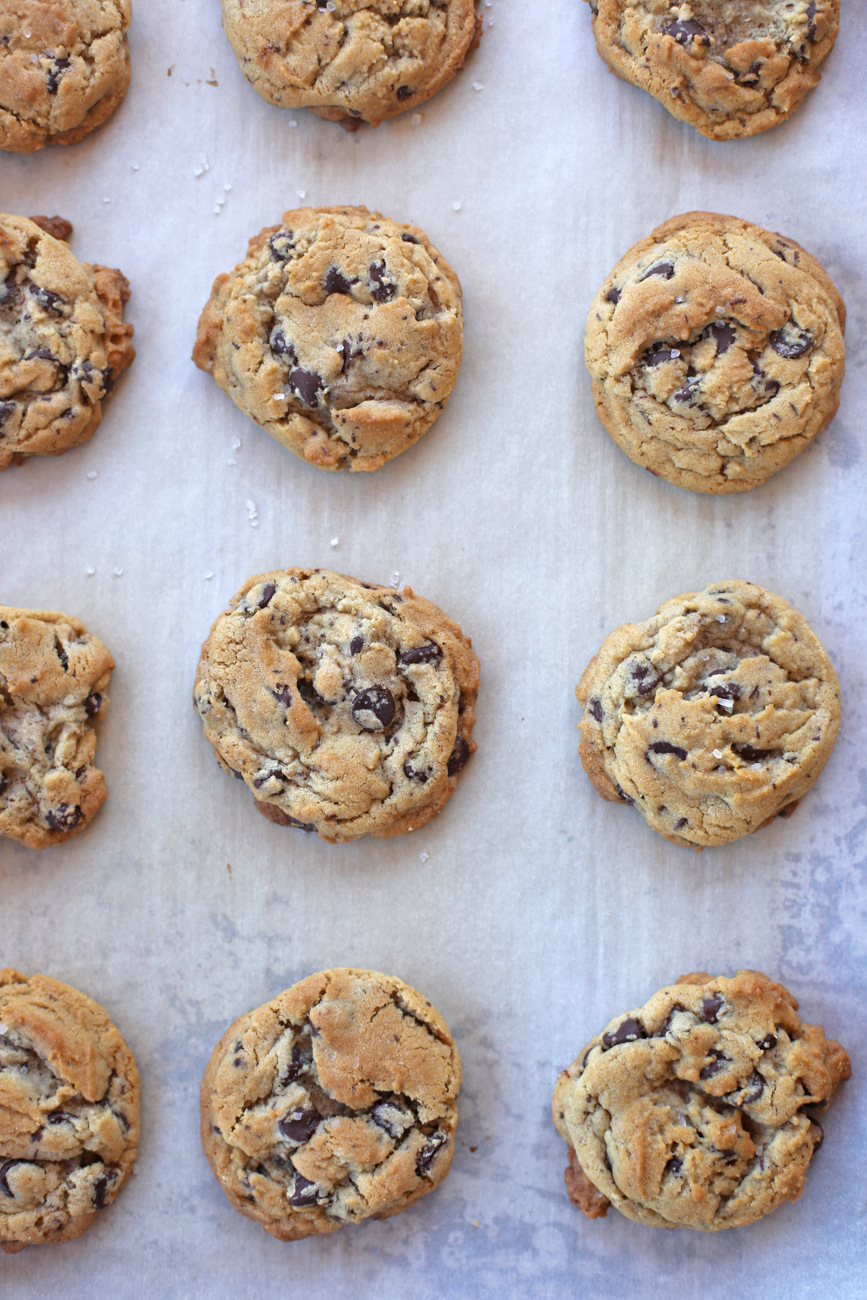 But they are kind of like pizza – totally ubiquitous but hard to find a really stellar variety.
For years, I didn't even attempt chocolate chip cookies, because I was disappointed every single time by flat crisp cookies with little chocolate chip mountains poking out of them or bready, dense cookies with no real flavor.
All I wanted was the best chocolate chip cookie recipe that would turn out a no-failure version every single time.
I wanted a crisp exterior with a perfectly-soft but not underdone interior, plenty of chocolate chips, and bonus points for looking pretty.
Apparently, that was a tall order.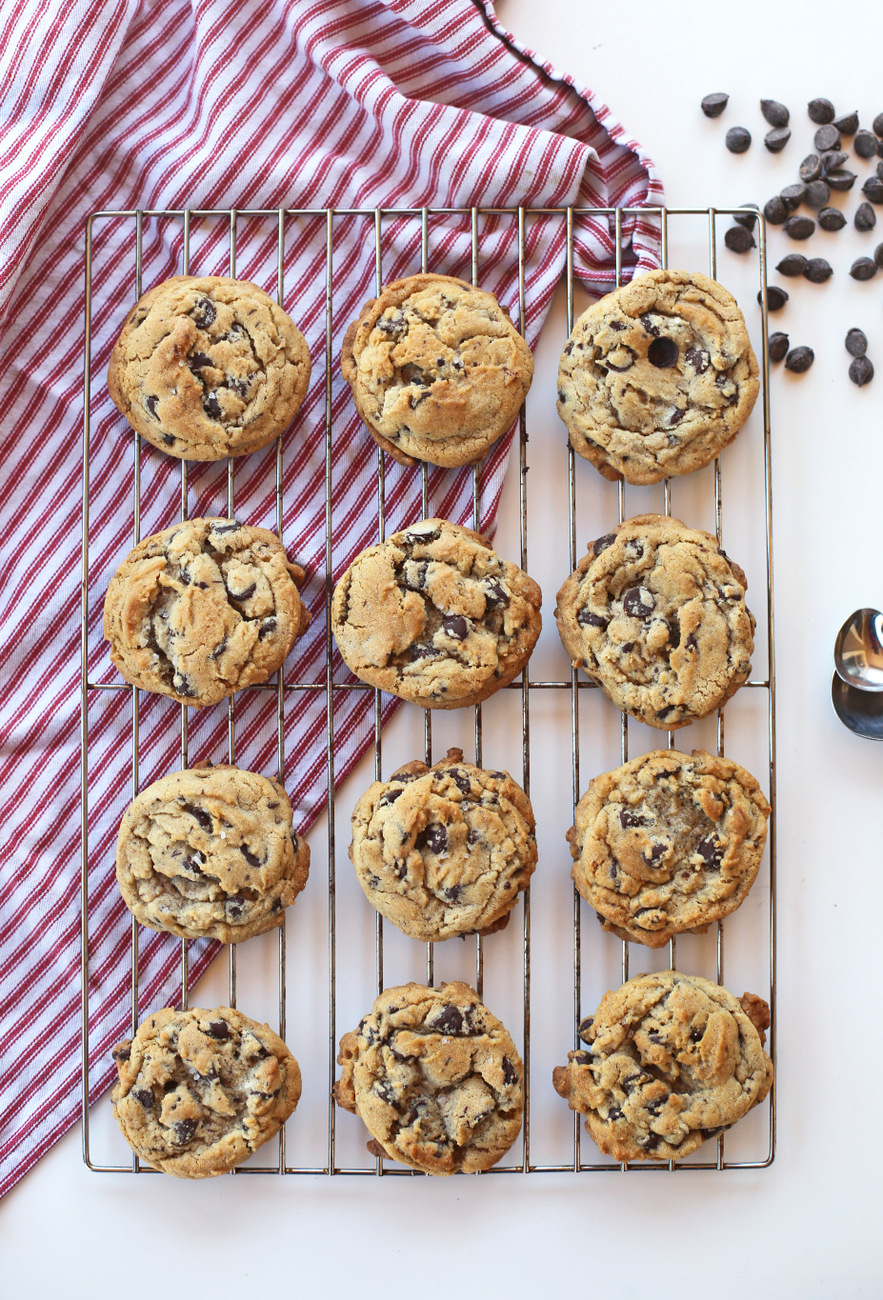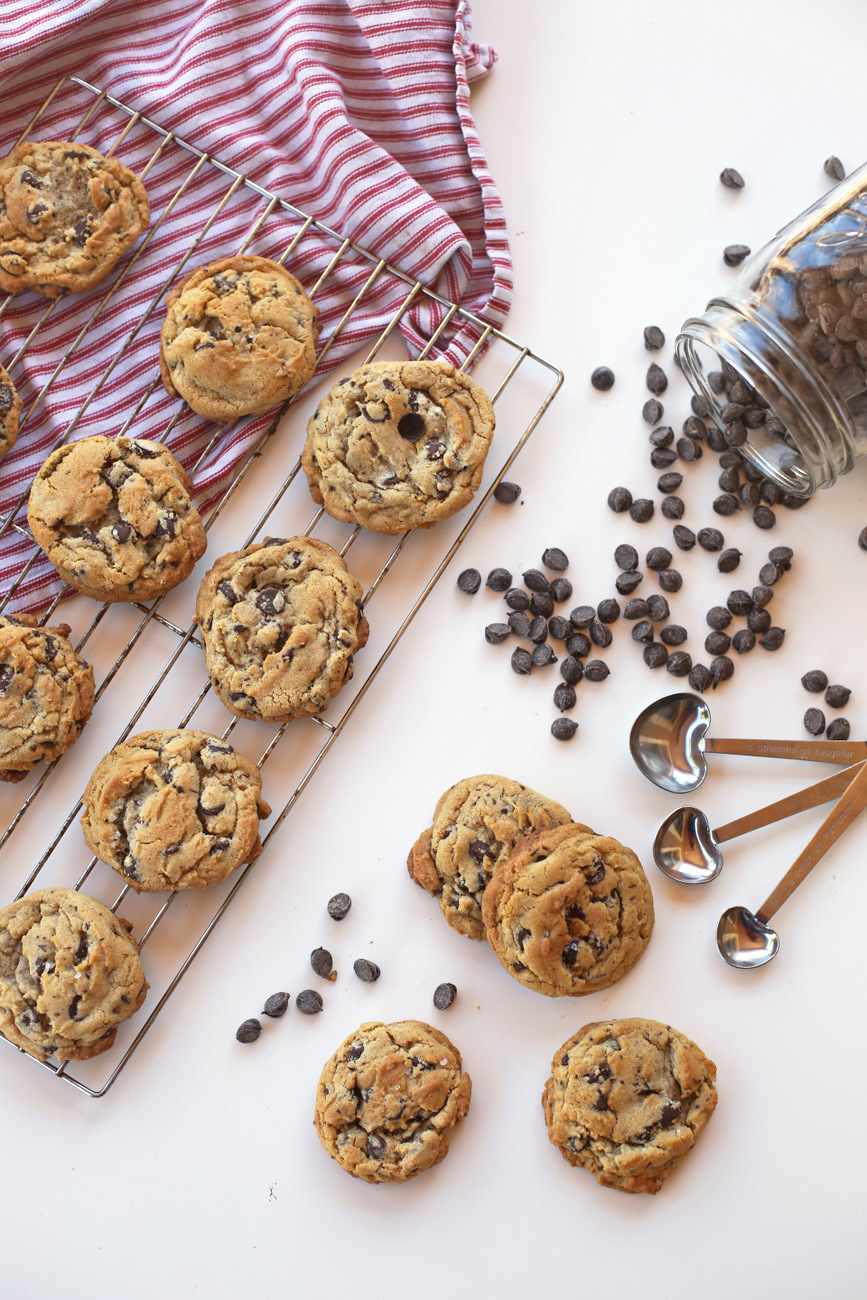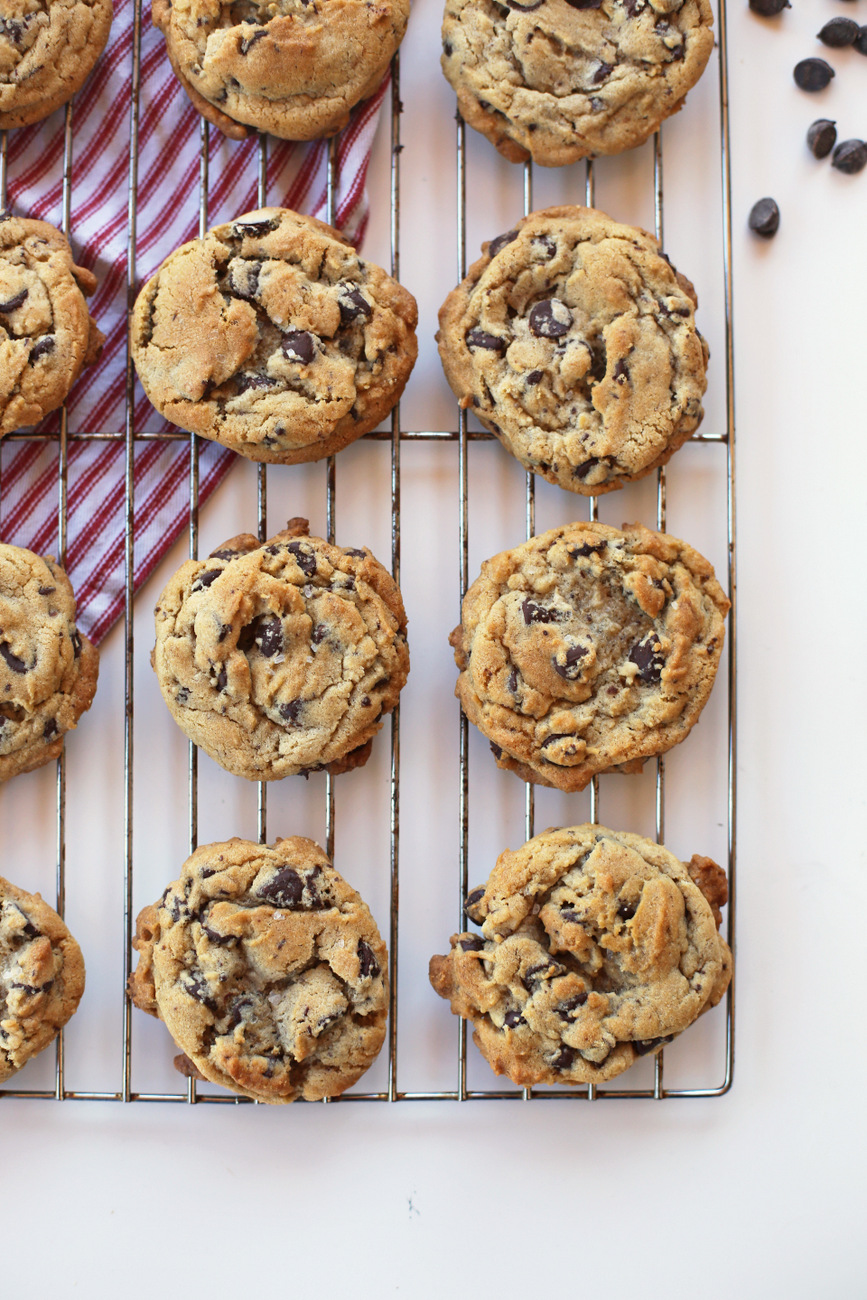 Then I tried this recipe about seven years ago in Texas.
After a couple of false starts and adjustments to the flour levels, baking time, and temperature, they came out perfectly.
And I haven't even tried another chocolate chip cookie recipe in the past five years.
This one is it for me.
I make these all the time and every single time, they're absolutely perfect.
The only complaint I've ever gotten about them is that last year we took a big bowl of this cookie dough up to a family event and made them fresh and Bart's grandmother said, "Well, how is my store-bought dessert supposed to compete with THESE?!"
And not only do they taste incredible, but I love how gorgeous they are.
I know that it doesn't actually matter how they look as long as they taste good, but it gives me an extra little bit of happiness to take them out of the oven and have them look like the chocolate chip cookie of my dream.
Occasionally, I'll sub out half the chocolate chips for mint chips instead, which is Bart's favorite, or I'll do half butterscotch chips and half chocolate chips.
One thing I don't recommend, though, is skipping the shortening.
Shortening is not my favorite thing, and I never use it except in this recipe.
But right after we moved to Arizona, I made these cookies when some friends came over for lunch and I hadn't yet bought new shortening, so I just used all butter instead.
It'd been a while since I'd made these cookies, and while they were fine, both Bart and I commented separately that they weren't as good as we'd remembered. They were fine, but I couldn't believe I'd been so enraptured with this recipe.
A few weeks later, I bought a tiny can of shortening at the grocery store and tried them again.
And this time, they were again, the best chocolate chip cookies ever.
The texture was perfect, the taste was divine, and I vowed to never go the all-butter route ever again.
So if you're still on the quest for the best chocolate chip cookie recipe, give this one a try and let me know how they turn out.
And maybe invite me over to try one for myself.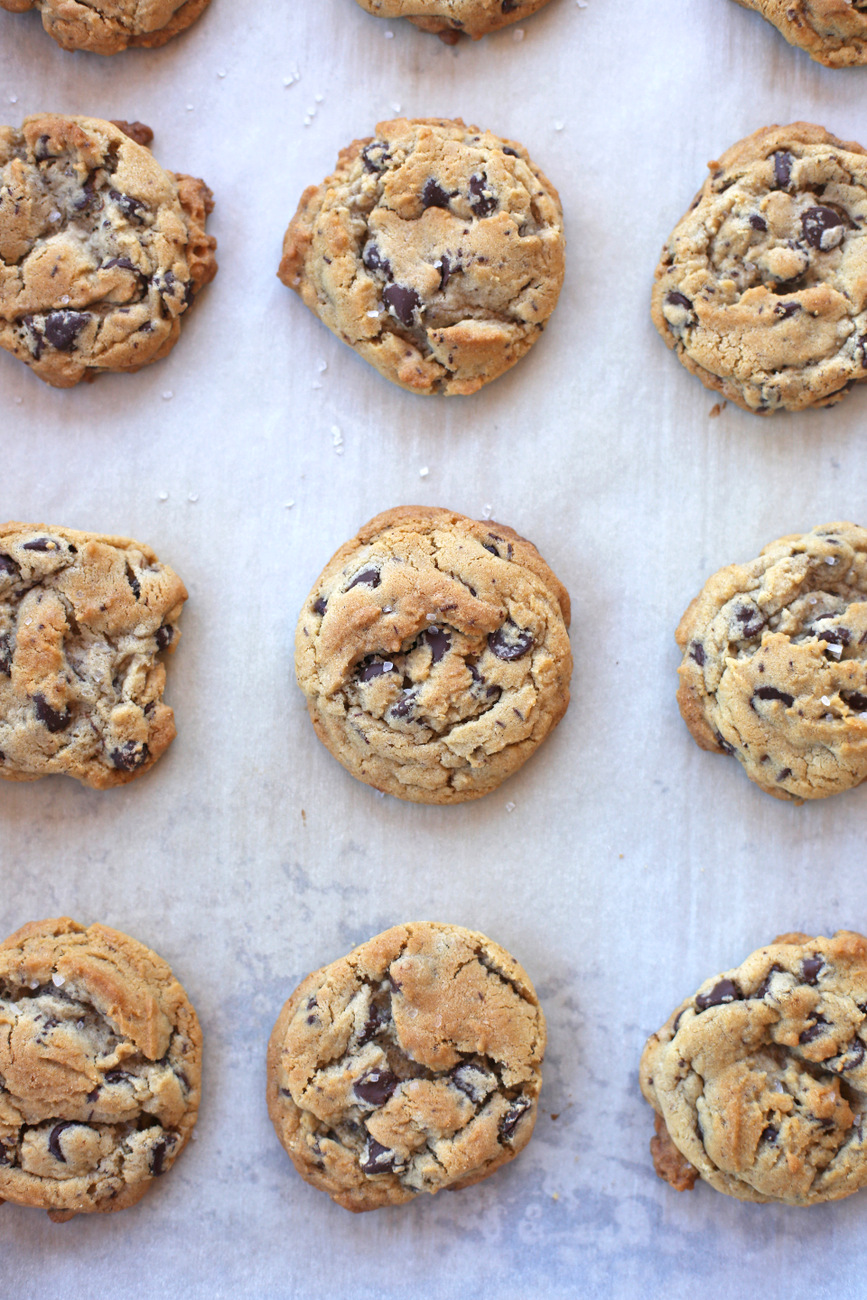 P.S. If you liked this Chocolate Chip Cookie Recipe, you might also love these cookies:
the best chocolate chip cookie recipe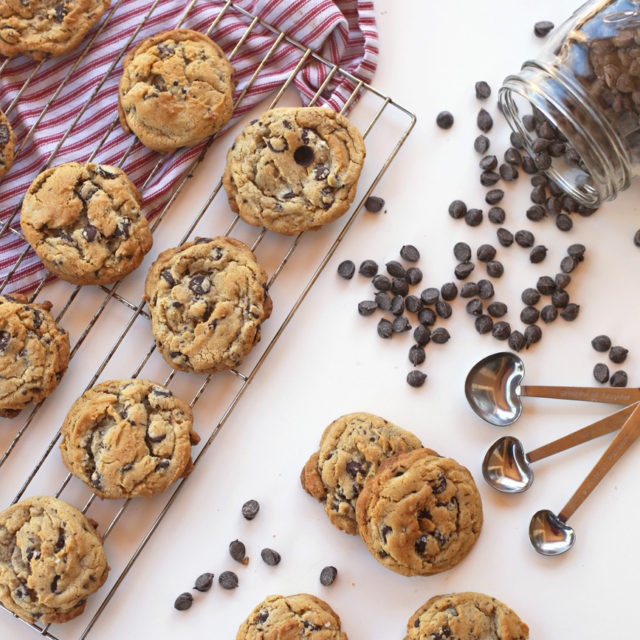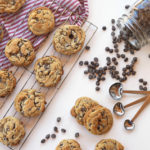 The Best Chocolate Chip Cookie Recipe
The best chocolate chip cookie recipe. This turns out perfect chocolate chip cookies every time - you'll never have to try another recipe!
Ingredients
1/3

cup

butter

softened

1/3

cup

shortening

1/2

cup

packed brown sugar

(I always use dark)

1/2

cup

granulated sugar

1

egg

1

tsp

vanilla

2

cups

semi-sweet or milk chocolate chips

1 3/4

cups

purpose flour

1

tsp

baking soda

3/4

tsp

salt

coarse salt for sprinkling
Instructions
In a stand mixer, beat butter and shortening together until combined (about a minute). Add sugars and beat another minute or two. Add vanilla and egg. Beat again.

Mix in the chocolate chips.

Add the flour, soda, and salt. Mix JUST until combined. It will look over-floured for a few seconds, but should come together fairly quickly.


Scoop golf-ball size spoonfuls of dough onto cookie sheet, sprinkle each ball with a pinch of kosher or sea salt and bake for 9-11 minutes (mine are 11 minutes, every time, except when I've made them in a higher altitude like Utah, and there it's about 9 minutes). They should be light-colored and puffed when they come out of the oven, but dry-looking (not shiny or wet). Let cool on the pan for about 5 minutes then transfer to cooling rack.
Recipe Notes
Since we've moved to Utah with a higher altitude, I use 2 Tablespoons LESS flour.