I think homemade pizza dough is like cookies – everyone has their own opinion on what is "best."
Crispy cookies or ultra-soft, thin or thick, over-baked or under-baked, chocolate chip or raisin (I kid – no one's favorite cookie is a raisin cookie).
So I'm not saying this is the BEST pizza dough recipe ever, it's just my personal favorite pizza dough.
(Please. I totally think it's the best pizza crust ever. I'm just pretending I'll happily acknowledge differences of opinions).
Some homemade pizza dough recipes are all of three ingredients (water, flour, yeast), and . . .they taste like it to me.
I want something with more flavor.
I don't want the crust to be an after-thought to the toppings; I want it to be amazing on its own.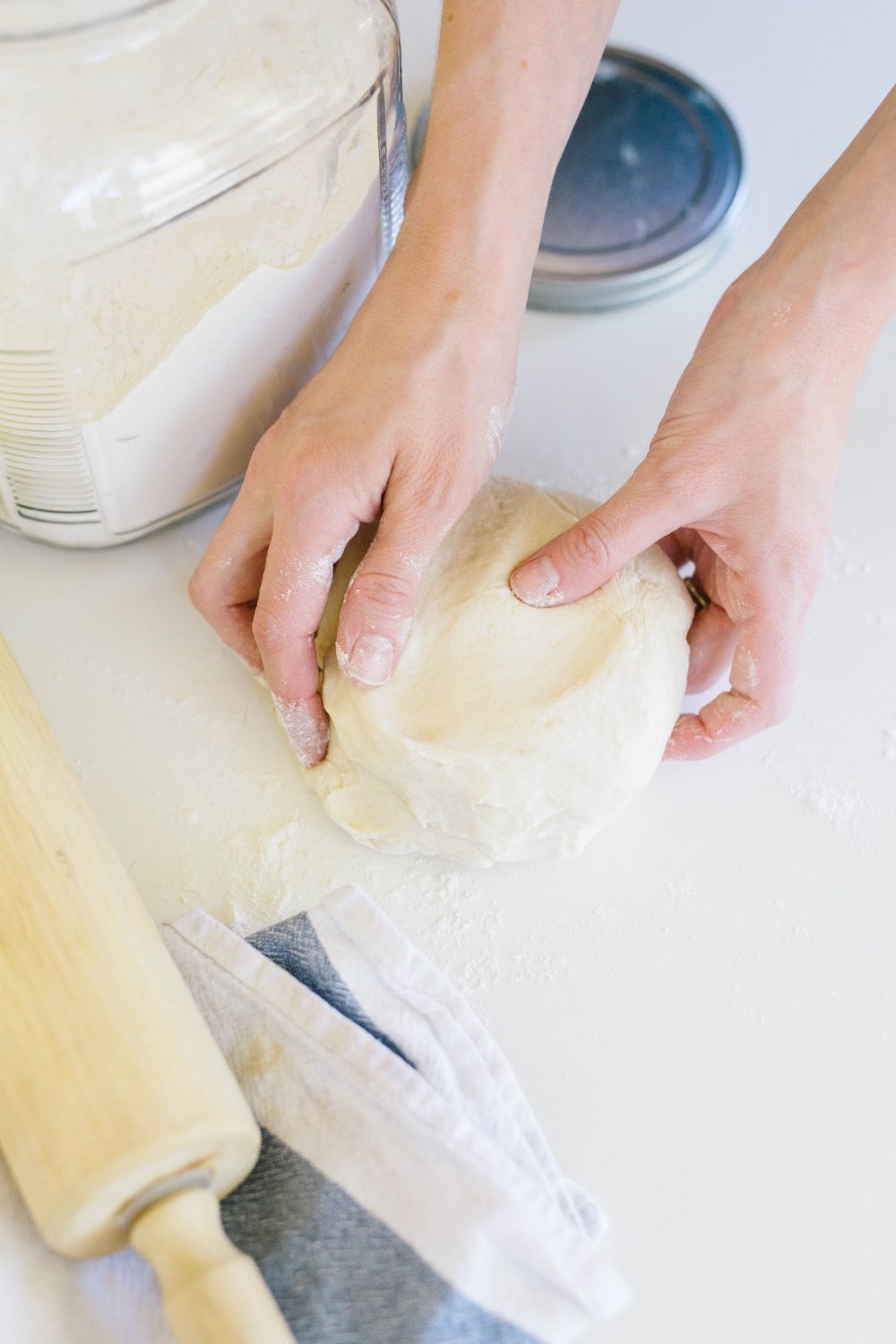 I was the child who never ever ate pizza crusts, so I'm kind of shocked every time I make pizza to discover again that I like the crust just as much (and sometimes more) than the toppings themselves.
I like a tiny bit of sweetness, and I want my homemade pizza dough to roll out really thin and be crispy on the edges and not doughy in the center. I also think using some wheat flour makes it a little better than doing all white flour.
I find all-white flour pizza crusts to sometimes be too fluffy (this is the main reason I hated homemade pizza for most of my life – it was always like eating pizza toppings on a giant squishy dinner roll. Bleck).
I clearly have way too many opinions about homemade pizza dough. And I'm not done yet. Not even close.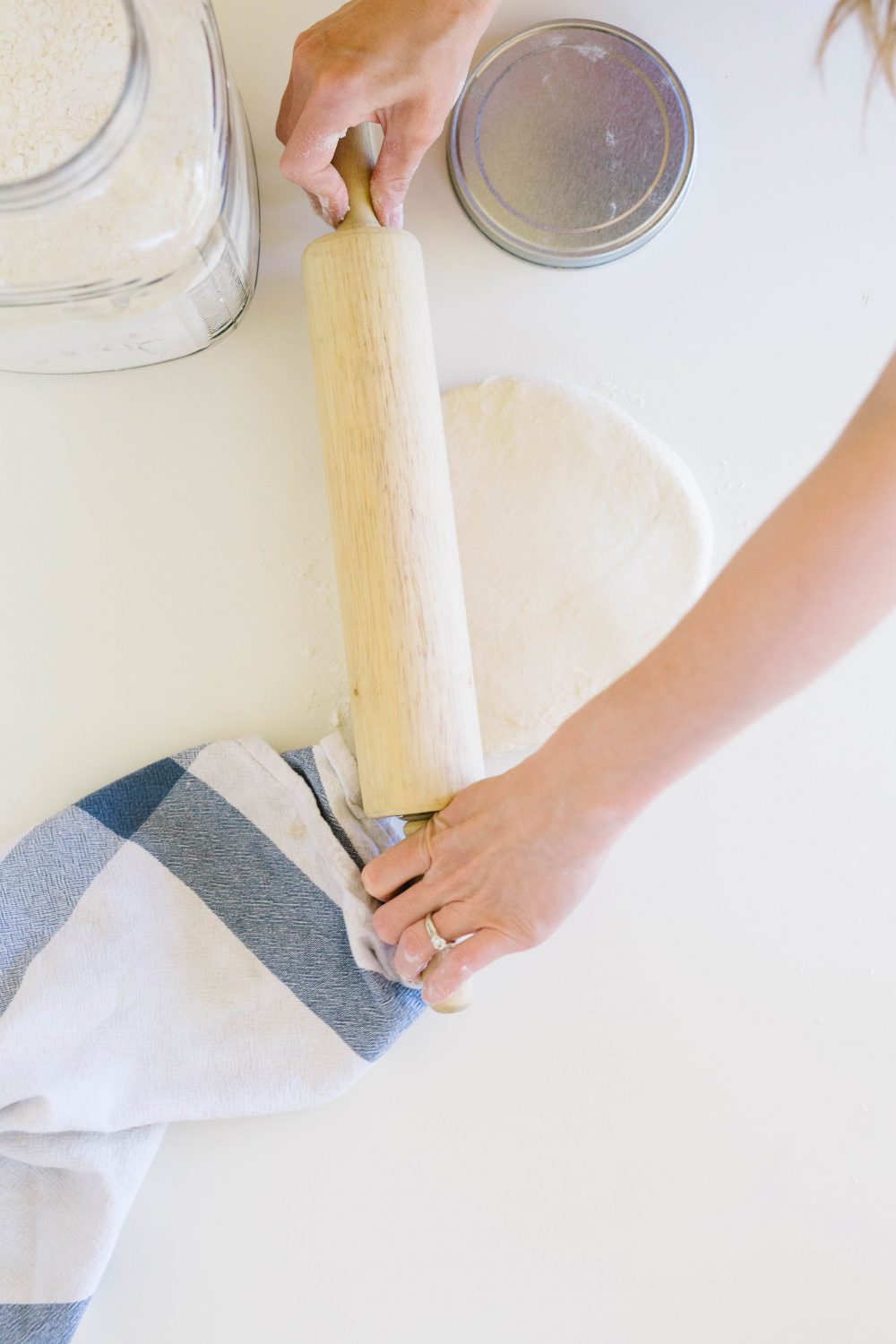 how to make homemade pizza dough
The whole pizza truth is that if you want killer pizza, you really need a pizza stone. Your homemade pizza just won't be as good without one. I am in a life-time of debt to my sister-in-law, Megan, for giving me one for Christmas several years ago (well, it was to Bart AND me, but I'm pretty sure he's never used it once since 2009 when we got it. He's just the happy beneficiary of excellent pizza).
And a little tip a friend of mine told me that pretty much changed my pizza-making life: pizza crust gets better the longer you wait to cook it. Make it a day or two ahead and let it sit in your fridge.
But hey, I've also made homemade pizza dough twenty minutes before I stick it in the oven (completely ignoring the rising time altogether), and it's delicious that way too.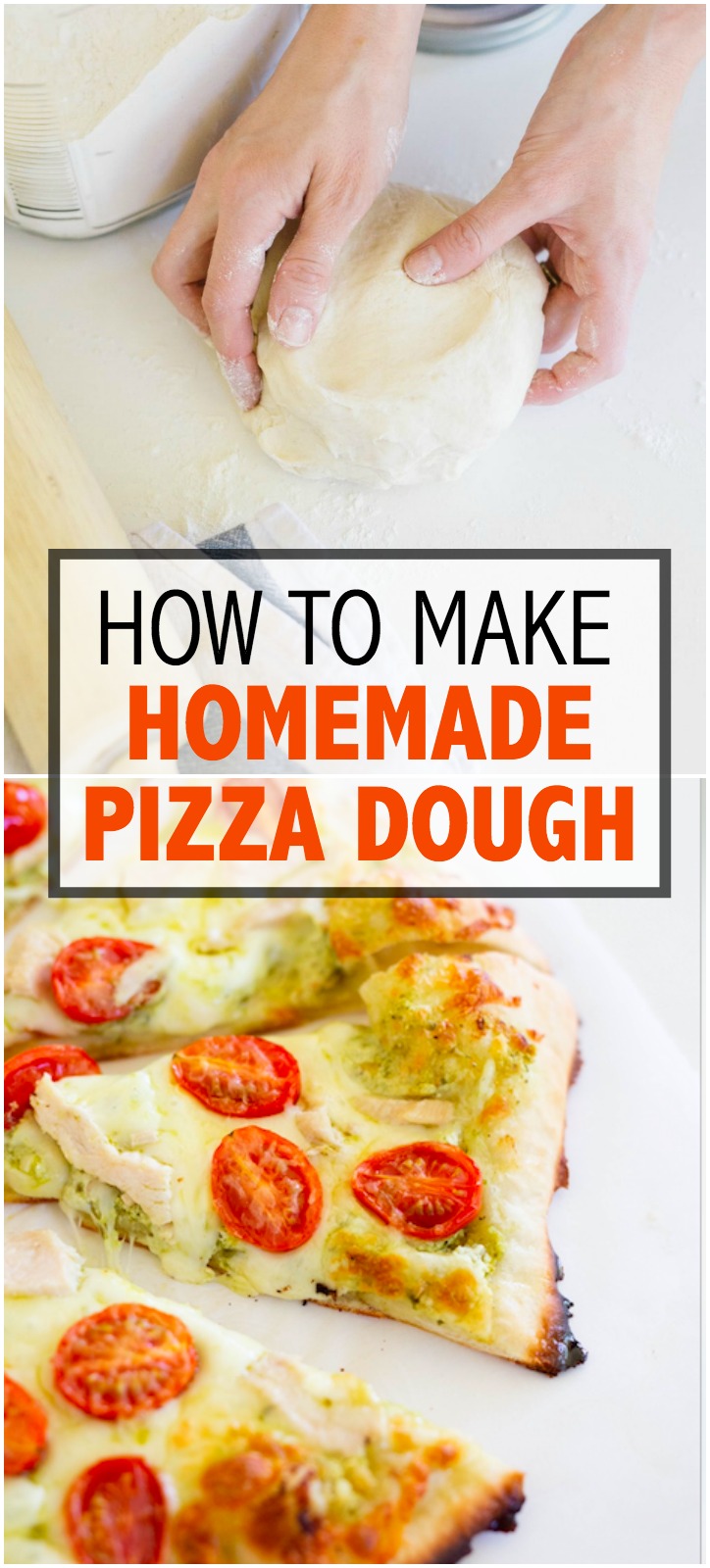 I roll out my pizza dough on a silicon baking sheet, put all the toppings in and place the whole thing directly on my pizza stone. Then I use some metal tongs to pull it off onto a cookie sheet to cool.
And also, 500 degrees? Do it! (Yes, I've set off my fire alarm more than once when I forgot to the turn the oven off as soon as the pizza came out of the oven. I'm brilliant).
Told you I had too many opinions about pizza.
(By the way, the pizza in this picture is this strawberry balsamic pizza with chicken. And it is INCREDIBLY good).
Oh, and one last pro tip for homemade pizza? Cut it with kitchen scissors instead of a pizza cutter. WAY easier.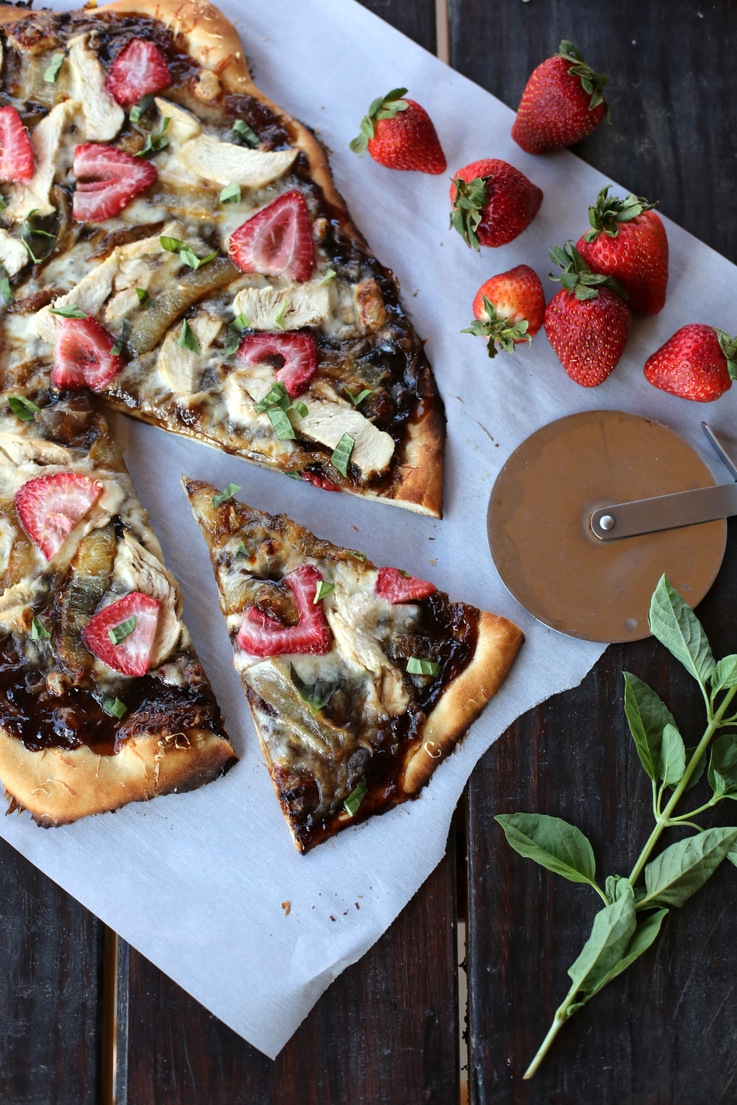 The best homemade pizza dough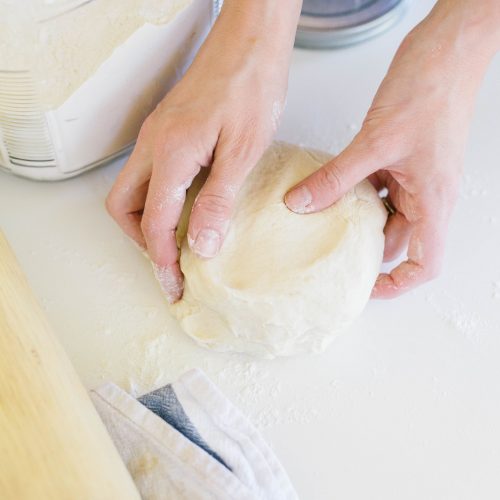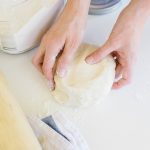 My Favorite Homemade Pizza Dough
Wondering how to make homemade pizza dough? Here is the best homemade pizza dough recipe, plus all the tricks you need to make perfect pizza at home.
Servings
2
14-inch pizzas
Ingredients
1 1/4

cups

warm water

2

teaspoons

instant yeast

2

tablespoons

granulated sugar

1

tablespoon

honey

1

tablespoon

olive oil

2

teaspoons

salt

1

cup

all-purpose flour

2

cups

white wheat flour

if you're doing regular wheat flour, do 1 1/2 cups instead and increase the all-purpose flour to 1 1/2 cups.
Instructions
In a stand mixer, add all ingredients and let mix for 5 minutes (or 10 minutes if you're doing it by hand). Resist the urge to add more flour. (If you want to use active dry yeast instead of instant yeast, mix the warm water and sugar together, then sprinkle the yeast on top and let it sit for 10 minutes before adding the remaining ingredients).

Spray a bowl with cooking spray, scrape your dough into the bowl and cover. Refrigerate for at least 3 hours and up to 3 days. Two to three hours before you're ready to make your pizza, take it out and let it come to room temperature and rise on the counter. (If you freeze half the dough, put it on the counter about 3-5 hours before you're ready to cook).

Preheat oven to 500 degrees (make sure you start it heating about 30 minutes before you want to put your pizza in so that your stone has time to get hot).

On a sheet of parchment paper or a silicon baking sheet, sprinkle a tablespoon or two of flour, and roll out your crust thinly.

Spread with desired toppings, place your pizza (with the parchment or silicon sheet) carefully on the pizza stone, and bake for 6-10 minutes (mine is always 8 minutes).

Slide the pizza onto a cookie sheet or pizza pan and let cool for a minute or two before slicing and serving.
if you liked this post on how to make homemade pizza crust, you might like these other recipes: