6:30 a.m. My alarm goes off. I get out of bed, put my running clothes on and brush my teeth while Bart gets dressed for his work out.
6:40 a.m. I'm looking at my email by the front door when I hear Star start to cry in her room. I go in, find her pacifier that's fallen under the crib, and tuck her back into her bed.
6:45 a.m. Out the door and glad I'm wearing a hat and gloves, because it's not super warm. I listen to the latest episode of Happier while I alternate between walking and running.
7:05 a.m. I'm determined to get right in the shower and get ready since I was slow yesterday, but just as I'm taking off my shoes, I hear Tally wake up. I nurse her in her room and say my personal prayers and think about the day ahead.
7:15 a.m. The other girls are all still sleeping and Bart is working out still, so I take Tally in the bathroom with me and hop in the shower and then get dressed.
7:25 a.m. As I start putting on my makeup, I worry that Ella isn't up yet, but then I hear her closet door slam downstairs so I know she's awake.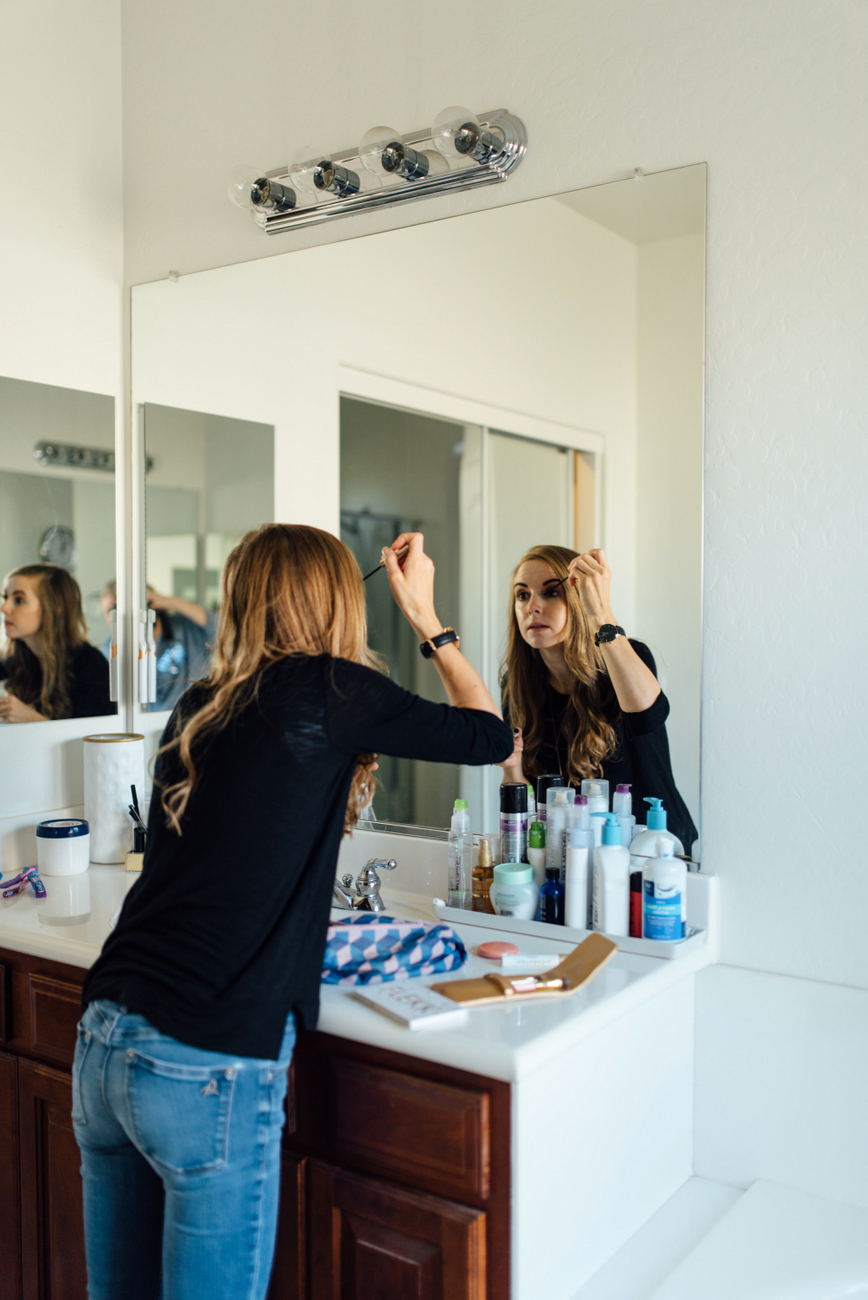 7:30 a.m. Bart comes upstairs carrying Ella's shirt, which needs ironing. I finish my makeup and iron her shirt, then leave Bart to get ready while I go help Ella get ready for school.
7:35 a.m. Ella is eating breakfast and while she eats, she asks me to look up what hot lunch is (she's crossing her fingers for cheesy nachos). When she discovers it is pizza (which we're having for dinner), she asks if I'll pack her lunch while she finishes eating and getting her homework together. She usually does this the night before, but we were at Disney on Ice until late, so it didn't happen. I pack a granola bar, yogurt smoothie, bell pepper slices, strawberries, and a leftover piece of Halloween candy, plus a bag of crackers and a banana for her snack. When she's finished eating, I do her hair and then she puts on her shoes and puts her lunch in her backpack.
7:55 a.m. Bart comes out of the bathroom and he and Ella head to the car to go to school.
8:00 a.m. Tally is starving for real food, so I feed her a few bowls of applesauce and greek yogurt mixed together. Ani is awake now and comes up ready to eat as well. I have a thredUP order that's about to expire, so I place that while Ani eats a bowl of applesauce and granola.
8:10 a.m. I start making some pizza dough for dinner tonight and then toss some vegetables in a frying pan for my breakfast.
8:20 a.m. Tally is at the end of her rope, so I put the pizza dough in the fridge, turn down the heat on my vegetables, and take Tally into her room to change her diaper and nurse her before putting her down for another nap. I read my scripture while I'm nursing her and then decide today is as good as any to do a day-in-the-life post, so I start noting the times of what's going on a little more carefully.
8:30 p.m. I come back out to finish adding sausage and eggs to my vegetables. Once it's cooked, I toss some feta and sriracha on top and eat.
8:45 a.m. I send a quick text to one of Ella's friends asking if she can carpool to a birthday party this afternoon.
9:00 a.m. While I finish up my breakfast and then clean up the dishes, Ani gets herself dressed and gathers up her school books.
9:10 a.m. Ani and I settle on her bed and do a few pages of her math book and then she reads me a few of her one-vowel books. I'm surprised by how well she's reading today – I feel like she's making huge strides just in the last week or two.
9:30 a.m. I hear Star calling for me upstairs just as I realize the babysitter is probably standing on the doorstep, and I run upstairs, answer the door, and then get Star dressed for the day. The babysitter heads down to play with Ani and Star joins them once she's dressed.
9:35 a.m. I haven't done my hair yet, so I go back in my room and turn on my curling wand which has turned off since I was getting ready two hours ago and make the bed while it heats up. I do my hair and then head into my office to start working.
9:45 a.m. I have two hours while the babysitter is here, so I make a quick list of what I need to do, in the order I need to do it and get started. First up is sending out my Friday newsletter about my favorite 2017 books. Next, I do my first Library Haul Facebook Live video, which I've been nervous about but turns out to be very enjoyable.
10:30 a.m. I post a photo on London Littles Instagram, then do a quick InstaStory on Everyday Reading about my Facebook Live. I write the intro for my Caldecott post.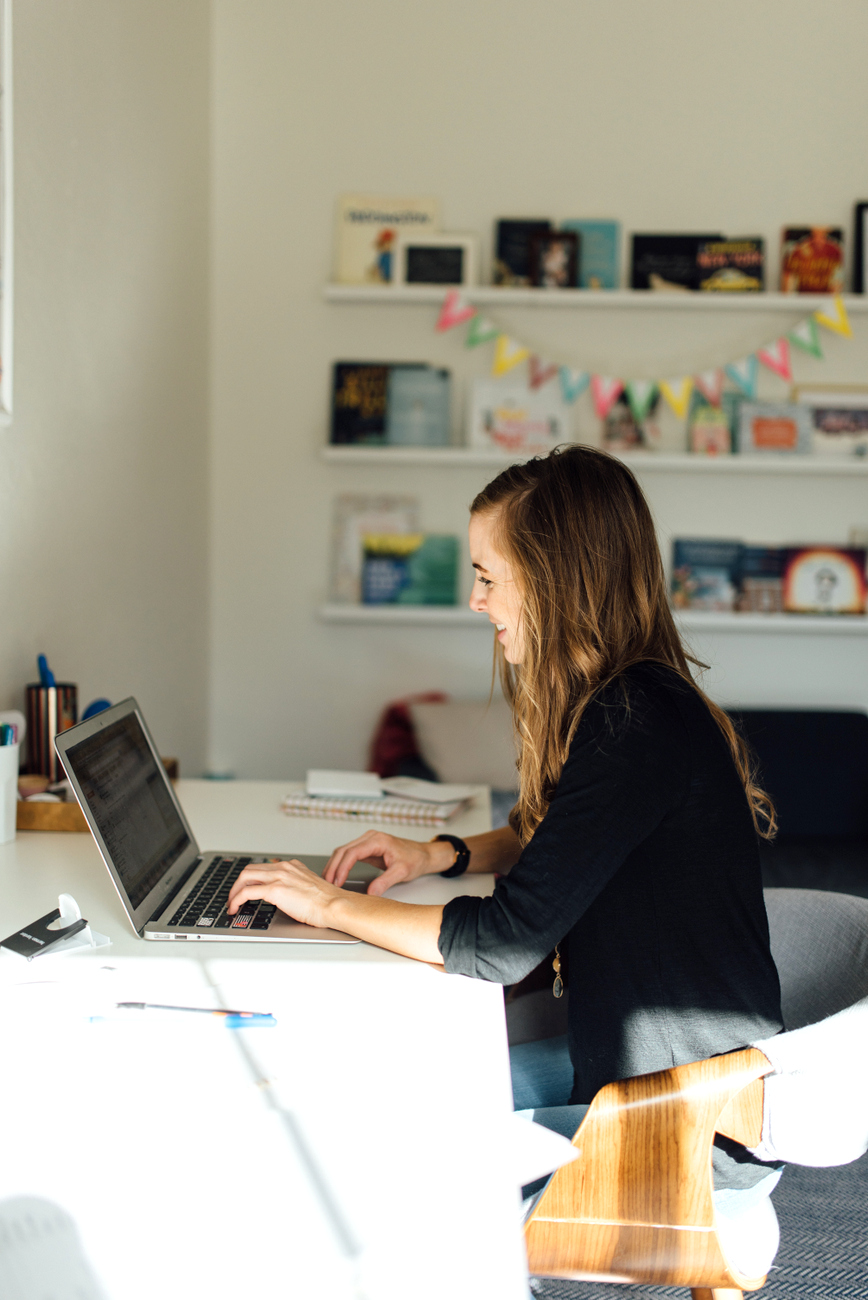 11:00 a.m. I hear the baby wake up, so I go grab her and take her down to the babysitter.
11:05 a.m. With the clock ticking before the babysitter leaves, I request a bunch of library books for my mock Caldecott.
11:30 a.m. Time is just about up. I post a photo on my Instagram feed and head down to pay the babysitter and take back over mom duties.
11:35 a.m. The girls are ready for lunch and since I didn't pack them lunches yesterday either, I make them lunches. Tally is NOT happy about sitting in her high chair until I pull it over to the breakfast bar with the big girls and give her a string cheese, which makes her much happier. I give the big girls a bunch of grapes each and a yogurt smoothie (when I take the lid off the yogurt and lick it instead of letting HER lick it, there is a lot of unhappiness), and then cut up some grapes for Tally too. Then I make a peanut butter sandwich for Star and Tally and heat up the enchiladas from the night before for Ani and me.
11:45 a.m. I didn't get around to folding the girls' laundry yesterday, so while they eat, I blast through sorting it into their four respective piles and put away Tally's clothing.
12:00 noon. Ani suddenly doesn't want to go to school, but I suggest that we go see what they're doing and then she can see if she wants to stay or not. She agrees, and she and Star get their shoes on and I do their hair.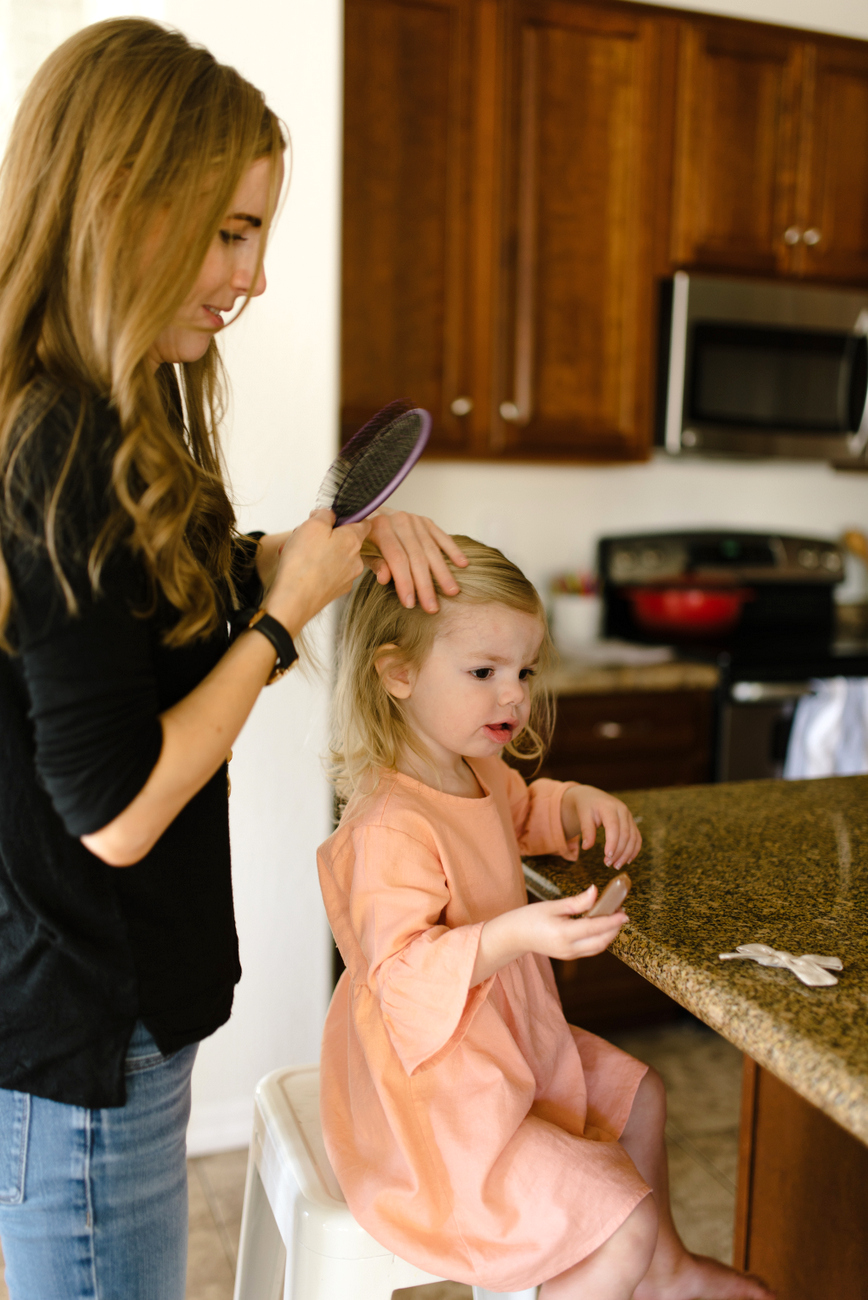 12:10 p.m. Off to school. Once we get inside, Star tells Ani's teacher all about Disney on Ice and then Ani asks what they'll be doing and her sweet teacher convinces her that it'll be worth staying. I kiss Ani goodbye, hang up her backpack, and Star and Tally and I head home. We listen to an episode of Circle Round in the car.
12:30 p.m. Tally still seems hungry, so she gets an orange while I eat the rest of the enchiladas, clean up the lunch dishes, and take the big girls' laundry to their rooms and put away Star's laundry.
12:50 p.m. A diaper change for Tally and she's ready for another nap – I nurse her and put her down.
1:00 p.m. I come out of Tally's room to find Star playing with the magnatiles and tell  her it is time for her quiet time. I suggest I read her a book, but she says she wants to do quiet time in the family room with the magnatiles, so I agree and head into my office to start working.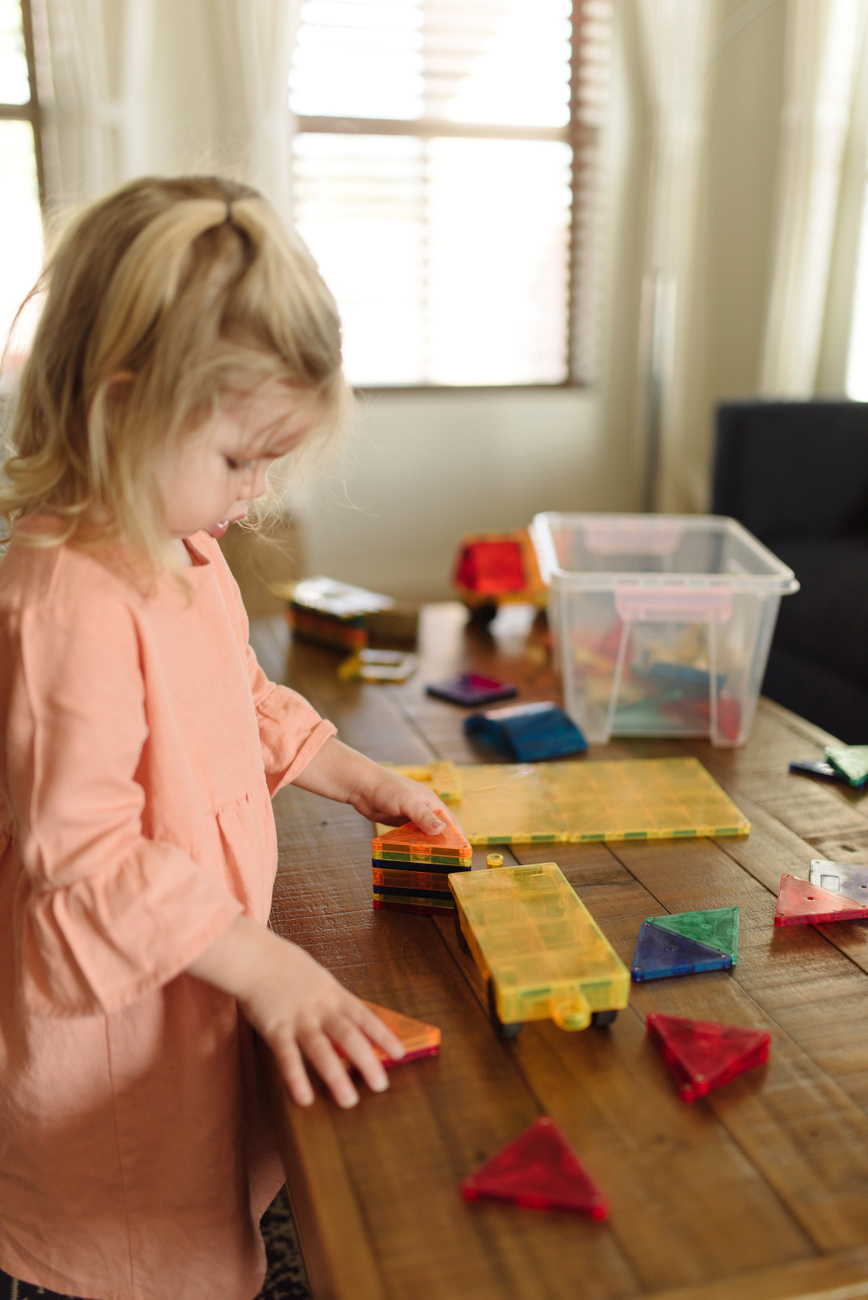 1:15 p.m. I finalize the list of books for the Caldecott post, add the photo and SEO keywords, and then work on my list of projects and posts for the upcoming week and send a copy to my virtual assistant with notes about what she can help with.
1:45 p.m. I hear Star zipping around the kitchen on her little bike and then shortly afterward realize I can hear the baby chattering very loudly. When I go to investigate, I discover that Star has gone into her room and climbed in the crib with her. I get Star out of the crib, reswaddle Tally and put her back down. Star follows me into my office and asks if she can look through the books I have on the floor from my Facebook Live. I tell her yes and she sits quietly for a while before heading back to her room.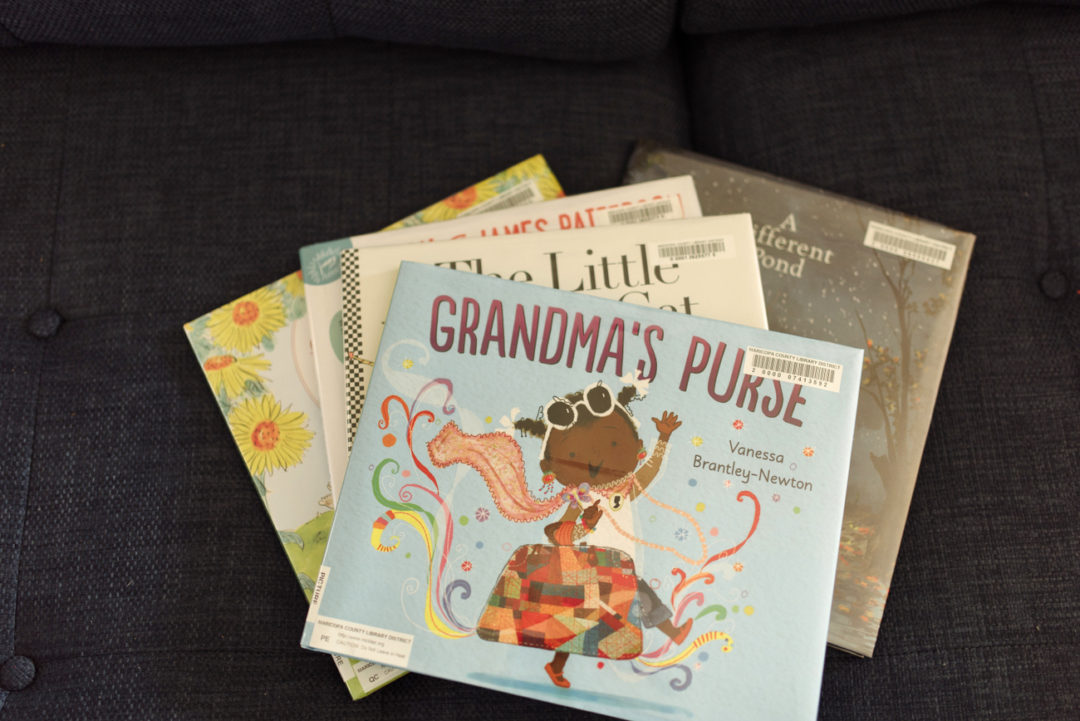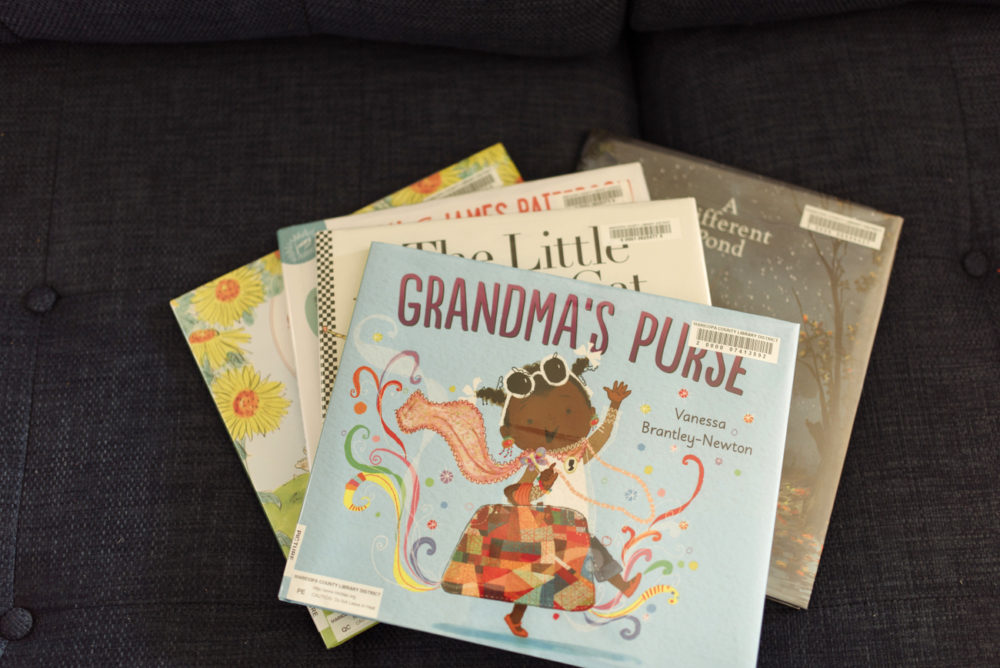 1:55 p.m. I work on this post and send some texts back and forth to my dad and my sisters (my dad attended a funeral for our neighbor who lived across the street from us for about ten years and was like a psuedo-grandmother to us).
2:15 p.m. I set up and photograph the Olivia print for my Book Quote series, edit the photo and set up the landing page for it, while listening to The Boston Girl on audio. I test to make sure everything is working then pack up (including wrapping paper, scissors, and tape) to go pick up the big girls from school.
3:10 p.m. I pick up Ella at school and she tells me about her day while we go to Ani's school.
3:30 p.m. We dash to Target to pick up a gift for the birthday party (Ella chooses to get her Phase 10, her recent favorite game, and we top it with a candy bar), wrap it in the car and then drop Ella off for the birthday party.
4:10 p.m. When we get home, I take the pizza dough out of the fridge and get the girls a snack (graham crackers and milk – I have some too and they are surprisingly delicious). While the girls eat, I call my mom and chat with her for about 15 minutes.
4:30 p.m. The baby is getting super fussy and only wants to be held. Ani and Star go out to play on the trampoline and I snuggle the baby and get the mail.
5:00 p.m. Time to start thinking about dinner. I turn on the oven to start heating up to 500 degrees, and then roll out the pizza dough. The girls come inside and Ani grates all the cheese for me while I assemble the pizzas.
5:45 p.m. Bart arrives and keeps Tally happy while he sets the table and we chat about our days. While the second pizza cooks, we unload the dishwasher.
6:00 p.m. Pizzas are ready, and we sit down to eat. Star doesn't want to sit down and keeps riding her bike around the kitchen, then decides at the last moment to join us. The pizza is delicious, but the girls keep saying how yucky the fig pizza is, and Star is clearly losing her mind after a late night the night before.
6:30 p.m. I get Tally out of her high chair and while Bart cleans up the dishes, I give her a quick bath and then nurse her and put her to bed.
6:50 p.m. When I come back out of Tally's room, Bart has the two other girls in their pajamas and their teeth brushed. He finishes the dishes while I put on my pajamas, clean the bathroom mirror and counter and then vacuum the laundry room rug (pretty sure I wouldn't have done these if I wasn't keeping track of my day).
7:00 p.m. We read scriptures on the couch and have family prayer, then I read a picture book aloud and Bart puts Ani to bed while I read a book of nursery rhymes to Star and tuck her in.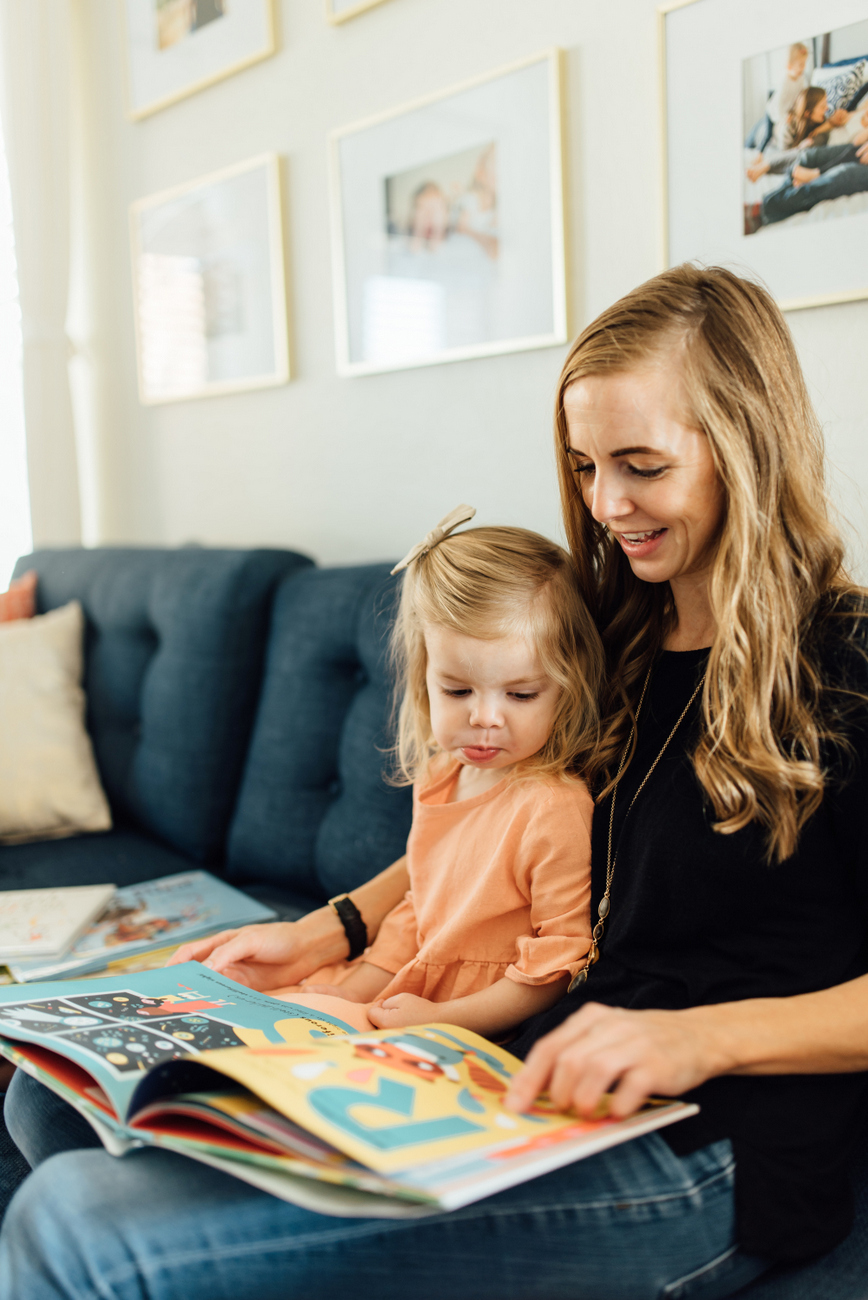 7:20 p.m. I head to my office to finish up my 2017 Mixbook year-in-review book and listen to The Boston Girl.
7:55 p.m. Bart heads out to pick up Ella from the birthday party while I keep adding photos.
8:10 p.m. Ella comes home with Bart and all the other girls come out of their rooms to say hi. Ella is still hungry so she has a little more dinner. I can hear all of them chatting with Bart and then they all come in to say goodnight.
8:30 p.m. I keep working on my Mixbook, hopping over to Instagram a couple of times when I need a break.
9:15 p.m. I finish up my Mixbook (I can't believe how fast 2017 went!) and place my order.
9:20 p.m. I join Bart in the family room so we can watch an episode of Hawaii Five-O.
10:15 p.m. Hey, it's Friday. Let's watch a second episode. And there's half a pint of ice cream in the freezer.
11:15 p.m. Okay, episode over and ice cream gone. Bart and I pull our our laptops for a few minutes to look at some London Littles things.
11:30 p.m. I brush my teeth and wash my face.
11:40 p.m. We get into bed and read for about 15 minutes (I'm reading My Life with Bob and Bart's reading The Chemist), until my eyes can hardly stay open.
11:55 p.m. Lights out. I'm asleep in about 2 minutes.
If you'd like to see previous Day in the Life posts, all the way back to when I only had one child (!), they're all right here.
Photos by Christie Knight Photography