Two things:
The last time I did one of these Day in the Life posts was shortly after Ani was born (I've done a few of them since then on Disney Baby and invariably I got a ton of nasty and bizarre comments on them with people saying things like "This mom has her toenails painted in one of those pictures. What sort of mom has time for that?!").
Second, this post follows the general rule that you behave better when you're tracking something. Writing down what I was doing all day made me waste less time and be more productive than I might have been otherwise. Also, this was a Monday which is by FAR my most productive day of the week. By Friday, I'm pretty much good only for going out to lunch. So it's not like every single day of my life is exactly like this.
And. . .with those out of the way, carry on reading all the sure-to-be-fascinating details of my Monday.
3:45 a.m. Star wakes up and I feed her.
4:00 a.m. Back to sleep.
7:00 a.m. Ella comes in and hops into bed with us. I go in and out of sleep for about 15 minutes until Ani wakes up and Bart takes them both down for breakfast (bless him). We pretty much always have cold cereal for breakfast, with bananas and dried cranberries on top because I love cereal and also because it's super fast and my girls want to eat breakfast approximately ten seconds after they wake up.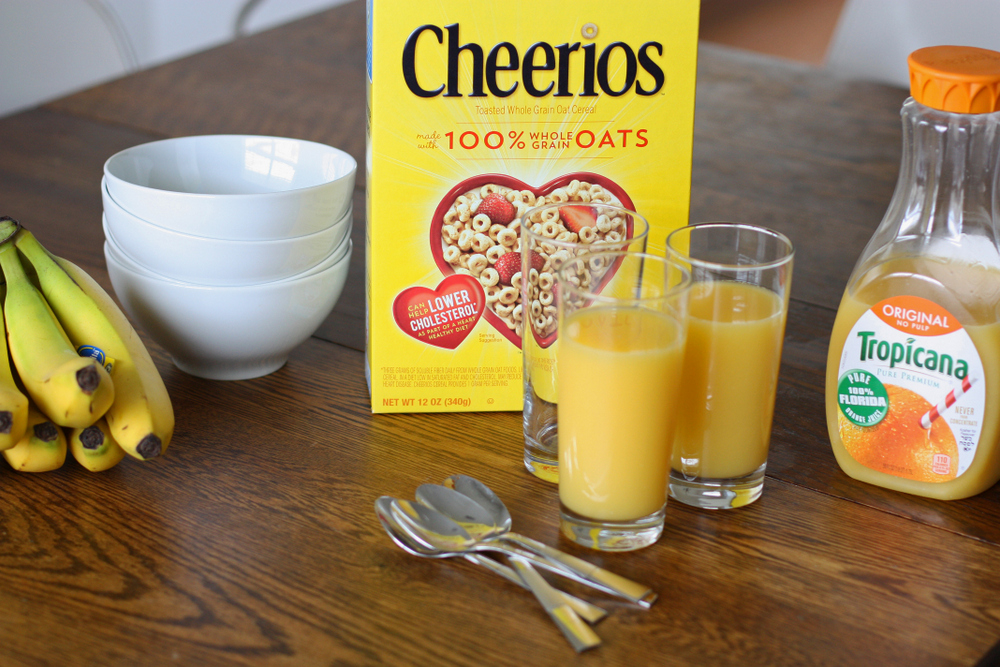 8:02 a.m. I wake up feeling way less tired. I look at my phone for a few minutes.
8:09 a.m. Star wakes up. I feed her and read a chapter of The Fringe Hours.
8:25 a.m. Star drifts back off and I strip the sheets from the bed and take down the whites to toss in the washer. Bart is reading books to the girls on the couch and they're all giggling over Peanut Butter & Cupcakes. Bart heads upstairs to take a shower, I put out some meat to defrost for dinner, and then the girls and I snuggle up on the couch to do some Can You See What I See?
8:40 a.m. Bart brings down Star who apparently wasn't quite done with breakfast and I nurse her while the girls keep looking at the book which quickly dissolves into major tears since they BOTH want to hold it. I finish up with Star and we read some other books that cause less mayhem.
9:05 a.m. We head upstairs where Bart is finishing getting ready and the girls hop in the bathtub. I send a few quick emails and do some blog work.
9:35 a.m. Girls are ready to get out the bath. I towel them off and get them both dressed (Ani picks a dress that needs ironing, so I whip out the iron – very unusual for a weekday – and press her dress and Ella's skirt). Star is getting fussy again, so I nurse her quickly.
10:00 a.m. Ani asks to paint while I take a shower, so I get her set up downstairs. While I'm down there, I realize I haven't eaten breakfast yet, and I'm starving, so I have a quick bowl of breakfast too. I switch the laundry and then head up to jump in the shower.
10:30 a.m. Now that I'm all ready for the day, I go back downstairs and discover that Ani has sloshed her painting water all over the floor. Lovely. I wipe it up and get her changed since her dress is now soaking wet. I switch the laundry again.
10:45 a.m. Ella's playing in her room still, so I sneak out front to take some outfit photos for a post this week. But after one photo, my remote stops working (curses!) so this plan is shot. After fooling with it for a few minutes, I go back inside and put away the first load of laundry and remake the bed with the newly cleaned sheets. Then I curl Ella's hair and put away the curling iron.
11:15 a.m. The girls and I go downstairs to the kitchen and make dinner (we're having these sweet potato tin foil dinners from Perry's Plate). Ella really wants to try peeling one of the potatoes, and to my amazement, she manages the peel the entire thing on her own. Ani, of course, has to have a go too. While they are peeling, I call Verizon to ask about exchanging my new phone since the battery life is abysmal.
11:45 a.m. We finish dinner prep and clean up the kitchen. Star is snoozing, so we read a bunch of library books on the couch. After a bit, Star starts making noises, so I nurse her so we can go on a walk. I change Ani's diaper, put in another load of laundry, and put Star in her carseat and then snap it into the stroller while the girls put their shoes on.
12:40 p.m. The girls grab their bikes and scooters and we're off. I warn the girls we don't have a super long time, and we enjoy the lovely weather as they cruise around the neighborhood. Star sleeps the entire time.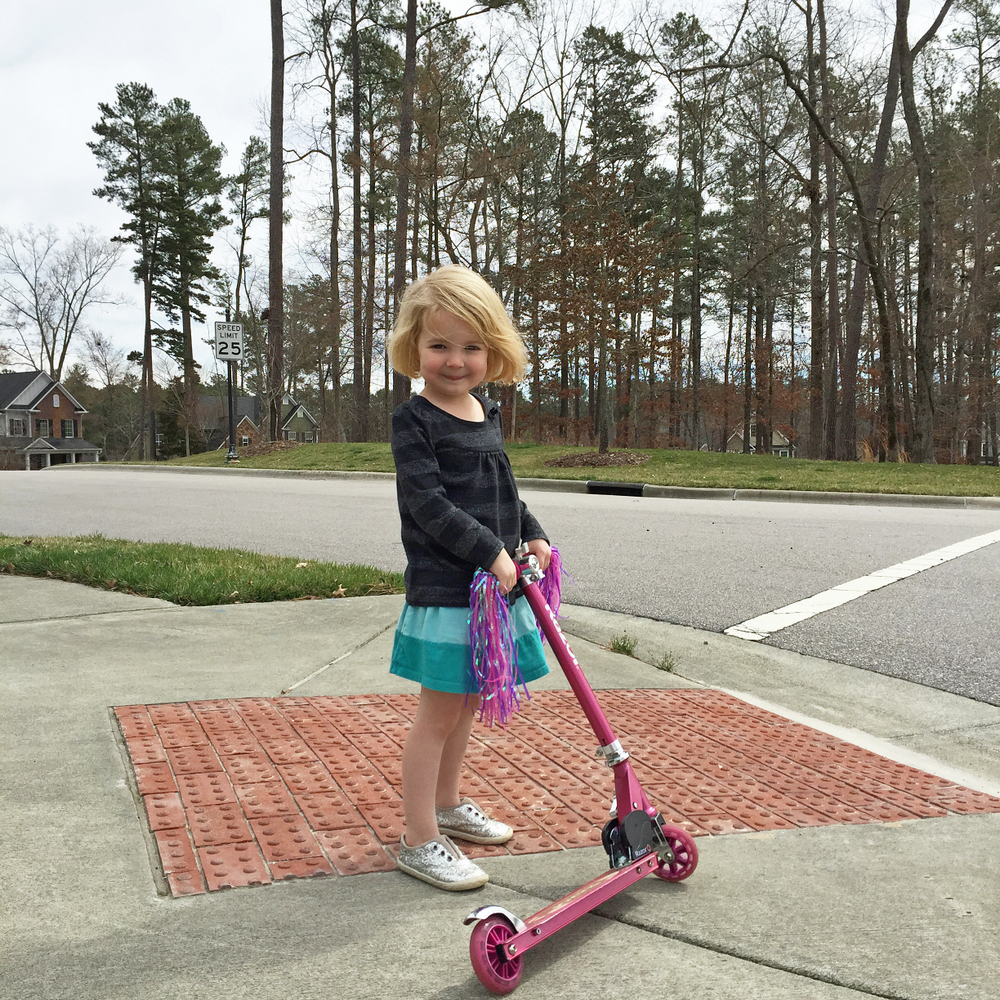 1:05 p.m. We get home, I switch the laundry again, and start lunch prep. I make the girls quesadillas and do an egg-in-the-hole for me. Once they've finished their quesadillas, I offer them some strawberries, but Ani has a massive tantrum about not getting to wash them herself. She is prostrate on the kitchen floor shrieking while I do the dishes, but is finally convinced to calm down by the offer of putting the dish soap in the dishwasher. She finishes her strawberries and we head upstairs to put both girls down for naps and quiet time.

1:35 p.m. I eat a few bites of leftover pie from Pi Night and then bring Star upstairs in her carseat where she's still sleeping and we go into my office so I can work while the girls are down. I look at a few blogs, work on this post, and order a t-shirt (I did a mega purge of my clothing last week, and I'm trying to fill in the gaps).
2:15 p.m. I write two posts for Brightly, apply for a couple of campaigns, and IM with Bart about a flier he's working on. Ella comes in and grabs the iPad so she can listen to the next Boxcar Children book for the rest of her quiet time.
3:20 p.m. I do some research about future posts for Cardstore and send an email to my editor. And finally respond to some of the emails that have been languishing in my inbox since before Star was born (oops).
3:39 p.m. I hear Ani start to wake up and Ella comes in to show me the art projects she was working on. Star is still sleeping and I'm starting to leak through my shirt. . . Ani isn't making any sounds anymore, so Ella and I go in the bedroom and I start putting away some more laundry.
3:50 p.m. Ani's awake for sure now, so Ella gets her out of her tent and I change her diaper and we run outside to get the mail. There's a big thredUP box waiting for me (yippee!), and I bring it inside, and then we eat some trail mix granola bars for snack.
4:00 p.m. The girls sit out on the back porch and eat their snack, while I go back upstairs to fold more laundry. I hear Bart come home and I take my camera stuff down and make him shoot my outfit photos since I still can't get the goofy remote to work. The girls insist on taking a boatload of photos after I'm done. I put the tinfoil packets in the oven to cook and unload the dishwasher.
4:30 p.m. I come back up and finish putting away the girls' laundry (hallelujah!). This baby is still sleeping. The whole reason Bart came home early was so I could go to the grocery store, but I don't dare leave since she's been sleeping so long and is sure to wake up starving the moment I drive away. The girls and I set the table for dinner (we're having a little outdoor picnic at Ella's request).
5:05 p.m. She finally wakes up and I nurse her while looking at Instagram and reading a few blogs. A friend stops by to drop off some chairs for a party and after I'm done nursing, I go downstairs and visit with her for a few minutes.
5:30 p.m. Bart and I decide I should go to the grocery store even though it's so much later than planned. I turn off the oven and pack up Star and Ani and head out, leaving Bart and Ella home to play together. We zip through the store as fast as possible and Ani charms everyone at checkout by politely asking for stickers.
6:15 p.m. Home again, home again. Bart brings in the groceries while I whip up some guacamole and get out all the toppings for our sweet potato dinners.
6:30 p.m. Dinner! The weather is gorgeous and we all enjoy eating outside, while Star snoozes in her carseat.
7:00 p.m. The girls play together while I put away the groceries and dinner food, and Bart does the dishes. I take the girls upstairs and get them both in jammies, then Bart arrives and we each brush one girl's teeth. We read a scripture story and have family prayer and then toss the girls into bed.


7:20 p.m. The house is quiet! Bart puts away the last of his laundry and then he retreats into his office to get stuff done for school, and I come downstairs to work on this post and edit pictures for tomorrow's post. I listen to Essentialism: The Disciplined Pursuit of Less while I edit.
8:30 p.m. Star wakes up, and I take her upstairs to feed her. Then I grab my box of clothes from Twice and try them all on.
9:15 p.m. Bart comes into the closet and we spend quite a while talking about a project he's working on.
9:55 p.m. I box up the items I'm not going to keep from Twice and print out my return shipping label. I grab the last towels from the dryer and put them away, and then do a few quick things online (email, Pinterest, etc) while Bart finishes up his email.
10:35 p.m. Bart is still on his computer, so I snuggle with Star a little, put on my pajamas, take off my makeup, and get a few last things from downstairs.
11:00 p.m. White Collar time! I nurse Star while we watch and then Bart holds her until she falls asleep. I put her down and brush my teeth.
12:00 a.m. Time for bed (and it is laaaaate). Goodnight!
(P.S. And then we got woken up at 2 a.m. because Ani had thrown up and needed a bath and to have her whole bed scrubbed out and then Ella woke me up at both 3 a.m. and 4 a.m. to tell me she couldn't sleep. Kids, man).