This is technically the room that the two big girls share.
But Ani has never actually slept a single night in here.
When we came back from Europe, she wanted to keep sleeping in her tent and since we didn't yet have a new baby, we stuck that tent in the baby's room next door to this room and Ani has slept in there ever since.
Once Star starts sleeping more through the night, we'll probably move her into her own room and move Ani in with Ella, but of course this week, Ani threw up in the night and so we put her back to bed that night and the next day for her nap in the crib (which she'd shown ZERO interest in since our return) while her tent dried and now of course she loves it and wants to sleep in there every time which is really cramping the idea of putting Star in there in a few weeks.
So. . .who knows how this will all play out?
Plus, I'm not chomping at the bit to move her from the contained tent or crib into a toddler bed, and I'm not sure where Ani would take a nap while Ella does quiet time.
Anyway. . . that's more than you wanted to know about this room set-up.
I wanted this room to be easier to play in (and do quiet time in) than Ella's room in our old house was, where the room was always a disaster because there was no good places to store toys and crafts.
We already owned a fair amount of the furniture from our old house (although we got both of the beds after we moved back here) and I worked with Home Decorators Collection on a couple of items to make the room work better. They have a lot of fun nursery and kids' furniture and lots of good decorating inspiration on Instagram, Pinterest and Facebook.
This ottoman not only added a little more color to the room, but also added a lot of toy storage to the room. Plus, I always like something to put my feet on when I'm reading to the girls or nursing the baby.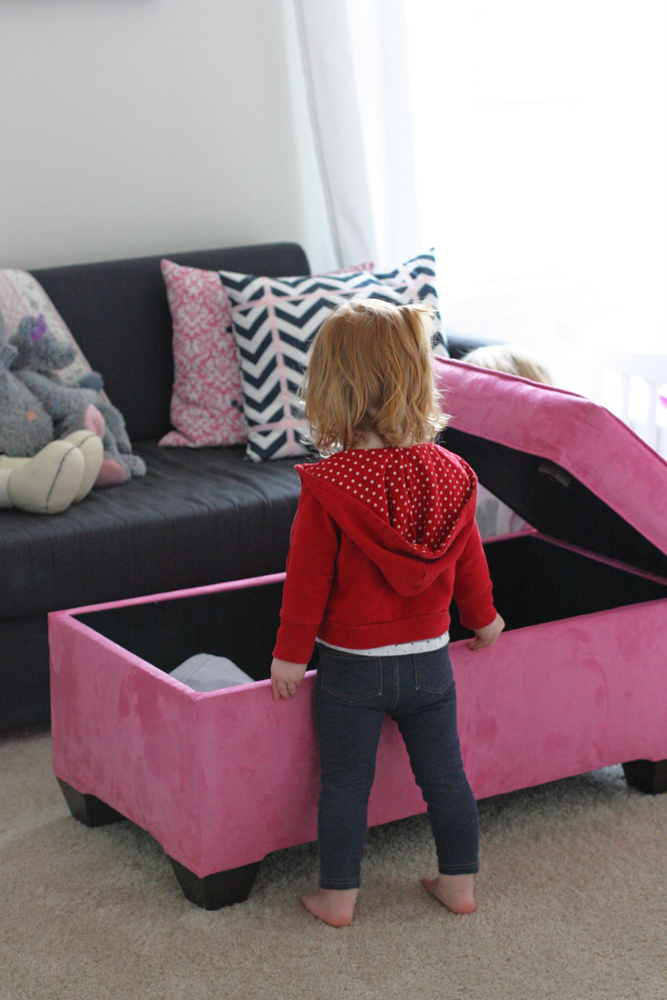 When my mom came out for Star's birth, she brought the little pom-pom pillows for their beds, and both girls were totally disdainful of this blue one. The pink one was the only acceptable one and it was several weeks before I could even put the blue one on the bed without Ani completely losing her mind.
We knew Ella needed somewhere to keep her clock collection (the black clock has the (almost) real time on it so she knows when she can get up in the morning and can see it in the middle of the night, and then the white clock we set every day during quiet time to 1:00 regardless of what time it really is so she can do her two hours), plus the never-ending rotation of library books and our own books that come upstairs and downstairs, so this bookcase was the perfect solution.
It was one of those things that, as soon as we had it set up, it instantly made the room feel significantly more put together.
Also, that blue box is usually on top at the back where Ani can't reach it because Ella has filled it with all her special random treasures and lives in total fear of Ani getting into it.
Also, when we got the bigger play table for the play room, we could move this tiny table and chair set up to this room, which has made a huge difference for Ella's quiet time. She loves doing endless art projects on it or having a place to do her puzzles while she listens to her books on CD (the CD player and the ridiculously tall stack of books on CD are behind her door).
Of course, now she's always saying she needs a bigger table because her stuff doesn't fit on this one. It's hard to win with a four-year-old sometimes.
We'll see if and how the room sharing ends up in the next three and a half months we have left in this house, but for now, this room works really well.
Also, I hemmed those curtains the day Star was born and I'm happy on a daily basis I just finally made it happen because I know I wouldn't be getting around to it now and it looked fairly terrible when they were six inches too long and super bunchy. It's the little things that make me happy.
Sources:
Bookshelf: c/o Home Decorators Collection
Metal Toddler Bed: Hand-me-down from a friend
Wooden Toddler Bed: Craiglist
Sheets and Pillows: Target
Curtains: IKEA (similar)
Couch: IKEA via Goodwill
Storage Ottoman: c/o Home Decorators Collection
Decorative Pillows on Couch and Bed: Made by my Mom
Table and Chairs: IKEA
Bulletin Board: Michaels
Lamp: c/o Lamps Plus
Name Canvases: Michaels