This post was created in collaboration with M&M's® Crispy. All opinions are mine alone, and I WISH all these granola bars were mine alone but. . . the children want some too. 

I used to cook quite a bit with Ella. We made chocolate muffins and cinnamon almond biscuits. She helped with dinner prep and loved helping measure, mix, and taste.
And then Ani got a little older and was too small to help but too old to be content just watching, and I started doing most of the cooking on my own.
But in the last month of so, Ani has developed a strong interest in helping out in the kitchen, and so I'm back to cooking with my girls again.
They trade off pouring the ingredients into the bowl, they ask for tastes of every item going in, and Ani seems to feel certain that the KitchenAid won't function if she doesn't hold her arm against the top while it runs.
Over the weekend, we made a batch of granola bars together and froze them to use as snacks this week.
I'd made a Friday night stop at CVS to pick up some M&M's® Crispy (I bought a big bag to use in the granola bars and a regular bag to eat by myself in the car because what are Friday nights for if not to eat candy? For watching White Collar, is what), and they are perfect for granola bars because they add a little extra crunch and they are just the right size. Also, there is a coupon for them so. . . no brainer. They were so popular with fans, they brought back the M&M's® Crispy, which I think is awesome.
Of course, when it came time to add them to the mixing bowl, I had to divide them into two measuring cups because both girls were determined that THEY be the one . Apparently M&M's® aren't just fun to eat, they're also fun to pour.
trail mix granola bars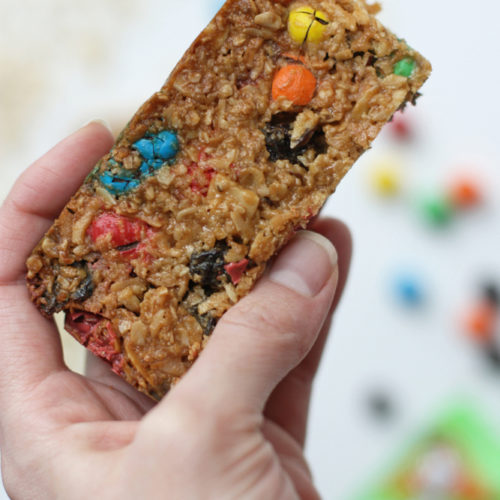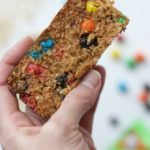 Trail Mix Granola Bars
Delicious and easy homemade trail mix granola bars. Perfect for lunchboxes and after-school snacks.
Ingredients
2

cups

old fashioned oats

1/3

cup

granulated sugar

1/2

teaspoon

salt

1/2

cup

nuts

a mix of almonds and peanuts are most like trail mix, I think

1/2

cup

raisins

1/2

cup

shredded coconut

I like unsweetened, but either is fine

3/4

cups

M&M's® Crispy

1/3

cup

peanut butter

6

tablespoons

melted butter or coconut oil

6

Tablespoons

honey or corn syrup

1

Tablespoon

water
Instructions
Preheat oven to 350 degrees. Line a 9x9 baking pan with tinfoil, spray with cooking spray and set aside.

Put the oats in a food processor or blender and blend for about 5-10 seconds. The oats on the bottom will be very fine, and the oats on the top will be barely blended.

Pour the oats in a mixing bowl and add the sugar, salt, nuts, raisins,

M&M's® Crispy

, and coconut. Stir and set aside.

In a small saucepan, melt the peanut butter, butter/oil and honey or corn syrup together until smooth. Stir in the water, then pour it all over the dry mixture and stir until well-coated.

Press firmly into the prepared pan and bake for 35-40 minutes, until the edges are nicely browned.

Let cool completely, then remove from the pan, peel off the foil, and cut into bars.
Watch this funny little commercial while you eat them.
if you liked this trail mix granola bars recipe, you might also like these other recipes: