You know what is easy? Homemade vegetable broth. Seriously, easy.
In the past I've made chicken stock when I have chicken bones, but let's be honest, I almost never buy chicken with bones in it. And also, chicken stock has a lot of grease in it and so I always want to chill it first, and then scrape the layer of cold fat (yum!) off the top before I freeze it. So, you know, I just make it without the chicken instead. And I never notice a difference when I use it in a recipe (except that homemade broth is WAY less salty than commercial broth, so you'll probably need to add more salt to your final recipe than you would otherwise).
You can also use pretty much whatever vegetable bits you have laying around for this homemade vegetable broth (I keep them in a yogurt container in my fridge for a week or two until I've gathered a reasonable supply). Broccoli, bell peppers, the stems of greens, zucchini are all fair game – the only thing I've ever used that I didn't like was bok choy because I don't really like bok choy to begin with and I felt like it overpowered the whole pot. Don't use potatoes, either, because it'll give you a weird texture.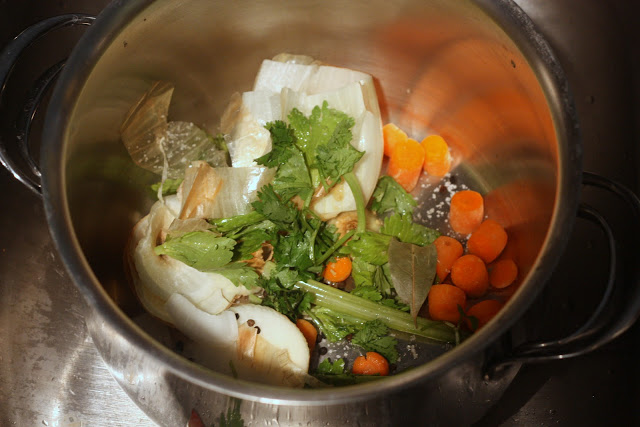 homemade vegetable broth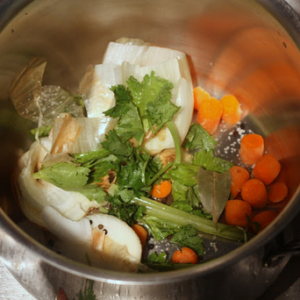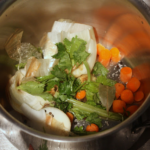 Homemade Vegetable Broth or Stock
Homemade vegetable broth is way easier than you think and it's SO much better than store bought! Click through to see how easy it really is!
Total Time
1
hour
10
minutes
Ingredients
Outer layer and tops/bottoms of 2-3 onions

Tops of 4-5 celery ribs

Peelings from 5-6 carrots

or 3-4 carrots, roughly chopped

Other vegetables as desired

1-2

garlic cloves

minced or sliced or smashed

A handful of cilantro or parsley

1-2

bay leaves

1

t

whole peppercorns

1

T

Salt
Instructions
Put all the ingredients in a large pot (I use one that's about 5 quarts), fill about 2/3rds of the way with water, and bring to a boil. Reduce to a simmer and let cook for about 1-2 hours. Turn off the stove and let it sit for another couple of hours while it cools.

Strain the liquid into containers (bags, jars, cans, etc) and freeze. Lasts for pretty much ever, except that you keep using it up in cooking.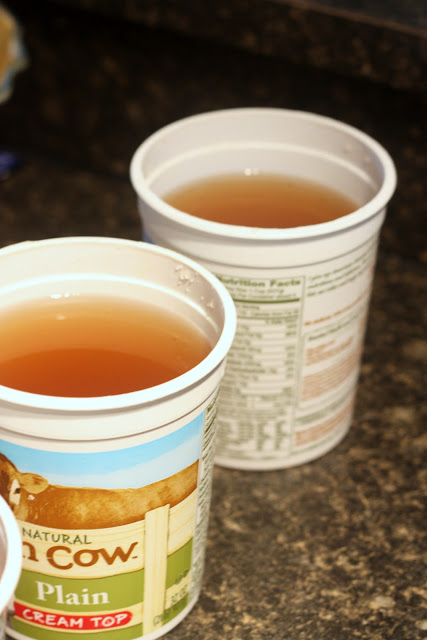 (If you looked in my fridge and freezer, you'd think I was sponsored by Brown Cow because we have a bazillion empty containers of their yogurt and I use them to store everything, but sadly, it's more like our family sponsors them, what with our insane consumption of yogurt).
if you liked this homemade vegetable broth recipe, you might also like these other recipes: