Earlier this year, when I shared 10 recipe idea for using up leftover rice, I asked what other items were challenging to use up before they went bad.
Far and away the most common response was "whipping cream" so here are ten recipes to help you use up the rest of the container before it goes bad.
Some of these recipes use a fair amount of whipping cream while others need just a bit.
I hope you'll find this helpful (and delicious).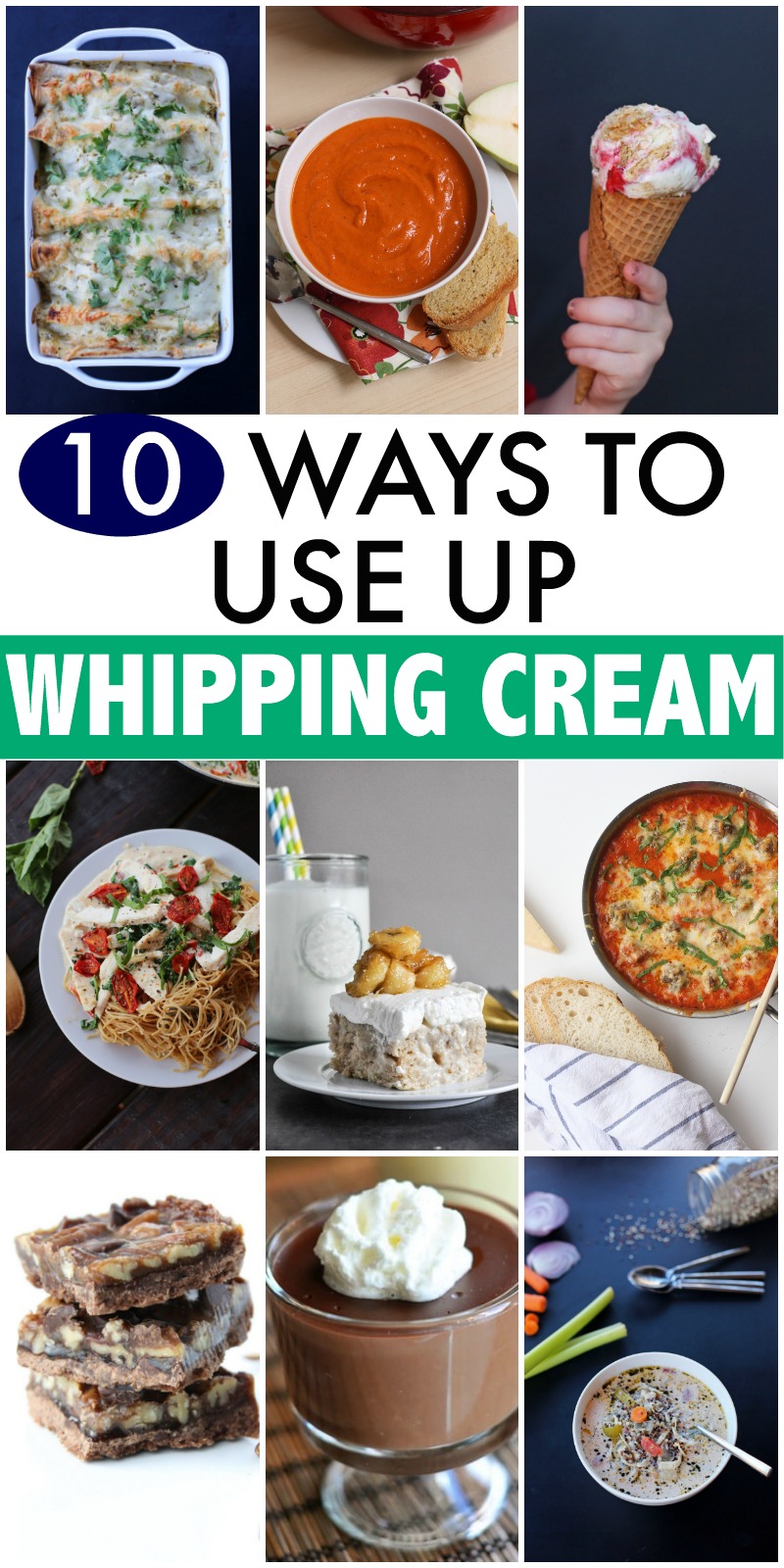 10 ways to use up whipping cream
Creamy Roasted Tomato and Chicken Pasta
This (insanely delicious) pasta recipe uses 2 cups of whipping cream so it's great if you have a lot of cream to use up. It's a cross between a tomato sauce and an alfredo and it is ridiculously good.
Chocolate Pecan Pie Bars
Pecan Pie always feels very Thanksgiving-y to me, but these bars are perfect for summer barbecues too, since you can slice them into squares and serve a big crowd. They also only require 2 tablespoons of whipping cream, so it's an easy way to use up the tiny last bit you don't want to throw away.
5 Ingredient Creamy Green Enchiladas
These are my go-to enchiladas – they are so darn good. If I'm having another family over for dinner, I almost always make these because every single person loves them. You can use half-and-half or cream, so if you don't have quite a cup of whipping cream, just add milk to make up the difference and you'll be good to go.
Strawberry Cheesecake Ice Cream
When I have any large amount of leftover whipping cream, my first thought is homemade ice cream. And this one is definitely one of my favorite recipes – it's SO good. Definitely the perfect summer treat.
Banana Bread Tres Leches Cake
I mean, if there is going to be a recipe with three milks, you know one of them will be whipping cream.
Creamy Quinoa and Chicken Vegetable Soup
This one pot soup is bursting with vegetables and everyone in our family likes it. Basically you can't beat it when cooler weather starts rolling around.
Homemade Chocolate Pudding
This is one kid-pleaser way to use up whipping cream if there ever was one. If you want an even easier way to use up whipping cream, you can use some whipping cream in place of the milk in a pudding mix. It makes it thicker, creamier and smoother and it's DELICIOUS.
Fire-Roasted Tomato Soup
This is by FAR the best tomato soup I've ever had (even beating out Zupa's which is my gold standard). We make this recipe all the time and with grilled cheese sandwiches, it's just the best, easiest dinner.
Butterscotch Pudding Pops
More work than just buying them at the grocery store, but also weirdly satisfying. And, of course, better tasting.
Baked Meatballs in Cream Sauce
These are some of my favorite meatballs in the world and they only need 1/3 cup of cream, so it's perfect when you have just a fraction of the container left to finish off.
Any other favorite ways to use up your leftover whipping cream? I'd love to hear!
Other posts in this "use up your leftover items" series: