These oven baked meatballs are phenomenal – they are the best meatballs I've ever eaten. They are full of flavor, perfectly tender and simmer in a tomato cream sauce that's to die for. This baked meatball recipe is sure to be a family favorite!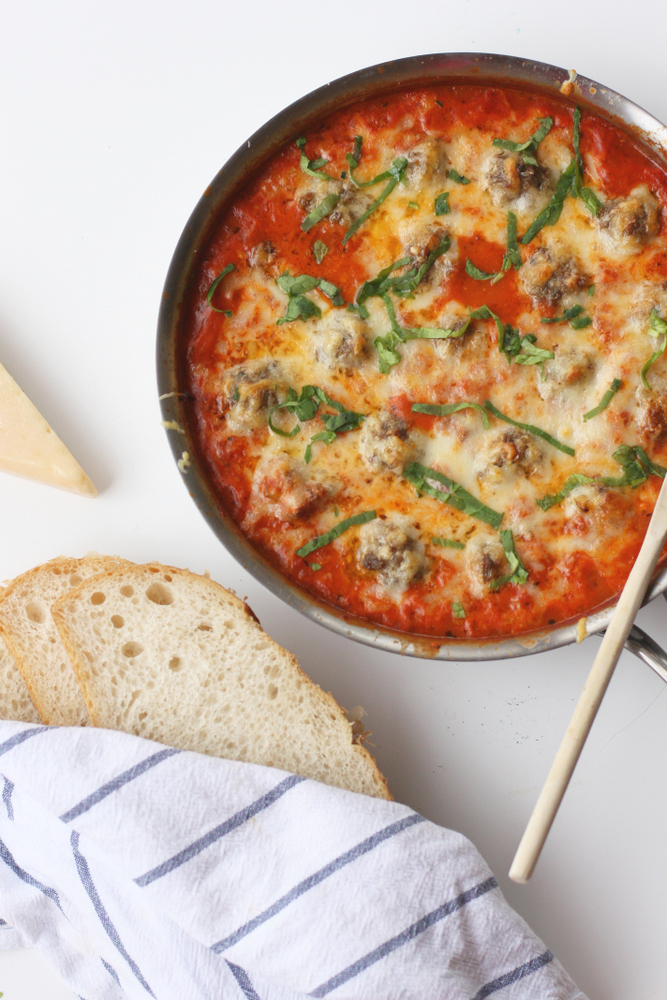 Meatballs are something I would basically never order at a restaurant.
They never sound particularly appealing to me, whether on a sandwich or topping a plate of pasta.
But then, occasionally, I'll make them at home and I think, "I LOVE meatballs."
Why are these baked meatballs so good?
The meatballs are not too dense, they are bursting with flavor, and they are simmered in a crazy good tomato cream sauce. Basically this baked meatball recipe is fantastic.
Also, baked meatballs tend to cook more uniformly instead of getting overdone on the outside or undercooked on the outside.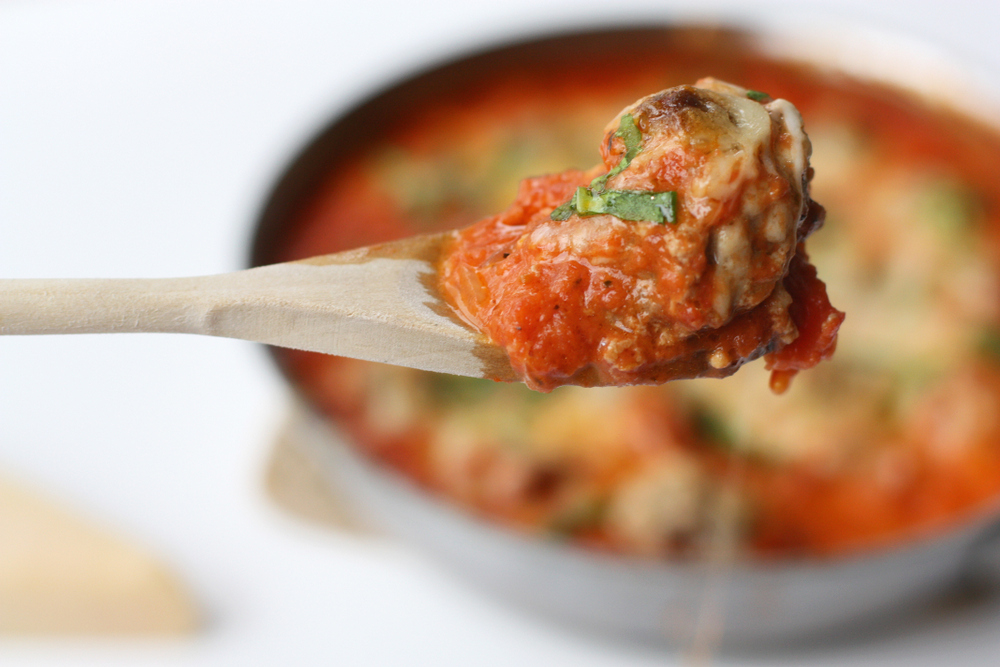 What do I serve with Oven Baked Meatballs?
While typically meatballs are served over pasta, in this case, I toasted some sourdough bread (PSA: the sourdough bread at Winco is pretty much the best bread on the face of the planet) and we just ate it with that.
I served a green salad on the side of the oven baked meatballs and added some cut up fruit and dinner was served!
Even the girls liked it, which made me enjoy dinner that much more. As if I needed any more convincing that this is the best meatball recipe ever!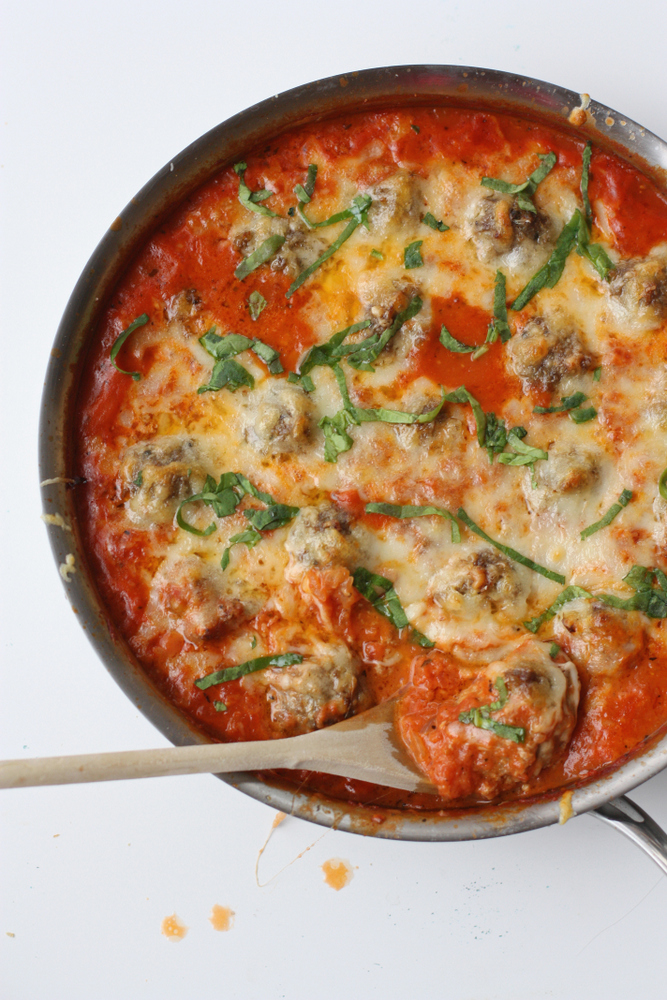 If you like this oven baked meatball recipe, you'll probably love these recipes too!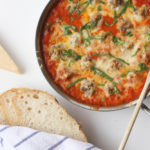 Baked Meatballs in Tomato Cream Sauce
Ingredients
Sauce:
1

tablespoon

butter

1/2

yellow onion

finely diced

2

tablespoons

tomato paste

1

teaspoon

minced garlic

1/2

teaspoon

crushed red pepper

Salt and pepper

to taste

2 14-

oz

cans Italian-style diced tomatoes

1/3

cup

heavy cream or half-and-half
Meatballs:
1/2

yellow onion

1/2

cup

panko bread crumbs

1

teaspoon

dried basil

1/3

cup

grated Parmesan cheese

3/4

teaspoon

salt

1/4

teaspoon

black pepper

1/2

teaspoon

minced garlic

1

egg

1-1/4

pounds

lean ground meat

turkey, chicken, or beef all work fine
Topping:
1/2

cup

shredded fresh mozzarella

1/4

cup

grated Parmesan cheese

1

tablespoon

chopped fresh basil

optional
Instructions
In a large oven-safe skillet, melt the butter over medium heat. Add the diced onion and cook about 3 minutes, until it starts to soften. Add the tomato paste, garlic and red pepper flakes and cook, stirring constantly, about 30 seconds.

Stir in the canned tomatoes and then salt and pepper to taste. Reduce heat to a simmer and let it cook while you prep the meatballs.

Preheat the oven to 425 degrees. Line a rimmed cookie sheet with foil and set aside.

In a food processor, pulse the onion until it is finely diced. Add the remaining ingredients and pulse until well-combined. Roll the mix into meatballs about the size of golf balls (I used a cookie scoop) and place on the baking sheet. Cook for 15 minutes - it's okay if they aren't cooked quite all the way through.

Take the sauce off the heat and stir in the cream or half and half. Add the meatballs to the pan of sauce, sprinkle the two cheeses over the top and put in the oven to bake until the cheese on top is bubbling and the meatballs are cooked through, 10-15 minutes.

Garnish with the fresh basil, if you're using it. Serve warm over pasta or with french or garlic bread.