I promised we'd be returning to exciting things like YA novels and vegan recipes this week. I'll keep my promise about the YA novel tomorrow, but this recipe? Vegan it is not. Actually, when three of the six ingredients are cheese, eggs, and bacon, I think we can all rest assured that this is about as far from vegan as you can get.
And I make no apologies.
I like to cook dinner and plan meals, but I definitely have at least one day a week where I'm thinking. . . "it's five thirty and I have done nothing about dinner."
I'm slowly accumulating a few recipes that I can make at a moment's notice that don't require a lot of unusual ingredients or need things to defrost.
This is my newest and most favorite. I actually don't even love bacon, eggs, or pasta, but when I saw this recipe in Garlic and Sapphires (no picture!) I thought. . .hmm, this could be tasty.
And then it was better than I'd even imagined. I made it three times in 24 hours (dinner, lunch, dinner).
I love it for lunch with a piece of fruit, but add a salad and you've got dinner. Done.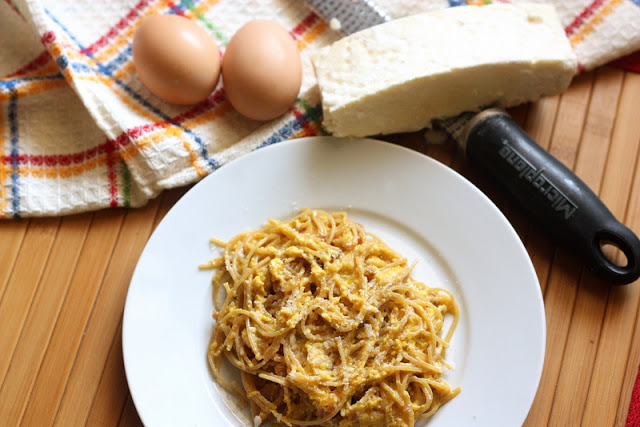 spaghetti carbonara (pasta with egg and bacon)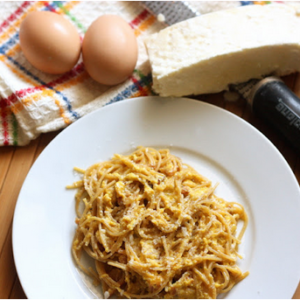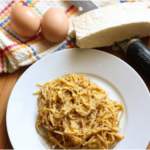 Spaghetti Carbonara (Bacon and Eggs with Pasta)
One of my favorite dinners is this Spaghetti Carbonara (pasta with egg and bacon)! This isn't my type of recipe, but it was better than I imagined!
Ingredients
1/2

lb

of angel hair pasta

if this seems like nothing to you, go ahead and use more, but I generally use more like 1-2 ounces per person

3

eggs

Black Pepper

3-4

slices

of bacon

cut into 1/2 inch pieces

3

cloves

garlic

minced

1/2

cup

Parmesan cheese

grated
Instructions
Bring a pot of water to boil. When it reaches a boil, toss in your angel hair (I break mine into quarters because I find it easier to eat).

While your pasta cooks, start cooking your bacon bits. After it's starting to fry up a bit, add the garlic and let it cook another couple of minutes, stirring frequently so the garlic doesn't burn. If your bacon is extremely fatty, you can drain a bit of the grease, but I never have. I just leave it all in there (because it's delicious). If it's starting to get too crispy (you don't want it fully fully cooked), remove the pan from the stove top.

Meanwhile, beat the eggs in a bowl big enough to hold all of your pasta. Add a couple of grinds of pepper.

When your pasta is done, drain it and immediately pour it into the bowl with eggs and mix thoroughly to coat the pasta.

Pour the egg/pasta mixture into the bacon pan (over medium-low heat), sprinkle the Parmesan on top, and cook, stirring constantly for about 90 seconds, until the eggs start to set.

Salt to taste and serve immediately.
if you liked this egg and bacon pasta recipe, you might also like these other recipes: