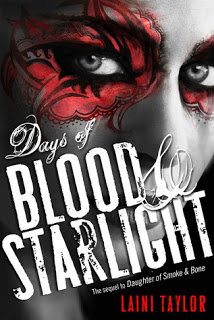 I don't have any aspirations to be an author. But when I was reading Days of Blood and Starlight, I kept saying to Bart, "I am so envious that someone has the abilities to both write this stellar of a plot AND have it be so beautifully written."
This is the sequel to Daughter of Smoke and Bone and it's no second book slump. I hesitate to say it's BETTER than Daughter, but if it's not, it is definitely on par. I mean, it's just so so good.
Also, if you haven't read Daughter, just skip this review, because it's going to spoil things for you. Run to your library, check out a copy and read it in a single day.  Okay, then. That's out of the way.
days of blood and starlight by laini taylor
So. Things were pretty bad at the end of the last book. Brimstone and company all met a bad end, thanks to love-interest angel Akiva.
The other half of the love equation, Karou (once a chimera, now a human), has remembered her past as a chimera, her forbidden love affair with the enemy (Akiva), and her subsequent execution and Brimstone's secret resurrection of her as a human. The war between chimera and angels raged on in their world, while Karou lived innocently as a human, attending art school and having no idea that her betrayal of her people resulted in them being almost completely wiped out.
Not a happy thing to be remembering actually. Especially when you find out five seconds later that the only people who didn't see you as a ridiculously horrible traitor (Brimstone and his helpers) are dead.
Karou manages to find the last few living chimera warriors and, although they don't trust her at all, they let her stay with them because she's learned enough of Brimstone's trade to act as a resurrectionist, meaning that they can run off to fight the angels again, get themselves killed, and then, voila, she'll bring them back in a new body.
Good times for Karou, you can imagine, sitting alone in an isolated castle surrounded by chimera who hate her and working with dead bodies all day long. Not to mention that she's heartbroken over Brimstone's death which she feels responsible for, since it was Akiva, her lover, who killed them. And. .. she's still a bit in love with Akiva, too, which makes her feel doubly guilty.
And Akiva, too, isn't having the time of his life, what with having lost Karou TWICE in one lifetime – first when she was beheaded as a chimera and now because he's killed, without realizing who they were, the only family she ever knew. The war with the chimera is supposed to be over, but the angel armies are still out there murdering any chimera they can find, even if they are peaceful and harmless. It's all a pretty bloody business, especially when you've lost faith in your cause.
With Karou gone, Akiva feels like he has nothing really left to lose, except his brother and sister, who he finally confesses everything to. Now he wonders if they'll help him in his quest to atone for his mistakes by helping the enemy.
For as dismal and gruesome as this all sounds, the book itself isn't particularly dark. In fact, there are some downright hilarious parts. Bart and I were both listening to the audiobook of these separately (him on his commute, me while I did dishes and laundry and prayed for small children to take reasonable naps) and at the end of the day, we'd quote our favorite bits to each other. The writing in this is just so top-notch, and the narrator brings these characters to life like you cannot believe. Her voices are funny, touching, and all-around perfect.
Bart mentioned he thought there was a little bit of slowness in the first third (after the story starts back up but before the action really gets going), but I didn't really feel that way. I was pretty much gripped from the first word.
I feel like second books are so often just filler storyline – you've already gotten all the characters introduced and the storyline going, but it won't wrap up until the last book so nothing too big can happen. Days of Blood and Starlight is not like that. I felt like you got to know the characters so much better and also some new excellent ones were introduced. Like last time, the plot unfolded in ways that were both surprising and so obviously right when you looked back at what had happened.
Like the last book, this is not for a kid – it's fairly violent and there's some adult-ish stuff going on, what with Akiva's father having forty-trillion concubines and Karou working with a violent, womanizing wolf (literally. . . .).
The teaser for Days of Blood and Starlight says, "Once upon a time, an angel and a devil fell in love and dared to imagine a world free of bloodshed and war. This is not that world."
And indeed it is not. But it's a world you will not want to leave either. I am dying with impatience for the final book of Daughter of Smoke and Bone series to come out.


If you liked this review of days of blood and starlight, you might also like these books: