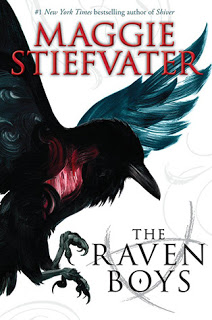 Back in 2011, when I went to BEA, I attended a Scholastic event where Maggie Stiefvater was a guest and ever since then, I've found way too much delight in saying her name (now that I know I can say it correctly. I hope it's obvious I'm talking about her last name. I'm very bad at phonetic reading of names, but I do know how to pronounce "Maggie").
I've also discovered that Maggie Stiefvater is a master of writing books that sound completely unappealing to me and then I end up really enjoying them. (Although The Scorpio Races took me forEEEEEEVER to get into).
Apparently, though, I am not a quick learner because I keep putting off reading her books for ages and then I finnnnnnnally give in and love it. I'm not very bright, clearly. I'm certain I never would have read it if Princess Nebraska hadn't raved about it.
I had this sense that The Raven Boys would be all fairies in the woods (that's pretty much the worst description I can give a book – I hate books about fairies, especially when it's about their world entirely and no real world involved), and . . .yeah, not for me.
(Someday, I will manage to write a book review that doesn't include eighty paragraphs about ME ME ME before I talk about the actual book. But today is not that day and the next three thousand days aren't looking good either).
the raven boys by maggie stiefvater
Per usual, I was 100% off. The Raven Boys is not about fairies.
It's actually about boys at a private school called Aglionby. You know the kind – rich kids, nice cars, lots of family money, generally stuck on themselves.
Blue Sargent knows their kind too, and she has a policy of staying away from the Raven Boys, as they are known in the little town that houses Aglionby.
Blue's a bit of an oddball herself, living with her mother and some aunts who all happen to be clairvoyants. Blue herself is not, but she has the ability to amplify supernatural things with her presence, so her family always wants her around during readings or other major events.
And then, in a graveyard with her aunt one night, she sees Gansey. And it's not just any night or any graveyard – this is the night when the ghosts that appear in the graveyard are of people who will die in the next year.
Of course, she doesn't have any idea who Gansey is, but she's immediately intensely curious because she's never actually seen anything the least bit supernatural.
Also, her mother and aunts have been foreseeing for years that she'll kill her true love with a kiss and so she can't help but wonder if the reason she sees Gansey in the graveyard is because SHE is the reason he'll be dead within the year.
And then she meets the real Gansey and he's much more than just a rich kid at a snobby school. He's on a quest to find the mystical elements in Henrietta and find the Raven King (whoever he is). And he's going to pull everyone he comes in contact with into his journey. Blue is no exception. Despite a rocky start, Blue finds herself pulled into his group of friends, and she quickly becomes as obsessed as Gansey and his three closest friends with this adventure.
The book is told from three alternating points of view (all in third person, which makes them much easier to keep track of). You have Blue, you have Gansey who is on a mission to find the supernatural elements that the tiny town of Henrietta houses, and you have Adam, one of Gansey's closest friends who is a scholarship student at Aglionby and has a hard time with all the money he's surrounded by when he's working his tail off to make it (not to mention that his home life is a pretty enormous disaster).
I've noticed that Maggie Stiefvater has an amazing ability to have these fantastical elements to stories set in real life and make it seem completely normal. Werewolves? No biggie. Killer water horses? Why not?  Here, it seemed just completely plausible that Blue was seeing future ghosts in a graveyard, having visions in a time-warped wood, and that Gansey really will find the Raven King. I mean, what could be more normal?
Also, this is the first of a The Raven Boys series, and it definitely feels that way in that you get to the end and you have about four million questions. But I prefer that to a book that feels complete and then it does well and so the writer just keeps going with a story that really was already finished. Ahem.
I listened to The Raven Boys and the narration was spot on. I loved the reader so so much – he had just the right dry delivery of hilarious lines that made me laugh aloud more than once. (I always know when I'm writing a review of a book I listened to because I have to go look at a summery to see how you spell EVERY SINGLE NAME in the book).
Frankly, although the plot is interesting, I didn't even need the plot to be good in this case. I was so taken with the delightful, rich characters and the tight, funny writing that I might have loved it even if it were about fairies in the woods. The fact that it was not was just icing on the cake.
Is The Raven Boys the best book ever? Nope. But it was one where I was anxious to go running or even do the dishes so I could listen some more. And frankly, that's what I'm generally looking for in a book.


If you liked this review of The raven boys, you might also like these books: