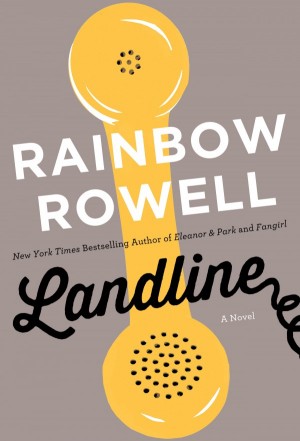 I think you either love or hate Rainbow Rowell.
I happen to really really enjoy her books. But if you've read her other stuff and not been a fan, I think it's unlikely Landline will change your opinion.
Also, Eleanor & Park is by far her most popular book, and it's actually my least favorite of her books, so take that for what it's worth.
And also, I've read several reviews that were disappointed in Landline, and I totally loved every page, so. . . I probably have no idea what I'm talking about.
Anyway. . .the story.
landline
Georgie and her best friend Seth have been working together since college and their dream is a television show of their own – their character, their ideas, their jokes.
And now, just before Christmas, the chance of a career comes along. Except to take that chance, Georgie won't be able to go home for Christmas with her husband, Neal, and their two little girls.
And Georgie knows Neal will be mad about it. Their relationship has been strained for quite some time, and this might be the nail in the coffin. What she doesn't expect is that he packs up the girls and leaves for Christmas without her.
She's not interested in staying home alone, so she spends the weekend with her mom. And her mom still has the same dialup phone Georgie used as a teenager at home. And somehow, when she calls with it, she gets Neal. But not the Neal she's been married to for years – it's the Neal of their college days, when they were dating, before everything got so complicated.
Now Georgie has to figure out if there is any way to make things less complicated.
One thing I love about Landline by Rainbow Rowell is the characters are so real. They do dumb things, they say mean things, they make mistakes and they struggle to make things right again.
Also, holy cow, I think her dialogue is hilariously funny. I keep going back and reading the best lines over again. There is one party scene in college between Neal and Georgie that is about 6 pages of non-stop great lines. But they don't feel over-written or over-the-top. They're just funny.
A few days after I read it, my mom listened to an audio copy of it on a road trip, so when she came back, we talked about it at length, which was totally delightful. I would like her to live next door to me and we can share books (and I can make her cook me dinner too).
In Landline by Rainbow Rowell there's some swearing (I didn't notice it as much because I was reading it rather than listening, but it's definitely there), but other than that, it's pretty clean. Ironically, actually, I think her adult books are more tame than her YA ones.


Copy received from publisher
If you liked this review of landline by rainbow rowell, you might also like these books: