All month, I've been talking about Attachments by Rainbow Rowell as part of the Everyday Reading Book Club and it's been such a fun read during all this madness (plus. . . social distancing at its finest in this book about two people who don't know each other!).
We've done some heavier books this year so far, so it's been fun to read something that is much more light-hearted this month.
(If you've new to the Everyday Reading Book Club, we read one book per month – the whole 2020 list is here – and each Wednesday, I talk about 1/4 of the month's book on InstaStories. It's so fun!).
If you're interested in other books like Attachments, here are some other books you might enjoy.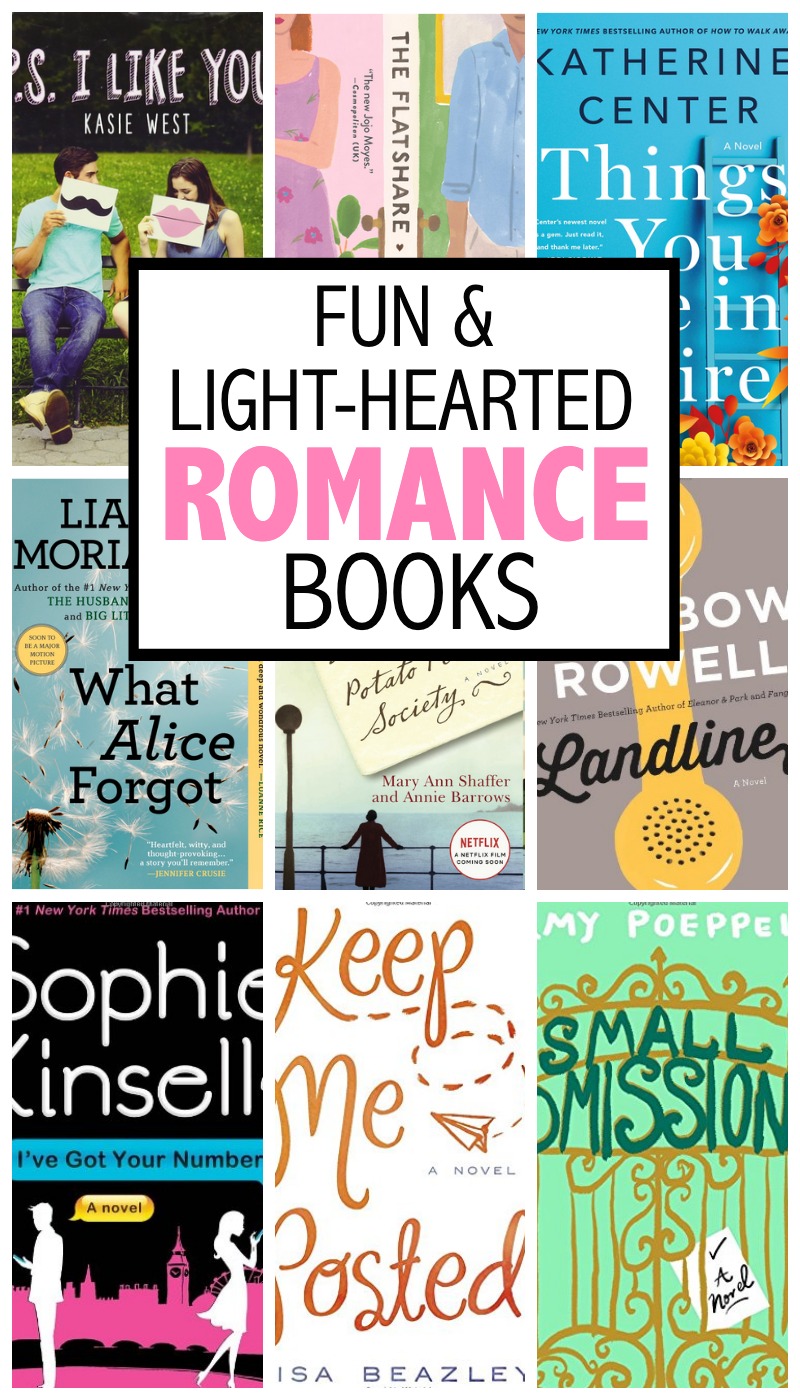 If you liked Attachments, you might enjoy:
The Flatshare by Beth O'Leary. I read this one last summer after it was burning up every book list and it is delightful and funny and sweet, with a little more depth, like Attachments. Tiffy and Leon share an apartment (Leon works nights in health care) and so while they write each other daily post-it notes, they've never actually met. It has a little more sex than Attachments.
I've Got Your Number by Sophie Kinsella. My favorite of all her books, this one is laugh-out-loud funny about a girl who snags a discarded phone and then finds herself forwarding all the messages to the businessman who it belongs to. Naturally, a relationship develops. (Full review here)
The Guernsey Literary and Potato Peel Pie Society by Mary Ann Shaffer and Annie Barrows.  This one is probably the biggest outlier on this list, but it's an epistolary novel (all written in letters) and so many people suggested it, that I can't leave it off. Plus, I love this delightful WWII novel. (Full review here)
P.S. I Like You by Kasie West. I recommend Kasie West's YA books all the time for readers looking for YA titles that are romantic and super clean. This one features two teens in high school chemistry that share a desk but in different classes so they don't know who the other is, but they quickly strike up a pen-pal friendship with notes left in their shared desk each day.
Landline by Rainbow Rowell. I mean, maybe it's cheating to recommend another of her novels, but this one, about a woman with a marriage on the brink of divorce who reconnects with her husband back when they were first dating through a magical telephone, is just too charming and fun not to include. (Full review here)
Things You Save in a Fire by Katherine Center. I read this on vacation last year and devoured it in a day. I wasn't blown away by her previous book but loved this one about a female firefighter trying to find her place in a new station with a bunch of guys who clearly don't want her there.
What Alice Forgot by Lianne Moriarty. I've read pretty much every book she's written (maybe all of them?) and Big Little Lies is what shot her to stardom, but this is my all-time favorite of her books and it has the same "how is this going to resolve" and snappy writing that makes me love Attachments. (Full review here)
Keep Me Posted by Lisa Beazley. Two sisters who were once inseparable but have drifted apart as adults commit to writing each other emails every day. It's a fun epistolary novel and I love the sisterly relationship. (Full review here)
Small Admissions by Amy Poeppel. When Kate gets a job in admissions at a ritzy private school, she enters a world she never could have expected and the book jumps between Kate's perspective and that of her sister's, her boss, her two closest friends who are both keeping secrets of their own, and all the letters, essays, and emails involved in the consideration of some of the students and parents who are dying to get into Hudson Day School. (Full review here)
And if you'd like a printable copy of this list of fun, romance books that you can take to your library or screenshot on your phone for easy access, just pop in your email address below and it'll come right to your inbox!
Any other book recommendations to go along with Attachments? I'd love to hear!
IF YOU LIKED THIS LIST OF Books like Attachments, YOU MIGHT ALSO LIKE THESE POSTS: