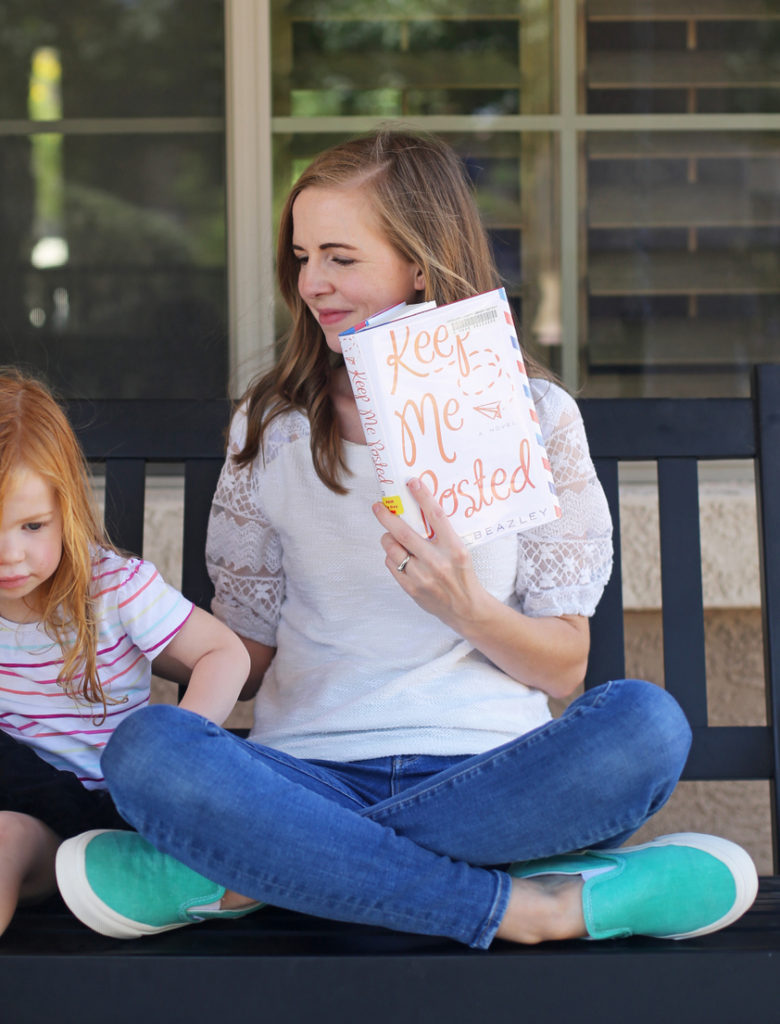 When I read the blurb for Keep Me Posted, I know immediately I wanted to read it.
I mean, sisters, social media, long-distance, and chick-lit? Sign me right on up.
Keep Me Posted was the book that really kicked off summer reading for me.  Since finishing this book at the end of May, I've read at least  half a dozen books since then, which is a LOT for me in recent months (if you're wondering why I haven't done a summer reading guide this year like I did in 2014 and 2015, it's because I haven't read enough books to even being putting something worthwhile together).
keep me posted by liza beazley
Cassie and Sid are sisters who were close all through their growing-up, but have drifted apart as adults.
Sid lives in Singapore with her two children and her new husband, while Cassie has left her job to stay home with her rambunctious twin toddlers in Manhattan.
During Christmas vacation, Sid discovers how much Cassie loves Facebook and is amused by how much Cassie knows about all their old neighbors and classmates. Sid suggests the two of them write letters back and forth for a year to rekindle their sisterly bond, and Cassie is immediately on board.
Cassie really opens herself up in the first letter, hoping that these missives will be more than just perfunctory updates, and the letters quickly become a lifeline for both of them as Cassie worries about her marriage, while Sid wonders if she's wasting her life being waited on in Singapore.
Cassie desperately doesn't want all these letters to get lost, so she carefully scans and uploads copies of each letter and posts them to a private blog (I know, this is about as dumb as addressing and stamping love letters you never intend to send).
Of course, where would this story be if those letters didn't accidentally go public on the Internet? Of course they do, and of course things go a little crazy.
But I expected Keep Me Posted to be mainly about how everything goes terribly wrong when they show up on the Internet, and although that's definitely an aspect of the plot, the story really stays focused on Cassie and Sid and their lives, worries, and problems.
It's not Shakespeare, but it was a really fun book that I finished in just a couple of days and a lot of thoughtful writing about parenthood, marriage, and relationships. If you're looking for something reasonably light but not SO light your brain starts to feel fuzzy, this is a solid choice.
As far as content, I'd put this on the level of Lianne Moriarty – a little swearing and a few references to sex, but not over the top. Anyone else read this one?

If you liked this review of KEEP ME POSTED, you might also like these books: