I am a die-hard Harry Potter fan.
I talked about my family's history with Harry Potter last year, when I wrote about Harry Potter and the Cursed Child, so I won't rehash it here, but suffice it to say I love Harry Potter.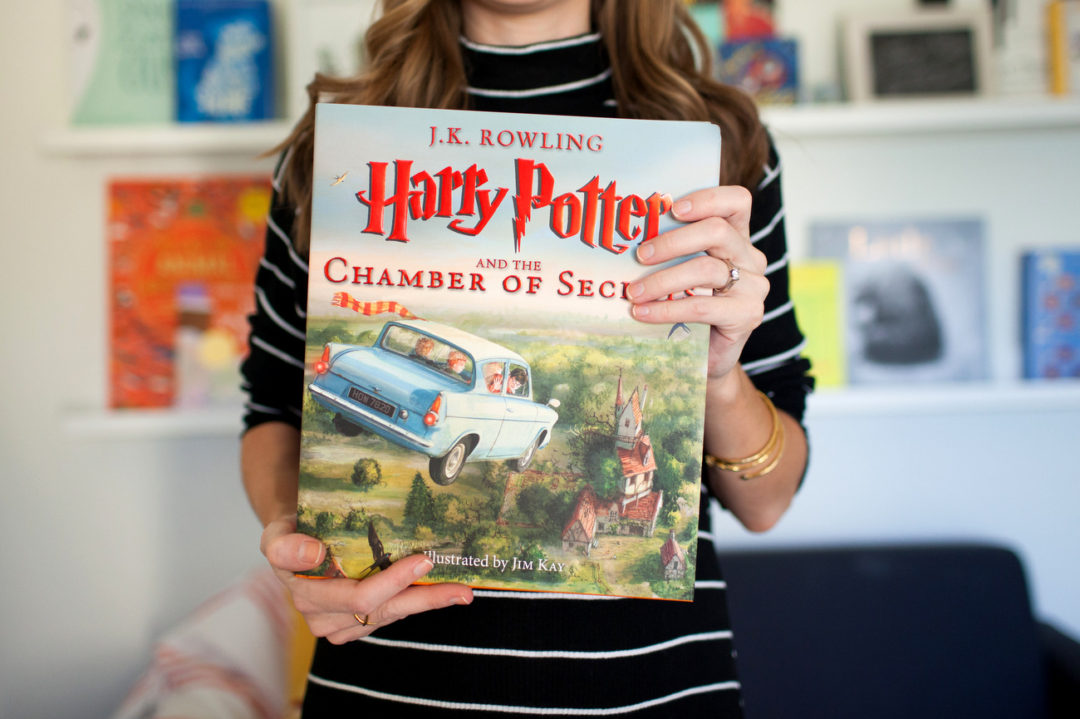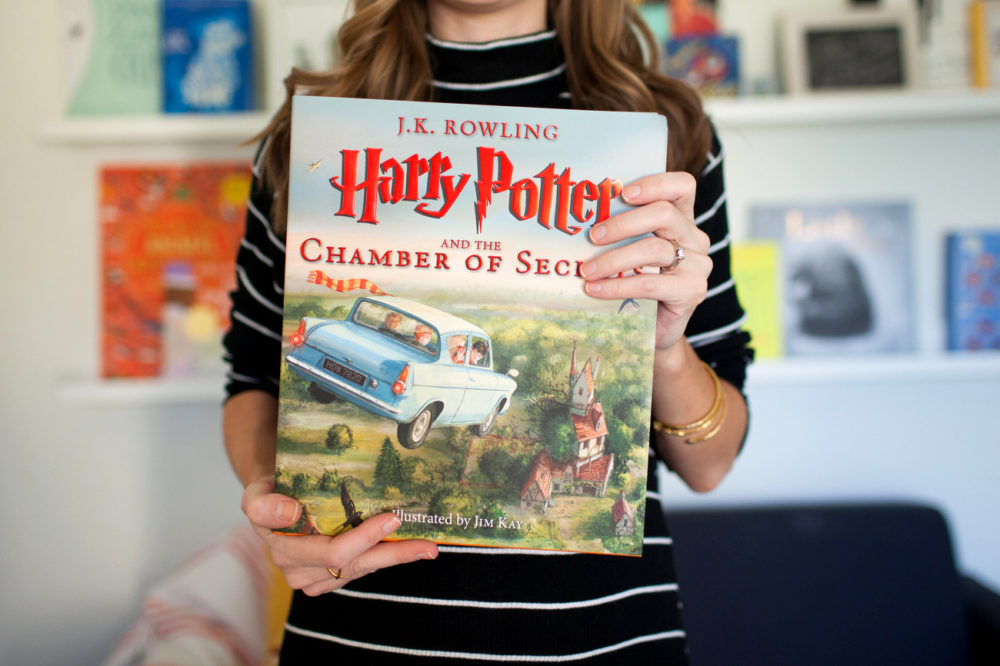 As a librarian, Harry Potter was always something of a sticky issue because it was so wildly popular, which meant all the little kids wanted to read it too, and these first graders who wanted to feel grown-up would beg to check them out, even though I knew for a fact they could hardly read, and they'd just carry those giant books around for a week without really being able to read them.
I didn't want to be the librarian who forbade children to check out a book they really wanted to check out, but I also didn't want them to have nothing they could actually read for the week.
I finally settled on the deeply unsatisfying method of suggesting they get something else and then letting them get Harry Potter if they insisted.
And, of course, the books get darker and more complex as they go along, which was perfect when you were growing up alongside the books, and less perfect when you start the first one at age six.
All of which is to say that when I frequently get asked what the right age to read Harry Potter is, I don't have a great answer.
(I love Amy's plan about reading aloud one book in the series every October, although I don't know if that's what we'll do. I can't argue, though, that October is the BEST time to read Harry Potter).
I wasn't planning on reading Harry Potter to Ella until she was in about second grade, but then last year, we were going to Harry Potter world with my family and Bart suggested that Ella would enjoy it more if she knew at least the basic characters and settings.
We read Harry Potter and the Sorcerer's Stone and she seemed to like it, but I could tell she was having a hard time keeping track of all the characters.
I was surprised that she was struggling a little, since I think of her as an advanced reader, but she insisted she wanted to read the second one together too.
But within about four or five chapters, she quietly asked if we could read something else instead, and we put it away.
I know lots of people who have kindergarteners or first graders who love Harry Potter, but since that didn't seem to be the case in our family, I figured we'd try again next year, when she was in third grade.
Then, when we went to Utah a few weeks ago, I picked up Harry Potter and the Order of the Phoenix from my in-laws bookshelf.
I had super happy memories of re-reading the entire series at my in-laws when Ella was a baby and I was nursing for hours each day, and I figured it was time to read some of the series again.
Of course, I spent the next two weeks reading #5, #6, and #7 in any spare moment I had, including staying up way too late one night when Bart was gone to finish #7 and crying over the ending.
Probably swayed by my reading, Ella asked if, instead of reading The Witches as I'd planned, we could read Harry Potter and the Chamber of Secrets.
I was pretty sure she didn't remember the first one super well, so I suggested we re-read the first Harry Potter book again together. She was insistent that she DID remember it, but agreed to read it together.
We flew through it in less than a week, (I'd read a few chapters at night to her and then she'd read a few on her own) and last week, we spent about an hour with everyone curled up on the couch after school reading the last couple of chapters aloud.
When Snape turned out not to be trying to steal the sorcerer's stone, Ella just about lost her mind with excitement (and let me know that I'd been right about her not really remembering it very well).
It was exactly the kind of magical Harry Potter reading moment I'd been waiting for.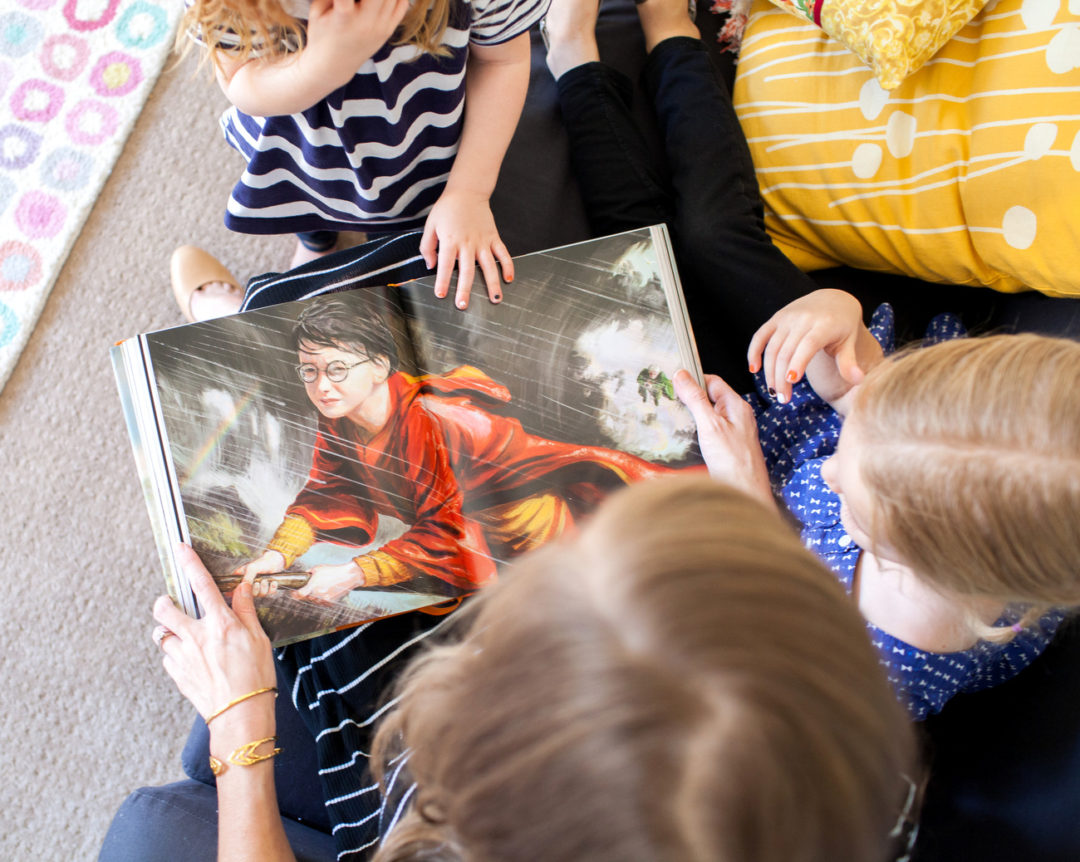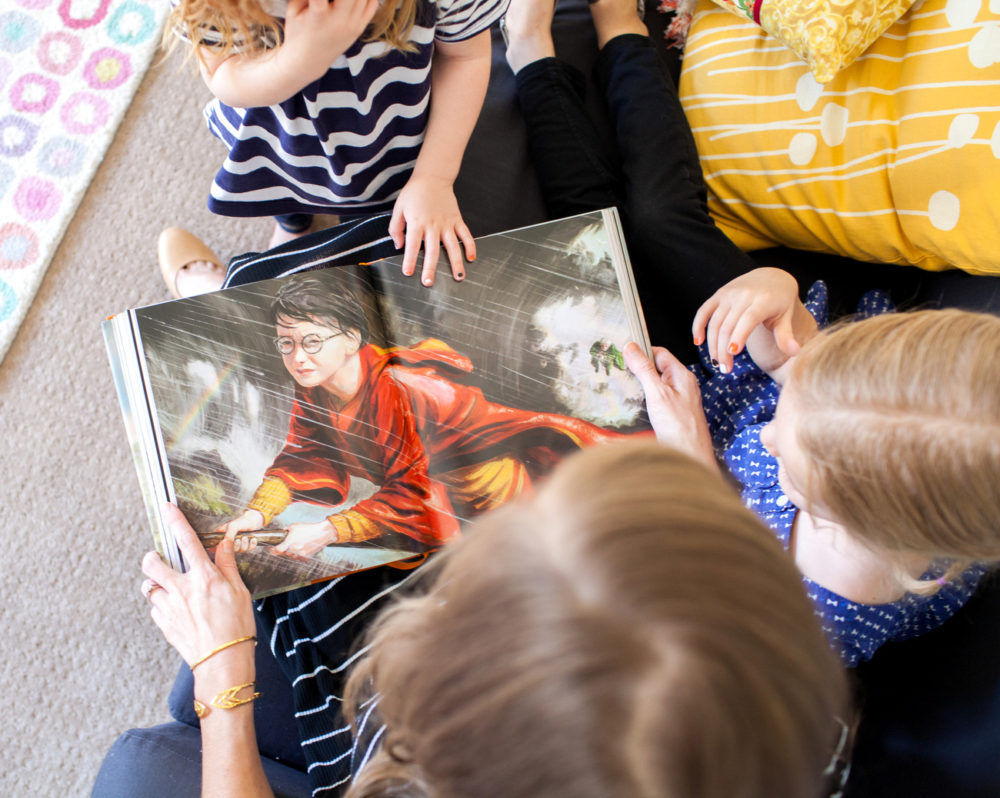 Now we've jumped right into the second book, which I haven't read in YEARS, and oh, I just love every moment of it.
There's nothing quite like experiencing a favorite book again with your children.
(And now I'm dying to go back and read #3 and #4 because Prisoner of Azkaban is my favorite of the series aside from maybe Half-Blood Prince).
I'd love to hear about how you've handled Harry Potter and when you feel is the right age for Harry Potter! And whenever I hear from someone that they never read them as a child but are reading them now, I'm just a tiny bit jealous of getting to experience them for the very first time.
Photos by Grace + Vine Studios
if you liked this post about when to introduce harry potter to kids, you might also like these other posts: