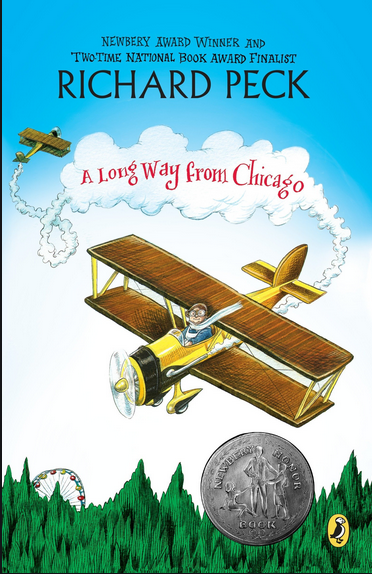 8/9 of 10: I'd give an 8 to A Long Way From Chicago and a 9 to A Year Down Yonder, but they are both just delightful. These are the kind of books I can't wait to read aloud to my children.
The summer that Bart and I were engaged, I started reading again in earnest, with a particular focus on the Newbery winners. The BYU library helpfully had all their copies of Newbery books on a big display wall, so I plowed through a number of books I had, embarrassingly, never read, including Bridge to Terabithia and The Giver.
A Year Down Yonder was also one of them. I remember loving it, and I remember being vaguely aware that this book was a sequel, but I'd never gotten around to reading the first one, until a copy of the two, bound together in a teacher's edition, showed up on my doorstep, courtesy of Penguin. I started reading the first one on the airplane to Las Vegas and finished up A Long Way From Chicago on the way back home a few days later.
a long way from chicago by richard peck
A Long Way From Chicago, won a Newbery Honor, and is about a brother and sister, Joey and Mary Alice, who leave Chicago for a week every summer during the Great Depression to visit their paternal grandmother, the unbelievably feisty Grandma Dowdel who lives in a teeny tiny town in the Illinois countryside. There is a short section for each of the summers and the hilarious things that Grandma Dowdel gets up to. She loves to tell crazy lies to the neighbors or even her grandchildren, but she also is incredibly loving, in her own brusque way. She is crazy resourceful and completely capable – she fishes, gets Joey a ride in a plane, finds her granddaughter a dance partner, and pretends to shoot a corpse. You can't help but adore her.
The second book, A Year Down Yonder, nabbed the top prize with the Newbery Medal, and is even better than the first one. It takes place in 1937 and the Depression is officially over, but times are still hard and getting harder. So hard, in fact, that Joey is off serving in the Civilian Conservation Corps and their parents send Mary Alice down to Grandma Dowdel's alone for the year because they can't afford to keep her. She enrolls in school (instead of the huge Chicago school she's used to, there are only about fifteen students total in a single building). At first she's worried about being there alone, leaving behind all her friends, but she comes to love living with Grandma Dowdel, accompaning her on late night fox hunts, helping her steal pecans from a neighbor's tree, and watching her catch the boys who attempt to burn down the privvy on Halloween night (you can't get anything past Grandma Dowdel).
My mom asked me about these books and, without checking, I said, "I think A Year Down Yonder won the Newbery twenty or thirty years ago." Imagine my surprise when I discovered it won only eight years ago. And that's what I love about these books; they feel like they could have been written any time within the last sixty years.
I hate to use the term "heart-warming" but these books are just that. And they are laugh-out-loud funny too. I'm considering reading them to some of the older classes at my elementary school this fall – they are just the most absolutely delightful books you can imagine. I love that Grandma Dowdel.
And now I'm diving into A Season of Gifts, Richard Peck's newest book out this fall about Grandma Dowdel. Oh, I can't wait to see her again.