If you're looking for the best read aloud books for elementary schoolers this list of more than 30 read aloud stories are perfect for families and classrooms to enjoy together.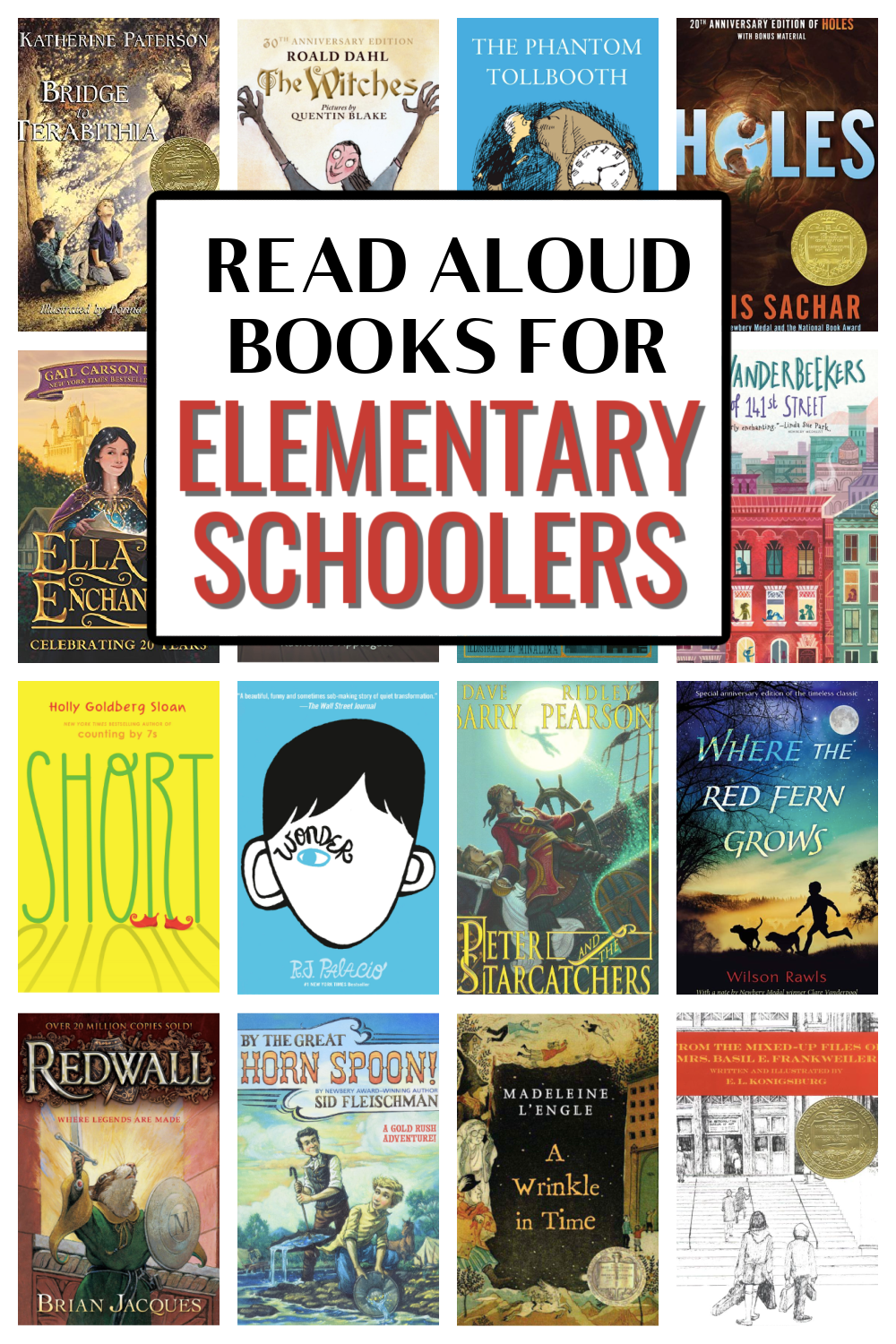 I just returned from two back-to-back trips, which means I've done pretty much zero reading aloud to my girls over the past 10 days and I've missed it so much!
It's just the nicest, calming end to my day to snuggle up with them on the basement couch or on one of their beds and read aloud for 20-30 minutes before tucking them all into bed.
I recently shared a list of 30 read-aloud recommendations for preschoolers or kindergarteners, and now it's time to look at read aloud books that are just a bit more advanced.
Most of these are going to be a little advanced for a 4 or 5 year old, but are perfect read aloud books for a second or third or fourth grader.
Just looking at this list makes me happy – there are so many good books to read aloud here that we've enjoyed in the last year or that I can't wait to bring out soon.
And if you don't have the bandwidth to read aloud yourself, these are great books to listen in audiobook form too!
read aloud stories for elementary school
Tuesdays at the Castle series by Jessica Day George
My girls are OBSESSED with this series. We listened to the first one in the car and now both of my older girls have listened to the rest of the series on their own.
Bridge to Teribithia by Katherine Paterson
I mean, get your kleenex ready because this one is a tear-jerker. But it's also SO fantastically written and has so many wonderful things to talk about with your children. (Full review here)
Because of Winn Dixie by Kate DiCamillo
This is the book that shot Kate DiCamillo to stardom, and it's so sweet about a little girl who finds a dog that needs a home.
The Penderwicks by Jeanne Birdsall
This is one of those ones that's new but feels like a classic. Ella LOVES this series and has listened to them all at least twice. The last one is coming out in May and I haven't told her yet, but it's going to be like Christmas.
Harry Potter and the Sorcerer's Stone  by J.K. Rowling
I'm the biggest Harry Potter fan on the planet and reading the first three to Ella this year was everything I'd hoped it would be. (Wondering when the right age to read Harry Potter is? I wrote a whole post about how to figure it out for your child here!)
A Little Princess by Francis Hodgson Burnett
I hadn't read this one in YEARS, but when Ella and I read it together last year, I fully understood why it is such a classic. It's so fantastic and I can only hope my daughters grow up as well as Sara Crewe (hopefully without the orphan bit).
Pollyanna by Eleanor H. Porter
It's so nice when your child is familiar with a book or character that is part of common vernacular. Also, this book is so wonderful.
Redwall by Brain Jacques
This was one of my very favorite series as a child – I'm pretty sure I read a couple of the books at least five or six times. Ella and I read it together last year and it was a bit much for her then (these books are hefty!), but she still really enjoyed it and I think now she'd be all in.
Holes by Louis Sachar
While I find the Wayside School books a bit too wacky for my personal taste, I love love love this book about a boy who gets sent to a reform camp for boys and discovers that things might not be exactly what he expected.
Short by Holly Goldberg Sloan
I read this one last year and haven't yet read it with my girls, but it was so fun and sweet.
Ella Enchanted by Gail Carson Levine
This might be one of my top five all-time favorite books. Ella is reading it right now and it just about kills me that she's reading it without me.
A Wrinkle in Time by Madeleine L'Engle
I've read this one a couple of times and the first time I loved it and the second time I was like "this book is pretty weird." I definitely don't think it's for everyone, but it's also a total classic. (Full review here)
By the Great Horn Spoon by Sid Fleischman
We just listened to this book on our Disneyland trip about a butler and a young boy who sneak aboard a ship from Boston headed to the gold fields of California and our whole family was obsessed with it.
From the Mixed Up Files of Mrs. Basil E. Frankweiler by E.L. Konigsburg
This was one we listened to recently and I was just completely overwhelmed by how GOOD this story about siblings that run away from home and live in the Metropolitan Museum of Art is. This woman is a master.
Peter and the Starcatchers by Dave Barry
This is such a fun twist on the classic story of Peter Pan. I mean, I'm already a massive fan of Dave Barry, but this was just perfection. (Full review here)
Wonder by R.J. Palacio
Somehow, I've never written a review of this book (shame on me!) but it's just as good as everyone says. This is on my list to read to the girls soon.
Peter Pan by J.M. Barrie
A classic for a good reason.
A Year Down Yonder by Richard Peck
We just read the first one (A Long Way from Chicago) and it's just so funny. But this one is even better and it won the Newbery. (Full review here).
Where the Red Fern Grows by Wilson Rawls
I love love loved this book as a child, but I haven't yet gotten up the internal stamina to handle reading it aloud to my girls.
The Vanderbeekers of 141st Street by Karina Yan Glaser
We just finished this one in the car last week, and it was such a fun story about five siblings who are about to lose their beloved brownstone home in Harlem, thanks to a cantankerous (and mysterious) landlord who refuses to budge.
Spiderwick Chronicles series by Holly Diterlizzi
This is a perfect little fantasy series that became hugely popular. I was first introduced to it via the movies (embarrassing!) but it's now a staple at our house – the girls love reading them and listening to them.
The One and Only Ivan by Katherine Applegate
This Newbery winner, about a gorilla who lives in the saddest little mall in the land, is completely terrific. My opinion, which counts for nothing, is that the Newbery committee that year picked just right. (Full review here).
Five Children and It by E. Nesbit
This was one of my dad's favorite books when he was a child and he read it aloud to us when I was maybe 8 or 9. I read it to Ella last year and she was just DYING over it.
The Great Brain by John D. Fitzgerald
I feel like so many people don't know about this phenomenal series. I just read the first one aloud to the girls and we read it in about a week flat because I couldn't get enough of re-reading this hilarious series about a little boy and his extremely smart older brother who is always looking for a way to con someone out of their money.
Owls in the Family by Farley Mowat
I still remember my mom reading this one to us in a tiny playground at a park in Las Vegas when I was a child. It's just funny and short (be warned that it might take you a chapter or two to get into it).
Sarah Plain and Tall by Patricia MacLachlan
If you want a book you can fly through in a couple of nights, this is your book. Plus, it's fantastic.
The Phantom Tollbooth by Norton Juster
My mom did the majority of the reading aloud when I was growing up, but this one my dad read to me (and only me!) and I'll forever have fond memories of it. Plus, it's just so darn clever.
Harriet the Spy by Louise Fitzhugh
I seriously think about this book ALL the time – it was one of my favorites growing up. And I can't hear about a dumbwaiter without thinking of Harriet.
Rascal by Sterling North Can you imagine how crazy life would get if you adopted a little raccoon? Rascal is the right name for sure.
Mary Poppins by P.L. Travers
The real Mary Poppins isn't quite a sweet as Julie Andrews, but she certainly gets things done. And there's a whole series of her adventures with her little charges!
The Witches by Roald Dahl
I won't lie – this one is super scary to me. I only read a few chapters of it to Ella and she was like "I'm never going to sleep again" but if your children are braver than me, it's a fan favorite for those who love Roald Dahl!
Fablehaven by Brandon Mull Not only is this a fun book, but it's also a big fat series, so if your children love it, there's plenty more where this came from. (Full review here).
Caddie Woodlawn by Carol Ryrie Brink
Oh my heavens, I love Caddie Woodlawn. Just as much as Laura Ingalls Wilder. I read this to the girls last year and we all loved this story about brave and strong-willed Caddie. (Full review here).
And if you'd like a printable copy of this list that you can take to your library or screenshot on your phone for easy access, just pop in your email address below and it'll come right to your inbox!
I'd love to hear about your favorite read aloud books! What titles have your elementary-school kids loved?
if you liked this list of read aloud stories for elementary school, You might also find these posts helpful!