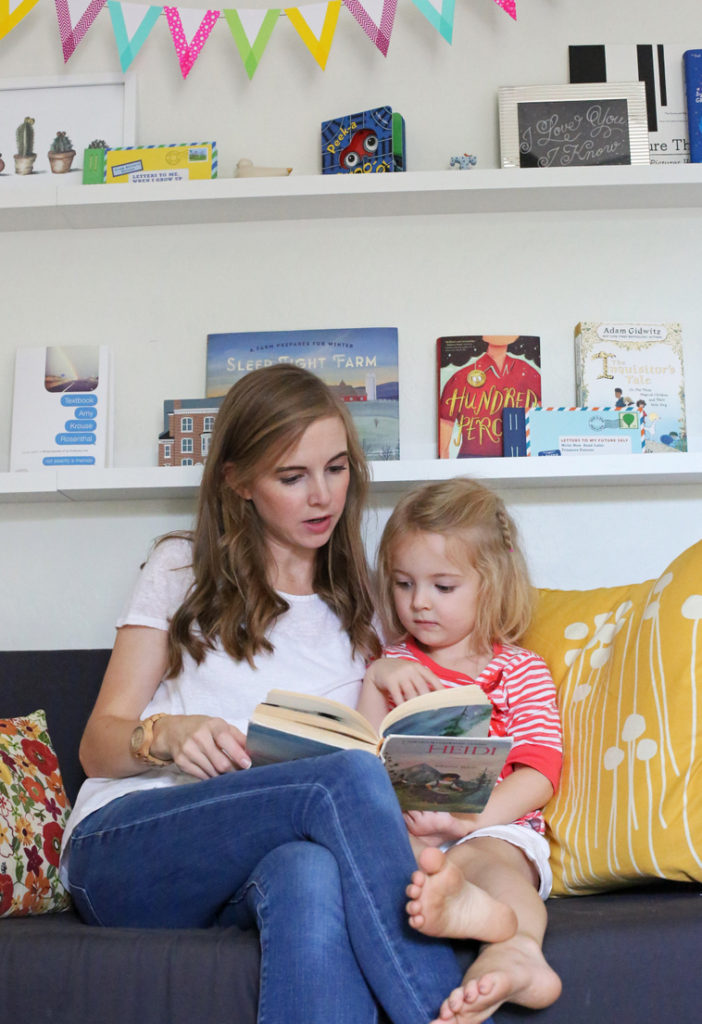 I started reading aloud with Ella about three years ago (she was three, but didn't really start to get into it until she was more like 3.5), and it was the MOST thrilling day for me.
We'd been reading board books and picture books together since she was a tiny baby, but I quickly discovered that listening to a chapter book is a totally different skill, and it took us a while to get good at it.
Now, three years in, I feel like we've got a good thing going, and snuggling up on the couch together during homeschool to read together or lying on her bed before she goes to sleep are some of my favorite times of the day.
If you're just jumping into chapter books, here are a few suggestions!
HOW TO START READING CHAPTER BOOKS – A FEW TIPS
1. Introduce the story before you start. I do this less now, but for the first couple of years, I'd always lead out with a basic overview of the plot and the main characters. Without a lot of pictures to guide, it can be difficult for a young child to keep track of the storyline and who is who.
2. Let them do something while they listen. Just like I don't necessarily just want to sit on the couch and listen to my audiobooks, it's easier for kids to listen when they have something to keep their hands busy. Pull out the crayons or Legos and let them keep their fingers occupied while they listen, and you'll be surprised how much longer their attention span is.

3. Don't be a slave to the chapter breaks. Some books have insanely long chapters and it's too daunting to read the whole thing in one sitting (either for you or your child). Better to consistently read for 10 minutes than to only read once a week or less because you don't have the time or energy to read a 40 page chapter.
4. When you start up each day, do a quick review. It can be difficult for young children to keep track of a plot line when the story is stretched over a month or more. A brief review goes a long way to helping them remember what this book is even about!
5. If the book isn't working, ditch it, and try something else. Sometimes you start a book and realize quickly that it's not a good fit, whether the reading level is too high, the story is dull, or your child just isn't enjoying it (or you! I know we're reading something dull when I don't want to read together). There's no shame in putting it down and choosing something else. My goal is to make sure we're having a good experience reading together and that's more important to me than finishing every book we start (on the other hand, like many readers – myself included – Ella is usually resistant to a new book, so we always give it at LEAST a few chapters before calling it quits).
6. Keep a record of the titles you finish. We just added Time at the Top to our book banner this week, and Ella was so enthusiastic about me writing it on the next pennant. It's fun for both of us to look back and remember how many great reading experiences we've had together.
And when I mentioned this on my Facebook page, a couple of people asked what books I was planning to read with Ella during first grade, so here's my list (which may change at any time. . . )
chapter books to read with 1st graders
1. Heidi by Johanna Spyri (we just started this on Monday)
2. The Wind in the Willows by Kenneth Grahame
3. Rascal by Sterling North
4. The Ordinary Princess by M. M. Kaye
5. The Wonderful Wizard of Oz by Frank Baum
6. A Little Princess by Frances Hodgson Burnett
7. Five Children and It by E. Nesbit
8. The Borrowers by Mary Norton
9. Redwall by Brian Jacques
I figure we can get through about a book a month, so this should take us through the end of the school year. And I cannot wait to read all these books from my childhood again.
if you liked this post about how to start reading chapter books, you might also like these other posts: