I kind of get the sense that no one except me cares about these 2 x 2 posts, but I carry on! It's been a fun little project for Ella and me, and has introduced us to a whole slew of new titles and authors I don't think we would have found otherwise.
Also, I think each year's list gets a little bit better. So far I've been really impressed with the 2012 list.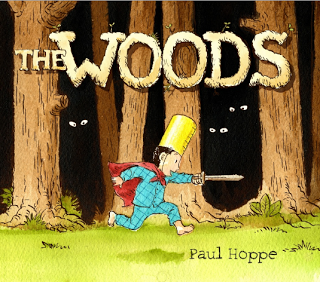 The Woods is a great little bedtime story without being eye-rollingly saccharine.
The little boy has lost his bunny that he always sleeps with, so he ventures into the "woods" to find them (there's no mention of what the woods really are, but probably just his closet or under the bed).
He runs into various creatures in the woods who seem terrifying until he learns they are just bored or scared of the dark or lonely and together they find the bunny. At the end, you realize all the creatures are his other stuffed animals.
Reminds me a tiny bit of Where the Wild Things Are, but way less terrifying.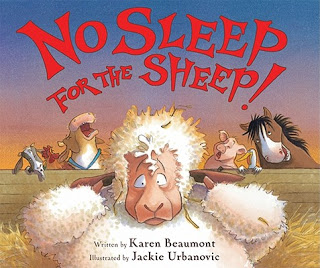 I picked up No Sleep for the Sheep! on the hold shelf at the library and then read it aloud to Ella in the kid's section. Halfway through, as I turned a page, a mom, sitting nearby with her 5 and 8 year olds, said "We are all sitting here GRIPPED!" (I was very flattered).
And then, when Ella begged to read it a second and then third time, those same kids sat through it twice more. I was shocked.
This book has a really strong rhythm to it, which makes it amazingly fun to read out loud and the animal sounds make for great sound effects. This is just a fantastic read-aloud book.
The illustrations on this one are hilarious, too, and I love looking at the funny expressions on the animals faces, especially the poor, exhausted sheep.
Bart says this is one of his very favorite picture books of all time.